Trending Mangalsutra Designs For 2022 Brides-To-Be
Here we have enlisted some trending mangalsutra designs for bride that will add a flare to your wedding look. Scroll on and bookmark your favorite one!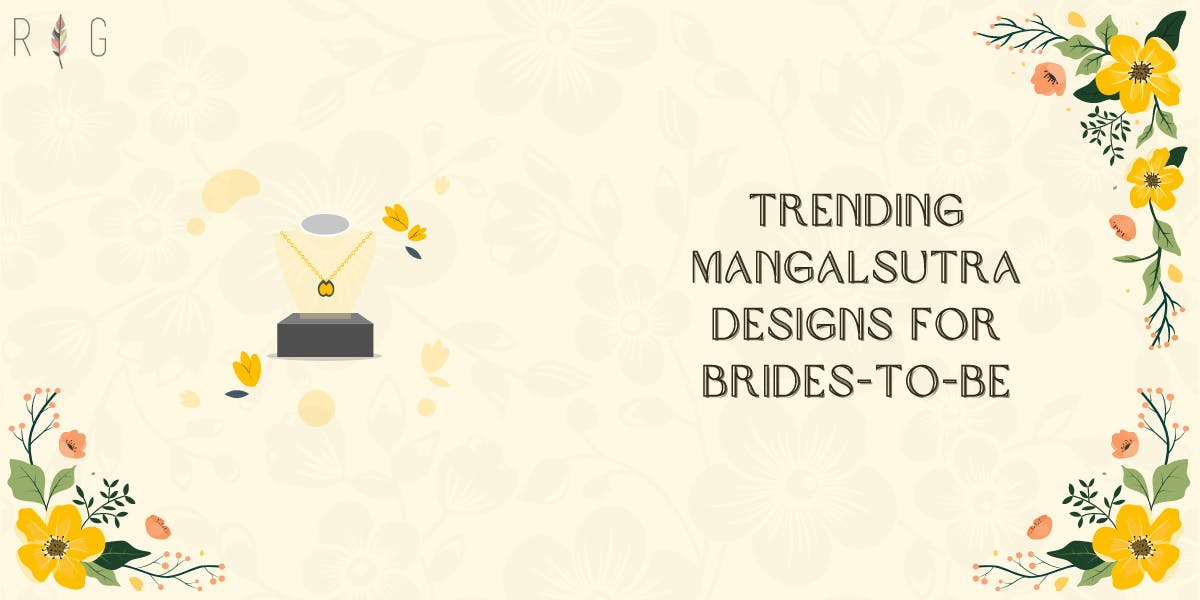 We love how the Indian brides are getting creative with their bridal outfits and jewelry. Indian Brides keep experimenting with every bridal element that can amp up their glam factor. One such bridal ensemble is a traditional mangal sutra. It holds religious significance to every Indian bride. A mangal sutra is a sacred thread that represents the sign of marriage. A groom ties this sacred thread to his bride's neck to solemnize their wedding. Earlier, the mangal sutra was made using a black beaded chain in the wire of gold. But with the changing times, we have seen a significant change in mangal sutra design. Apart from a gold mangal sutra, there are diamonds, rubies, personalized mangal sutras, and much more. Hiring the team of best wedding photographers in kolkata provides you with the memories of your big day. They can also help to capture your stylish Dulhan avatar in the picture frame.
Here we have shared the top trending mangal sutra designs for bride. So that you can pick the perfect ones for yourself.
1. Gold & Diamond Mangalsutra
What can be more beautiful than a fusion of gold and diamond? If you desire to get an off-beat look then you must opt for a gold and diamond design mangal sutra. This mix and match of gold and diamond design is a dream style for every bride.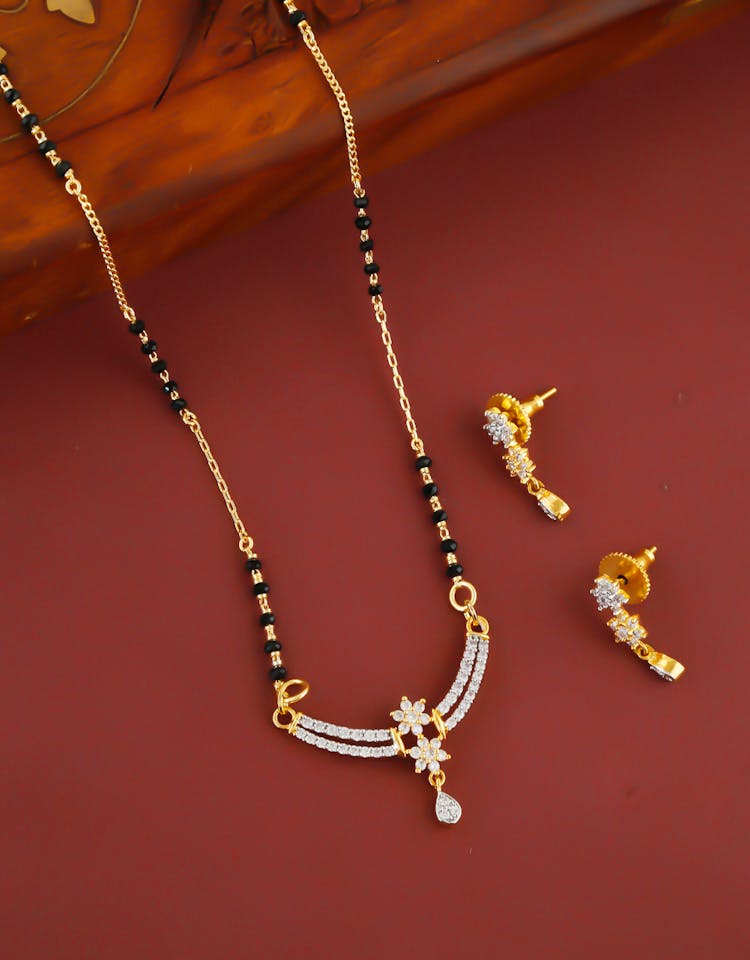 Recommended: Latest Bindi Design Ideas For Bengali Bride
2. Pearl Mangalsutra Designs With Hint Of Gold
Pearls are the most elegant piece of jewelry that offers you a graceful look. A mangal sutra pendant designed of sparkling gold and pristine pearls looks wonderful. A pearl entwined mangal sutra is the right choice for your pastel or ivory shade bridal lehenga.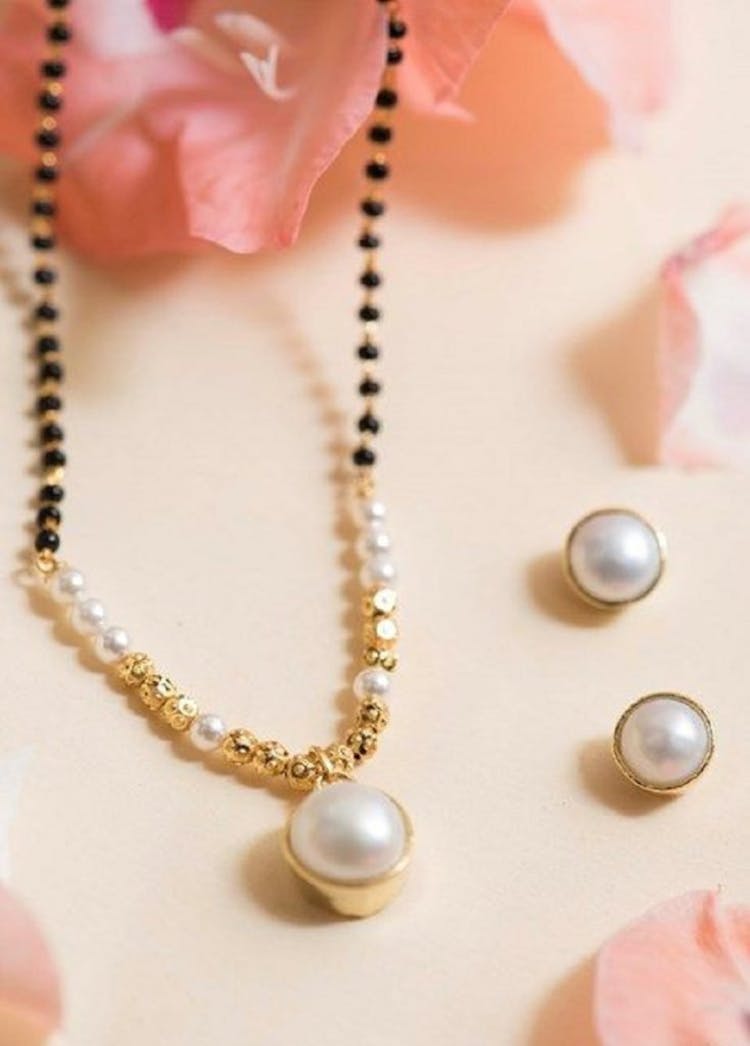 Must Read: Top 15 Popular Bridal Photoshoot Poses Ideas [2022]
3. Latest Zodiac Sign Mangalsutra Designs For Bride
The Zodiac sign mangal sutra became more popular after Sonam Kapoor's wedding. This mangal sutra is a gorgeous piece of wedding jewelry designed with pure diamond and gold. This latest mangalsutra design is a perfect blend of traditional and modish.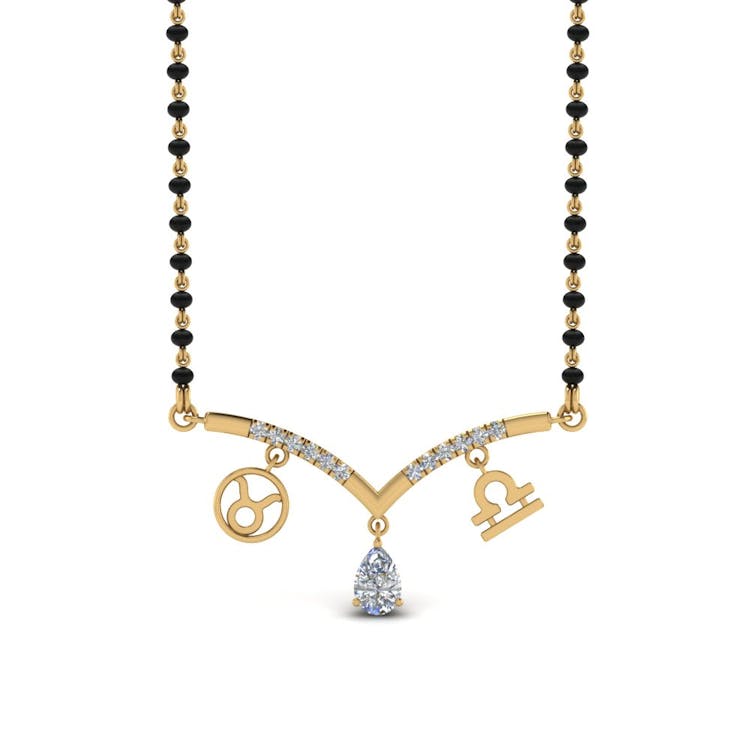 4. Personalized Mangalsutra With Modish Design
Personalized mangal sutra has acquired the first position in bengali wedding photography. This customized mangal sutra is a great option for you to engrave your husband's name in the sacred thread. This mangal sutra design is best for romantic brides that do not shy away to express their love.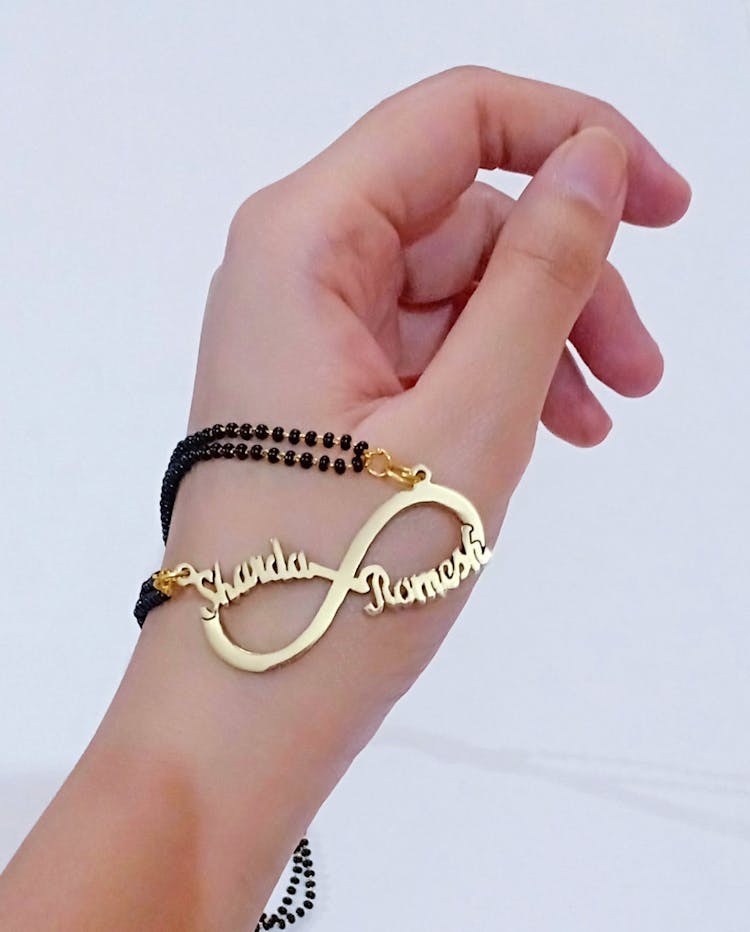 5. Sparkling Elegance Of Floral Mangalsutra
A stunning floral mangal sutra can make your wedding even more special. The floral pendant mangalsutra for new bride adds grandeur to her bridal look.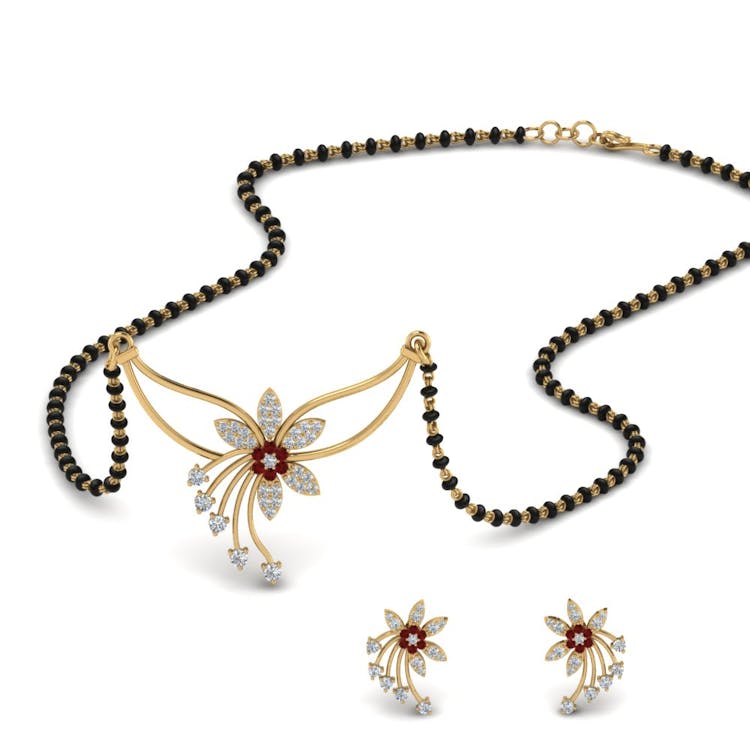 6. Navratna Mangalsutra Designs For Bride
Navratna jewelry has made a great comeback in Indian weddings. A Navratna mangal sutra is made of nine precious gems. This mangal sutra is very powerful and auspicious for weddings. This traditional mangal sutra looks more ravishing with a multicolor bridal outfit.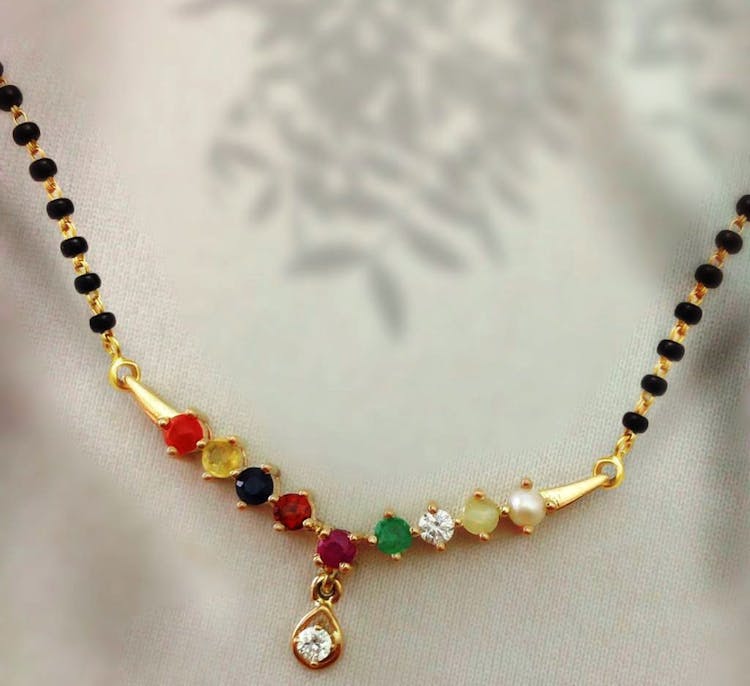 7. Symbol Of Love In Sacred Mangalsutra
How about choosing a heart shape mangal sutra for your special event? A heart is a symbol of love and commitment. This light weight mangalsutra design with two heart shape pendents entwined looks elegant.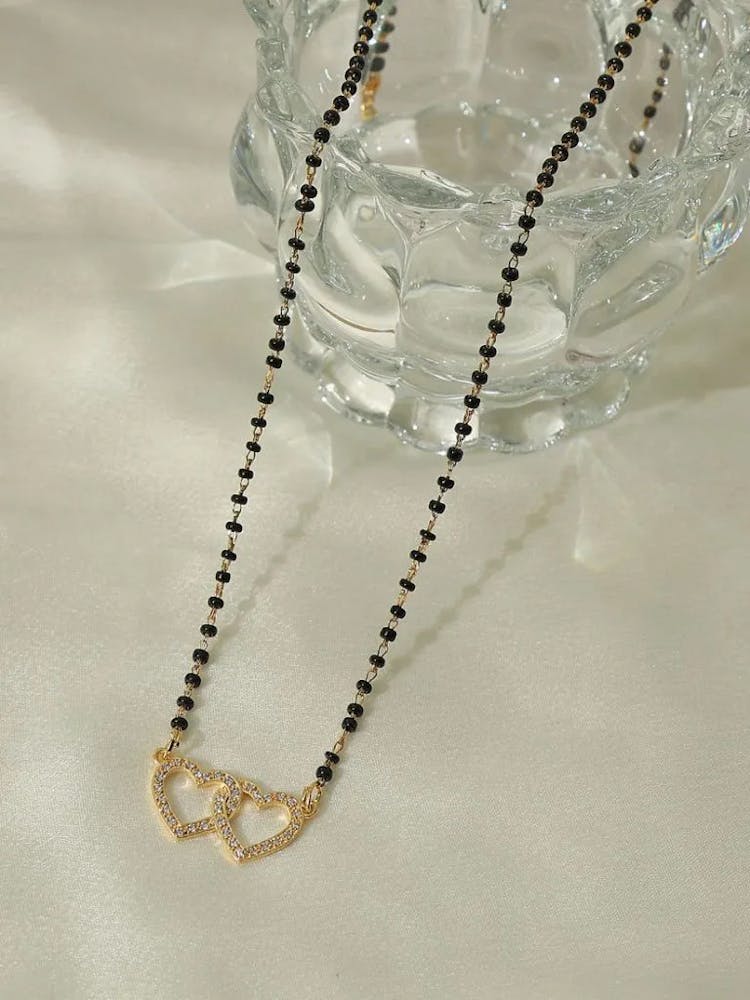 8. A Drop Mangalsutra Is An Offbeat Design
The next mangal sutra design on this list is the favorite choice of ultra-modern brides. The drop mangal sutra is an unconventional design that is sure to leave everyone impressed. This is a daily wear mangalsutra that looks amazing on a traditional silk saree.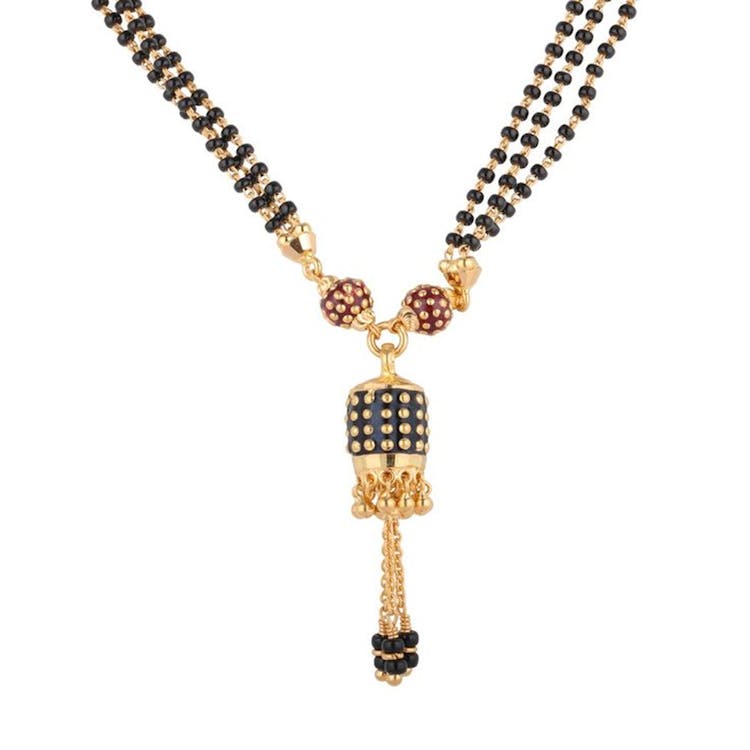 9. An Emerald Mangalsutra In A Sea Of Diamonds
If you have a great fascination with emerald stone then you can choose an emerald mangal sutra for your big day. The touch of emerald stone in your wedding mangal sutra exudes a regal vibe. This magnificent mangal sutra bordered with clusters of diamonds looks splendid.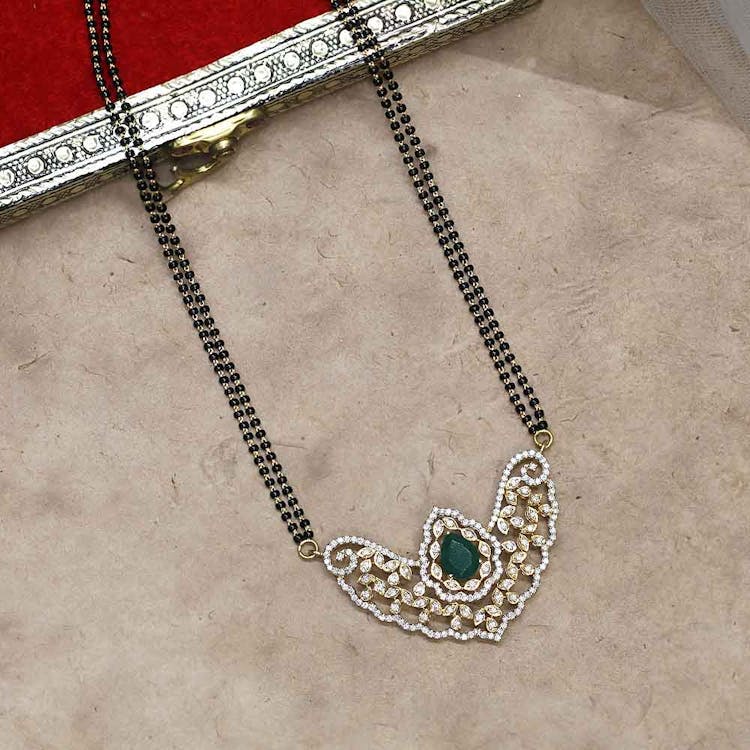 10. Gold Chain Mangalsutra For Conventional Brides
A gold chain mangalsutra is the perfect choice to wear at a traditional event. The intricate mangal sutra design can uplift the charm of your traditional attire. It looks more attractive when worn with traditional jewelry and bridal mukut.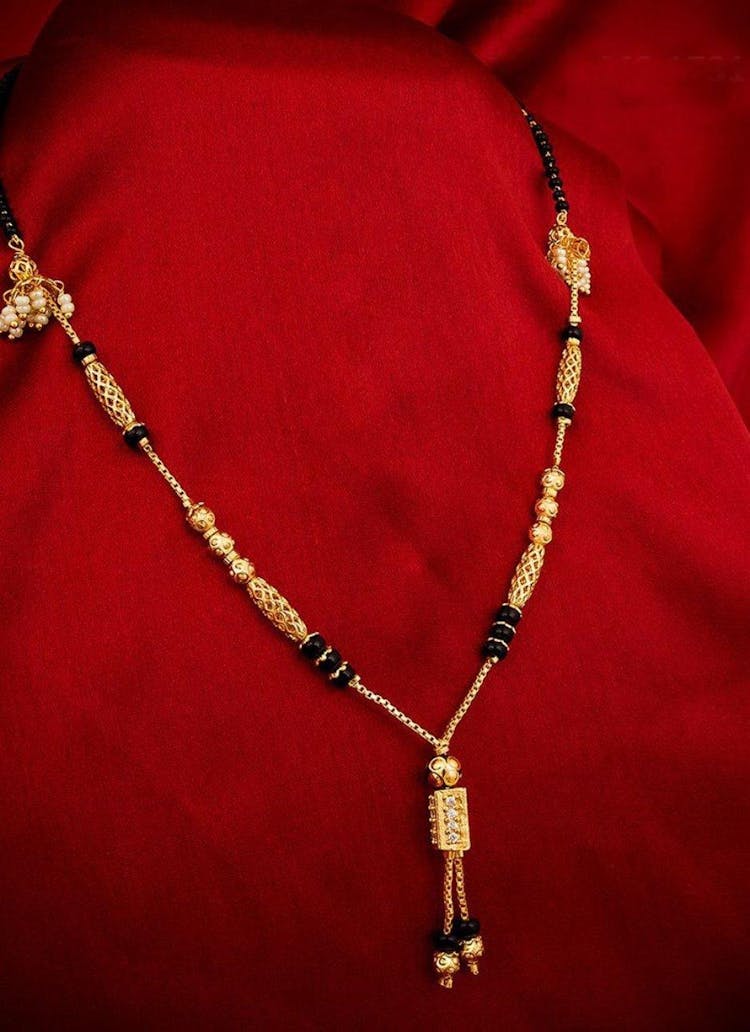 11. Infinity Mangalsutra Designs For Bride
Looking for an unusual design? This infinity mangal sutra design is sure to steal the limelight of your wedding event. This bridal gold mangalsutra looks beautiful if worn with reception outfits.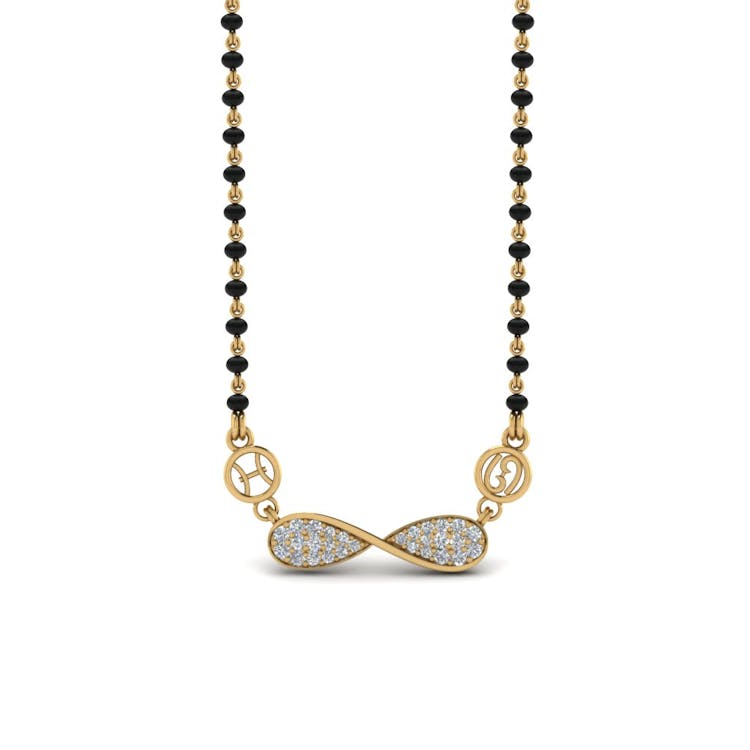 12. Chaandbali Mangalsutra Design Looks So Royal
This Chaand Bali mangal sutra design is more than just ornamental bling. Motifs of auspicious symbols on this crescent moon pendant design looks marvelous. A Chaand Bali mangal sutra design made of pure gold and pearls exudes traditional vibes.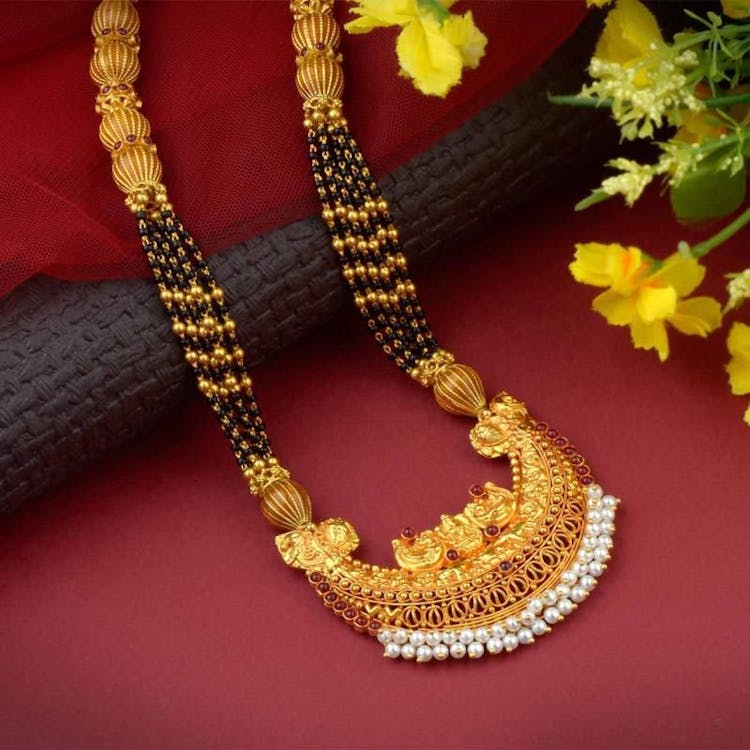 13. Straight Mangalsutra For Minimalist Brides
Are you believe in simplicity? Then this straight mangal sutra design is the best choice for your wedding day look. The five diamond circles in a line straight in the pendant look super unique. This simplistic mangal sutra design is the epitome of grace. It can make you the most sophisticated bride.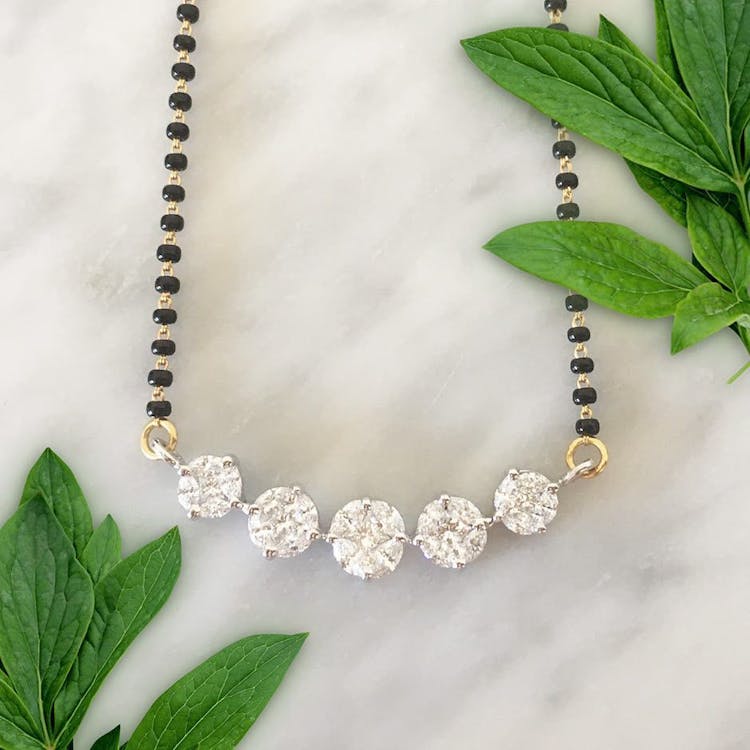 14. Opt For A Unique Bracelet Mangalsutra
This bracelet mangal sutra is the latest short mangalsutra design that you can put on your wrist. This stylish mangal sutra is an unconventional choice to complement your ethnic outfit. Its elegance and simplicity can win anyone's heart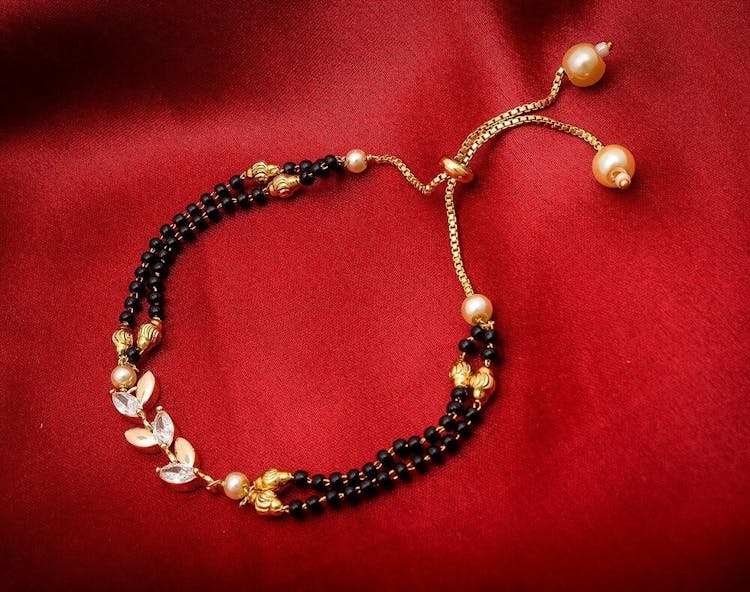 15. Ethereal Beauty Of Paisley Design Mangalsutra
How can we forget this gorgeous paisley motif mangal sutra design? Its stunning gold pendant looks spectacular with a traditional outfit. It is a wonderful choice to compliment your spectacular mehndi design.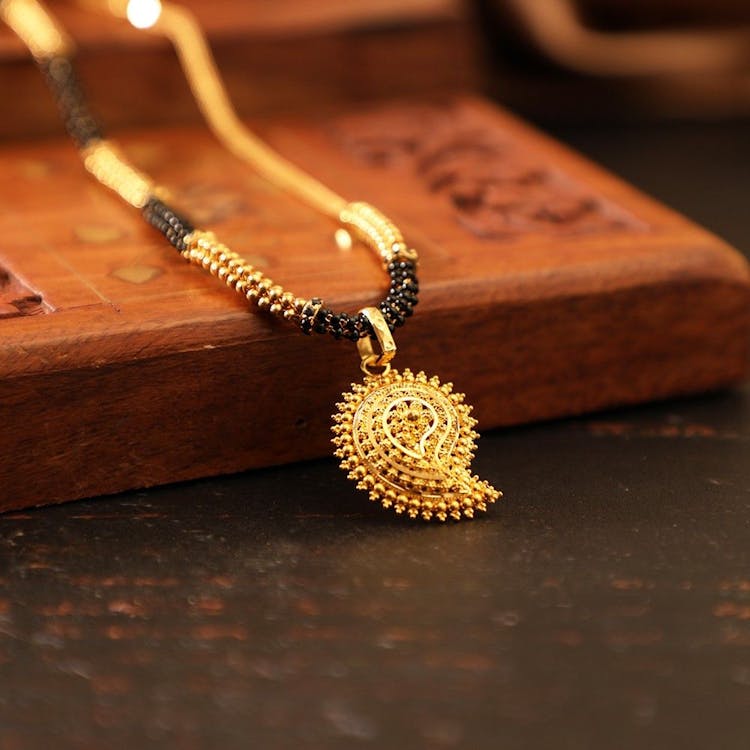 16. Leafy Mangalsutra Are Most Popular Ones
The timeless beauty of a leafy mangal sutra is hard to ignore. This diamond studded mangal sutra pendant with a hint of gold looks dazzling with a wedding gown. The mini diamonds engraved on the golden pendant look breathtaking.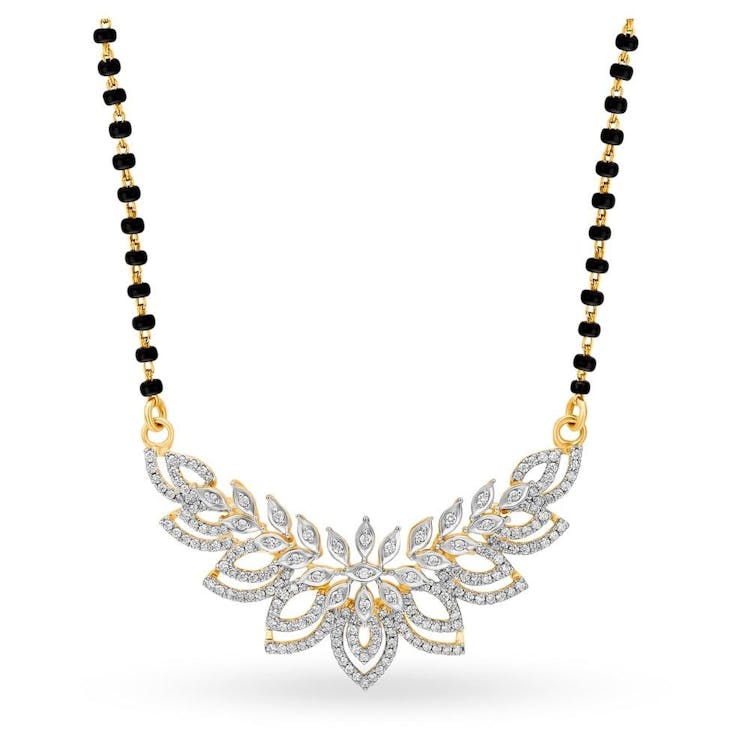 17. Meenakari Mangalsutra Is A Masterpiece Of Art
Who doesn't love the gorgeous meenakari bridal jewelry? The phenomenal beauty of a meenakari mangal sutra adds a traditional charm to your bridal personality. Its intricate work is sure to leave you enchanted with its creativity.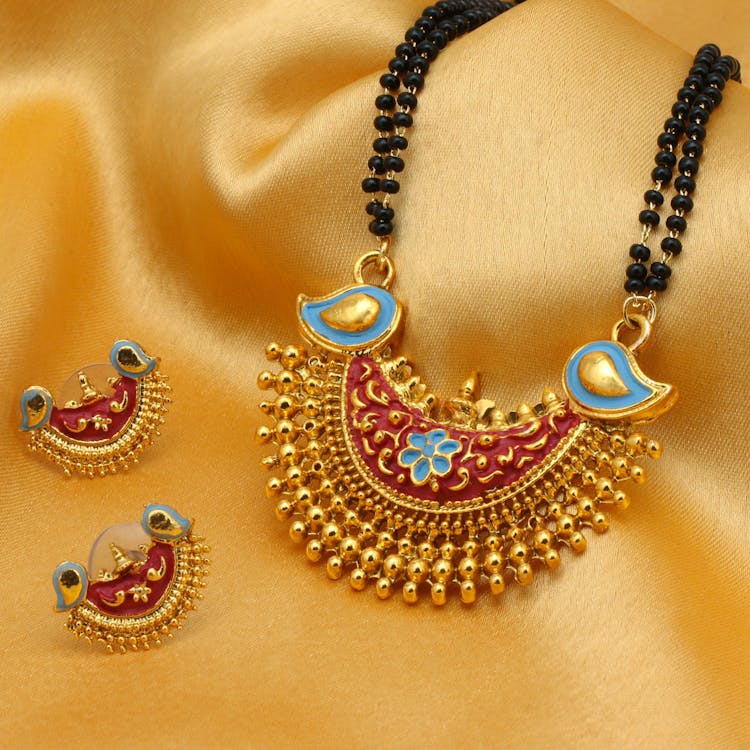 Each of these mangal sutra designs is beautiful and unique in itself. You can choose the one that suits your personality and wedding attire.