14 Beautiful Bridal Mukut Design Ideas For 2022
One can not imagine a Bengali bridal look without a beautiful mukut. We're here to help you in finding a stunning bridal mukut design for your big day.
If you've ever got a chance to witness a Bengali wedding, you have surely seen a white adorable crown on the head of a gorgeous bride known as mukut. But have you ever wondered why this beautiful crown is worn? It has a special significance in Bengali weddings. The conical pure white mukut is considered auspicious for the bride. This beautiful crown is believed to bring good luck and prosperity to the new bride.
Bengali brides flaunting their divine look and signature red wedding attire on their wedding day is the most dramatic part of Bengali wedding photography. While most brides prefer to wear a traditional mukut, some of them want to experiment with creative and stylish headgear which will make them feel no less than a queen. Hence, if you are also looking for unique and eye-catchy elements in your wedding head-gear, then you might take inspiration from these gorgeous Bengali brides and their stunning bridal mukut design.
1. Pure White And Aesthetically Charming Mukut
Loving how the white mukut is complementing her red bridal lehenga and playful pose in this wedding photoshoot. The pure white head gears look extremely charming and come in diverse designs. This artistic mukut design is adding wedding vibes. This is a very popular Bengali headgear that is mostly captured by Rig Photography, a professional wedding photographer in Kolkata.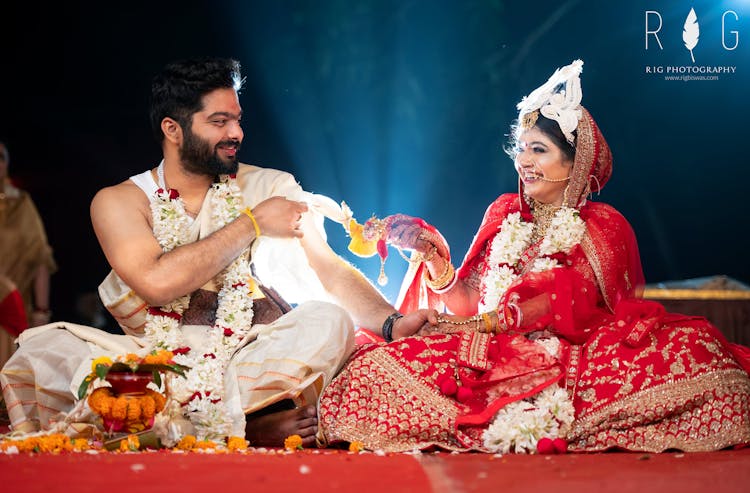 2. Silver Work In Bridal Mukut
Such beautiful and exceptional mukut designs are to die for. The intricate silver design in the pure white mukut when paired in the traditional red banarasi saree and enhances your bridal glow. This is a traditional mukut design that is simply beautiful for an adorable bride.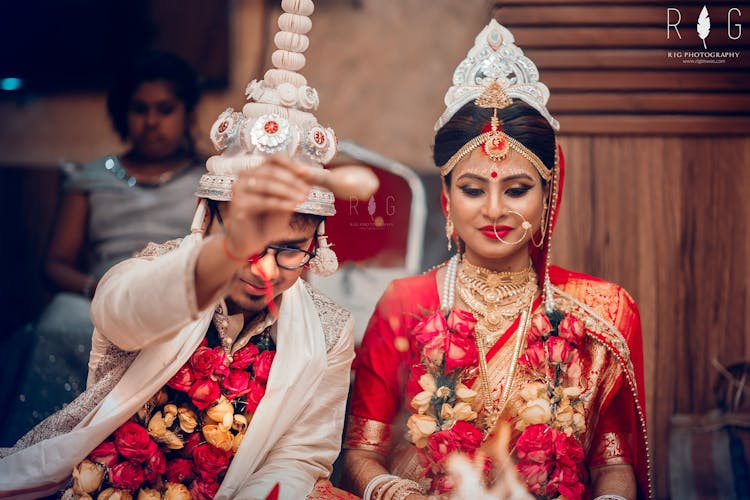 3. Charming Combo Of Red & White Mukut
Our bride has rocked her traditional look in the most charming red & white Bengali mukut design. The red patterns intricately carved out on a white base are an example of excellent craftsmanship. The small red feather on headgear and shining gold jewellery with minimum makeup look is beautifully complementing her red & gold banarasi saree.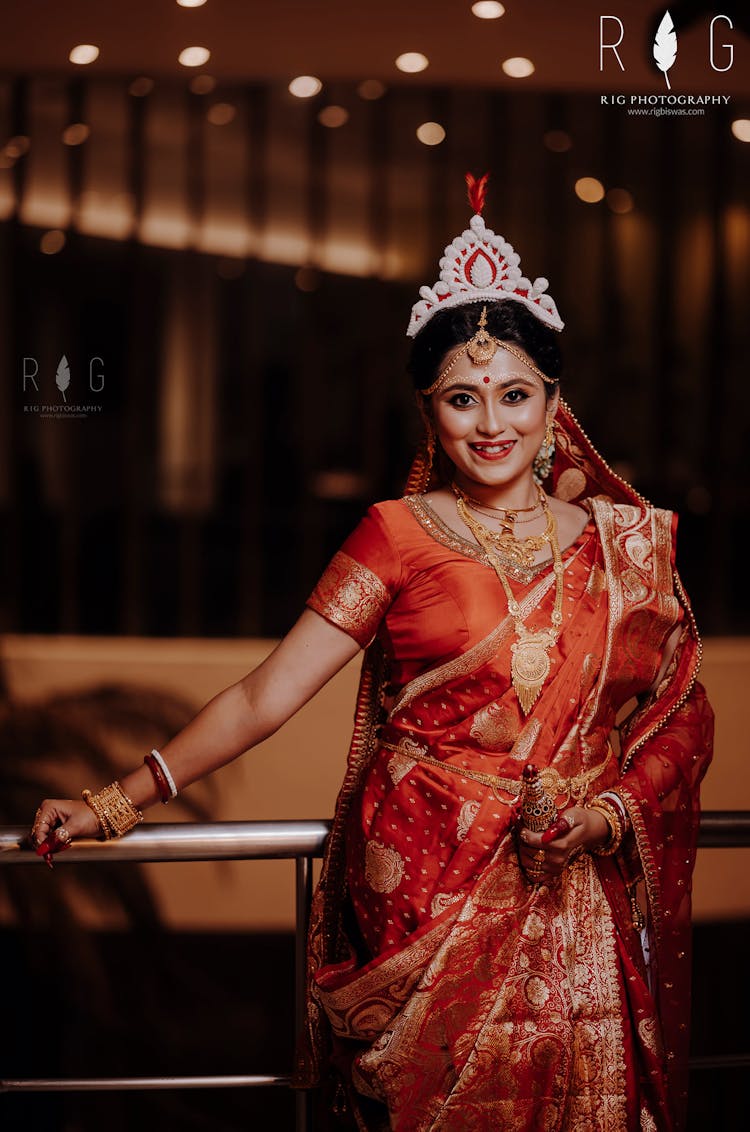 4. The Devine Look Of Round Mukut
Nothing can match the beauty of this round mukut for bride. Get a divine goddess-like look in this round and big headgear. You can also add faux mogra birds at the outer edge of the mukut to look more beautiful and divine. Look at the charm of this elegant bride wearing a large crown, gold jewelry, and red banarasi looking like goddess Laxmi.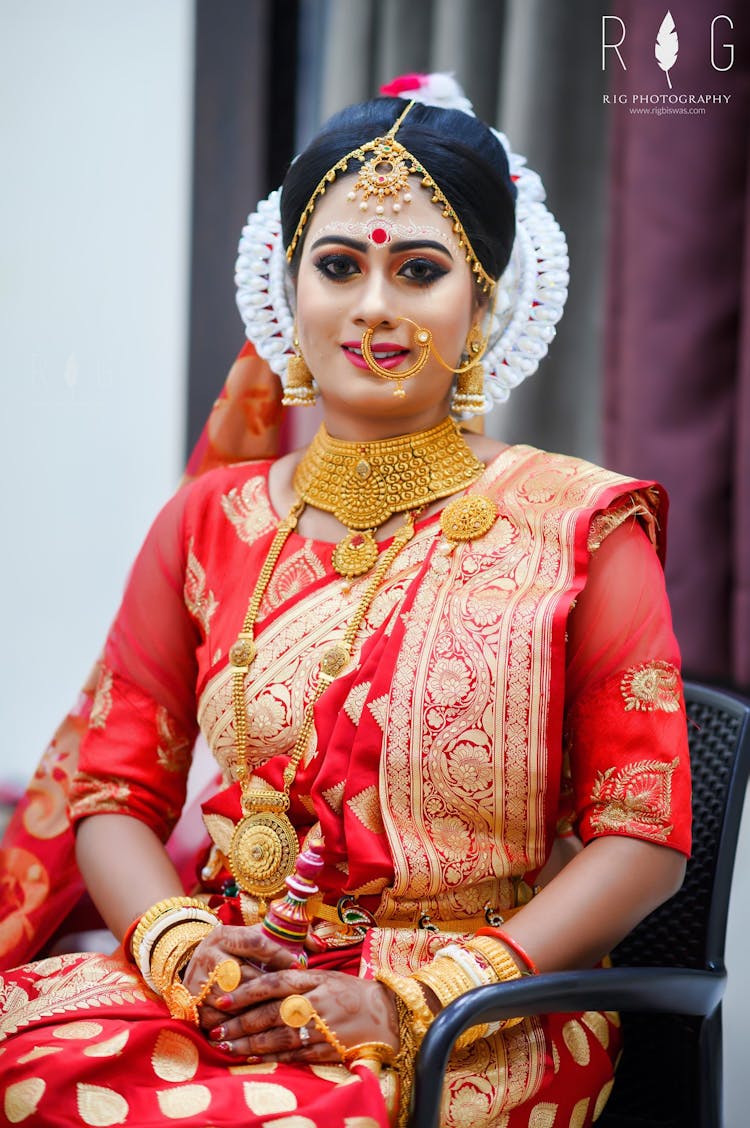 5. Beauty Of Peacock Shape Mukut
This gorgeous bride's peacock-shaped mukut is one of the finest picks for a wedding day. This Bengali wedding mukut resembling a peacock dance adds a beautiful dimension to your bridal look. The intricately carved peacock on conch shells base offers you a flawless Bengali bridal look. The beautiful Kalka art of this mukut can grab everyone's attention at first sight.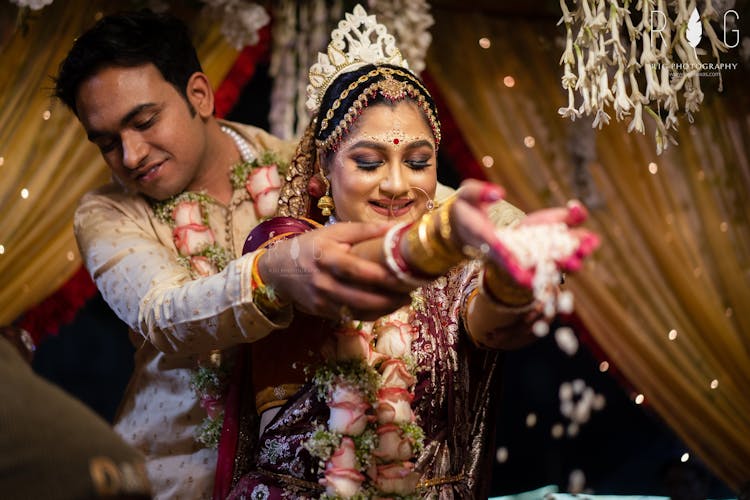 6. Fascinating Feather Mukut
How about this cute red feather on a delicate shell design? It can be center of attraction of your bridal look. Designed with red stonework and feathers provides a majestic look to the bride. Pair this captivating mukut with a heavy zardozi saree and an elegant set of gold jewelry for a sophisticated look.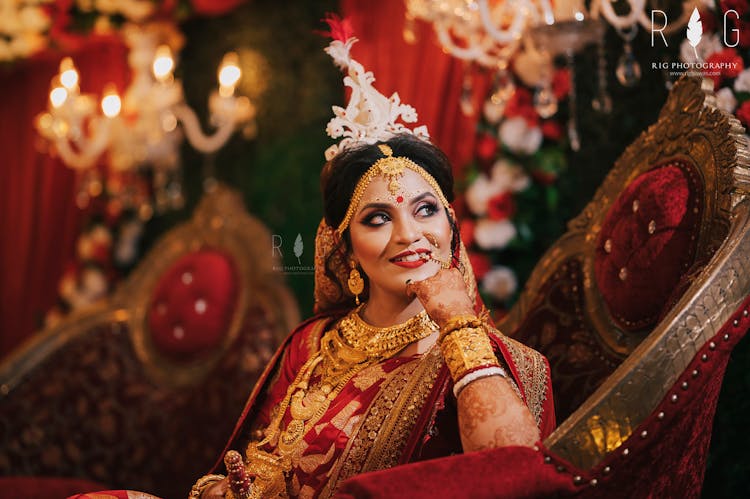 7. Golden Aura Of Precious Mukut
If your taste lies in golden ornaments, a wedding headgear with intricate designs on pure gold mukut is the right fit for you. People can't stop admiring this classic piece of bridal jewelry. It might be a little bit more costly than other bridal crowns, but the glittering effect of this crown on your head will increase your glory. You will feel like a queen on your special day celebration.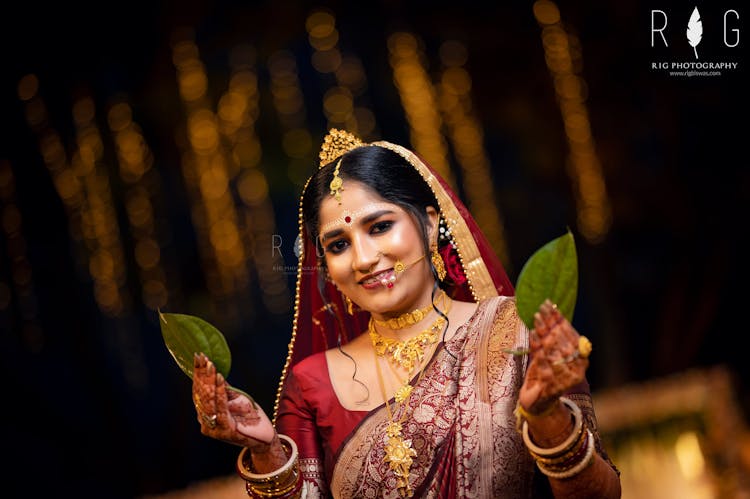 8. Stones & Pearls Embedded Mukut
This bride has grabbed all the attention as she looked amazingly beautiful in her stone & pearl embedded bridal mukut design. If you are looking for a budget option then this elaborate bridal crown is one of the budget-friendly and extremely charming options to put on your head.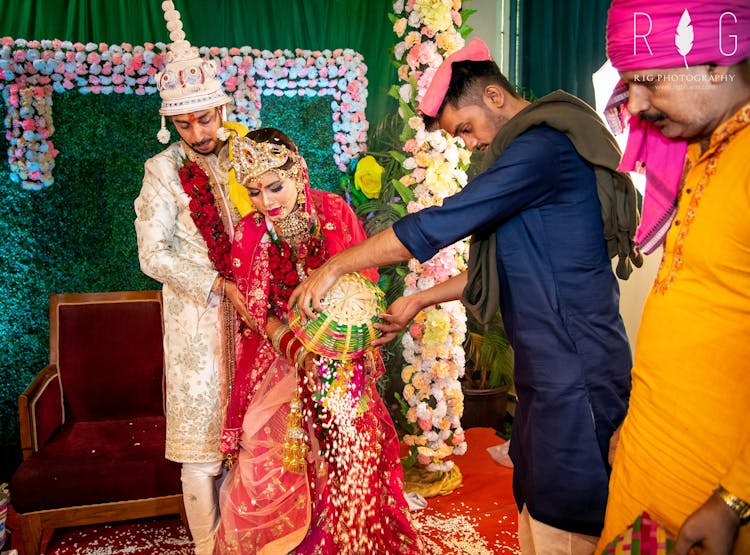 9. A Creative Mukut
In awe of this gorgeous Bengali bride who nailed her look with a unique mukut design. Her majestic crown, red banarasi, and beautiful mehndi design are enough to capture a beautiful memory in photo frames.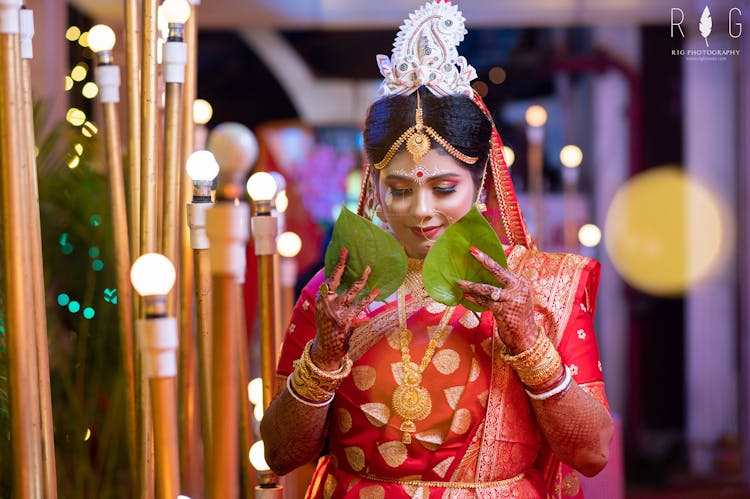 10. Eye-Catchy Triangular Mukut
Love to experiment with new designs? Then these triangular shape Bengali bride mukut designs can fulfill your dream. A perfect blend of beauty and art, this simple bridal crown has won our hearts. We highly suggest this geometrical shape mukut for an unconventional bride look.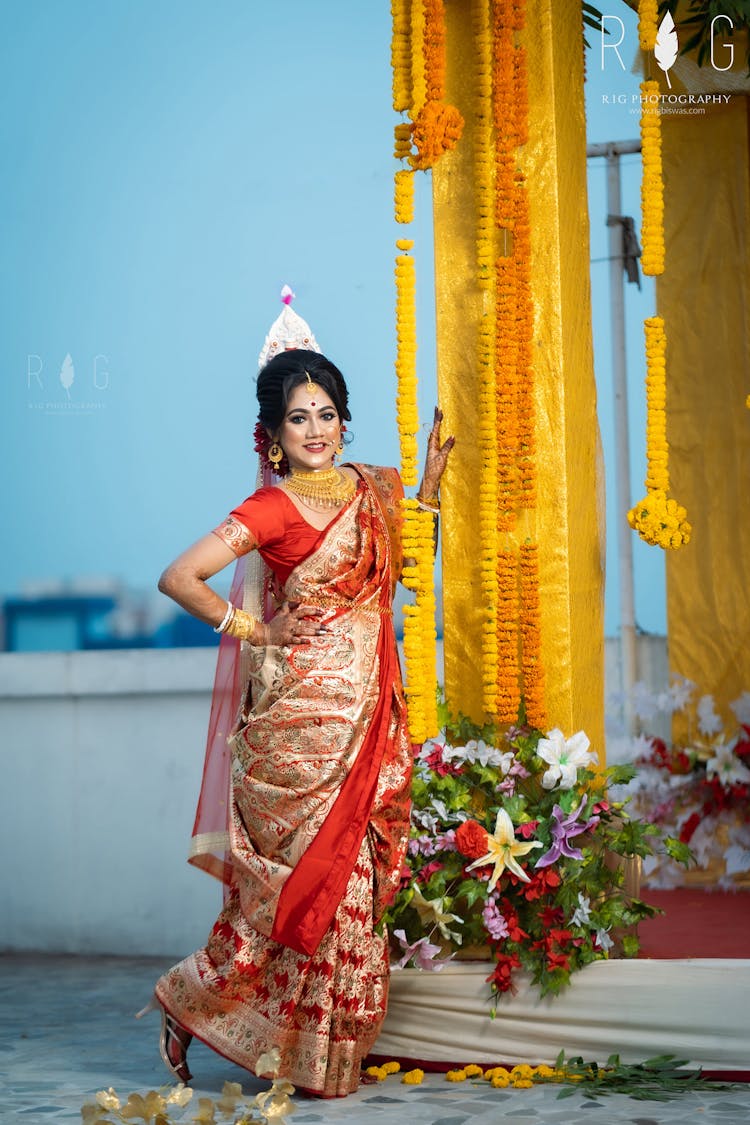 11. Sweet And Simple Mukut
If you are looking for a simplistic mukut design then you should take inspiration from this pretty bride. Her beautiful wedding pose with a gorgeous wedding outfit, adorable headgear, and no makeup look is surely the best choice she made for a pre-wedding photography pose.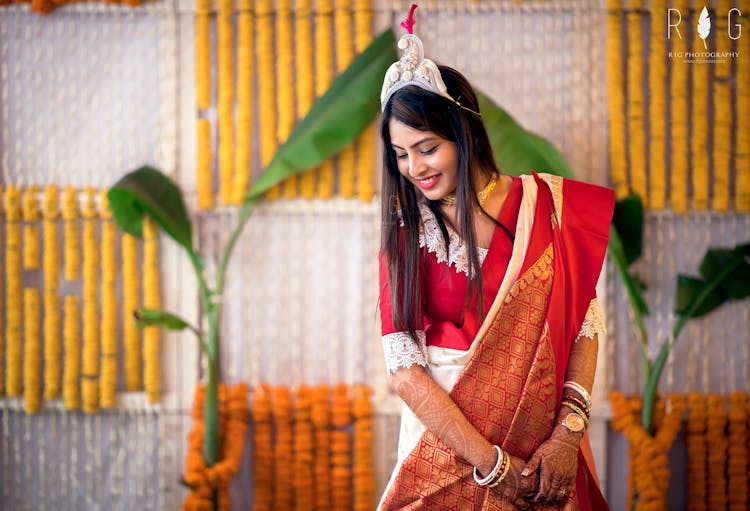 12. OTT Bridal Mukut
A creative white mukut design like this one would go a long way. Seek inspiration from this cheerful bride whose innocence and bengali bridal look have touched our hearts. The amazing art of this stunning mukut can increase your bridal glow.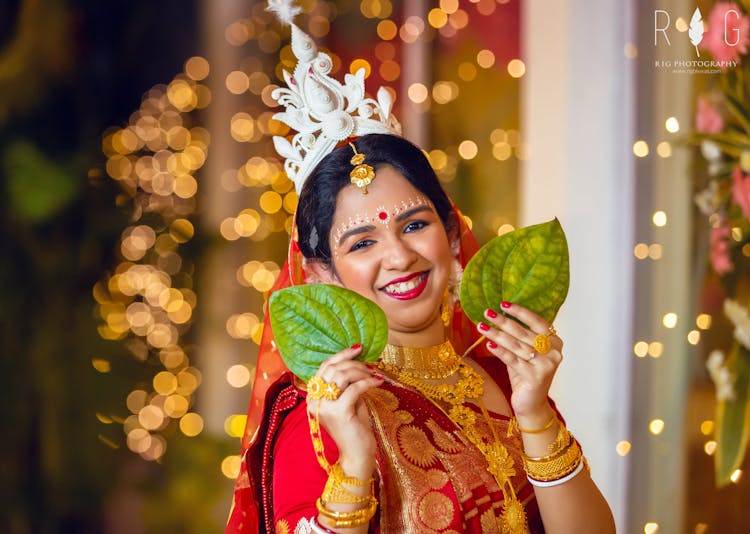 13. Elegance Of A Pearl Mukut 
Another elegant option after the gold bridal mukut design is a gorgeous topor with faux pearl detailing. This tremendously charming crown with a banarasi saree makes a major fashion statement. Her impeccable choice of a pink saree with silver embroidery is complementing her pearl mukut. this graceful look adds a royal charm to your beauty.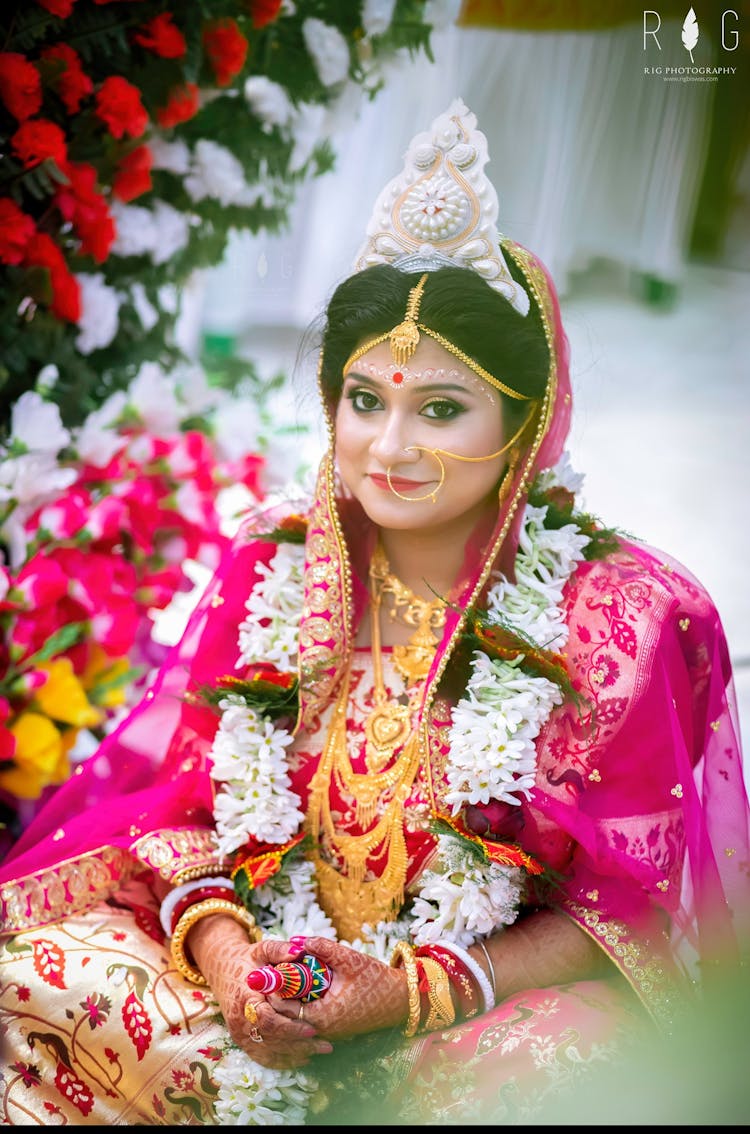 14. Adorable Petite Mukut
Last but not least is a unique and cute mukut design that makes you look like a shining star. We can't take our eyes off this pretty and small headgear which is perfectly complementing her beautiful look. Make sure to bookmark it if you are impressed by its cuteness.