Top 10 Bengali Mehndi Design Ideas - Rig Photography
Want to achieve the perfect Bengali style Mehndi Design inspiration for your wedding ceremony? Worry not with Rig Photography's tips you will have an idea for the best.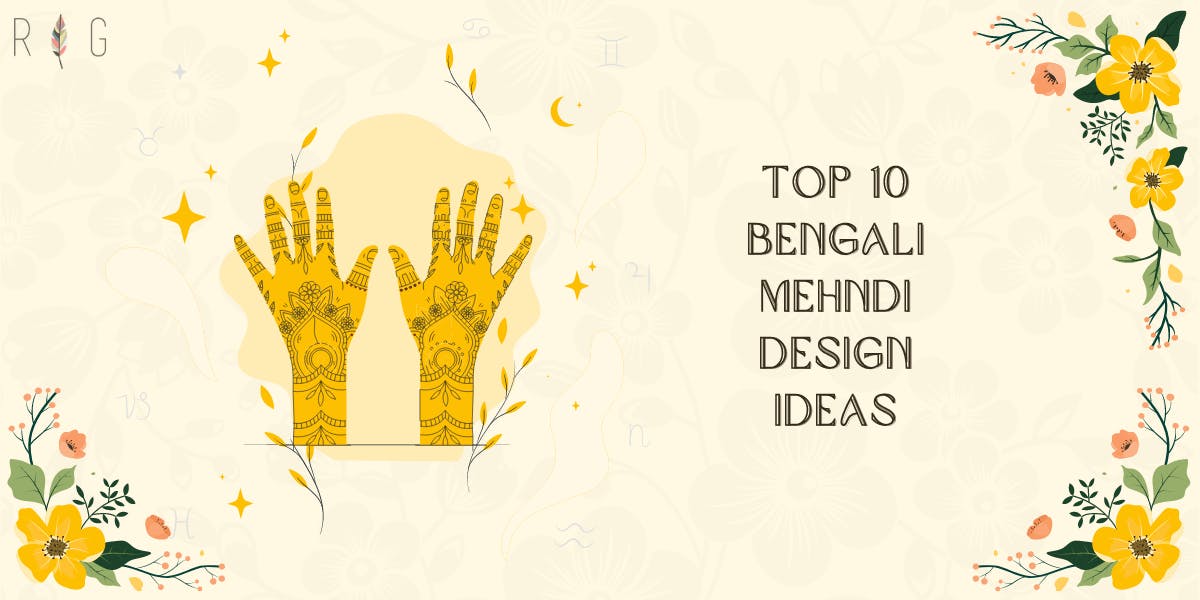 As we know women and young girls in Asian countries love to decorate their hands and feet with the latest mehndi designs on any auspicious celebrations or special occasions, particularly weddings. 
Mehndi, also known as henna, signifies wonderful occasions in our Indian culture that brings a lovely smile to anyone's face when applied to the hands. Mehndi is not traditionally used in Bengali culture, but due to the influence of northern and western India, it has grown fashionable in Bengali culture as well.
Modern bong brides of today love to beautify their palms with exquisite designs produced with mehndi paste, despite the fact that it is not very traditional to Bengali culture. Bengalis have embraced a variety of elements to their culture as a result of the globalisation of style. I must say mehndi design is one of them. Though it can be a challenging process for several brides-to-be. 
However, if you are a bride-to-be, you may be thinking about what Bengali mehndi designs you can do on your palms that would suit you best and ensure that your Bengali wedding photographer captures the perfect shots. Right?
So, today, we've got some lovely latest Bengali mehndi design photos that are currently dominating the Bong wedding scene and would take your wedding photography to next level. 
1. Peacock Style Bengali Mehandi Design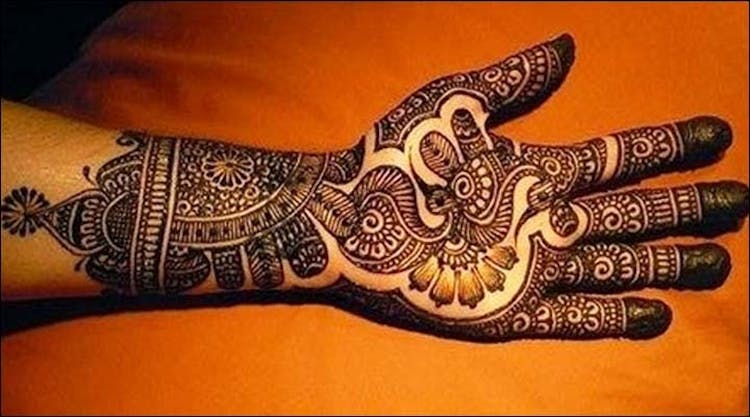 Peacock is a lovely bird, also an epitome of grace and elegance. That looks stunning when used as a mehndi design on the palms. The design of peacock feathers on the hands, which are embellished with small semi-circles and dots, emphasise this design in a very artistic and lovely style and add many folds to the palms.
Recommended: 15 Breathtaking Haldi Ceremony Dress Ideas For Brides In 2022
2. Circular Pattern Bengali Mehndi Design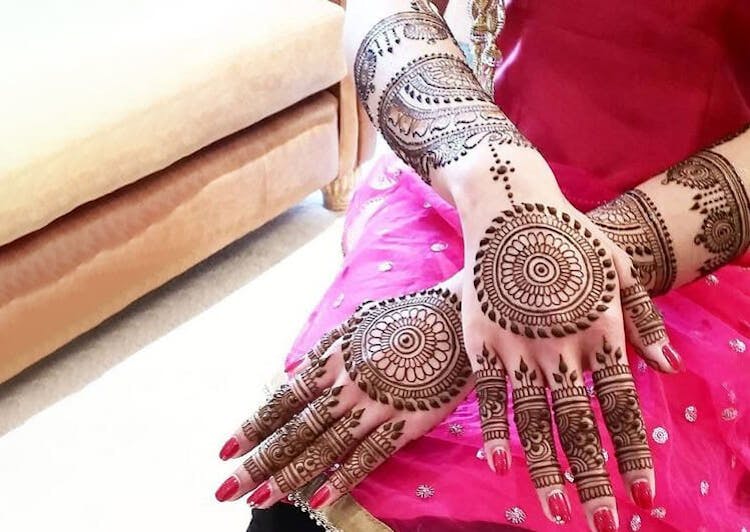 Most young ladies enjoy wearing new mehndi designs in creative and fashionable ways. Therefore a circular pattern design like this could be a great fit for them, as it gives them a trendy yet traditional look. Perfect for any young bridesmaids and even brides.
Must Read: Top 15 Fashionable Bengali Groom Dress Ideas For Reception Ceremony
3. Mirror Image Bengali Mehndi Design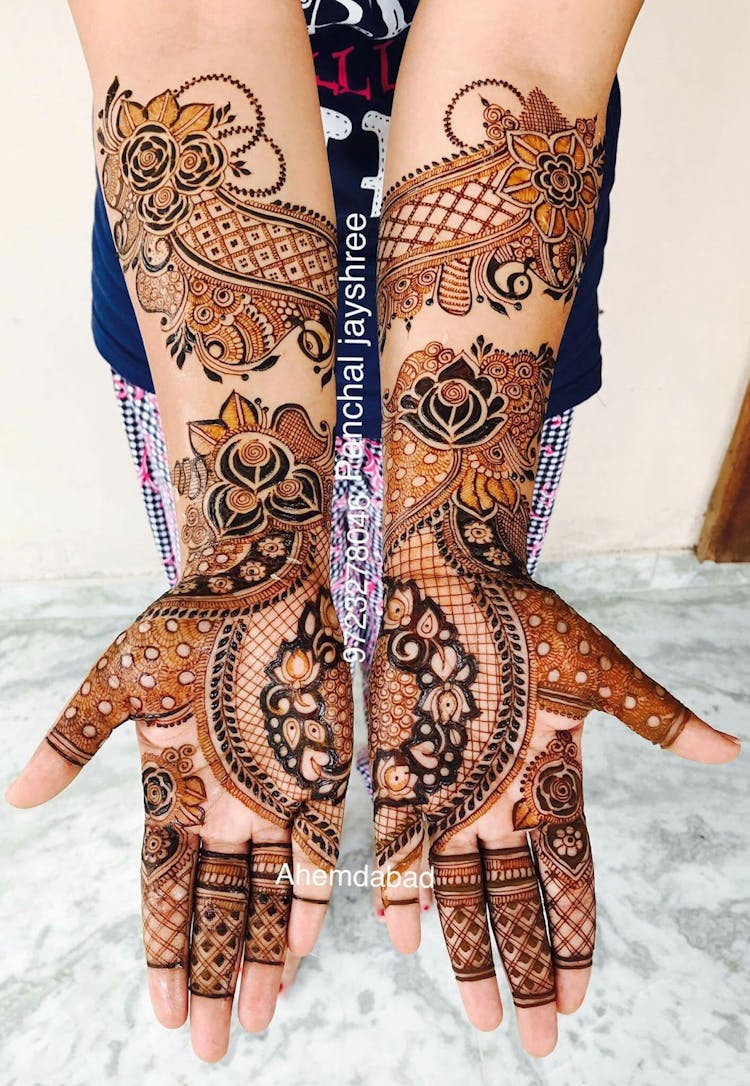 What a beautiful Bengali mehndi design! Won't you all agree? This style of mirror image mehndi design is also new and popular among Bengali women and girls. An attractive design is made with half of the image on one hand and then the other half on the opposite palm. As soon as you join the hands, a lovely design appears, giving you and your palms a wonderful appeal.
4. Dulha-dulhan Portrait Bengali Style Mehndi Design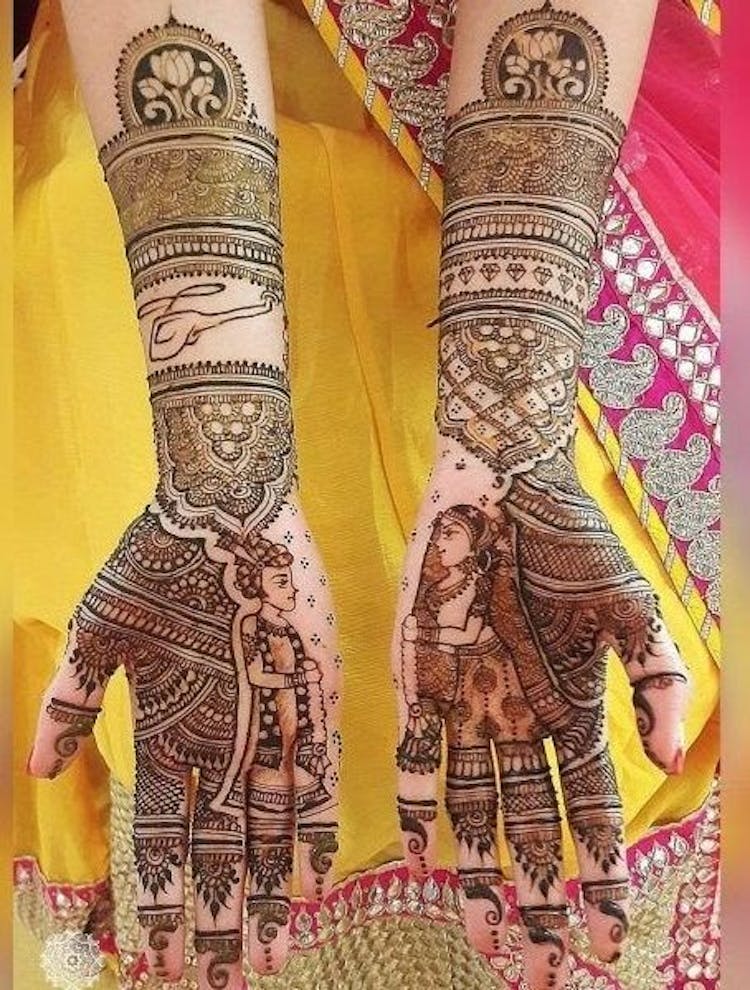 Portrait mehndi art is undoubtedly hot and one of the latest Bengali mehndi designs in 2022. The major attraction of this new bridal mehndi design is the face of dulha and dulhan is drawn on the inner corner of the palms. The portrait motifs' semi-heart-shaped frames provide the impression that the pair is embraced by a heart. Sophisticated and artistic swirls and flowery motifs cover the entire hand.
5. Modern Bengali Mehndi Design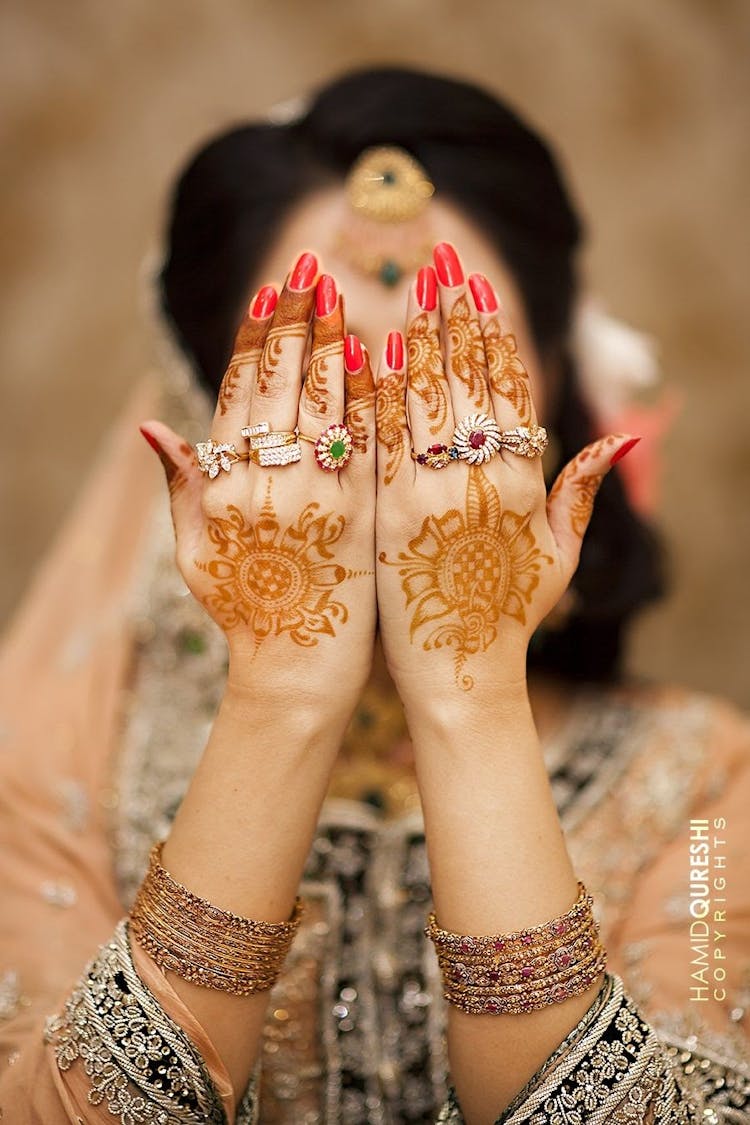 The simple swirly theme mehndi design is a new Bengali mehndi style that is highly modern and chic. The arrow-like edges are filled with floral basic designs right above the wrist. Simple flower and creeper-like designs cover the tips of the fingers. All of these could be ideal for a minimalist bride. One of the most beautiful new mehndi designs available for a Bengali bride.
6. Stunning Pakistani Mehndi Design For Hands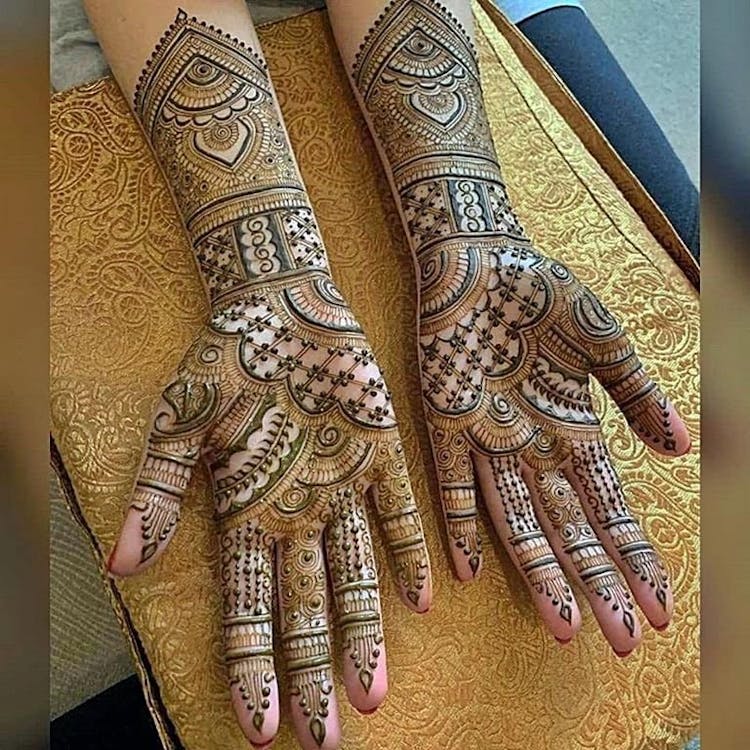 Pakistani bridal mehndi artwork is yet another popular style in Bengali bridal mehndi design. This skillfully crafted artwork is unquestionably the work of a skilled hand. This Bengali mehndi design is really filling and lovely because of the flawless creation in delicate creepers and floral motifs designs. 
7. Royal Madala Style Bengali Mehndi Design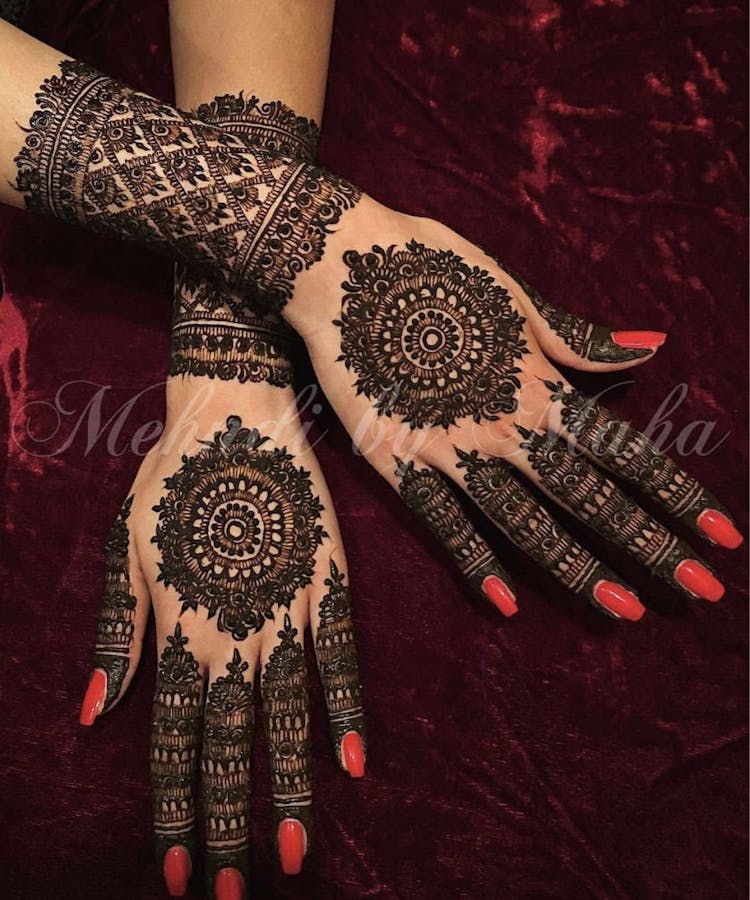 Here comes another royal and elegant traditional mehndi design to add to your collection. The exquisite Mandala art in the palm progressively spreads out to span the entire hand. The tips of the fingers were tinted and featured a criss-cross design. The mandala's flower-shaped frame is encircled by a swirly design. For bong brides, this is a perfect and easy mehndi design to try on for the big day. 
8. Rajasthani style Mehndi Designs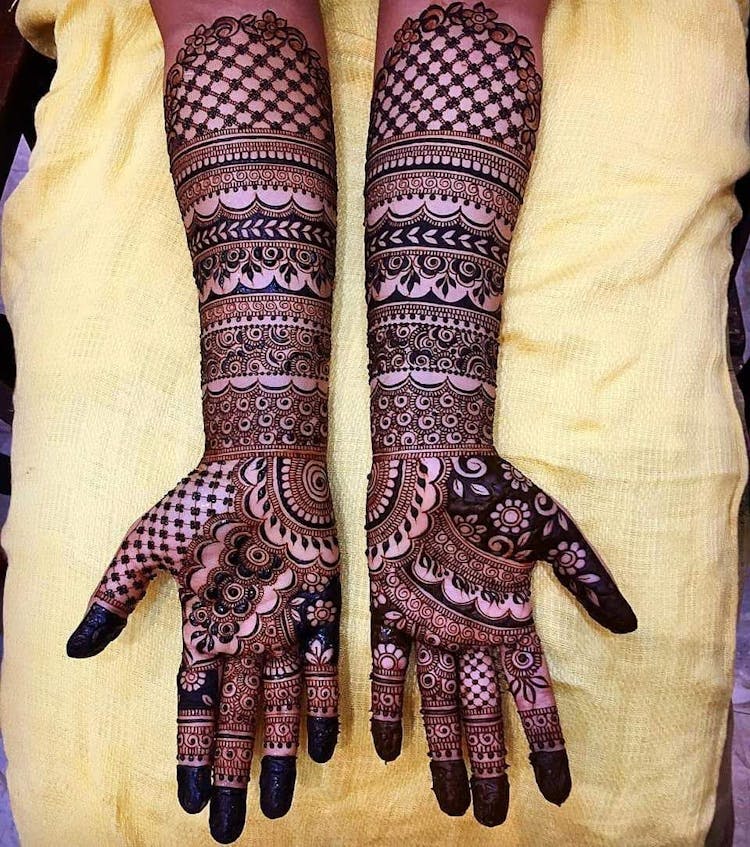 Delicately detailed design segments distinguish this kind of Mehndi from others. The design's basics include radial peacock designs and decorative floral designs. The bangle-like design on the wrist part, as well as the coloured fingertips, are further distinguishing features of this style. This is an old Indian type of mehndi design that has become a famous source of inspiration for new mehndi designs. Any bong bride would feel like a queen in this Rajasthani style mehndi design.
9. Simple Bengali Mehndi Design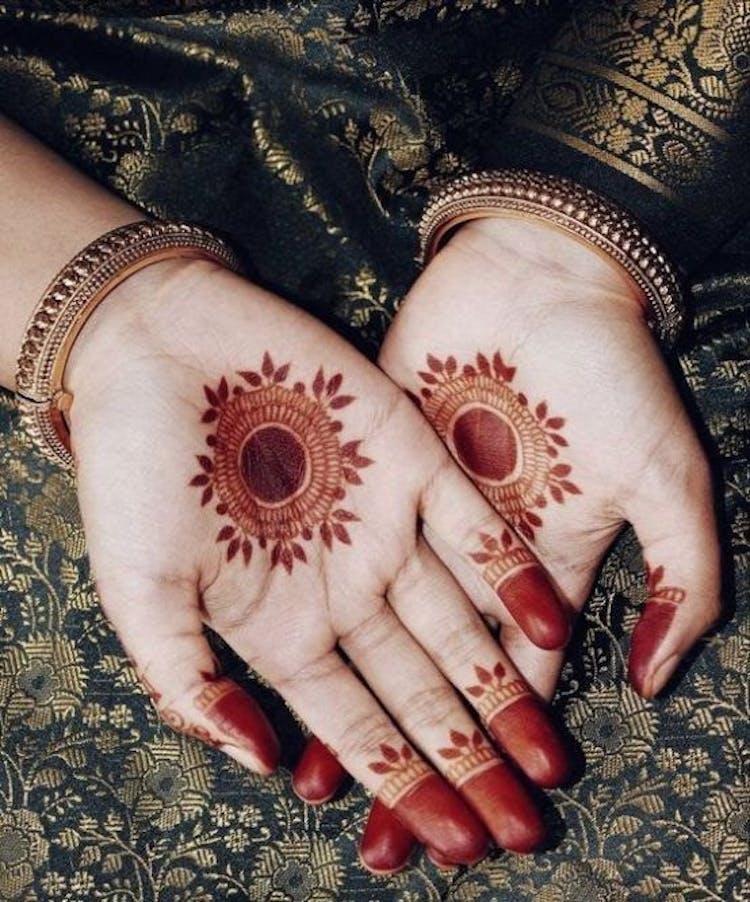 These Bengali mehndi designs are very easy and simple to draw but look fantastic once completely decorated on palms. It is adorned with small mango leaves and leaves, creating it such a nice and delightful look for a young Bengali bride who loves simple mehndi designs.
10. Arabic Style Floral Mehendi Design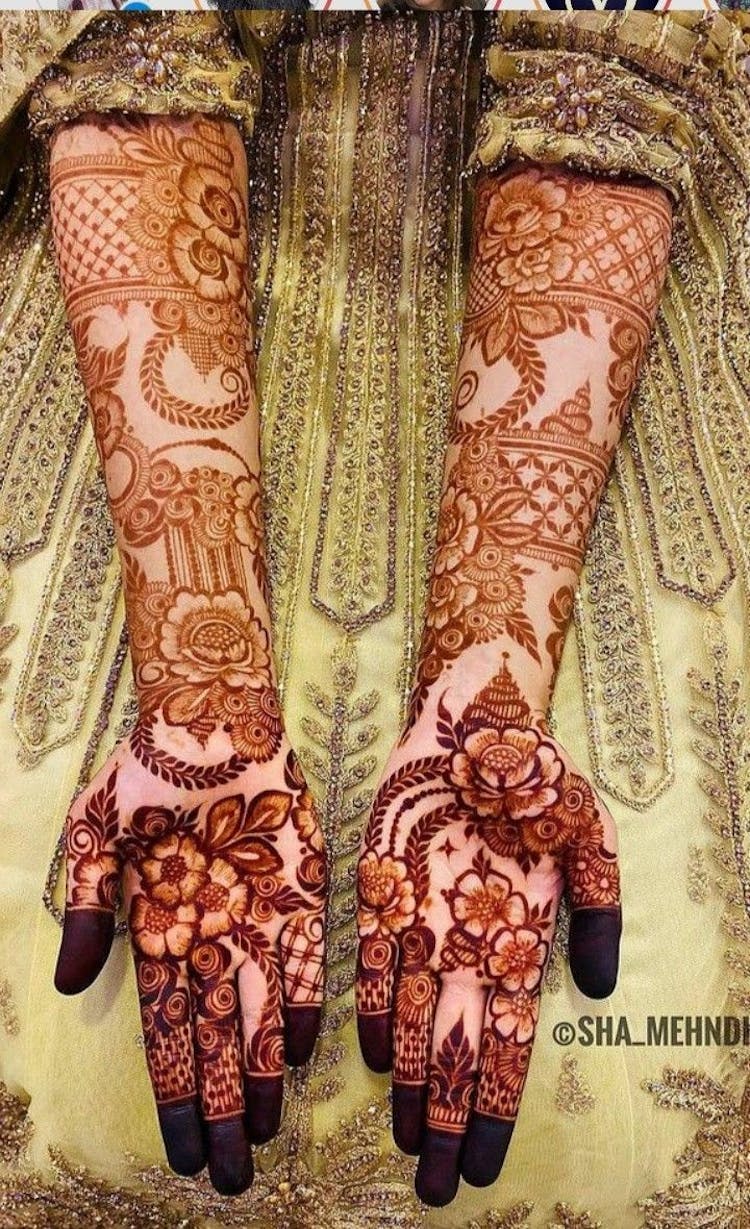 Paisleys, diagonal designs and floral patterns are common in Arabic mehndi. The delicate floral motifs in this simple and lovely mehndi design are done in the Arabic way which would make any bride's hand look stunning. The zig-zag patterning and leaf-like decorations on the fingers do a fantastic job of completing the design. A classic mehndi design that is both modest and majestic. If you are a Bengali bride-to-be then without any doubt you can go for it. 
Decorating hands and feet with mehndi is becoming more popular and trendy these days due to its detailed and magnificent designs, which can offer any woman a new look and a lovely personality. Every woman adorns mehndi designs on their hands for every occasion in order to achieve that gorgeous and beautiful look. Even though mehndi fades after a few days, girls and women still lavishly apply it on their hands and feet and capture it. Do let us know in the comments which design you like the most.