Top 15 Popular Bridal Photoshoot Poses Ideas [2022]
The digital era allows us to capture the candid moments of our wedding. Here is the compiled list of some amazing bridal photo shoot poses Ideas.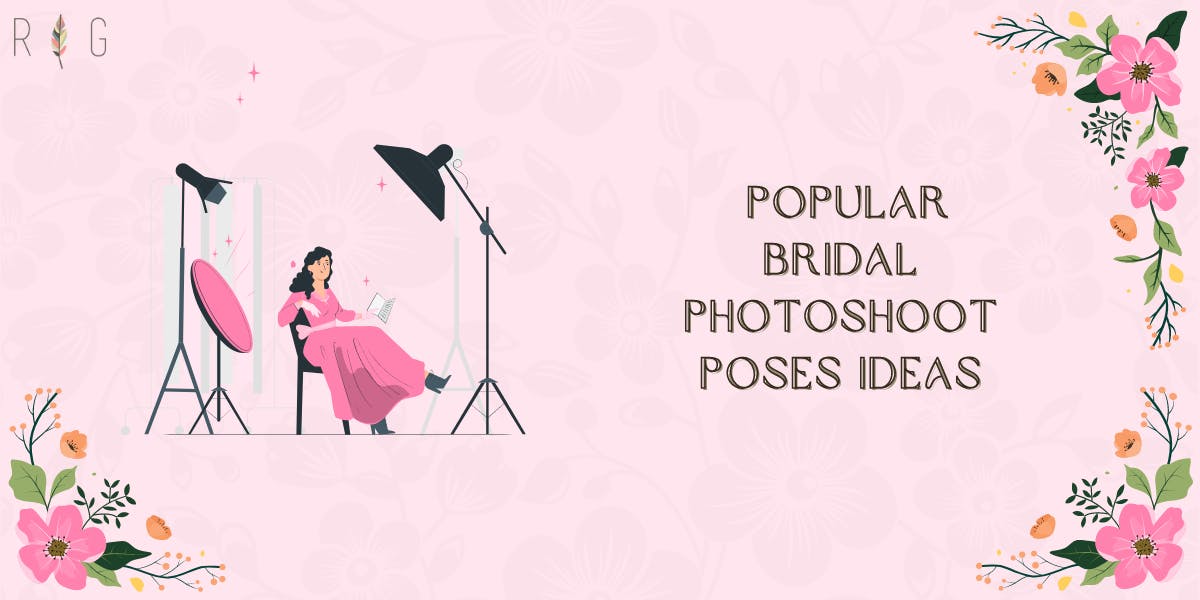 Every bride wants to look their best in a wedding photoshoot session. Your wedding pictures not only reveal your bridal beauty but also carries the joy, emotions, and excitement of a bride–to–be. Wedding photography with an ideal pose always produces some candid pictures that tell a beautiful story. Wedding photographs creates memorable story that you can show to everyone and will stay with you as a valuable treasure. Knowing how to pose for your wedding photoshoot will help you to look picture-perfect in every shot. You have put so much effort to look for the most gorgeous bride at your wedding, so why not try to capture it as a most beautiful memory? So, the best wedding photographer in kolkata have listed a bridal photoshoot poses ideas that will inspire you for a most stunning bridal photoshoot.
1. Twirling Bride Magical Poses
Rejoice in the happiest moment of your life by providing a twirling pose. This dramatic pose flaunts the beauty of your designer ghumavdar lehenga. Looking down while twirling around is an elegant way to get yourself photographed. This is one of the most beautiful wedding poses for the bride. This classic twirl is an absolute must for an elegant bridal pose.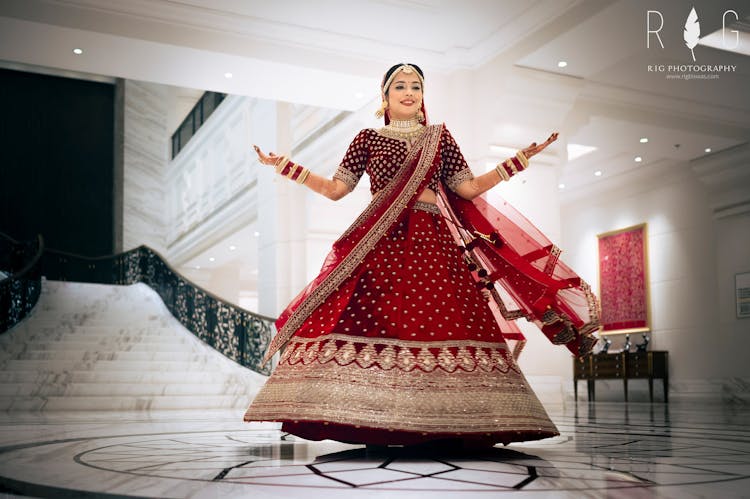 Recommended: 15 Breathtaking Haldi Ceremony Dress Ideas For Brides In 2022
2. Dynamic Pose Of A Gorgeous Bride On The Staircase
A gorgeous bride standing on the stairs with the bengali lehenga spread out is an amazingly popular and simple photo shoot pose that flaunts y our bridal appearance as a royal queen. You can make full use of your wedding venue by standing tall on and looking at another side.
3. The Stylish Swagger Bride
Reveal your fun side through a candid photography shoot. Let yourself free from all stress and pose like a playful and stylish bride. Winking eye turn on the swag mode and add a fun element to your wedding pictures that will make you laugh years after.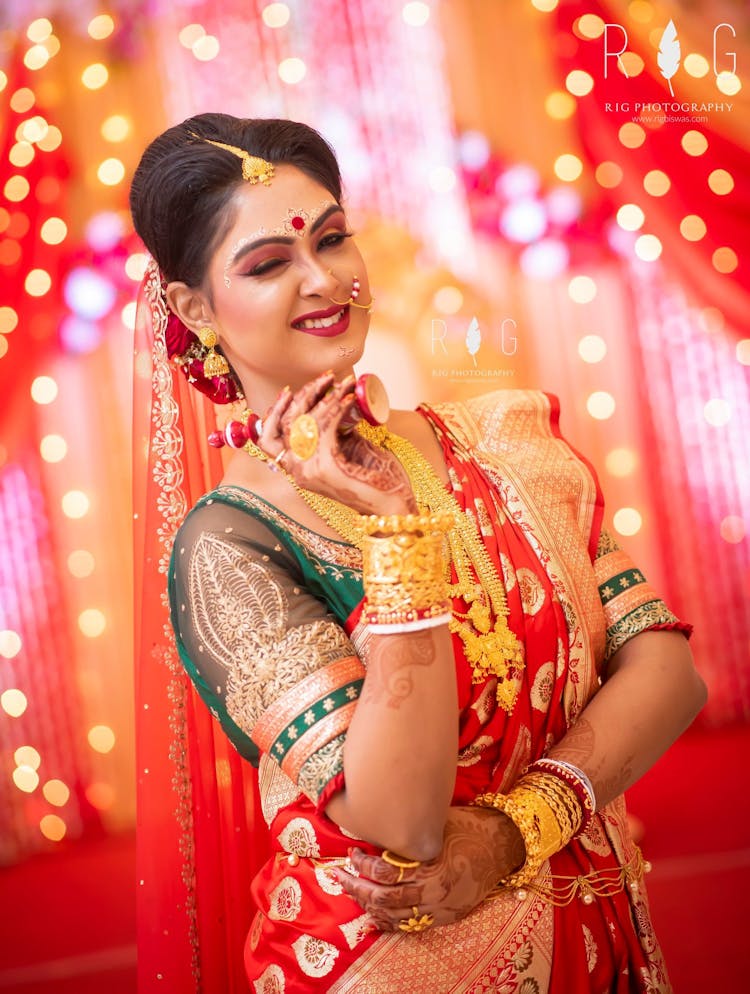 4. Photographic Shot Of The Dramatic Veil
A bridal dupatta is the most dramatic Indian wedding poses that is aesthetically charming. Let your gorgeous dupatta steal the focus of the camera. With every passing year, this classic shot has been shooted with more creativity. Bridal dupattas are a traditional part of the bride's attire. These eye-catchy veils provide a spectacular bridal pose that is amazingly beautiful.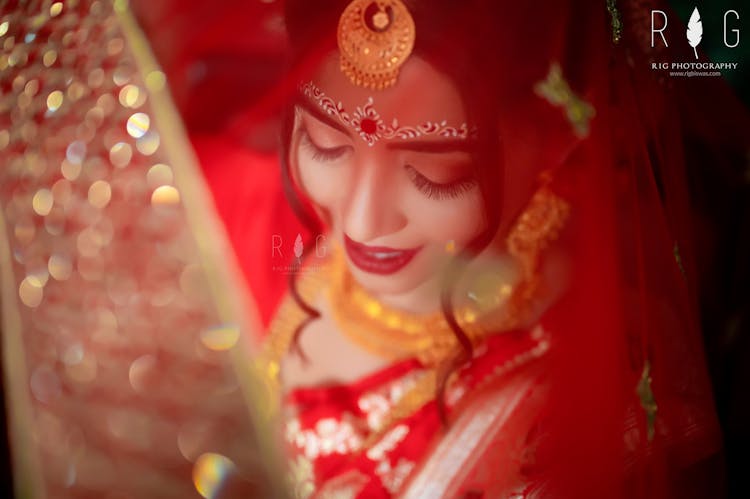 5. Elegant Bridal Back Pose With Fairy Lights
Adding a little drama to your bridal pose makes fairytale-like wedding pictures. The stunning bride looking back in a Banarasi saree is a truly admirable bridal shoot pose. A bridal pose of looking back in the midst of sparkling fairy lights creates a wonderful dramatic effect that you will surely love.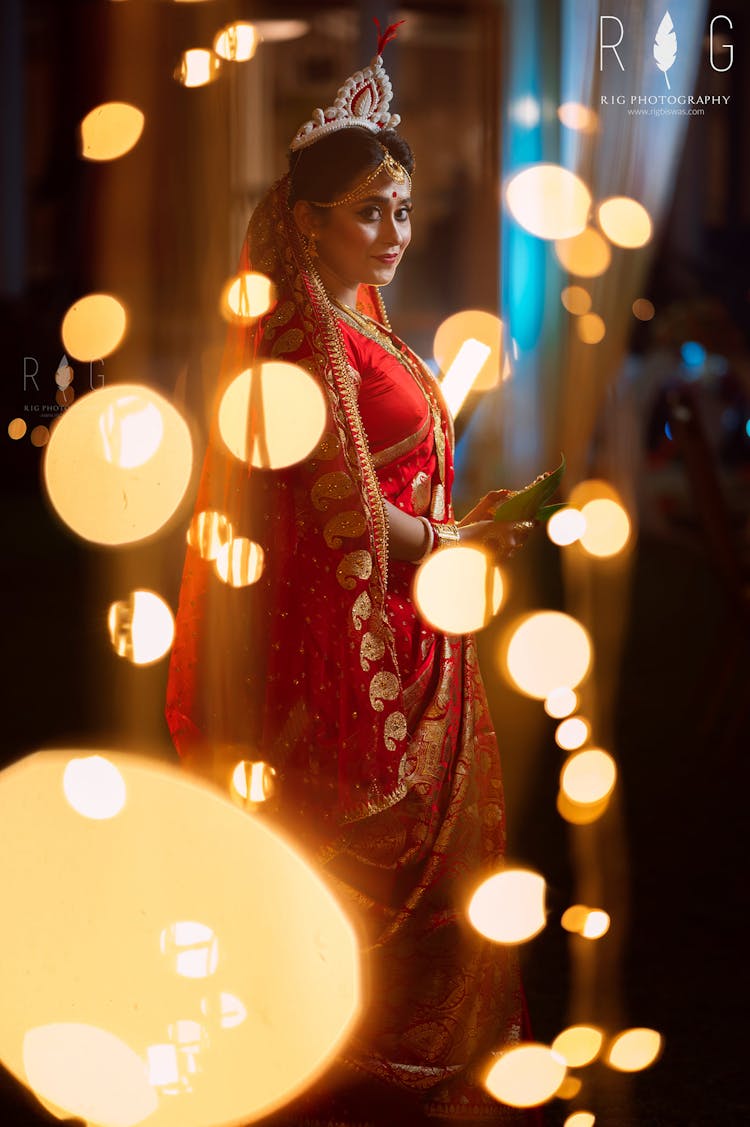 6. The Royal Badhu Pose
Let your wedding photographer capture your magnificent royal bride look. Sit straight with pride and elegance and look straight into the lens to flaunt your queen-like appearance. This royal bridal pose pic will win your prince charming heart.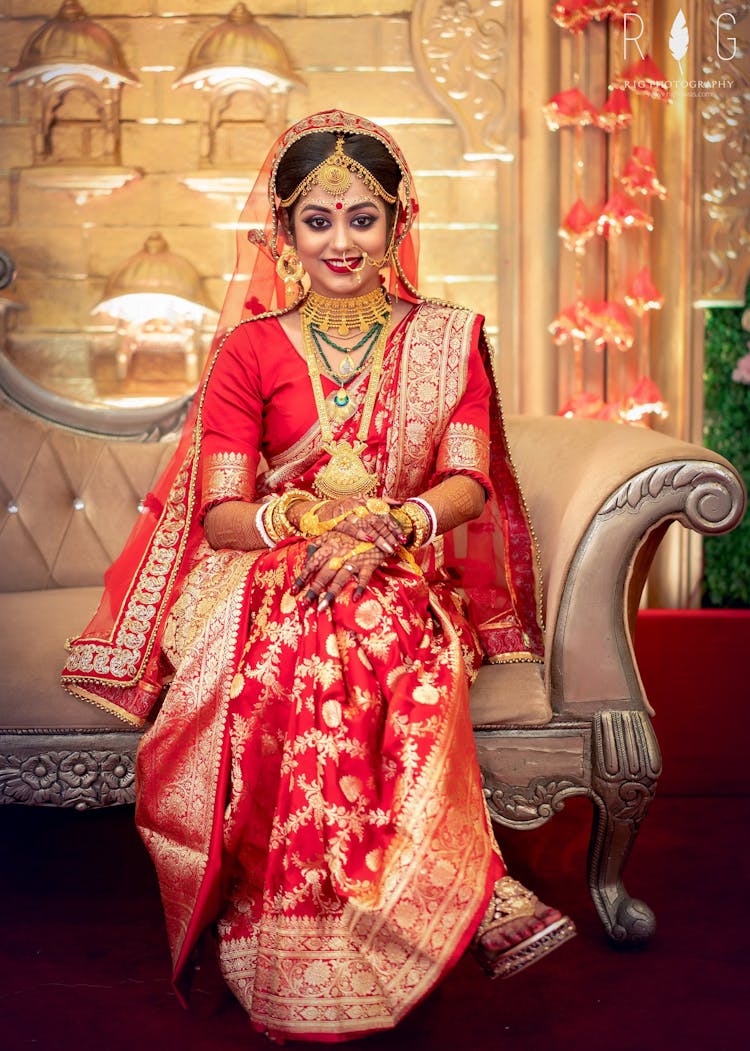 7. Shake A Leg Bridal Pose
Build an interesting story by your dance moves why always let others rock your wedding dance floor? Enjoy the beautiful moment of your life by faking a dance move. Pose like nobody is watching you and get a perfect fun-filled wedding shot.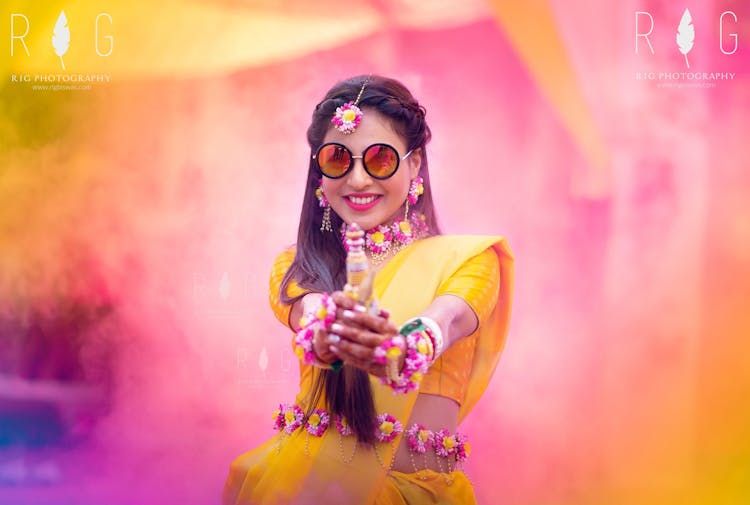 8. Dreamy World Bridal Pose
A glimpse of a beautiful bride standing on her window pane and staring at the moon is no less than a real apsara. These alluring photo pose for the bride reflects her sheer beauty in the wedding album.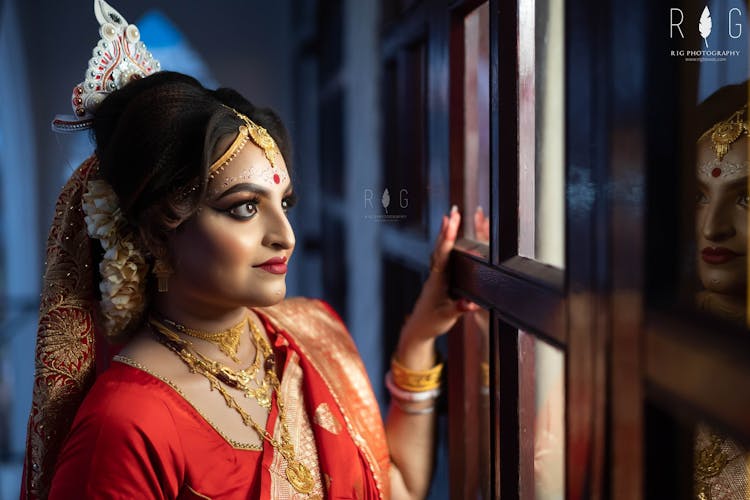 9. The Beautiful Mehendi Pose
Flaunt the beauty of your Mehendi look along with your adorable hands decorated with eye-catchy mehndi designs. These mehndi poses for a bride-to-be complement her elegant wedding look in the photo album.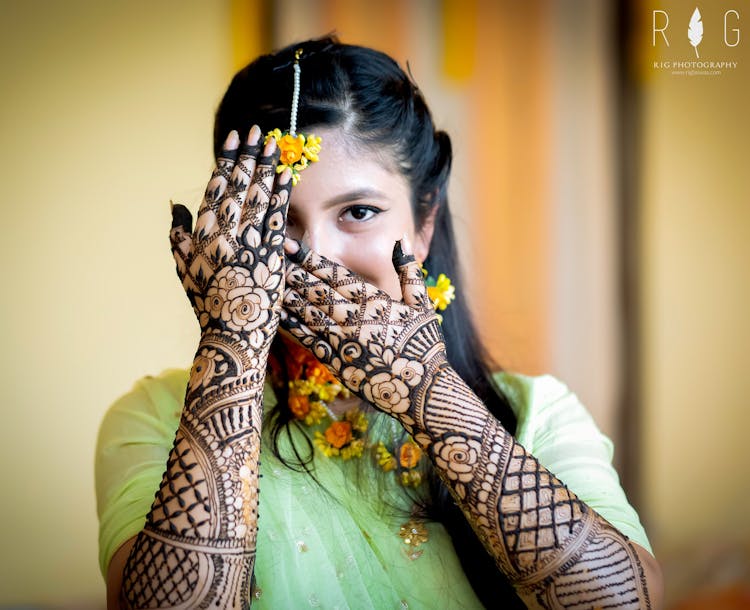 10. An Adorable And Playful Bridal Pose
To make your wedding album praise-worthy, an adorable couple pose is a must. Strike a playful pose like this beautiful bride. We are loving the way she has embraced her prince charming and posing with a handmade symbol of love. These pictures make you smile even after years of your marriage.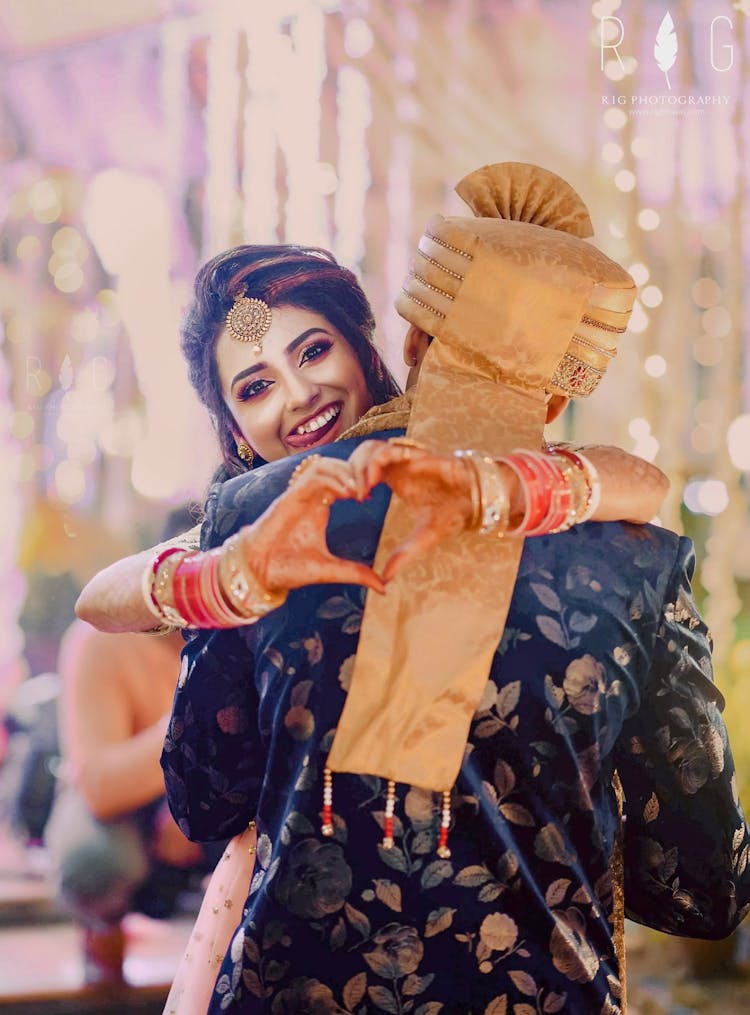 11. Candid Haldi Moment Pose
The smiling face of this pretty bride while looking at the camera is a truly adorable bridal pose. This mandatory Haldi ceremony pose presents the scenic beauty of your happy moments.
12. Eye-Catchy Jewelry Pose
Adjusting your bridal jewellery is one of the most popular and best poses for bride. Let's take a moment to appreciate the beauty of this candid wedding shoot that flaunts stunning bridal jewelry.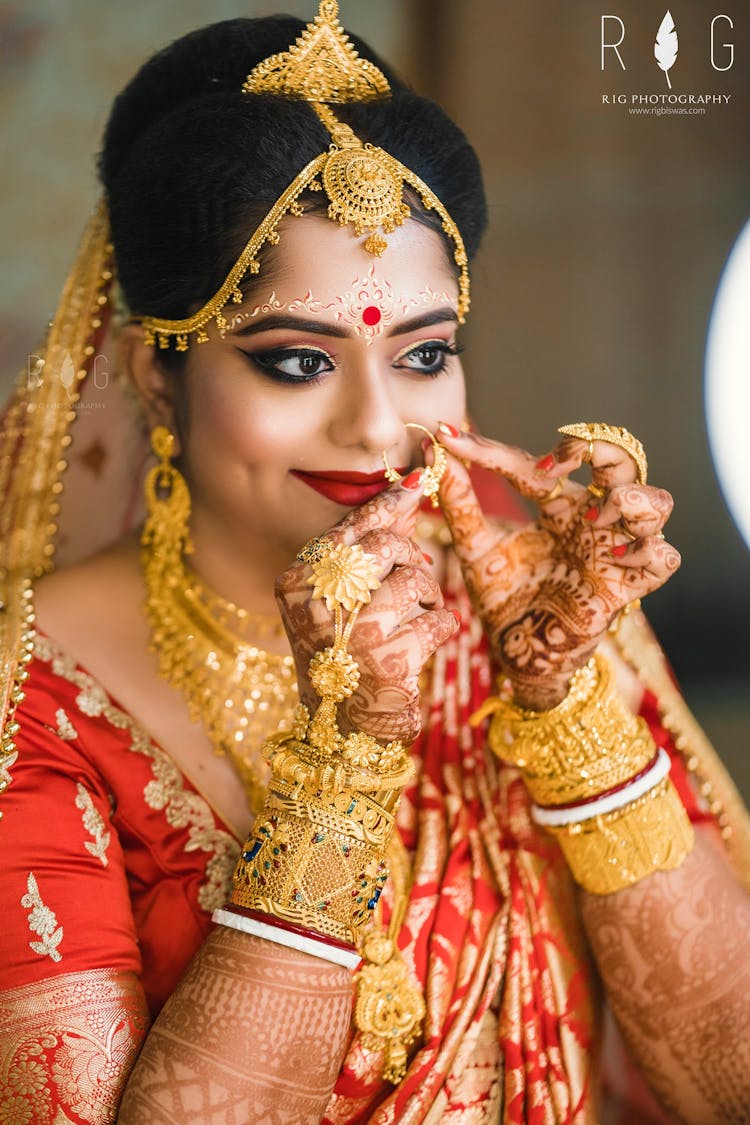 13. The Sharmili Dulhan Pose
This shy Bengali bride makes us wonder whether we should admire her alluring bridal look or her innocence. Her elegance paired with a beautiful smile is creating the real vibes for a wedding photoshoot.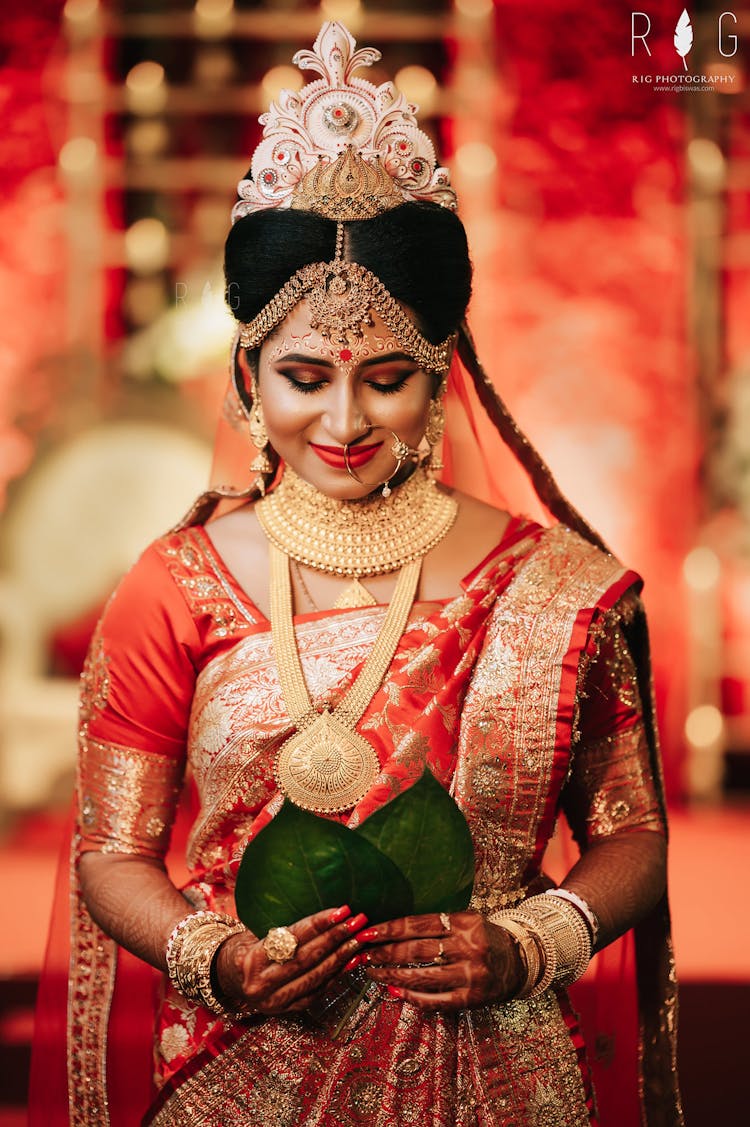 14. Naughty And Cute Bridal Pose
Reveal your naughty side in your wedding photoshoot. Ditch the conventional style and get ready for a carefree pose like this bong beauty has done.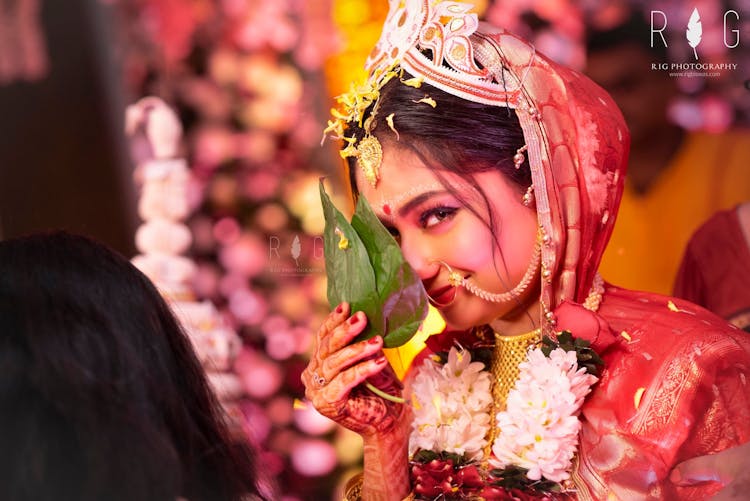 15. The Top-Angle Pose
Ask your wedding photographer to capture your bridal avatar in a high-angle shot. This graceful pose beautifully captures your bridal makeup perfectly. Don't miss this elegant pose to get yourself photographed.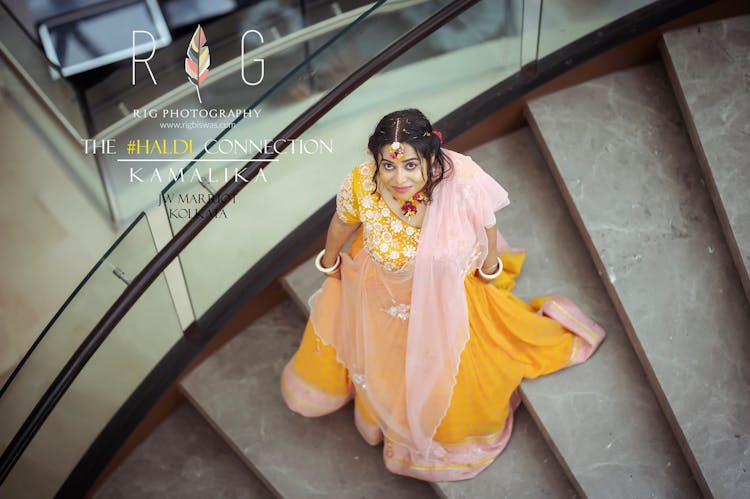 Give these breath-taking bridal photoshoots a try and get a cherishable wedding album that will create everlasting memories. Rig photography is a professional wedding photographer in Kolkata that can add value to your wedding photos. We focus on creating a treasure of beautiful memory that will remind you of your most cherishable moment.