Latest Bindi Design Ideas For Bengali Bride
Check here different kinds of bengali bridal bindi design that enhance the beauty of Bengali brides. Read this blog to find a unique bindi design.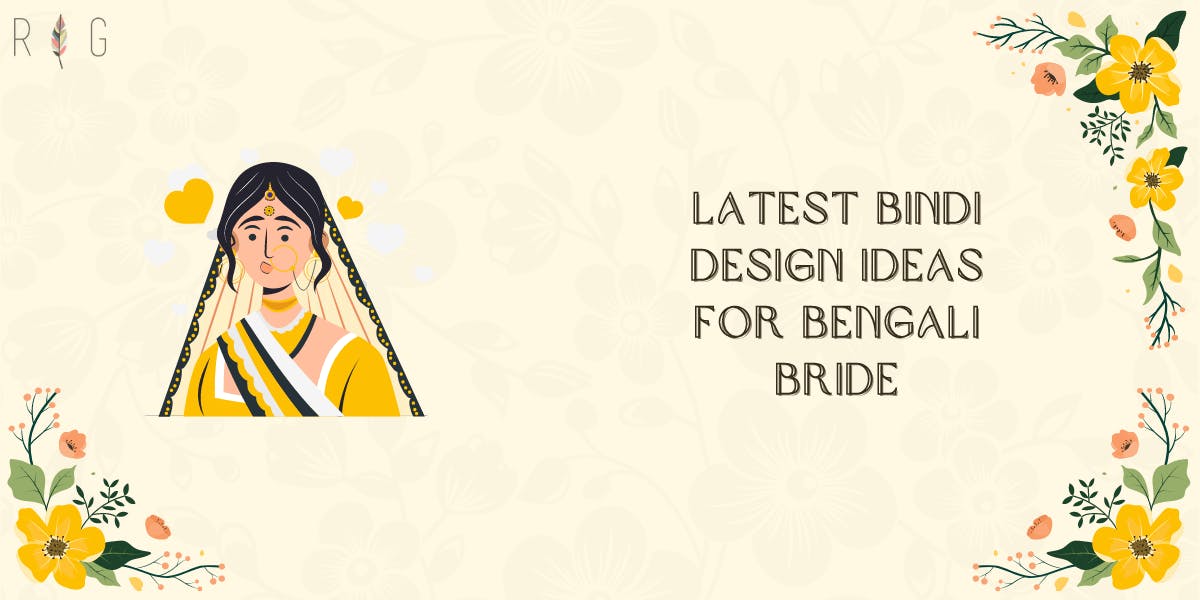 Bindi is a body art that symbolizes the married status of a woman. You can see various kinds of bindi designs in different regions of India. Today we are talking about the most fascinating bindi designs that Bengali brides wear on their wedding day. The Chandan and kumkum bindi is the main element of Bengali bridal makeup. These beautiful Chandan bindis adorned the forehead of the Bengali bride for years. It adds a wow factor to the simplicity and beauty of bridal looks. You can see mesmerizing images of Bengali brides' wedding day looks in Bengali wedding photography . And this Chandan bindi design is what sets a Bengali bride apart from all the brides of different regions of India. Nothing can beat the elegance of these bridal Chandan designs. Let us explore some of the finest bengali bridal bindi design that can make you the most beautiful Bengali bride.
1. A minimal Bengali Bridal Buindi Design
A minimal look of a Bengali bride has always caught our eyes. If you are a bride-to-be who doesn't prefer adding a dash of drama and heavy makeup look then a minimal Chandan design is for you. The simplicity and elegance of this beautiful Chandan art make it one of the most charming and simple bengali bindi design.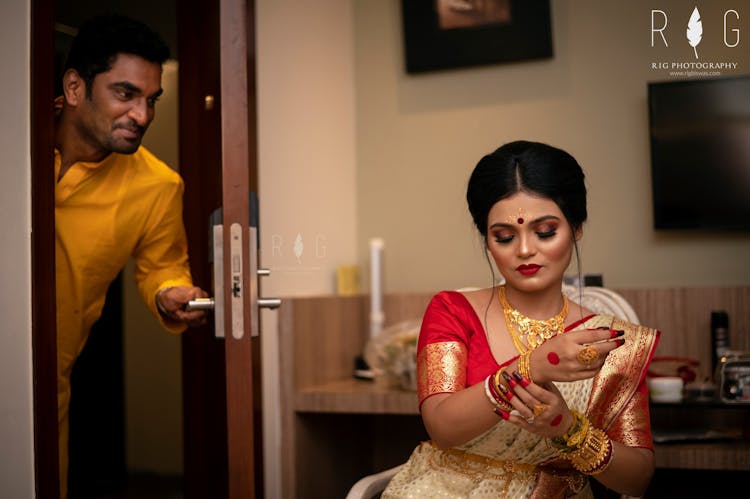 Recommended: The Ultimate List Of Trending Bridal Jewellery For Haldi Ceremony
2. Traditional Chandan & Kumkum Design For OTT Brides
If you want to add a traditional touch to your bridal look then you must choose those classic designs. The intricate detailing of leafy motifs in this bindi design is looking a great work of art. It looks beautiful with a banarasi saree and bridal mukut of a Bengali bride. Hire the best wedding photographer in kolkata to capture your gorgeous wedding day look in frames.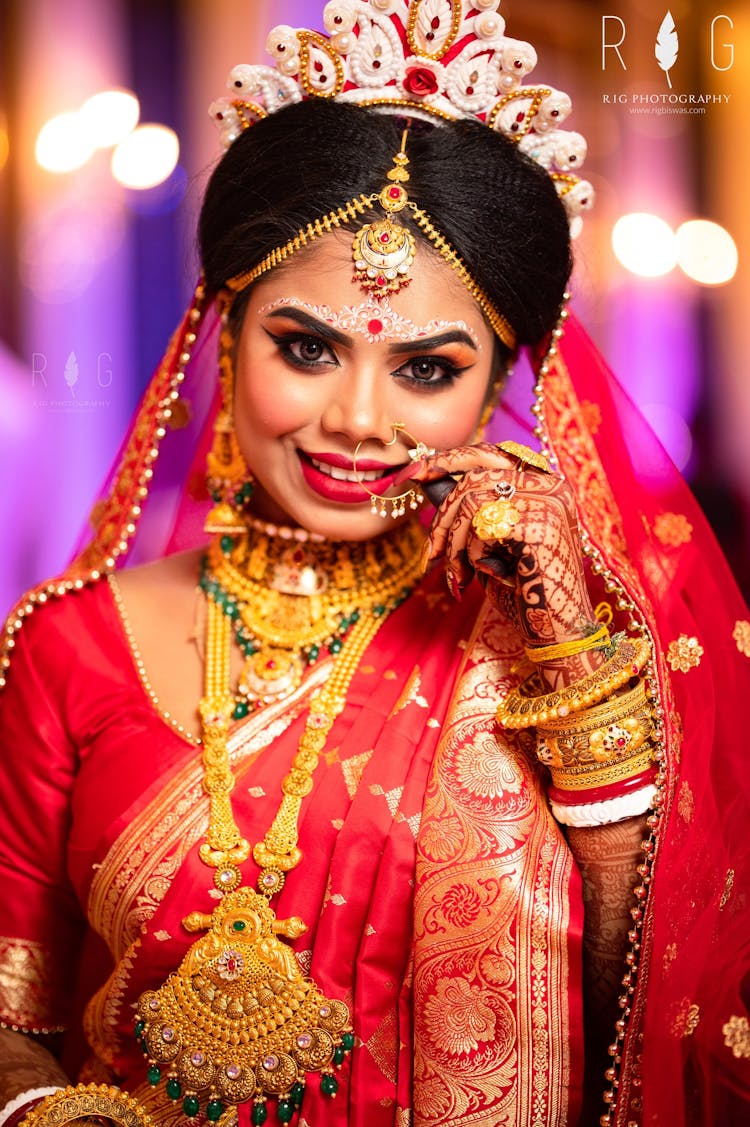 See More: The Complete Guide For Your Wedding Shopping In Kolkata
3. Simple Dots Bindi Design For An Elegant Bridal Look
The small red bindi with tiny details of Kalka art looks lovely and mesmerizing on this pretty Bengali bride. The shimmery eyes of this bride are adding more charm to this bindi design for bengali bridal look.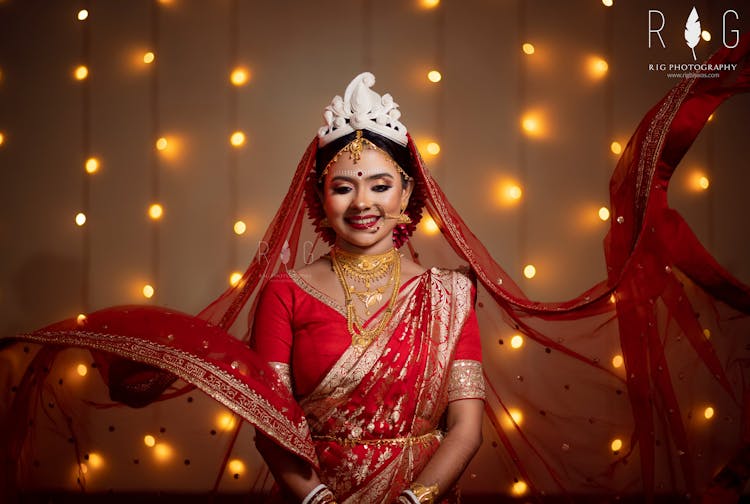 4. The Beautiful Kalka Design Are The Most Attractive One
Isn't the Chandan bindi of this glamorous bride totally stunning? The fancy and intricate artwork design of her forehead screams royalty and elegance. We love the classic choice of jewelry made by this bride to complement her fancy bridal bindi.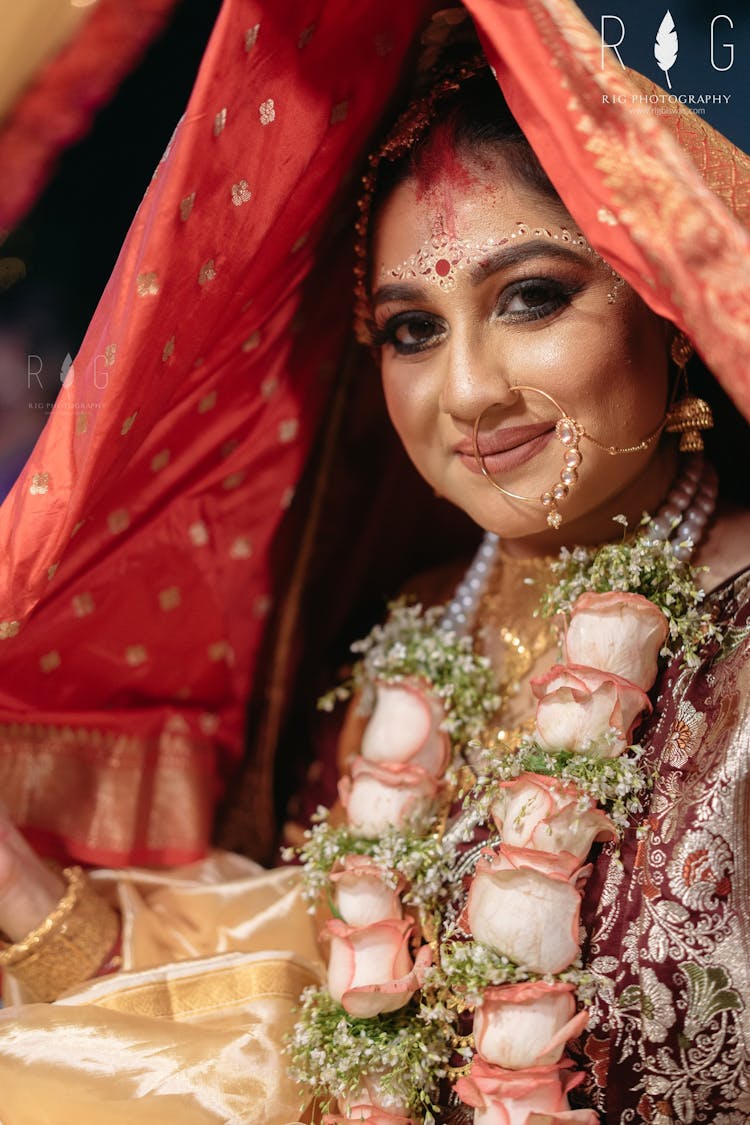 5. A Classic Bengali Bridal Bindi Design Down To The Cheek
A classy bridal bindi style like this one catches everyone's attention. The dark kumkum shade is adding more charm to her champagne pink glittery eyes. This bride has matched her bridal Matha Patti design adorned with red polki to give a classy touch to her mesmerizing wedding day look.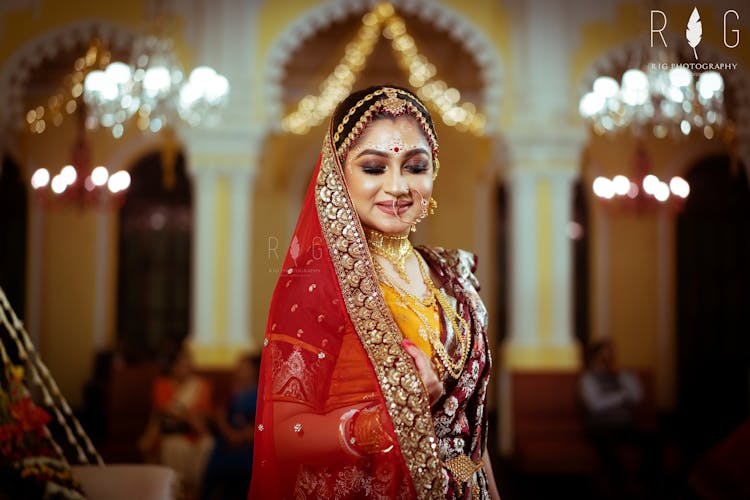 6. Beauty Of Tiny Details In Bengali Wedding Look
Look at the intricate detailing of this bride's Chandan bindi design. The dainty motifs carved in a wavy pattern is an excellent design made by the artisan. If you want to amp up your bridal look then adorn your forehead with this beautiful bindi design. And let the bindi do all the talking about your style and glamour.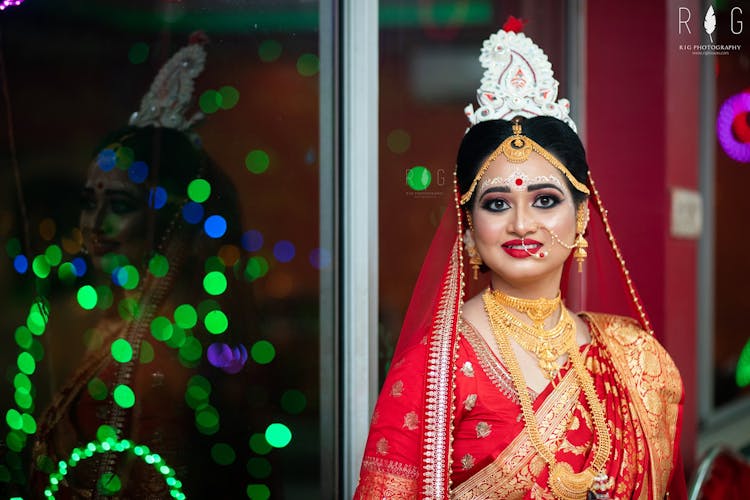 7. A Fancy Bridal Bindi With A Touch Of Gold
The specialty of a Bengali bride bindi design is it can leave anyone awestruck with its beauty. Take a cue from this fancy bindi art which includes eye-catchy swirls and patterns. Experimenting with such an amazing bindi design on your wedding day can make you stand out. The combination of kohl eye makeup and this fancy design is a good choice for dramatic wedding pictures.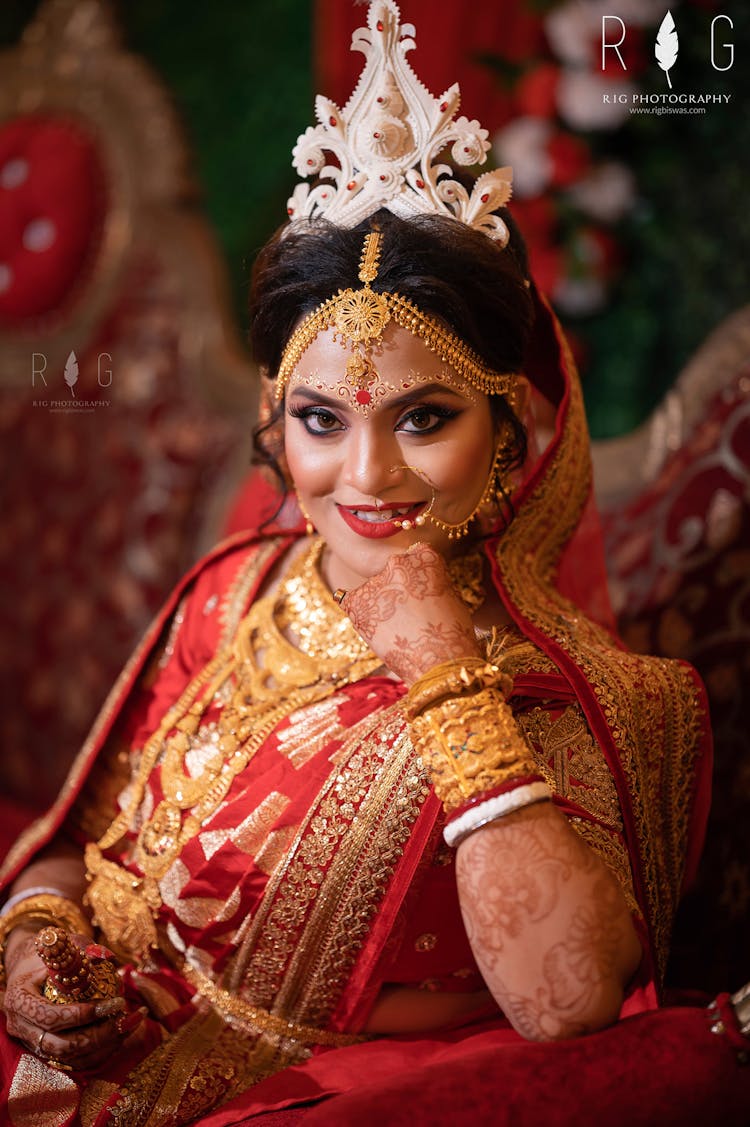 8. Elaborate Chandan Bindi Designs For A Dramatic Bridal Look
Here is another beautiful example of elongated bindi art that looks amazing on a traditional Bengali bride. This wonderful bindi design looks more beautiful with a gorgeous banarasi saree. Here the makeup artist has put more focus on the center bindi design to attract people's eyes.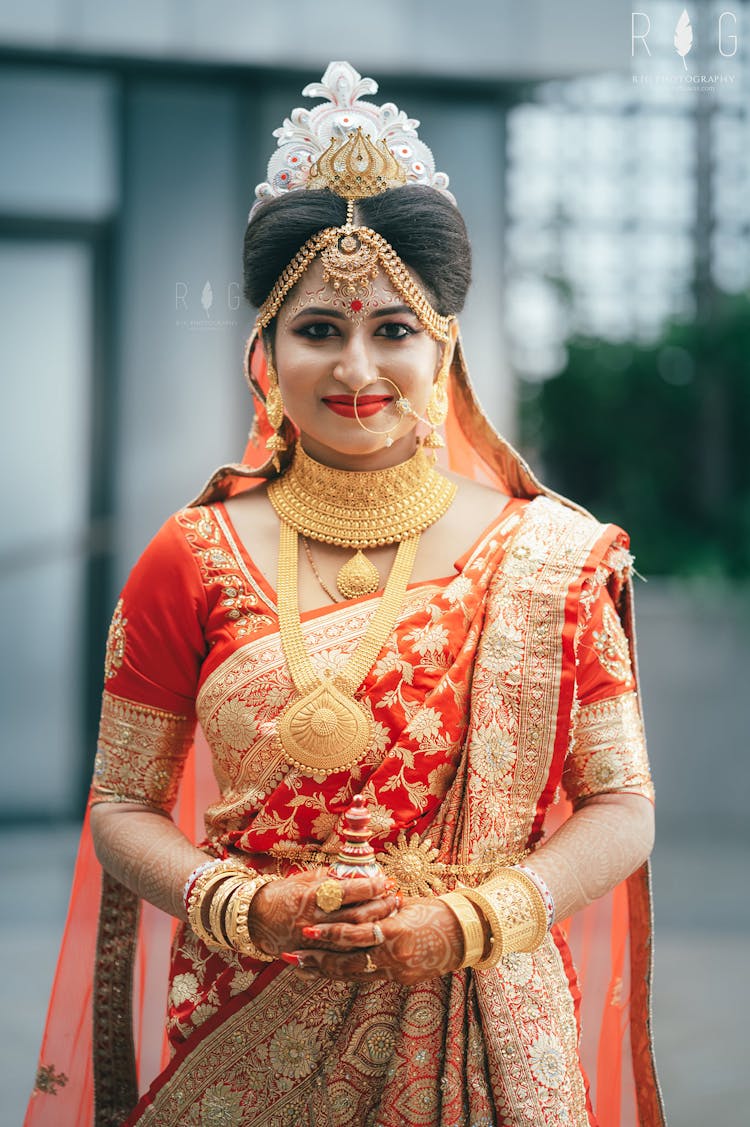 9. Unique Charm Of Golden Bindi Design
A lot of Bengali brides love to wear gold jewelry. So, here we present one simple Chandan bindi design done with kumkum and a touch of gold. This bridal bindi design is complementing her gold glittery eyes.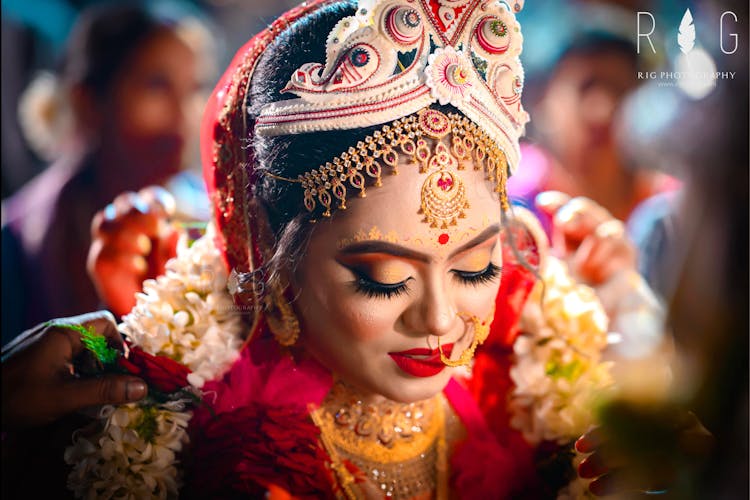 10. The Exquisite Detailing Of Bindi Design Can Steal Many Hearts
This intricate design spreading till the end of the brows is adding elegance to this bride's personality. The exquisite detailing done using small dots and baby lines has stolen our hearts. The dainty dots and motifs in red and white color is adding a definition to her bridal beauty.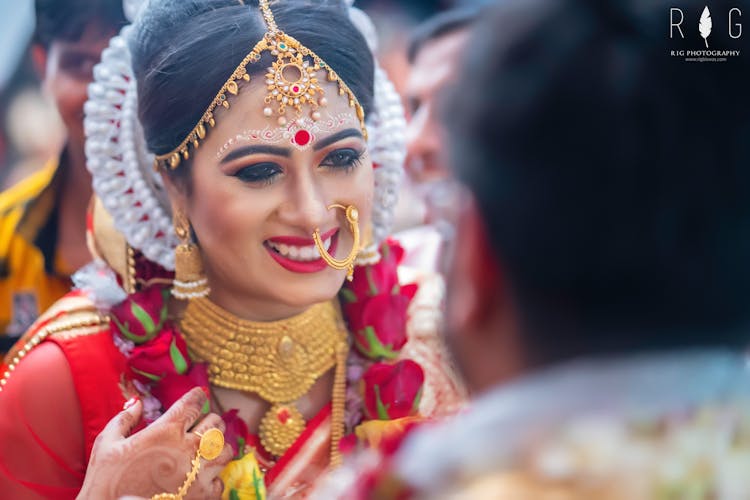 11. Gorgeous Blend Of Red & White Kalka Art
The Chandan and kumkum design keeps the bride in a stress-free state. Look at this stunning bride who has to adorn her head with a unique bridal bindi design. The hint of gold in her bridal bindi is looking wonderful upon her red and gold banarasi saree design.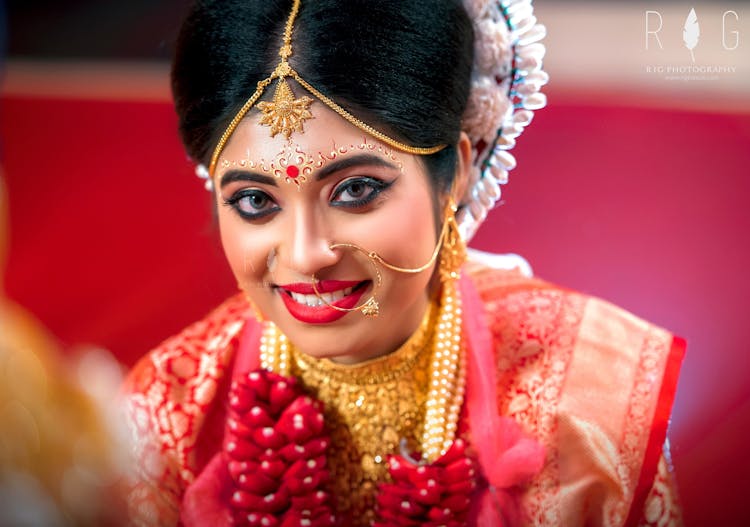 12. An Eye Catchy Chandan Art Design
A dramatic Chandan art design like this one accentuates the facial features of a bride. This bindi is adding more elegance to her simplistic bridal makeup. The bride under the veil posing for wedding photography is looking no less than a divine figure.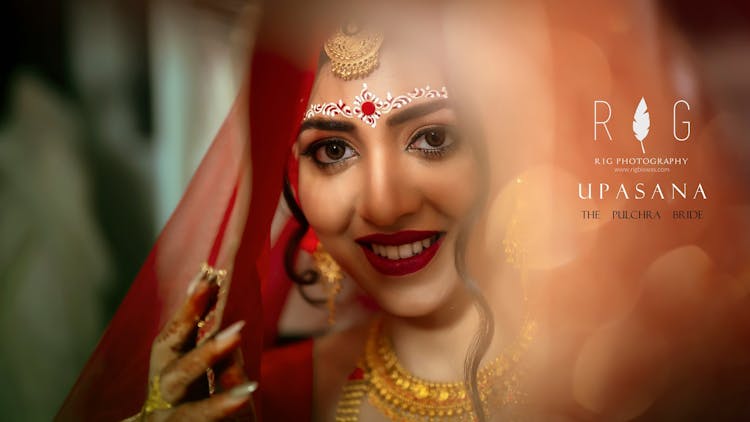 13. A Stunning Bindi Design For Conventional Brides
It's difficult to praise the beauty of this dimple cheeks Bengali bride. The leafy motifs and spirals curve on her forehead is enhancing her bridal look. The red motifs in her beautiful bindi design are grabbing all the attention.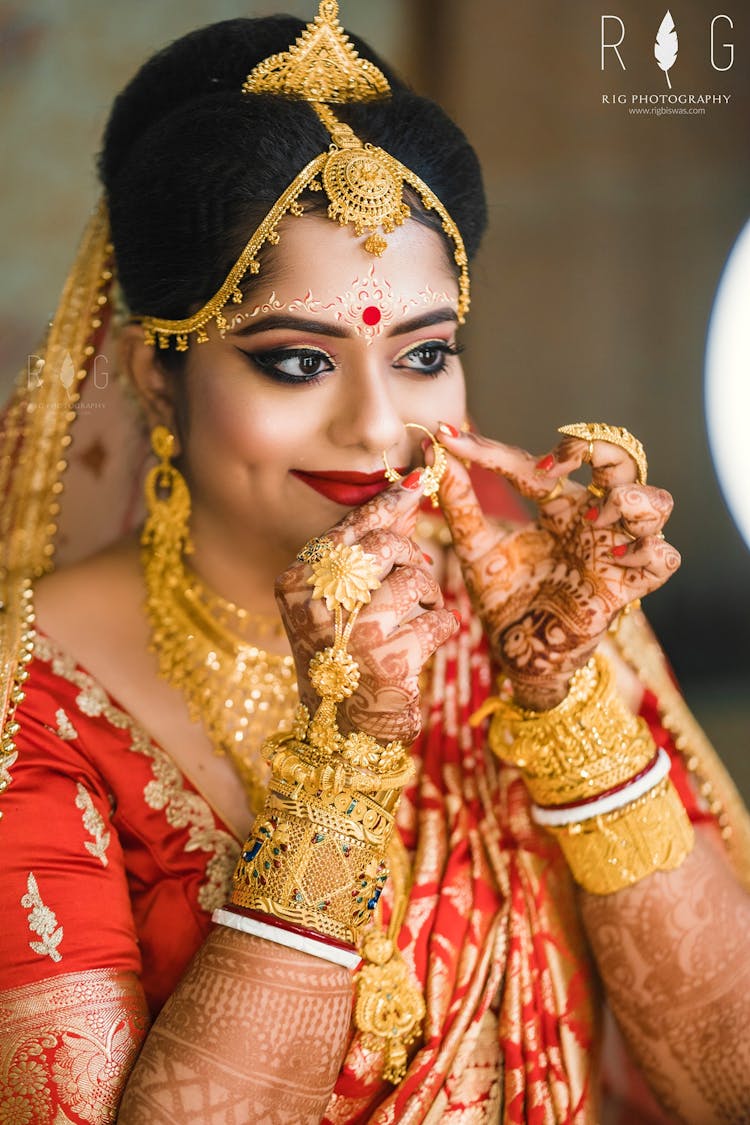 14. A Centre Bindi Design Is A Wonderful Choice
We are fascinated by the beauty of this simple bengali bridal look. Here the bride has opted for minimal makeup and a small bridal bindi to flaunt her natural glow in the wedding pictures. Her stunning hairstyle and traditional Bengali saree is adding a statement to her entire bridal look. A red bindi in the center and dainty motifs her enough to re-create the classy bride look.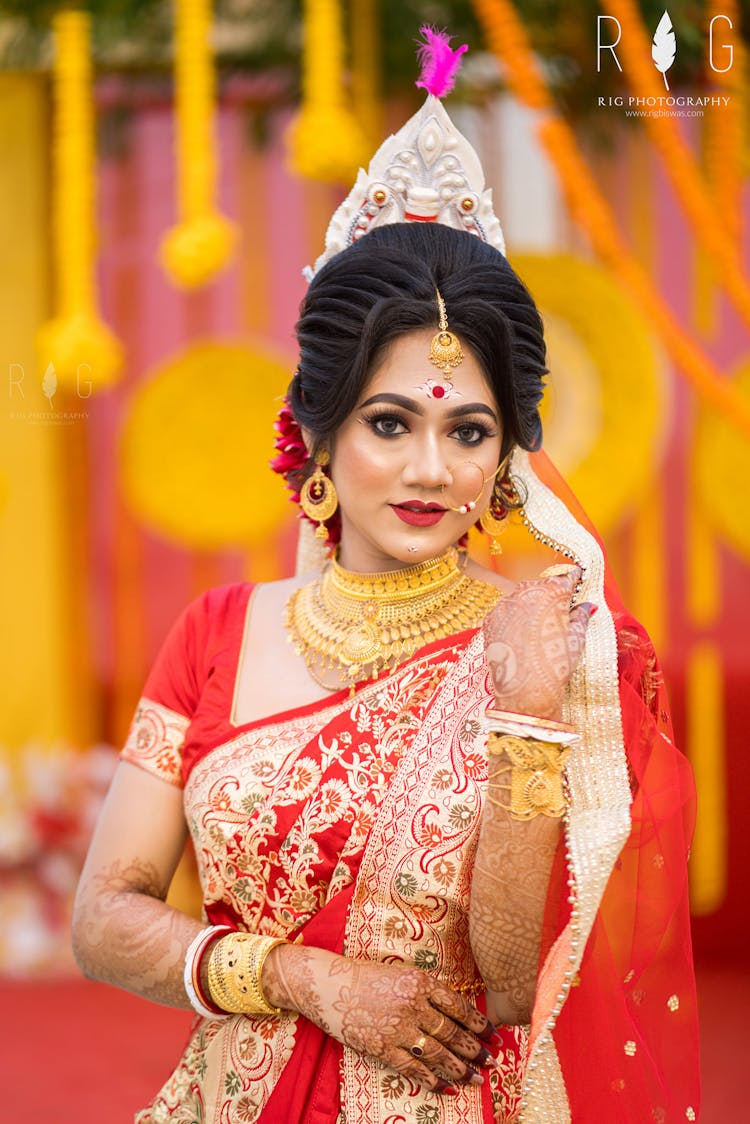 So, these are some amazing and latest bengali bridal bindi design that you can opt for. Take inspiration from these Chandan bindi designs to get the best bridal look on your wedding day.