Top 13 Beautiful Banarasi Sarees For Bengali Bride
Banarasi sarees are famous for their intricate design and lavish look. Explore some of the latest collection of banarasi sarees.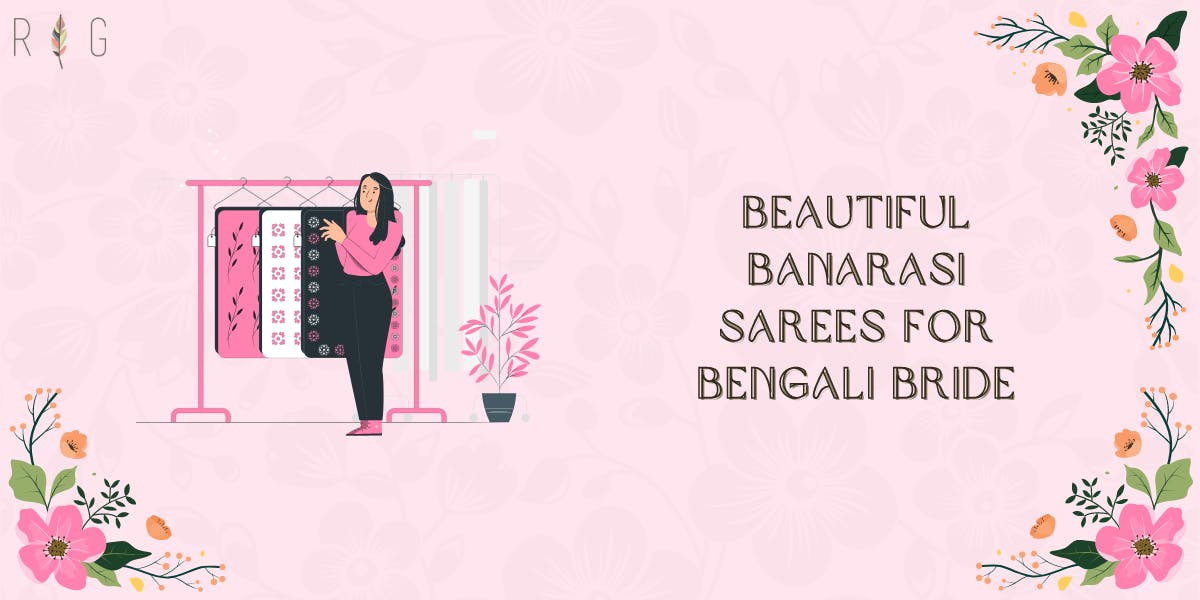 Be it an engagement ceremony or wedding ritual, a Bengali bridal look will get its perfect look only in a gorgeous Banarasi saree with gold jewellery. The lavish banarasi sarees with rich intricate designs are sure to be the centre of attraction on a wedding occasion. Bengali brides dressed up in neatly plated Banarasi saree with a matching dupatta overhead is the most beautiful shot captured in Bengali wedding photography. The sheer display of wonderful embroidery on Banarasi sarees looks extremely graceful. Most of the girls in Bengal dreams of wearing a banarasi saree which will provide them with a divine look. so, if you are a new bride-to-be who is struggling with thoughts of what to wear on your D-day, then stop wondering and look at this curated list of some exceptional and most beautiful Bengali bridal banarasi saree collections to get the most appealing bridal look.
1. Stunning Combination Of Maroon & Yellow
This pretty combination of Maroon saree with a dual-tone maroon yellow blouse is a great pick for the wedding day. The beautiful meenakari work all over the saree is the major eye-catching element. This exquisite embroidery and rich fabric make a fantastic outfit for a new bride. Pairing it with intricate gold jewellery will provide you with a perfect look.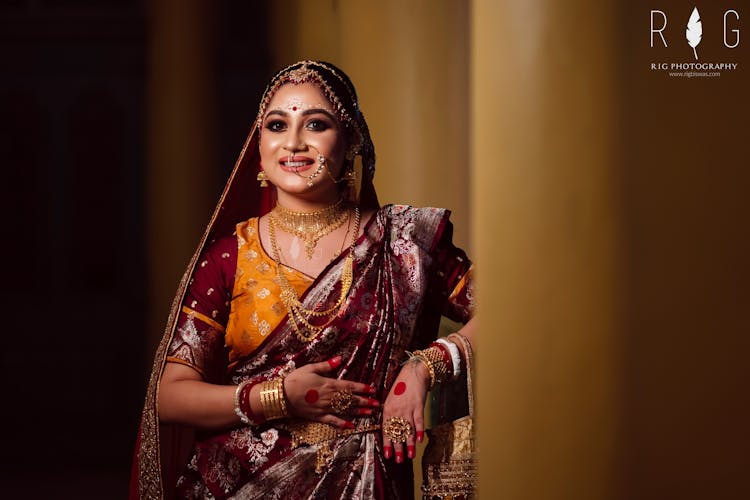 Recommended: Top 15 Fashionable Bengali Groom Dress Ideas For Reception Ceremony
2. Traditional Maroon Banarasi With Silver Brocade
One of the most traditional designs in the Bengali wedding saree is a maroon banarasi with silver motifs. This beautiful maroon saree is perfectly blended with the traditional gold jewellery of a Bengali bride. The silver motifs and stone embedded bridal dupatta is looking very glamorous with this gorgeous banarasi saree.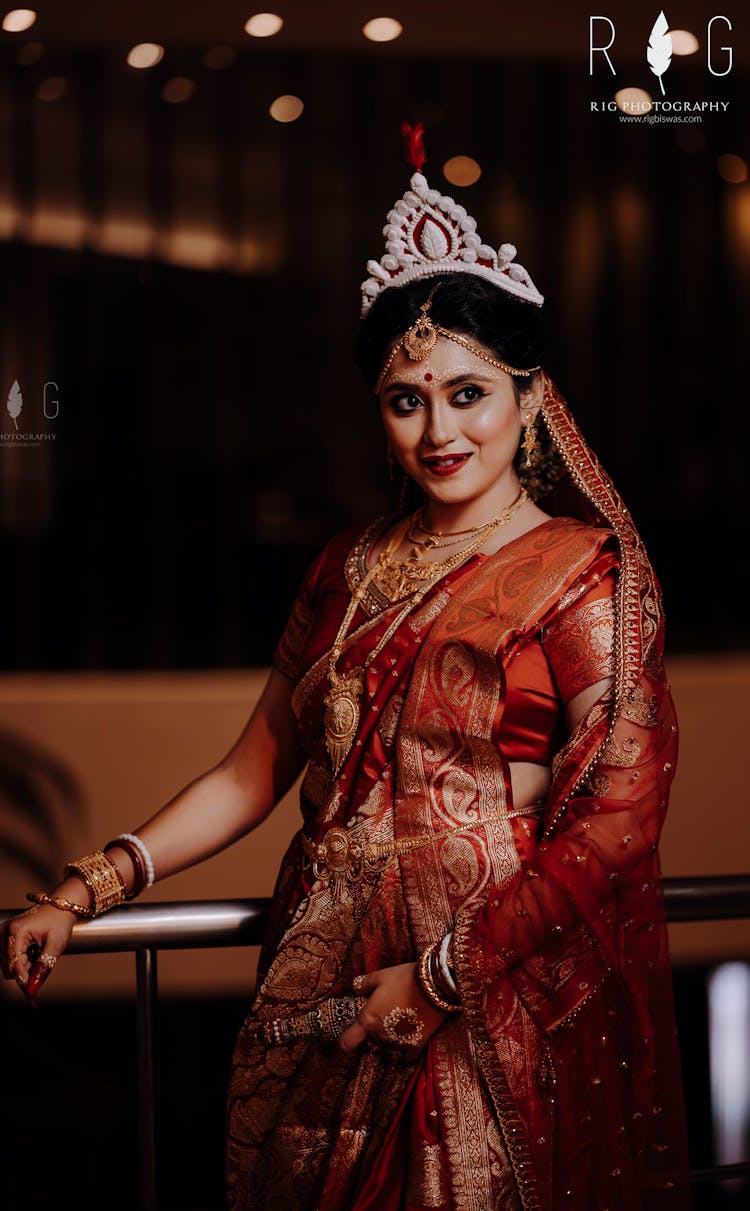 Recommended: Top 10 Bengali Mehndi Design Ideas - Rig Photography
3. The Beautiful Rustic Banarasi
We are drooling over this beautiful doodhe-alta banarasi saree. The intricate design of the floral motifs in the saree is complementing her shining gold jewellery and enhances her bridal glow. The sophisticated look of this bridal banarasi saree is providing her with a divine look. The gorgeous red colour on the white embroidery of the saree is like the cherry on the top.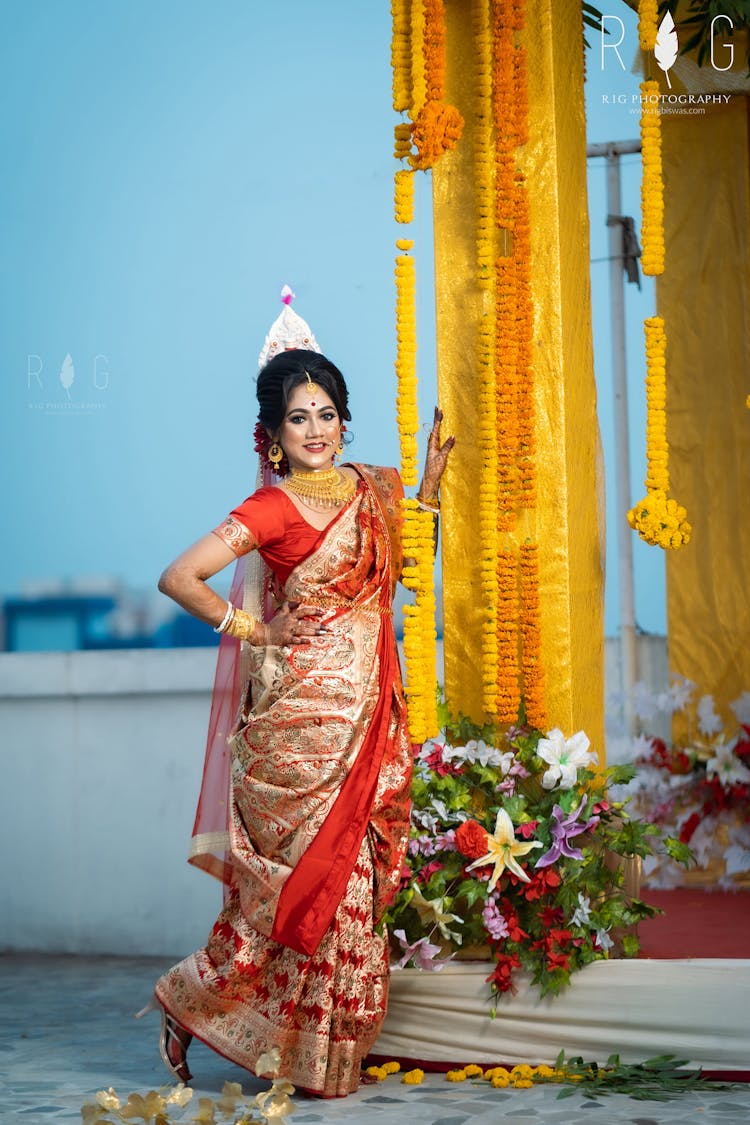 4. Pretty Royal Blue Banarasi
These days Bengali brides prefer to wear vibrant colour banarasi sarees like yellow, orange, pink and blue. This Bengali bride is a perfect example of beauty and style. The breathtaking combination of golden Rajasthani print on blue banarasi is a perfect pick for your reception party. You can wear an elegant piece of gold jewellery to highlight your Bengali bridal look.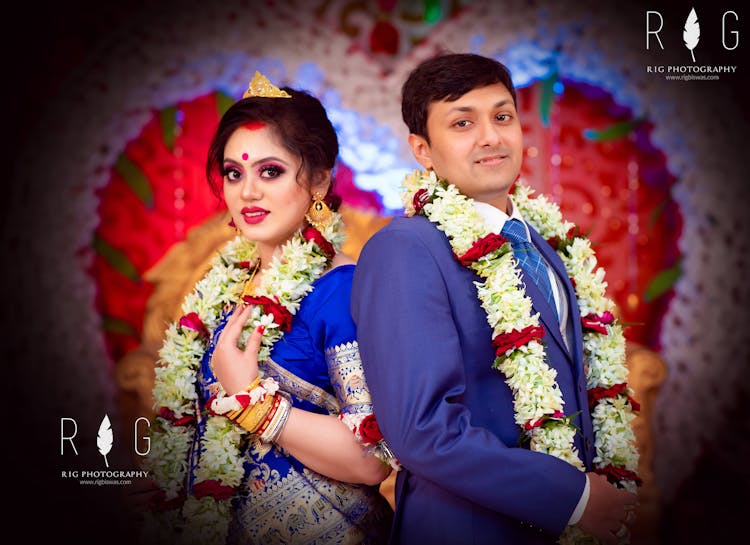 5. Yellow Banarasi With Rosy Red Blouse
Yellow is a vibrant colour that is mostly associated with the Haldi ceremony but this beautiful colour can also be worn for the occasion of a wedding ceremony. The shining yellow and maroon combination of this banarasi saree is making this bride look like an elegant queen. The golden motifs on the yellow portion and chanderi work on the red border of the saree is a true charm for all bong brides. Pair up your yellow banarasi with a red blouse designed in bootidar pattern for that edgy look.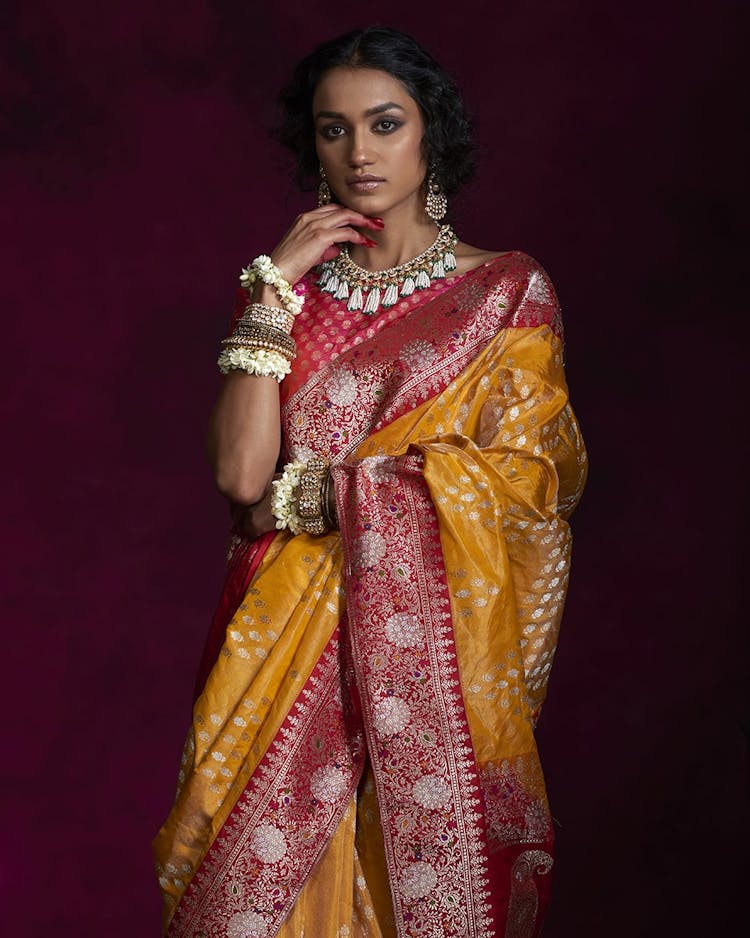 6. Blood Red Banarasi With Golden Motifs
Being a professional and well-known wedding photographer in Kolkata we have seen many brides in this gorgeous and traditional avatar. This blood-red banarasi wedding saree with large floral motifs are a visual treat to the eyes. You can wear it with a matching blouse and dupatta. The bride has gone with minimum makeup and red lipstick to bring the traditional vibes to her wedding look.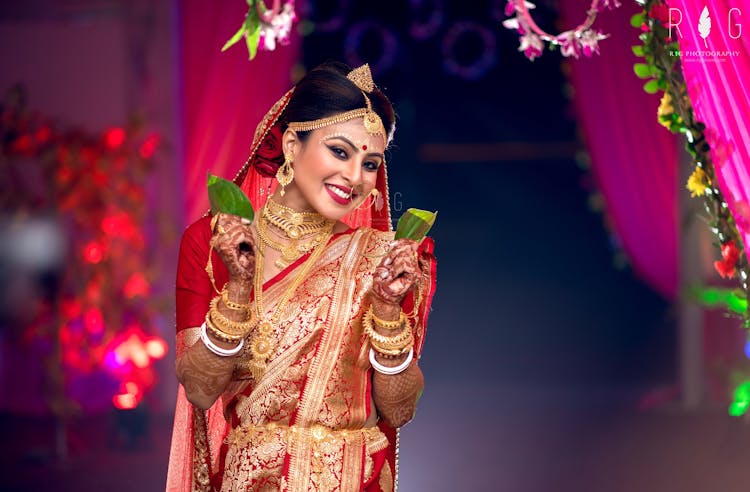 7. Vibrant Sky Blue Banarasi
Who says is that light shades are not decent for the wedding look? Here is a brilliant example of Bengali bridal banarasi saree in a lighter shade like sky blue. Sky blue is a unique colour that can add a special elegance to your bridal look. The bootidar work on this gorgeous saree is perfectly complementing her golden blouse and bronze jewellery. Her simplistic makeup and curly hair with a stylish bun is a great choice for a graceful reception look.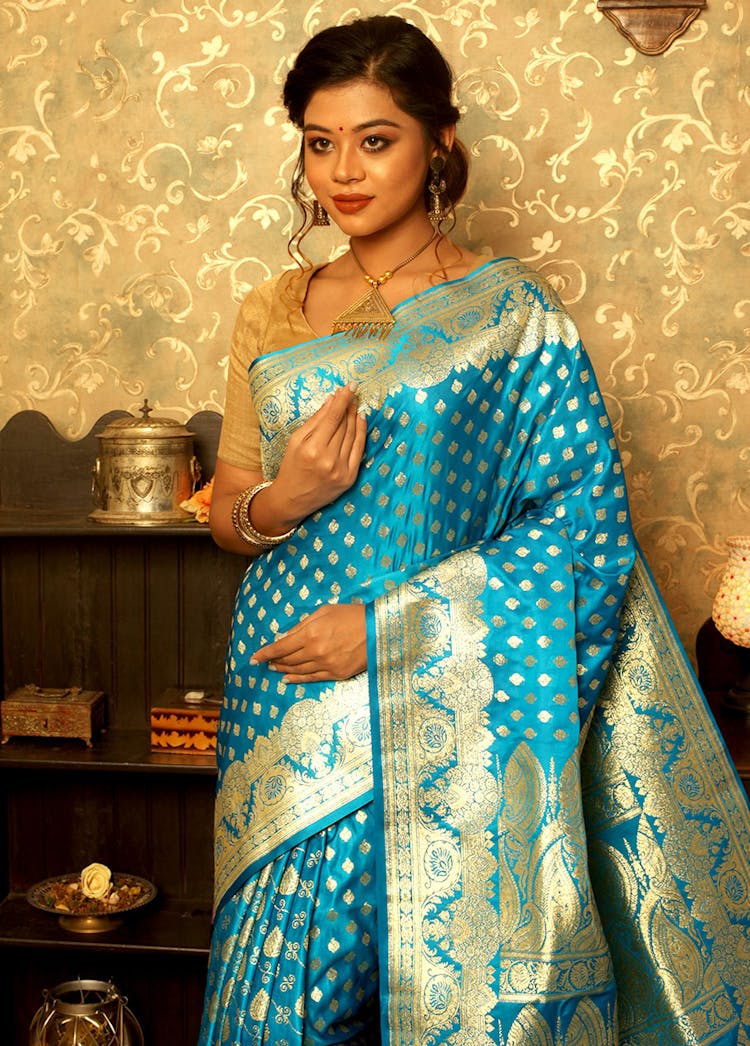 8. The Nature-Go-Green Banarasi
Look at the stunning beauty of this beautiful bride in green banarasi. If you want to highlight your classic collection of gold jewellery then, this lime green banarasi saree for Bengali wedding is an ideal choice. Her simple makeup and bold eyes are a perfect example of minimalist splendour.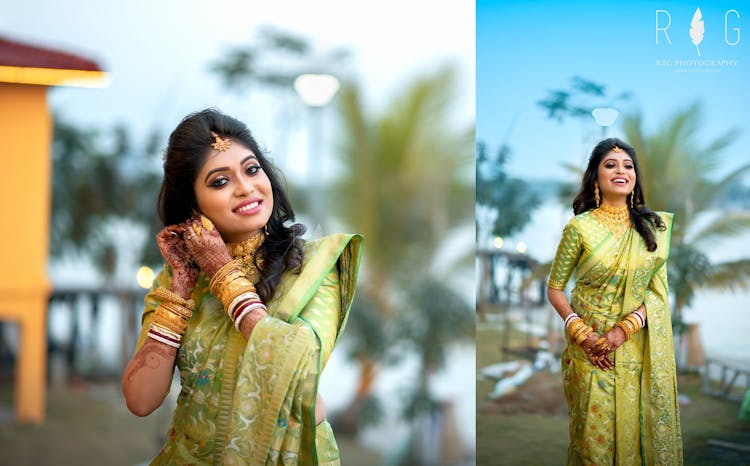 9. Mesmerizing Combination Of Blue Shade Banarasi
You will surely fall in love with this beautiful trio of purple, royal blue and sea green colour banarasi saree. The heavy gold jewellery of this happy bride like kaner-dul, chick, gold necklaces and lustrous bangles are looking beautiful on this blue shaded Indian wedding saree. The intricate meenakari motif on the entire saree is making her bridal look more wonderful.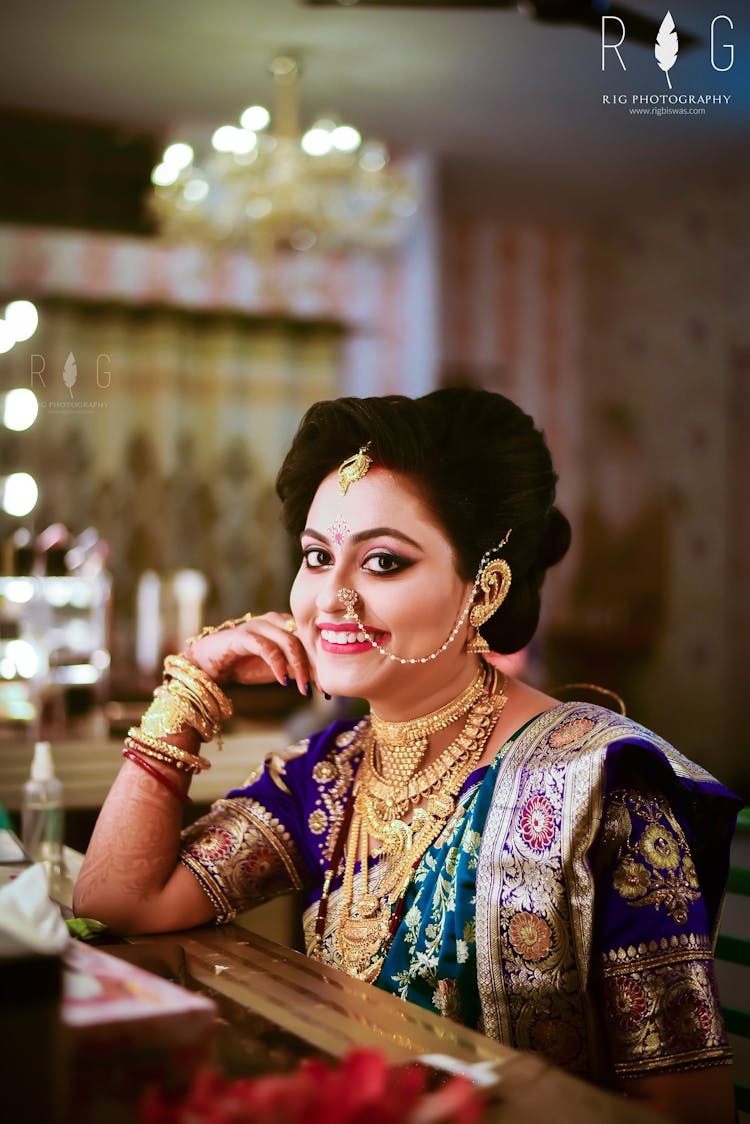 10. Lavish Zardosi Banarasi
The fascinating look of this bong bride is awe-inspiring for all brides-to-be. The designer red banarasi saree for Bengali bride is one of the latest and impressive banarasi saree options. Make sure to pair with a designer blouse and heavy gold jewellery just the way this bride did. Carry a red dupatta over the head falling at the back to achieve a glamorous look.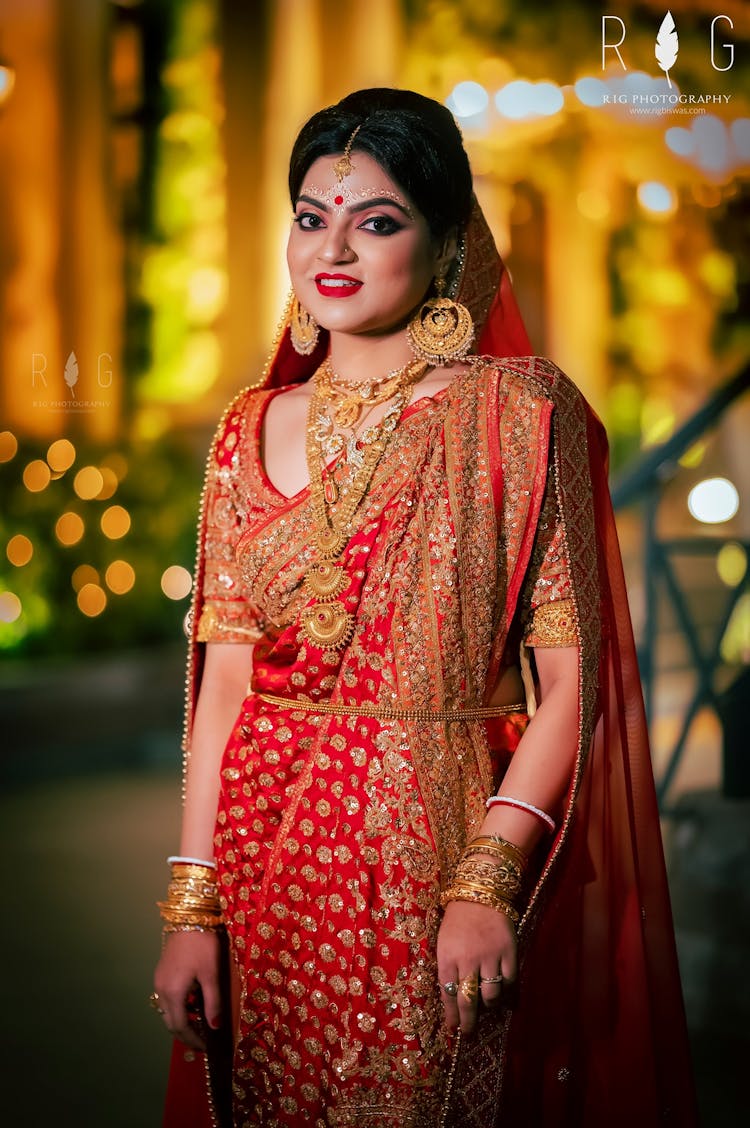 11. Bongs Favorite White & Red Banarasi
Here is another mesmerizing combination of two beautiful shades in banarasi saree. This lal par shada saree look for the wedding is the most loving and favourite one of Bengali brides. The pearly white colour saree with bootidar motifs design and a broad red border is enough to appeal to the eyes. You can pair it with a puffed blouse of red colour to make it an enthralling wedding look. A makeup of red bold bindi and glossy lips with bold eyes will do wonders on this amazing bridal look.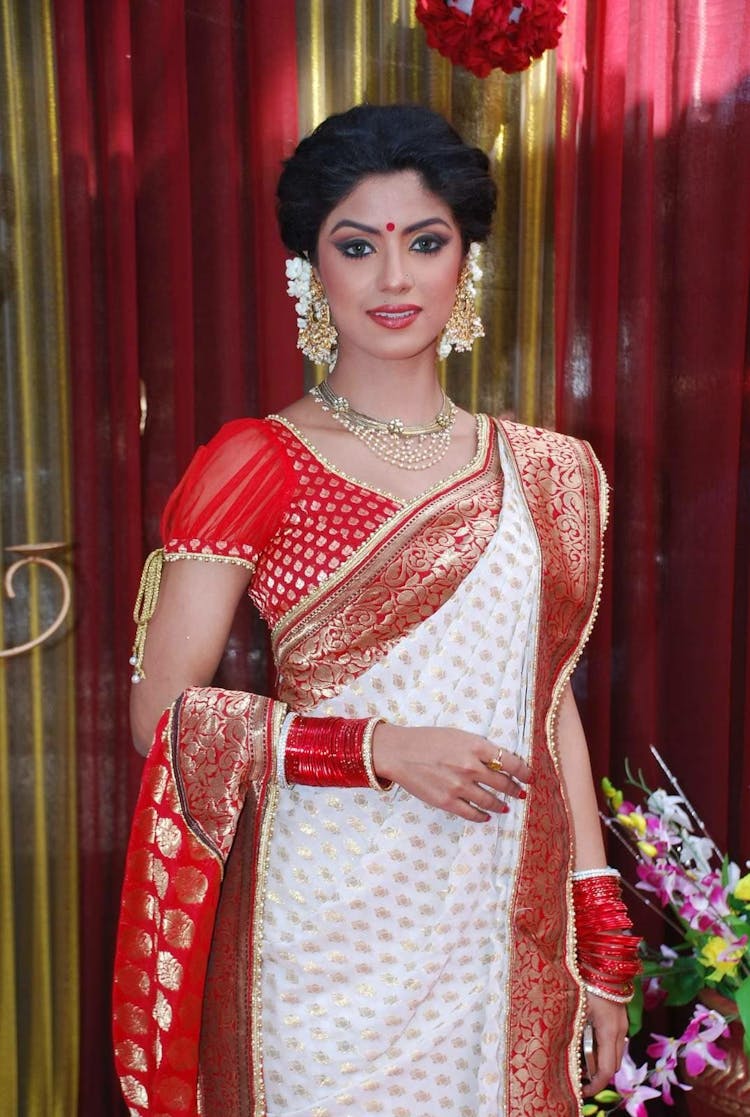 12. The Gorgeous Magenta Banarasi
This is another popular saree look for wedding preferred by Bengali brides. The beautiful magenta banarasi with golden motifs that work all over the body is another impressive piece that can make any would-be bride drool over it. You can wear matching jewellery with this gorgeous banarasi to add a beautiful twist to your bridal look.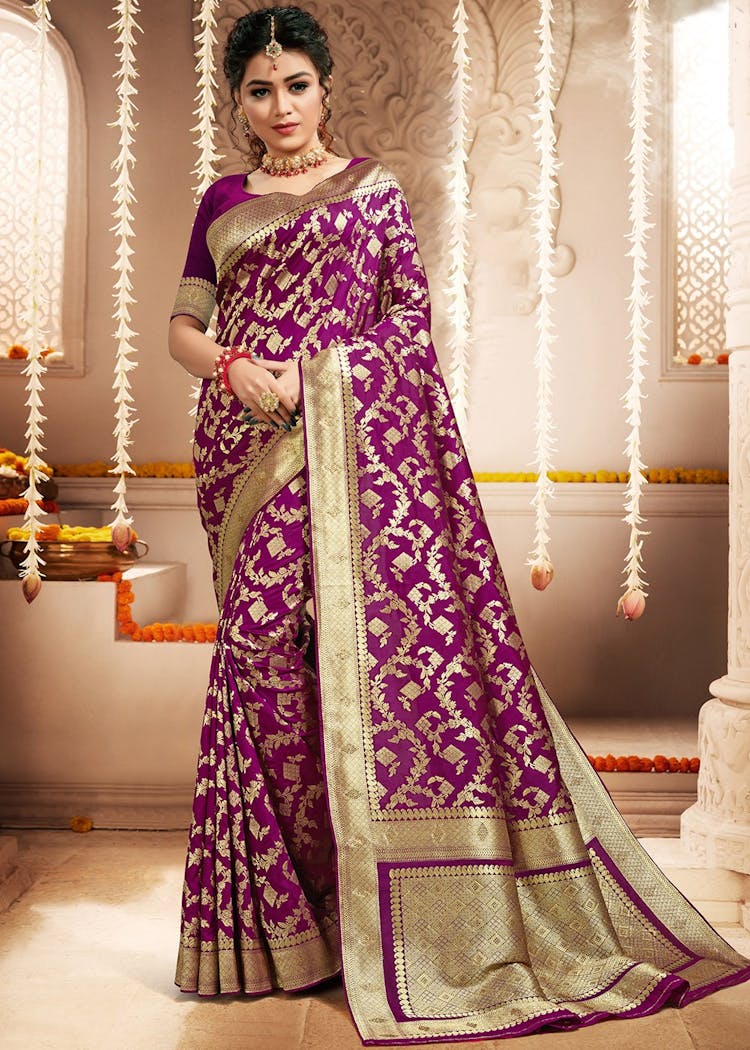 13. Oh So Pretty, Pink Banarasi
Pink is always a loving shade for most girls. This bubbly bride is looking adorable in this gleeful pink banarasi. We must admire her glamorous look which is enhanced by graceful diamond jewellery. This pleasing wedding look in saree is the major eye-catcher of a wedding event.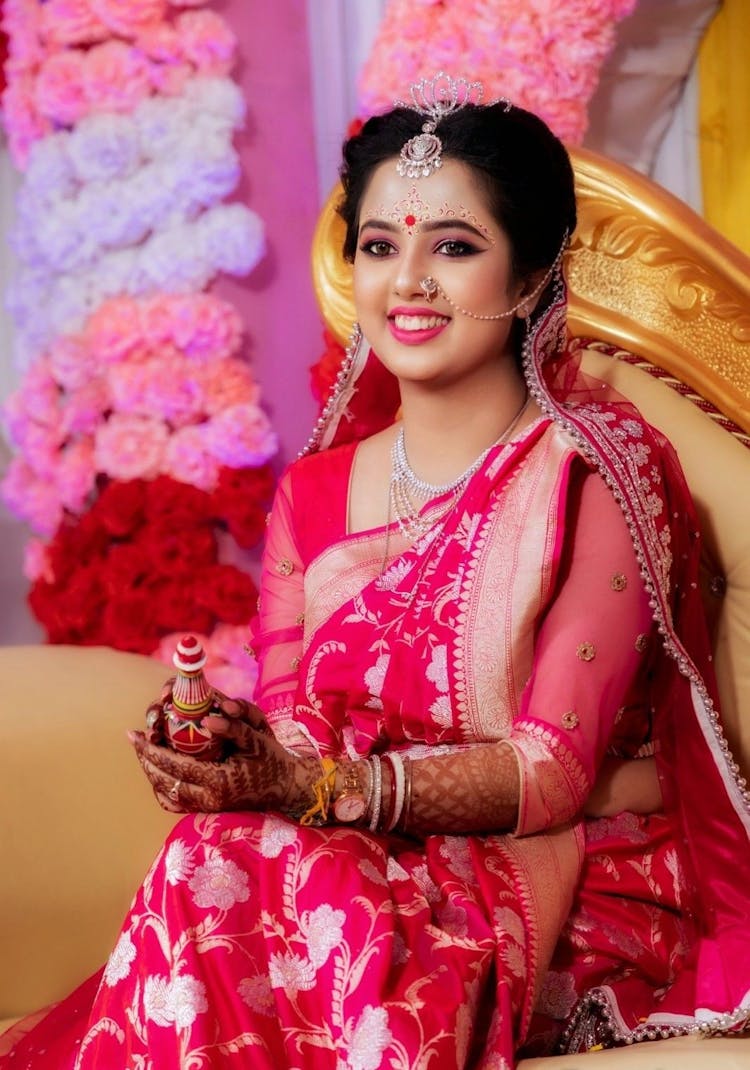 So, these are some of the best Bengali bridal banarasi saree collections that can make you feel like a stylish queen on your big day. Did you find any ideal banarasi saree for your bong bridal look?