Best Engagement Dresses Ideas For Couples In 2022
Celebrate your engagement ceremony with a fashion-forward look. Check here some gorgeous engagement dresses for couples to make your day a memorable one.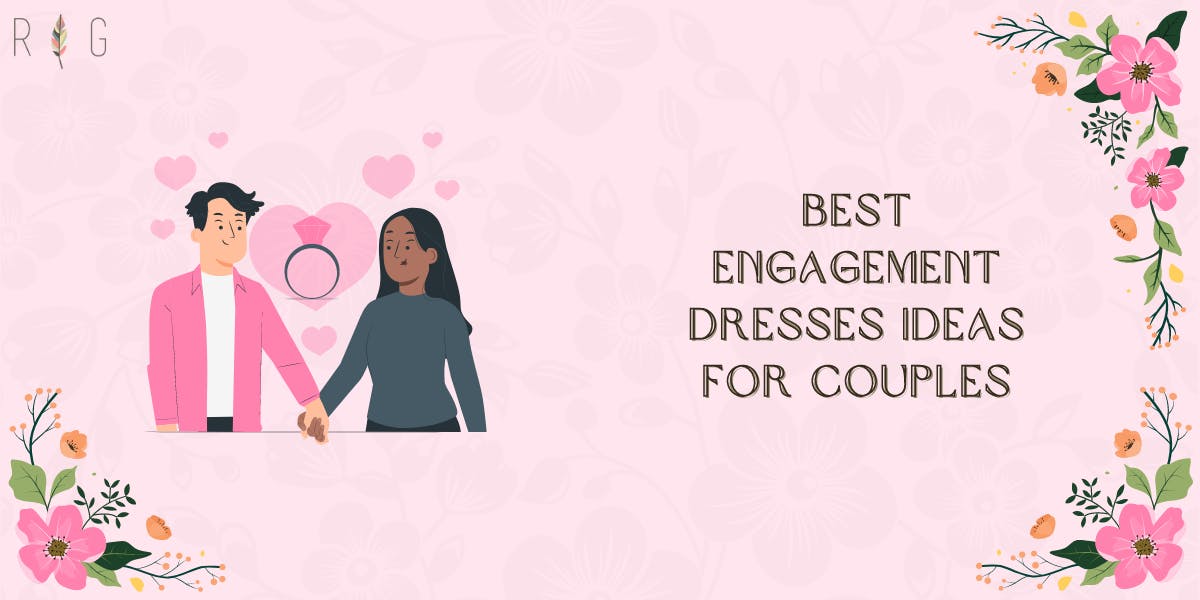 An Engagement ceremony kick starts all the wedding festivity in Indian marriages. It marks the beginning of a lifelong commitment to each other. This beautiful phase in a couple's life helps them to know each other better. In the olden days, this joyful moment was celebrated with an intimate homely affair. But today engagement has become no less than a grand affair. All eyes will be fixed upon you. Hence, you must pay full attention to your look and outfit. You need to find out an ideal outfit that will match the look of your partner. Yet, there are many ways to flaunt a matching outfit. But we will tell you only about the best ways to complement each other. Here we are sharing some engagement pictures taken from bengali wedding photography. These couple images will provide you with a brief idea about the most trending engagement dresses for couples.
So, let's begin this fashion guide to check out some picture-worthy engagement outfits.
1. Designer Anarkali And Three Piece Suit
If you have classy taste in clothing then this one can give you the best Indo-Western engagement look. This stylish groom has worn a deep blue formal suit. While his bride-to-be has slayed her engagement look in a metallic Anarkali. This stunning duo has complemented each other and is also looking great together.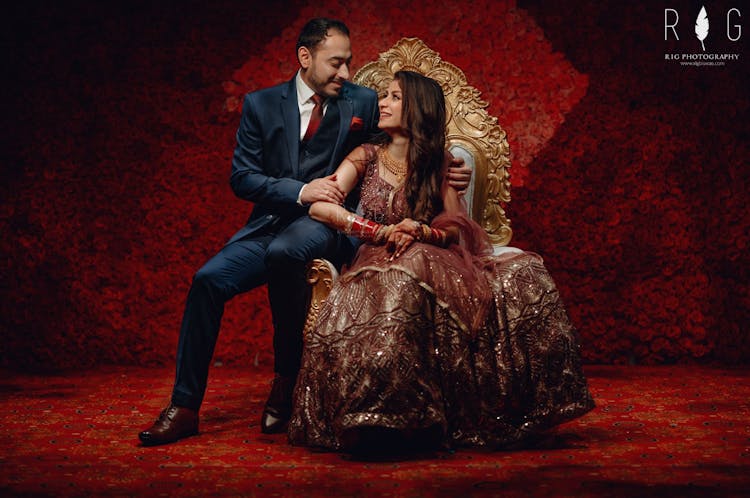 Recommended: Best Wedding Sherwani Designs For Groom You Need To Know
2. Purple Sherwani And Contrasting Lehenga
Going for contrasting outfits is the latest fashion trend. You can choose a coordinating outfit in the same color as this beautiful couple. A stunning sherwani in velvet texture is a nice option to complement an ethnic lehenga. Both of them are looking gorgeous in their engagement photography. You can get such amazing pictures by booking a professional kolkata wedding photographer.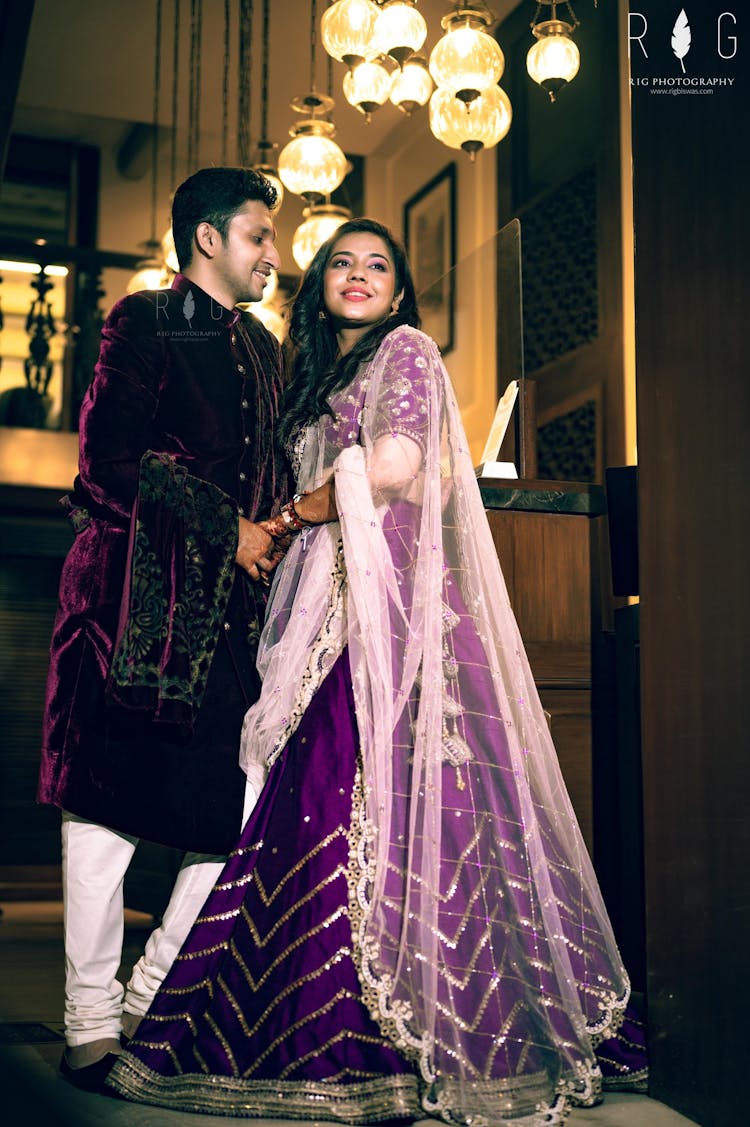 See More: Top 15 Pre Wedding Shoot Dress Ideas [2022]
3. A Stunning Crop Top And Black Suit
These days brides are choosing modern outfits more than traditional ones. This stylish combo dress for couple will work wonders. A net fabricated crop top and grace skirt looks beautiful with a formal suit. It gives you a graceful engagement look that people will remember forever.
4. Floral Prints In Different Shades
In a world full of trends choosing an ethnic outfit is sometimes the best and simplest option. Wearing a traditional Indian outfit like a saree and kurta will never go out of style. This beautiful bride has decided to wear a floral print saree in a red shade. Her gorgeous red saree is complementing his groom's floral print Nehru jacket very well.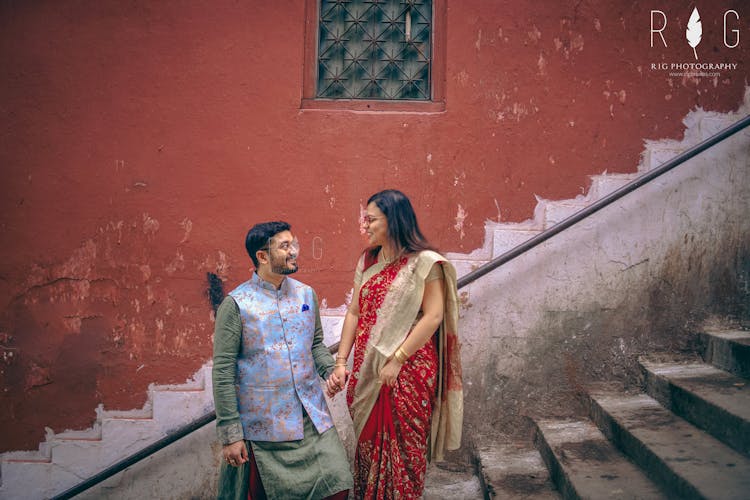 5. Mustard Yellow Kurta & Dusty Blue Sharara
Isn't this cute couple giving us some major fashion goals? The gorgeous bride has made a statement by wearing a tassel crop top with a breezy sharara. While the dapper groom complemented her by wearing a mustard yellow kurta. Their fabulous outfits are the major highlight of their engagement ceremony.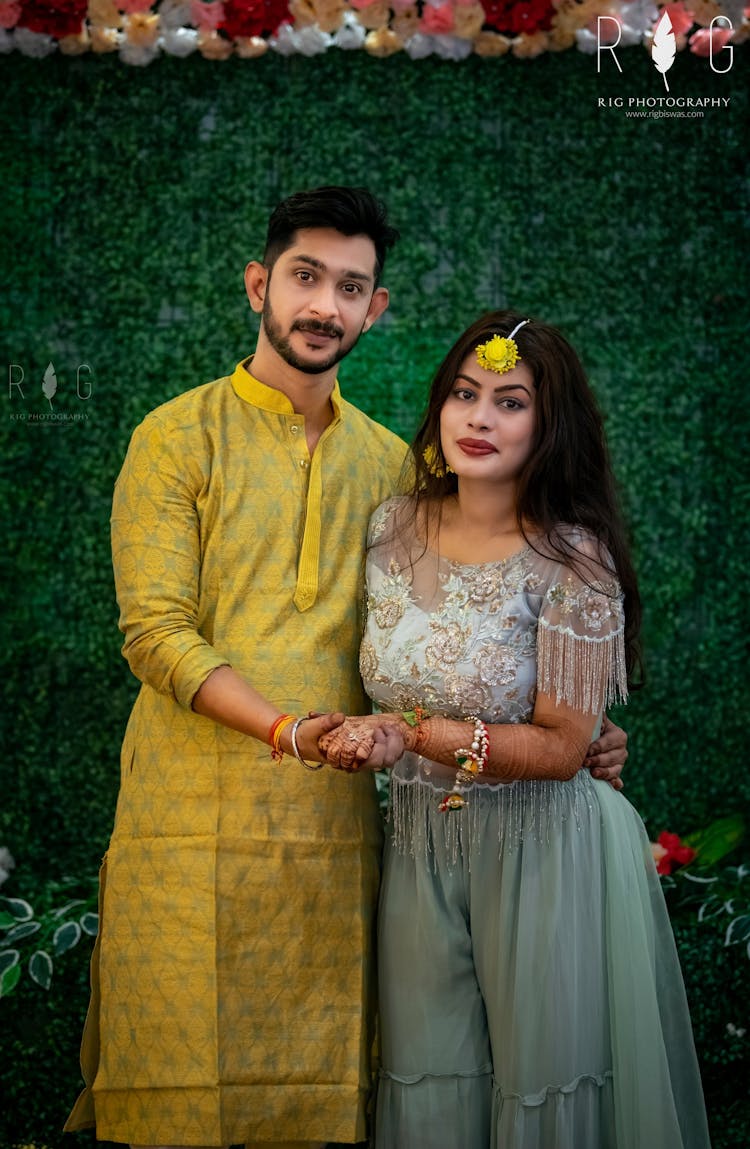 6. Pastel Kurta With Vibrant Shade Lehenga
Who says that boys cannot wear pastel shades? Take inspiration from this lovely couple who are flaunting ethnicity in traditional attire. This pastel kurta and fuchsia pink lehenga is providing them with a graceful look. This kind of traditional outfits for couples looks beautiful in a cake-cutting ceremony.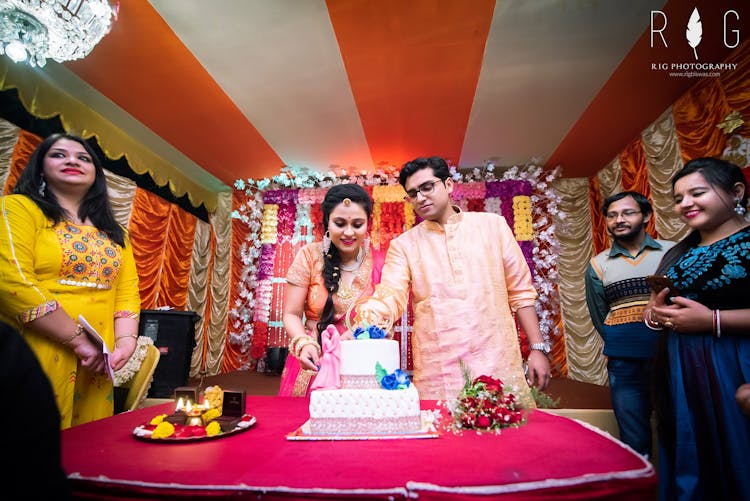 7. Formal Suit & Evening Gown
Are you all set to throw a glamorous engagement party at your space? Then you must check out this engagement couple dress combination for a super stylish look. A mermaid-cut wedding gown will be a perfect combination for a stylish velvet tuxedo. They look gorgeous together in this glamorous engagement attire.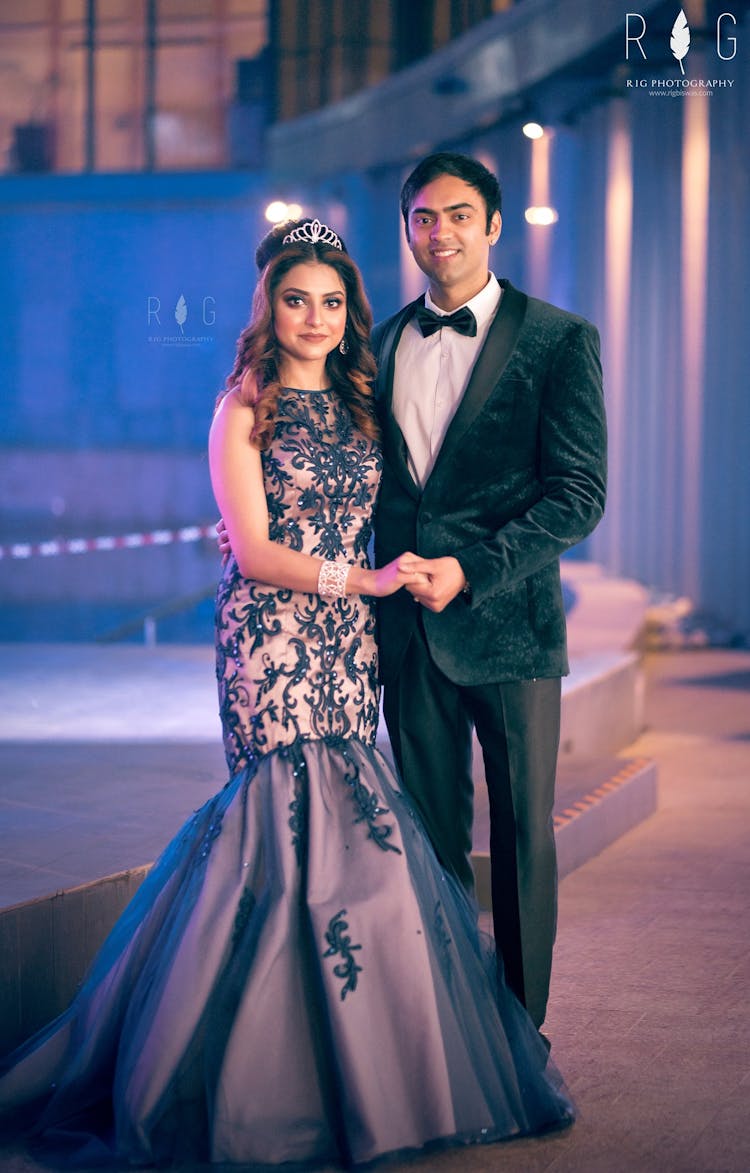 8. Magenta Shade Saree & Matching Nehru Jacket
If you have a zest top making a style statement then this one is the perfect choice for you. Wearing a magenta shade saree with a sleeveless gown will make you the most stunning bride. For guys, a floral Kurti and Nehru jacket in a similar shade is a classy choice. The gorgeous hairstyle of this bride is making her a dazzling diva in stylish wear.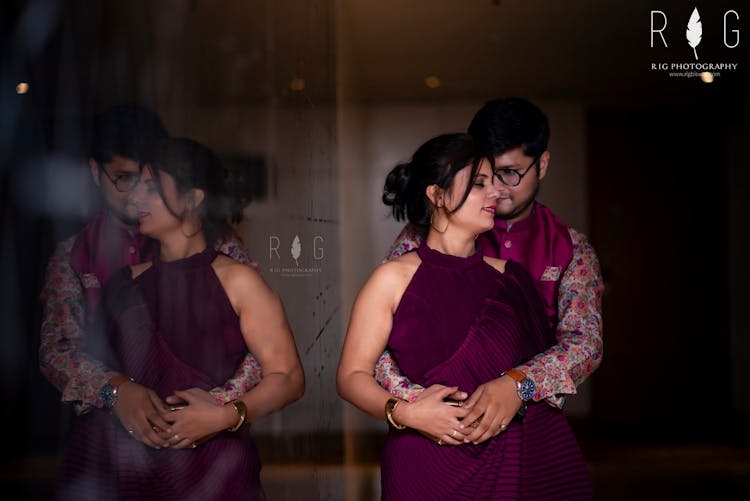 9. Black Suit With Red Midi Dress
The eye-catchy combination of black and red always sets fire to the stage. This stylish couple complemented each other by wearing contrasting shade outfits. The groom wears a stunning black formal suit and pants. While the gorgeous bride has worn a dazzling red midi dress.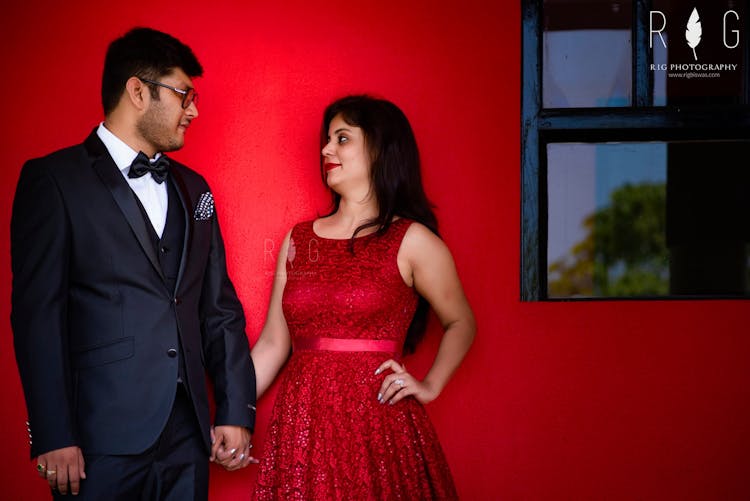 10. Combination Of Blue Outfits
Amid all those statements and ethnic outfits, this one here is completely different. This cute couple matching outfits is a perfect option for casual yet stylish look. A stunning blue jacket with jeans will give the coolest groom look. Brides can wear a long gown in a similar shade to color coordinate their engagement outfit.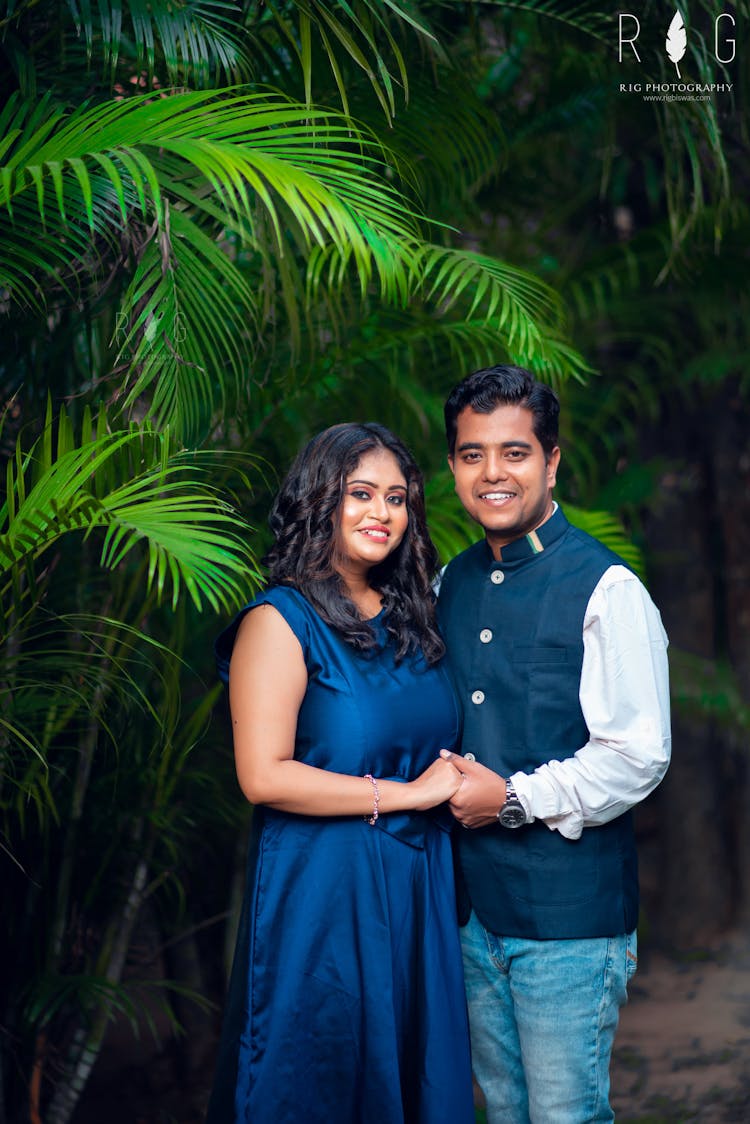 11. Pristine White Anarkali With Royal Blue Sherwani
Pristine white Anarkali with floral embroidery is a very eye-pleasing outfit. Accessories this beautiful outfit with statement bridal jewelry. For a subtle white bridal outfit, a royal sherwani in deep blue color is the best choice.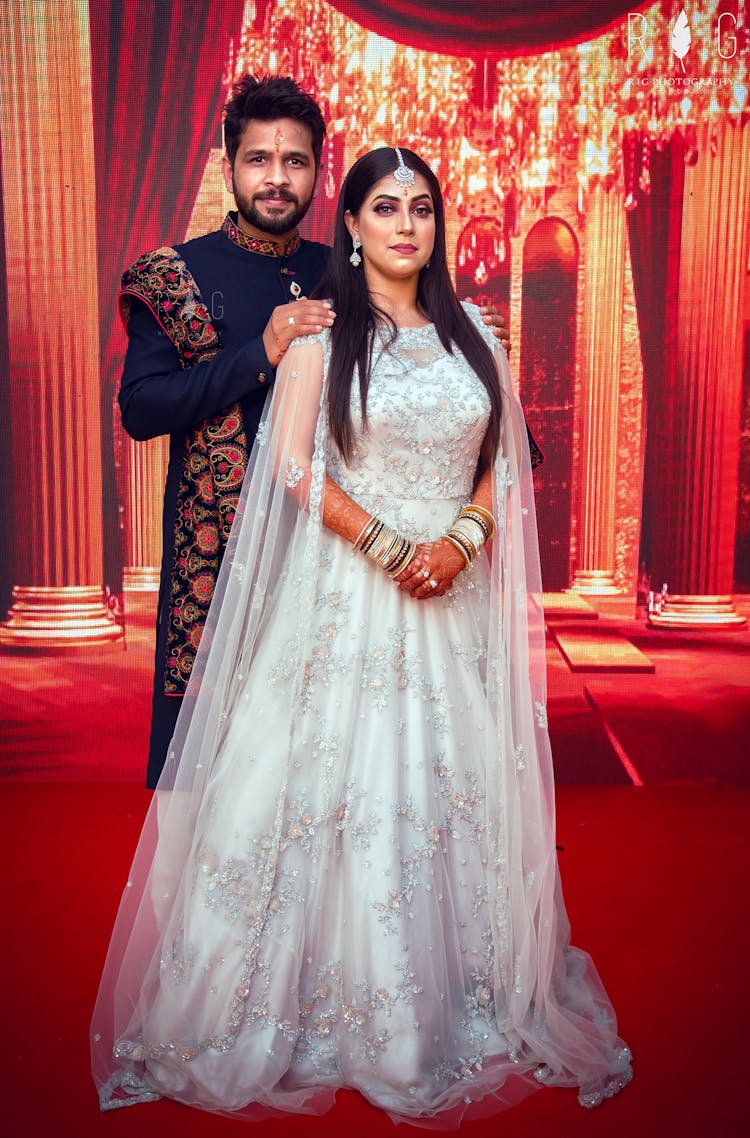 12. A Sea Green Lehenga With Off White Sherwani
These traditional outfits in contrasting shades are the best couple dress for engagement. This lovely couple has made a classy choice by wearing a sea green embroidered lehenga with a white floral sherwani. The groom has added a black embroidered stole to add definition to his royal engagement look.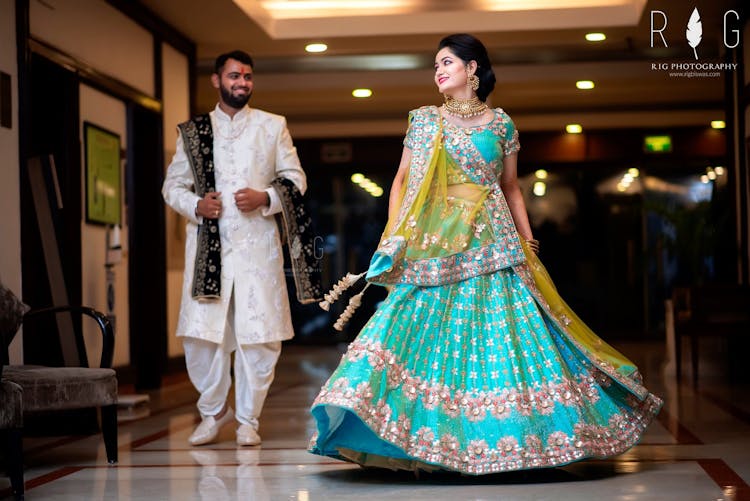 13. A Floral Midi With Grey Suit
You can go all western by wearing a beautiful midi dress with a stylish blazer. This is the most stylish engagement look for couple that can grab all the attention around. The addition of a scenic background can add more beauty to your engagement pics.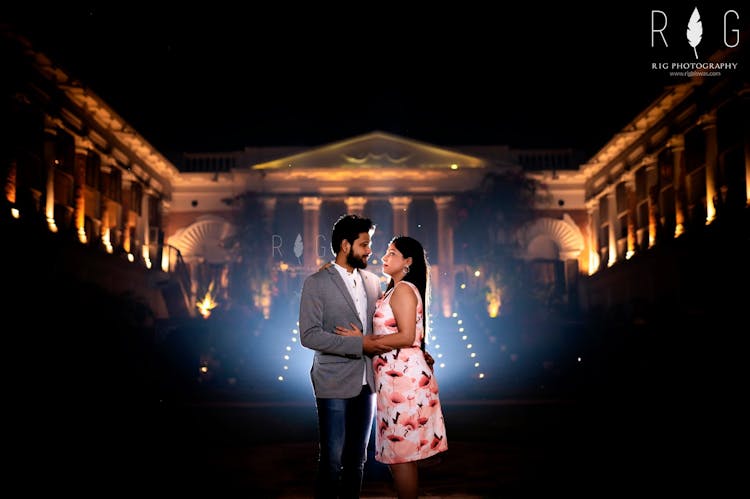 14. Matching Florals In Velvet Texture
Are you looking for a couple matching dress for engagement? Here is the one that will meet your needs. Floral embroidery on velvet outfits is a super engagement dress for a royal event. If you have a very exotic taste in clothing then you can wear a velvet sherwani and lehenga with floral prints.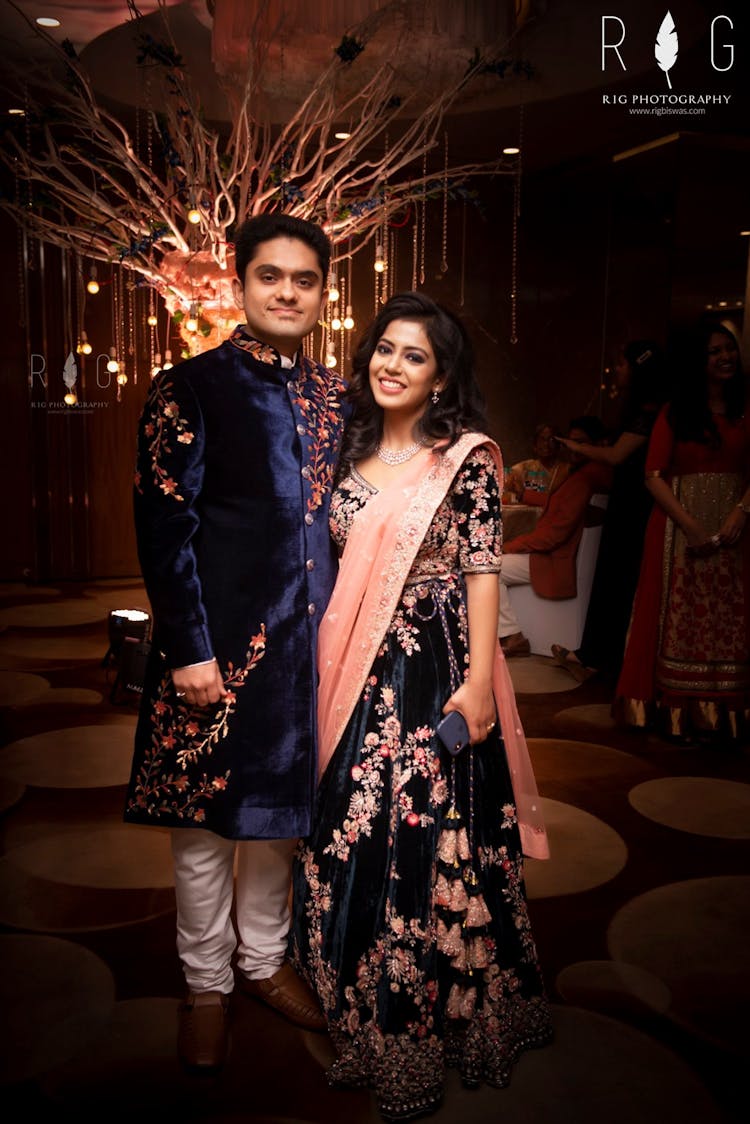 15. A Pink Gown With Formal Suit
What a beautiful moment captured in frames! A millennial groom donned in a signature suit looks no less than a charming prince. To complement your prince charming you need to wear a fancy gown in blush pink shade. This amazing couple's outfit looks super sober yet stylish in engagement pictures.