Top 7 Hairstyle Ideas For A Bengali Bride – Rig Photography
Bridal hairstyles alleviate the beauty of Indian brides. Check some prettiest and trending Bengali bridal hairstyle to get a dreamy wedding look.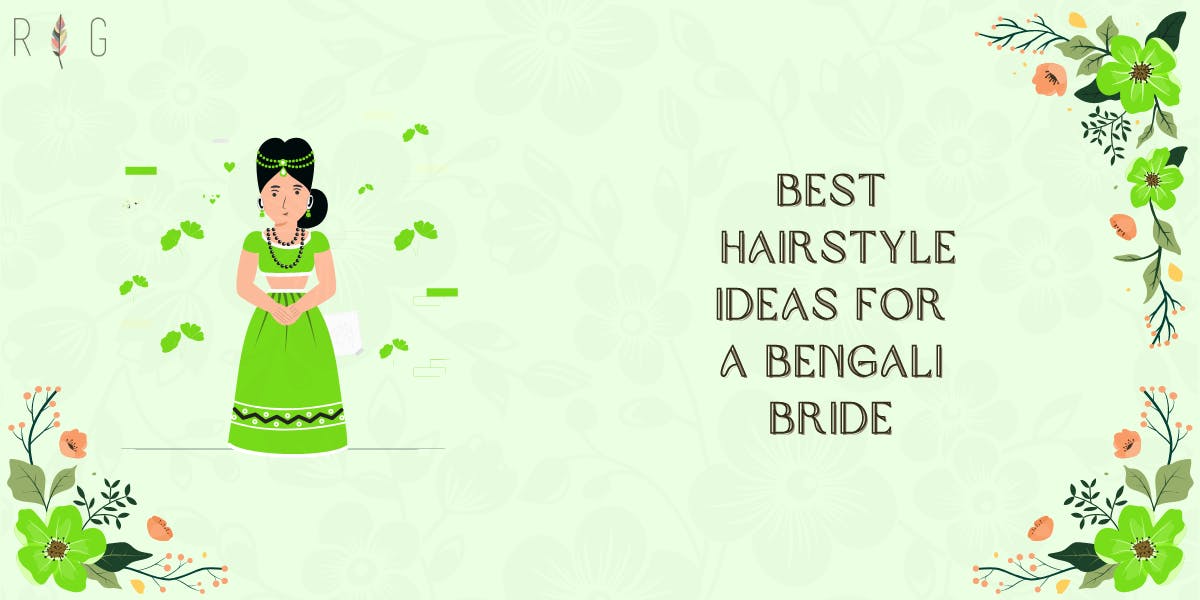 Girls are always worried about their wedding outfits, hairstyle, and makeup. Yet there are endless options available currently on stunning bridal hairstyles. But Indian brides always want the best one to achieve the look of a dazzling bride. You always need to choose a hairstyle that goes well with your face shape and bridal outfit. Because a good hairstyle can enhance your bridal look and add a beautiful definition to it. From flowered braids to sophisticated buns, we have seen many appealing bridal hairstyles while working on bengali wedding photography. Thus after performing extensive research on bridal hairstyles, we have come up with an amazing and comprehensive guide on best bridal hairstyle which will work wonders and make you a picture-perfect bride.
1. Floral Touch Fish Braids Hairstyles
When it comes to picking a classic hairstyle for the wedding day, a fishtail braid is a stylish option. These simple hair style for wedding are perfect for those having long hair. These elegant braids are easy to manage and provide your hair with a voluminous look. Adding tiny flowers contrasting with your bridal outfit or a piece of hair jewelry can add a beautiful charm to your hair. Being a candid wedding photographer in Kolkata we have captured many stunning images of Bengali brides opting for braided hairstyles on their Haldi ceremony. Make sure to nurture your hair with hair moisturizer to make your hairs bouncy and smooth which will provide sheer beauty to your hair.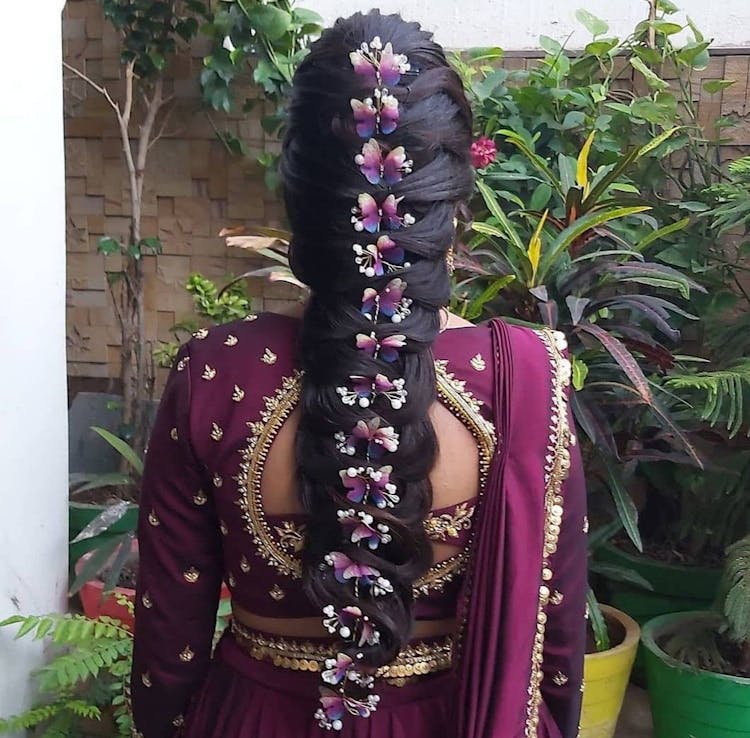 Must Read: Top 10 Bengali Mehndi Design Ideas - Rig Photography
2. Braided Bun With Flowers
A braided bun with a side parting complements your look in a bridal gown. The simplicity of this low bun with a pearl hairpiece can add a romantic flair to your wavy bun. This glamorous hair styles for short hair goes well with diamond or stone-studded jewelry and a flowing gown. The braided texture of a low bun provides a classic look. The loose curls at both sides of your parted hair and the messy bun are timeless beauty.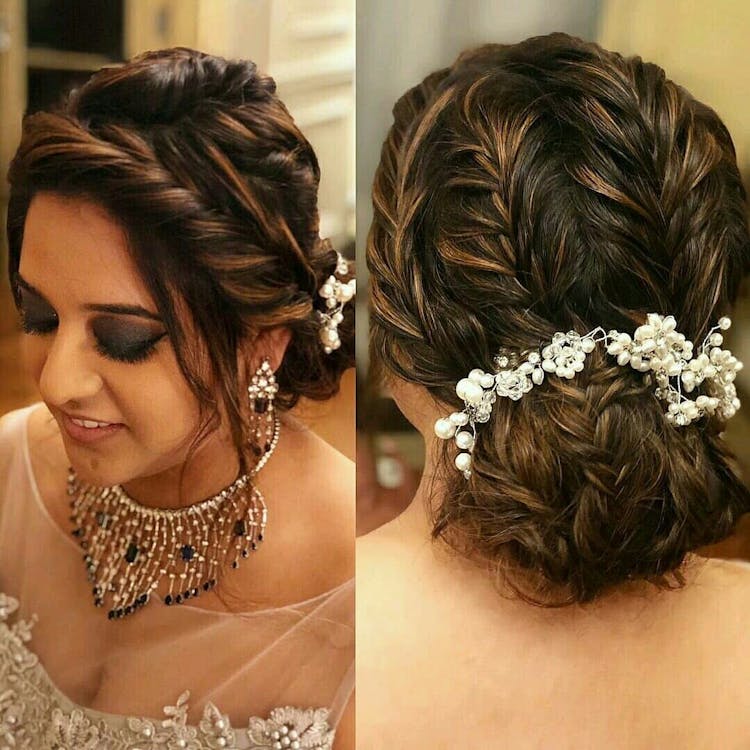 Also See: 15 Breathtaking Haldi Ceremony Dress Ideas For Brides In 2022
3. Rapunzel Braid With A Curly Twist
Impressed by the Disney princess "Rapunzel Braid"? This is the prettiest hair style for bengali bride. If you have long and beautiful hair like a Disney princess then this twist and turn curly braids is highly suggested for a pre-wedding ceremony or a destination wedding. You can simply curl up your hair with a 1.25-inch wand and then pin the remaining hairs with a floral hairpiece. This dramatic hairstyle provides you with an elegant and dignified bengali bridal look.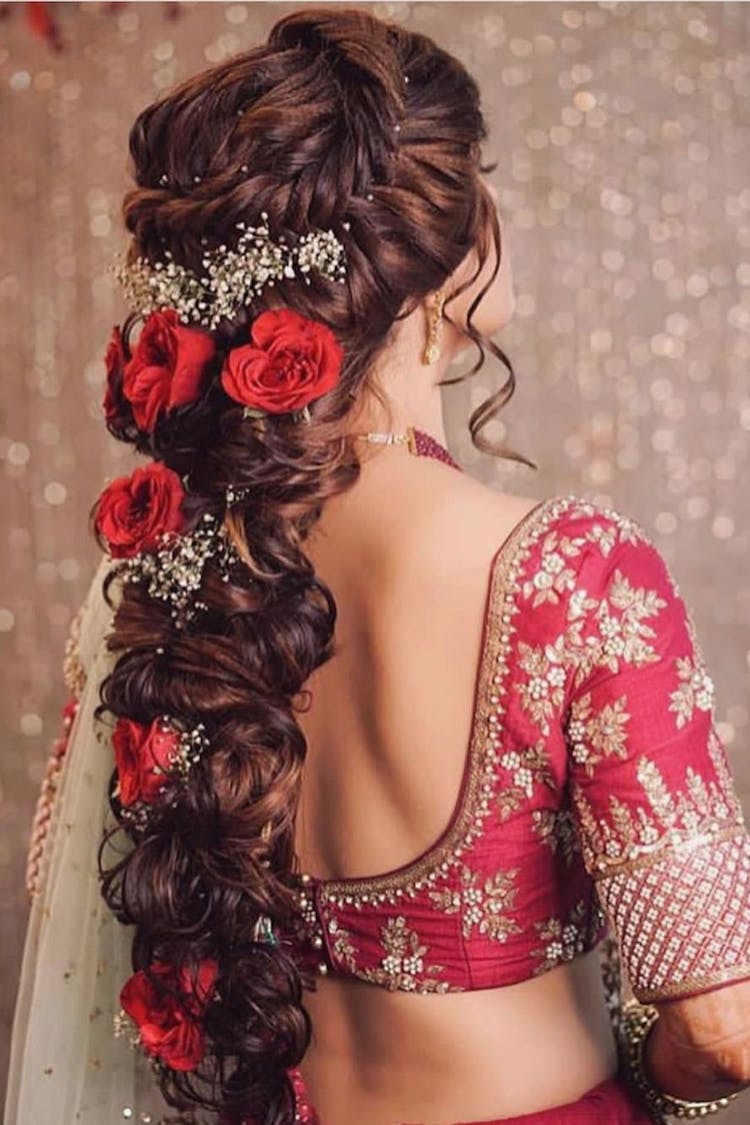 4. Blooming Beauty In Classic Bun
This bridal bun hairstyle covered with roses is another stylish and eye-catchy hairstyle that adds an extra touch of glamour to your bridal look. This is a very popular bengali bridal hair style that adds a romantic vibe. You can simply tie your long hair into a puffed bun using hairpins and then adorn your bun with roses to add a classic touch to your hairstyle. This beautiful fragrant bun makes a fashion statement at your wedding.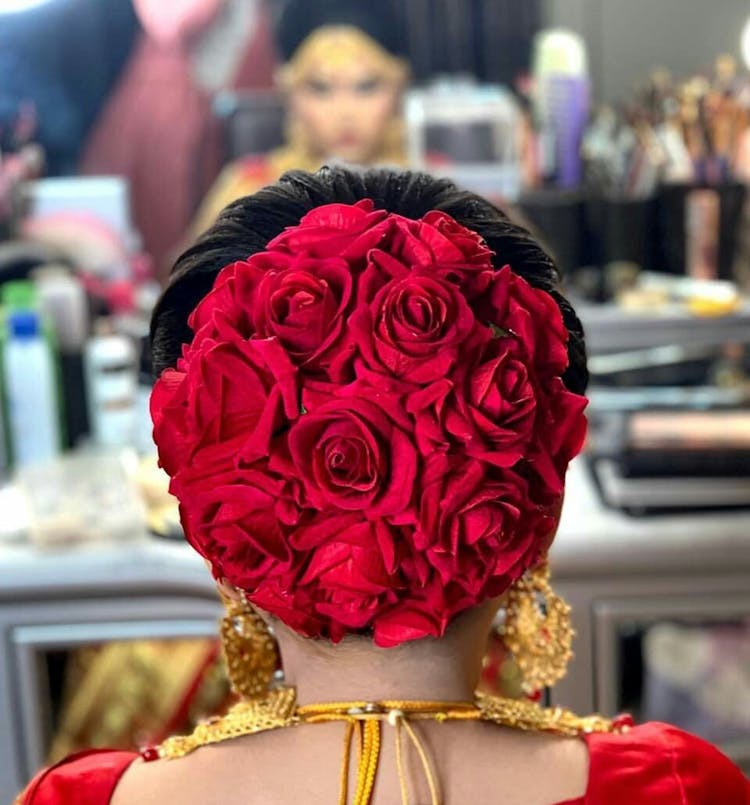 5. Shining Tiara Over Glamorous Bun
Another attractive and stylish hairstyle for Indian brides is this curly high raised bun with a shining tiara. The sophisticated look of this unconventional bun makes it one of the best bridal hairstyle. This messy hightop can be created by making a high ponytail and then twisting and pinning it into a wavy bun. An attractive hairpiece like tiara looks amazing on an elegant bride and reflects your charming personality. You can also twin this wavy bun with diamond earrings and a gorgeous bridal lehenga which will make your entire wedding look stand out different.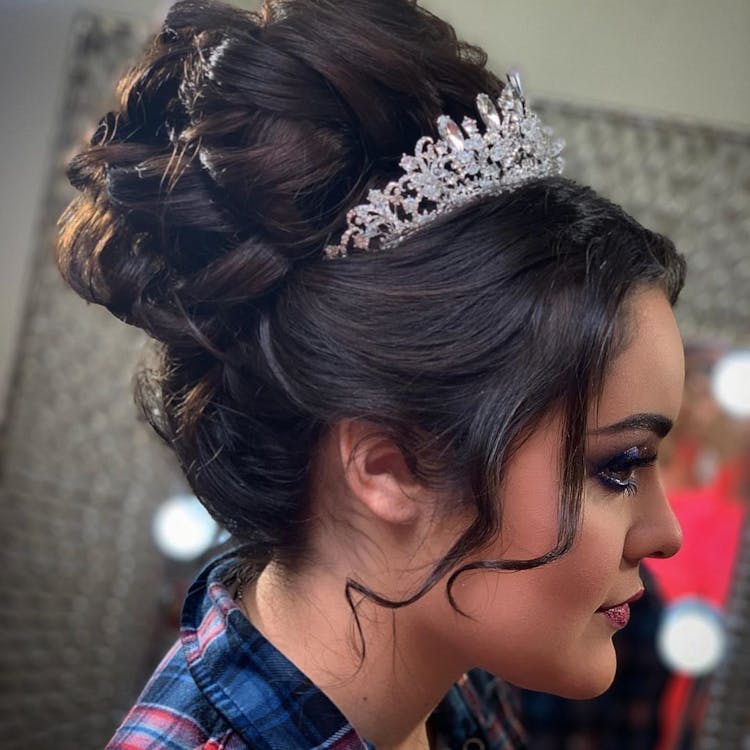 6. An Elegant Lower Bun
This Indian hair bun for wedding with a fresh floral gajra provides a jaw-dropping look. In India, flowers are considered a symbol of good luck and prosperity. Along with that, a beautiful floral garland tucked in a stylish lower bun adds a distinctive and pleasing fragrance. This unusual bun can be made by rolling the lengthy and voluminous hair to the back and making a classic bun out of it. This retro-style hair bun looks lustrous in your wedding photos and videos.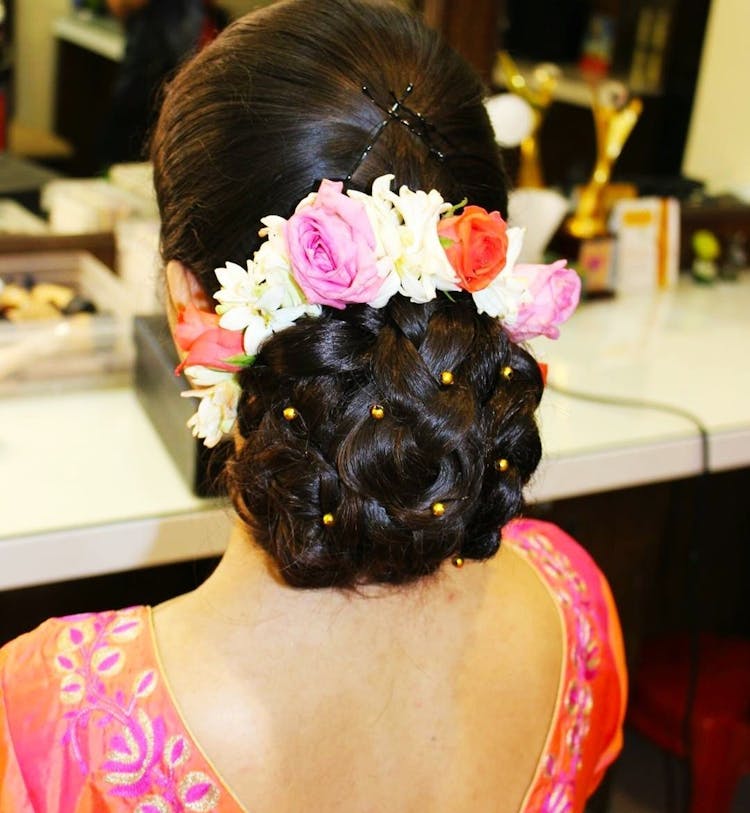 7. Traditional Long Braids With Flowers
If you want to achieve a regal look on your wedding day, then you can opt for this traditional south indian wedding hairstyles. This simplistic long braid adorned with hair ornaments and fresh flowers is an age-old hairstyle that goes well with a traditional wedding theme. To give this classic hairstyle a more dramatic appearance, pair it with bridal gold jewelry and banarasi saree. This neatly tied braid must be tucked at the lower end with a hair accessory to set the curls. These gorgeous hairstyles will surely catchy your guests' attention throughout the day.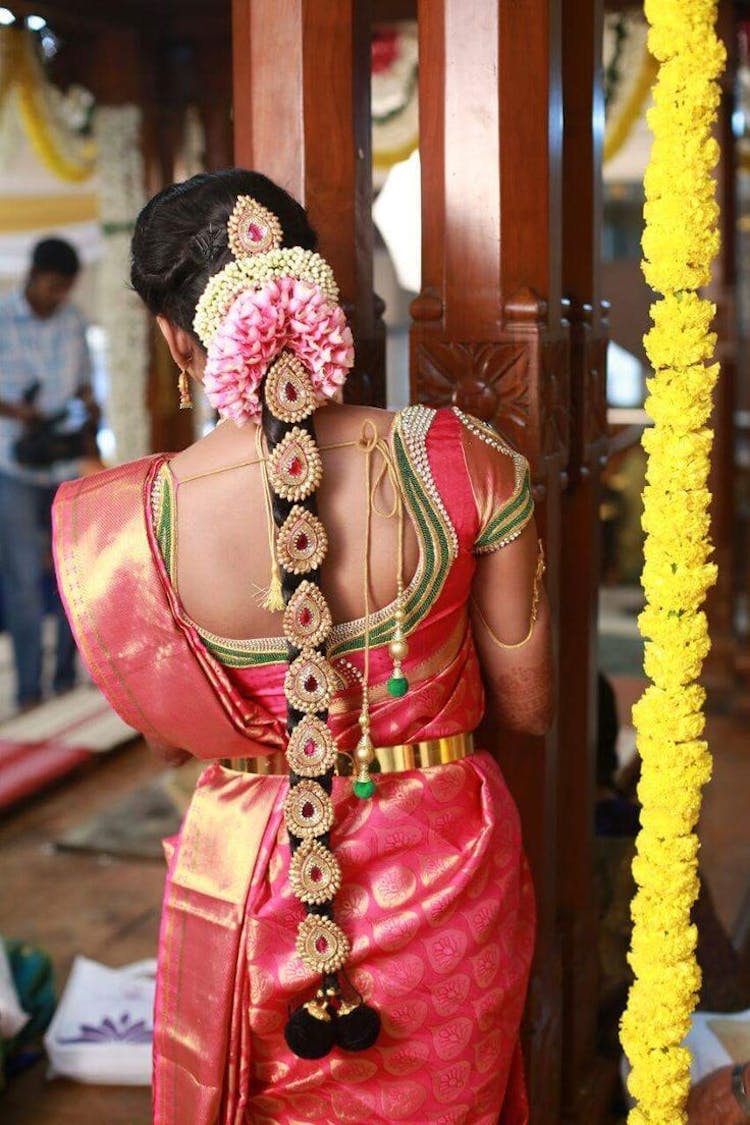 Before finalizing a bridal hairstyle you must consider a few things which are as follows:
1. Always try to pick a hairstyle that suits your hair type. Check your hair length, density, texture, and then choose a suitable hairstyle accordingly. For e.g, buns are perfect for long hairs while open wavy hairs look elegant on short hairs.
2. Your dress plays a significant role in making you a gorgeous bride. Thus, you must focus on a hairstyle that goes better with your bridal outfit neckline. If you want to flaunt the embellishment on your blouse or gown then opt for a stylish hair bun.
3. Choose a hairstyle that matches your wedding theme. A traditional theme can go well with a classic braid or bun while a glamorous wedding needs a voluminous and curled hairstyle.
4. Make sure to have a trial with your hairstylist before your big day to get a better idea of your look.
5. Always choose a comfortable hairstyle that you can handle easily throughout your wedding hours.
We hope that this ultimate guide on bengali bridal hairstyle will help you plan your wedding day hairstyle with ease. Wish you a good wedding journey.