Top 15 Pre Wedding Shoot Dress Ideas [2022]
Choosing an ideal pre-wedding shoot dress can be a tricky task. Read this amazing blog on pre wedding shoot dress ideas and dress like a pro for a candid photoshoot.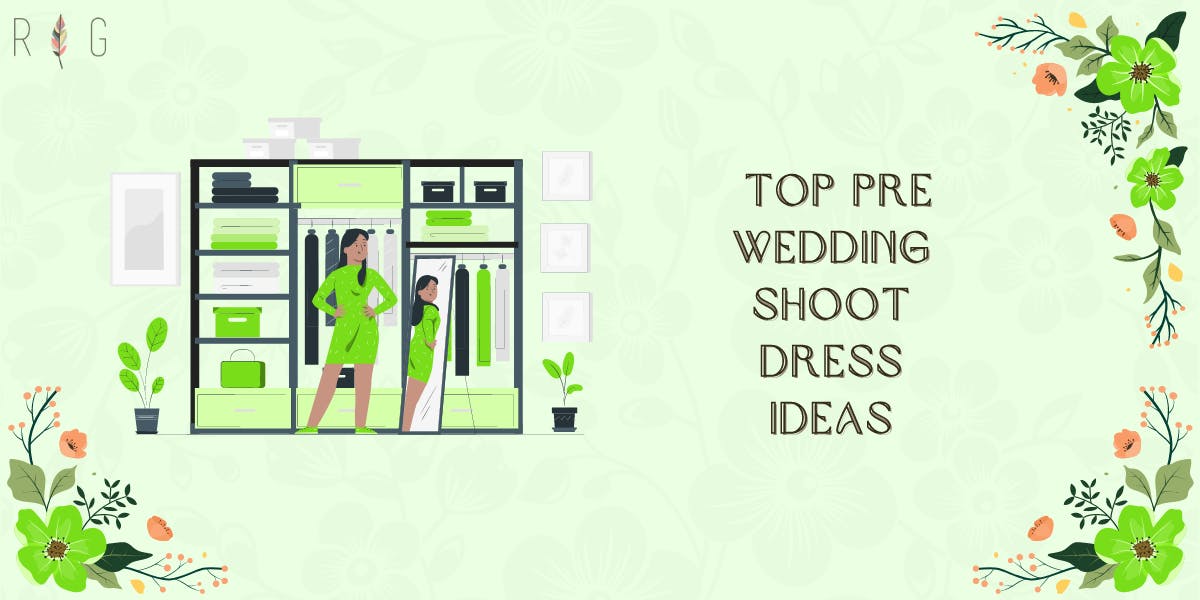 Pre-wedding photoshoots are the newest trend these days. It is becoming a fun-loving part of Indian weddings. A lot of confusion arises when one has to decide what to wear in his/her pre-wedding photoshoot. The pre-wedding photos are like an invitation to everyone to experience your most beautiful moment. From choosing a stunning backdrop to getting dressed in a gorgeous outfit-its all special. The beauty of these breathtaking pictures can bring a smile to your face years after your marriage.
Keep in mind about pre-wedding location and season while choosing an ideal outfit. If you are looking for mind-blowing pre wedding photography in Kolkata, we can assist you in planning an unforgettable and magnificent pre and post wedding photoshoot.
Deciding on an ideal pre-wedding dress before a photo session is always a good idea. To make your pre-wedding most beautiful, we, the best wedding photographer in kolkata have compiled a list of some most stylish and trending pre wedding shoot dress ideas. 
1. The Loving Bond Of Prince & Princess
A pre-wedding photoshoot is an amazing way to solidify your relationship. A midi couple dress for pre wedding shoot in black and white is an elegant choice for girls short in height and, let your partner go with a decent formal look to create an outstanding impression in photo frames. Here, the blue suit of the groom is complementing the bride's look perfectly. This elegant pair of pre wedding shoot dresses for couples tells us a beautiful fairy tale.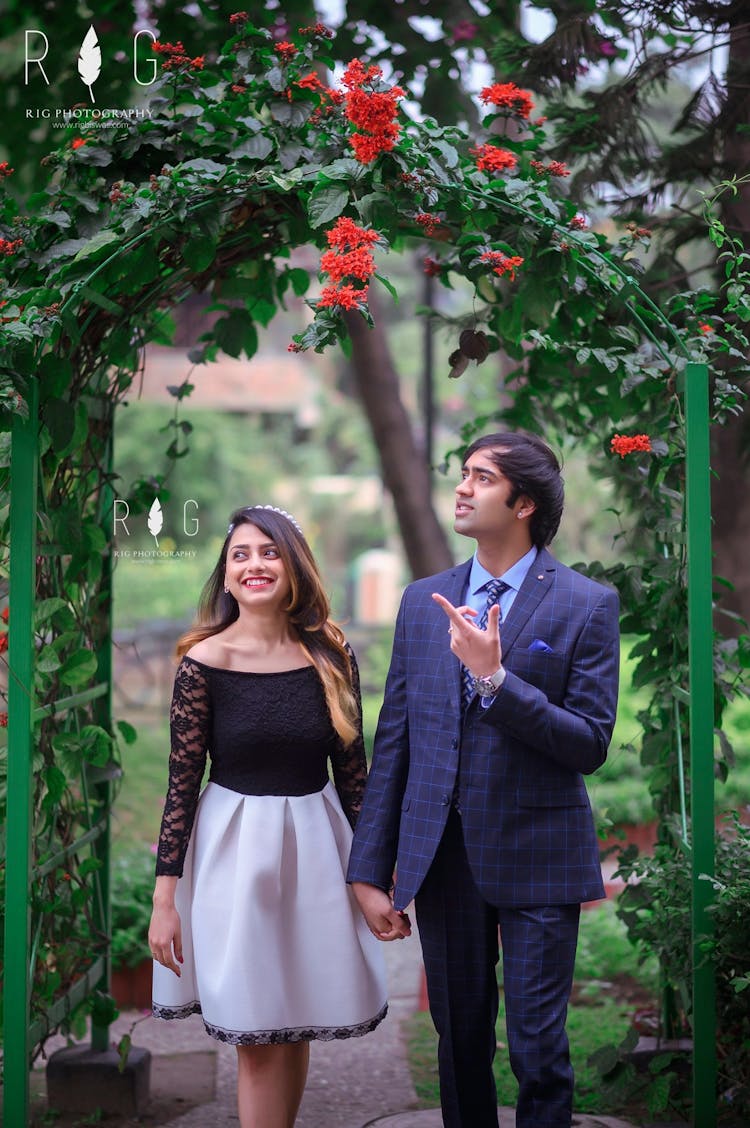 Recommended: 10 Best Locations For Pre-Wedding Photoshoot In Kolkata
2. Magical Combination Of Pastel Colors
Pastel colors can do wonders to your pre-wedding photos. And if you have decided to pick the same color for a photo session, it will definitely add a charming grace to your pre-wedding. Wearing a lavish Anarkali suit and pastel-hued formals is one of the most beautiful and simplest pre wedding outfit ideas.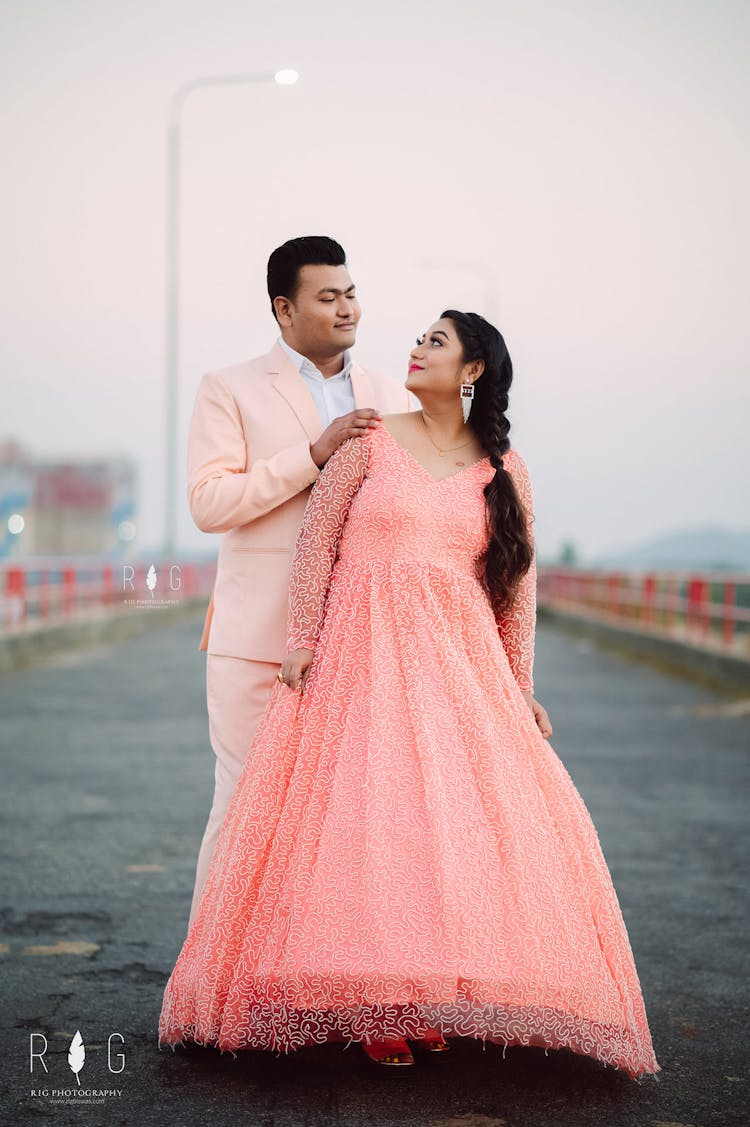 3. Pair Of The Printed Gown And Formal
With a fascinating backdrop of lakes and mountains, this picture looks perfect in every aspect. The combination of a serene white gown with purple floral prints complements the groom's matching purple shirt amazingly. If you prefer to go for an evening photoshoot, this pre wedding photoshoot dress is the best idea.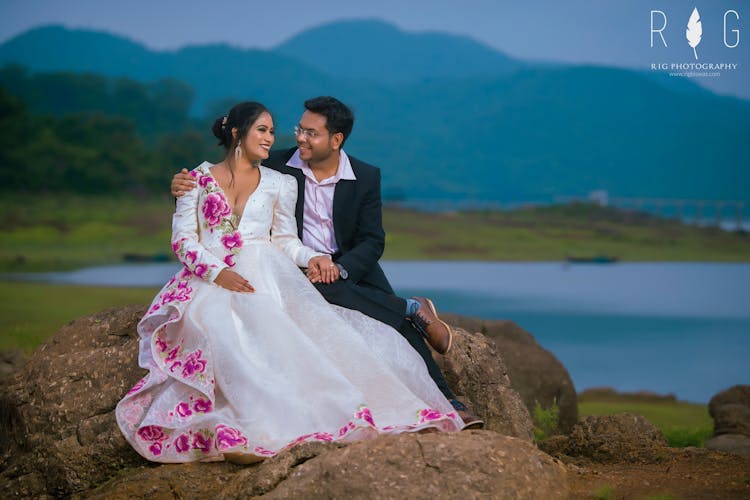 4. Say Yes To Pre Wedding Shoot In Red Saree
The simplicity of this couple is inspiring us to opt for a traditional outfit. Their vibrant color outfit is creating a stunning effect. After all, our tradition adds more beauty to our weddings.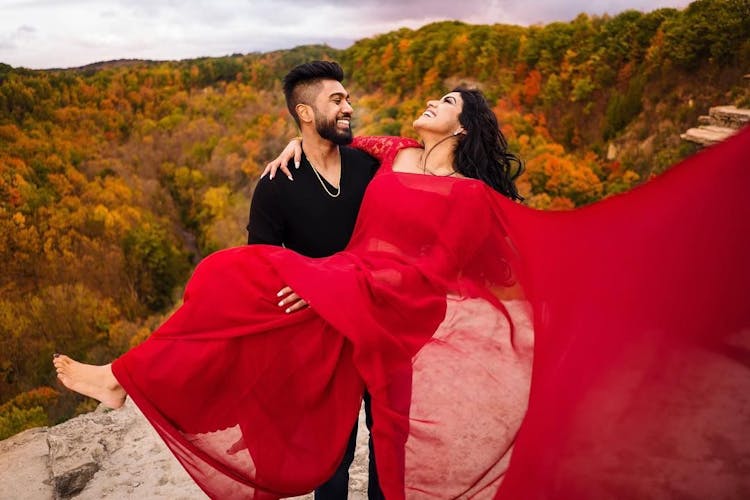 5. Celebrate With An Ethnic Outfit For Pre Wedding Photoshoot
You can add some refreshing vibes to your pre-wedding photos by picking up an ethnic outfit. There is something vintage and royal about a stylish, light-shaded lehenga and the floral galabandh this couple is wearing. Paired with beautiful jewelry and a peach-shaded kurta, pajama this wonderful couple is giving us some major fashion goals.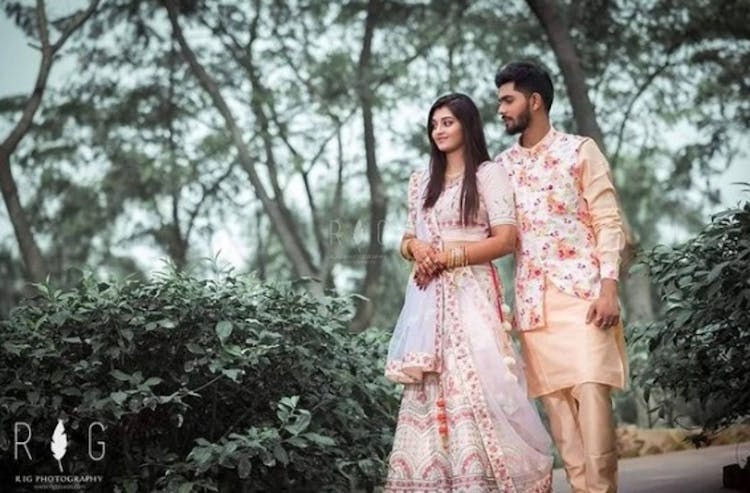 6. Do Consider A Classic Bong Saree And Punjabi
 Live a beautiful dream in the vintage Bengali couple look. The gorgeous red and white saree for the bride and white Punjabi of groom brings a regal vibe of traditional bong wedding in the pictures. These traditionally inspired outfit for pre wedding photoshoot are perfect for an eye-catchy photo.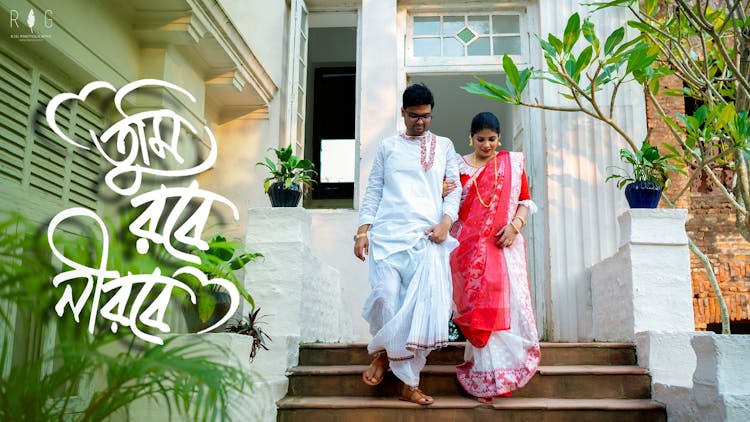 7. Bollywood-Inspired Free Trail Red Gown And Formals
Long-tail gowns are always a classic choice for a mesmerizing pre-wedding photoshoot. Our suggestion for guys is to pick a formal outfit to enhance their look. An off-shoulder red gown great combination of confidence and style. Let your long-tail gown flow freely in the air to shoot a romantic pose.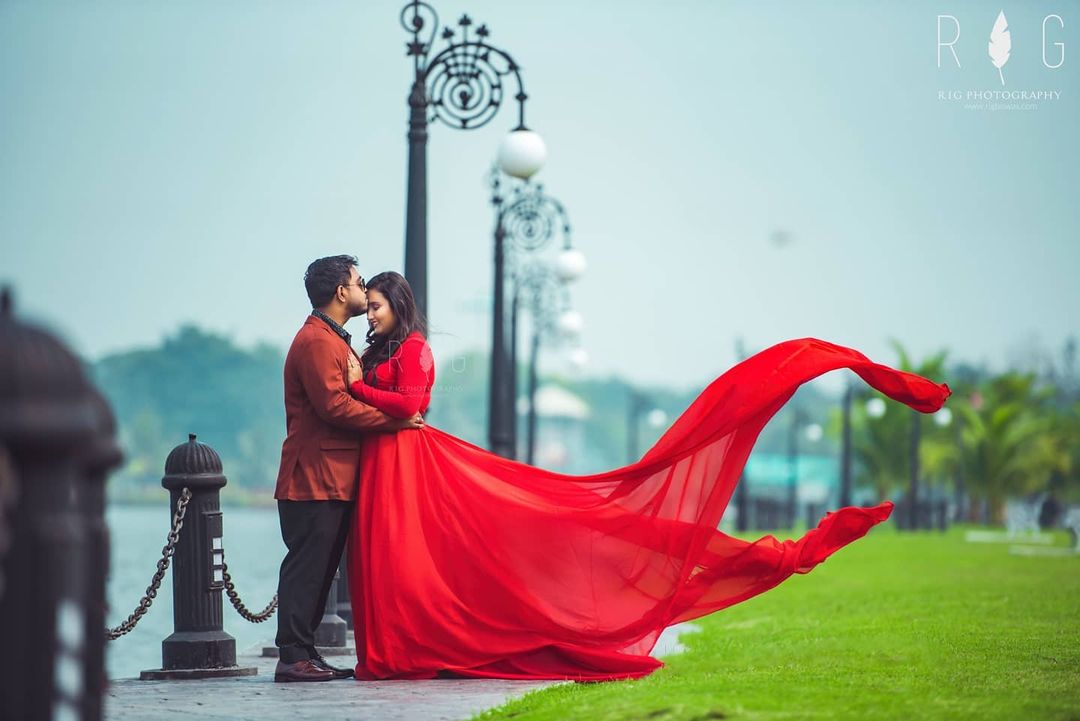 8. The Velvet Tuxedo & Ravishing Gown Amidst Nature
Do you want to look super glamorous? Then take inspiration from this couple. They have gone all blue below the open blue sky. Their bold and dreamy outfit for pre wedding photoshoot makes a fashion statement. The velvet blue tuxedo of the groom complements the stunning blue gown beautifully. Moreover, the scenic beauty of cloudy mountains is adding more beauty to their candid photo. That is why hill stations are considered as one of the best pre wedding shoot locations.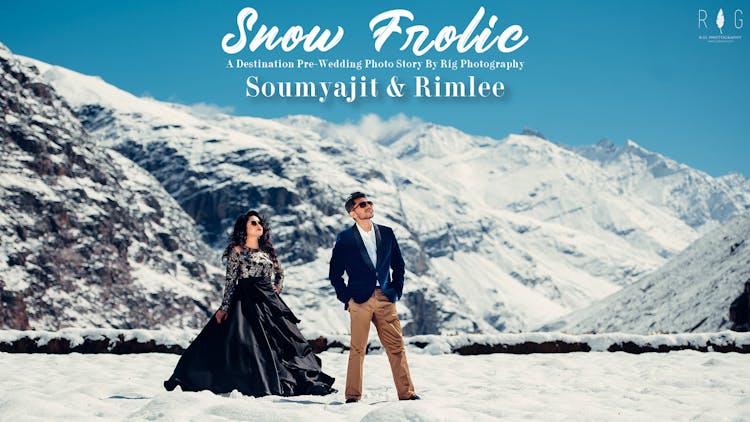 9. Pick A Glittery Party Wear
A shimmering short dress in purple looks amazing in a photoshoot. Pair it with a high heel bring that wow factor. This stylish outfit for pre wedding photoshoot is a very popular choice amongst modern brides for pre wedding photography.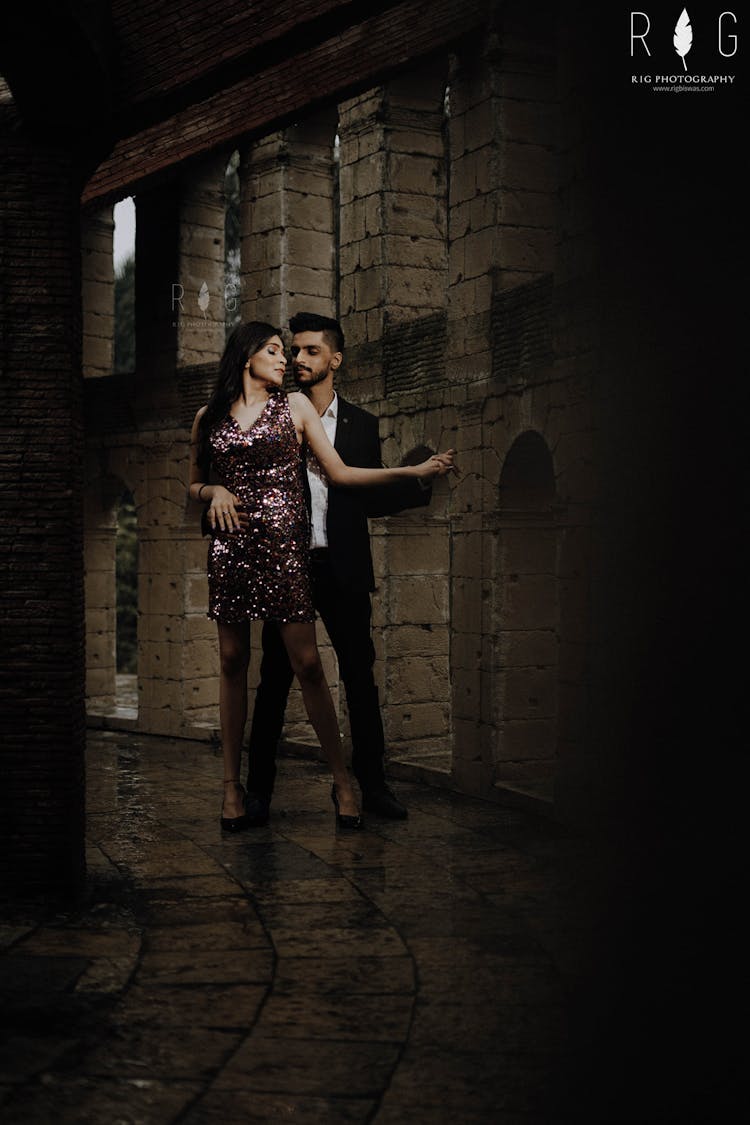 10. Why Not Opt For The Comfy Casuals
Don't be afraid to pick casuals for your pre-wedding. Comfortable wearing best defines your happy side and adds a fun element to the picture. Moreover, casuals lets you enjoy the shoot thoroughly. That is why young couples are opting for casuals like denim jeans and short dresses as a pre wedding shoot outfits.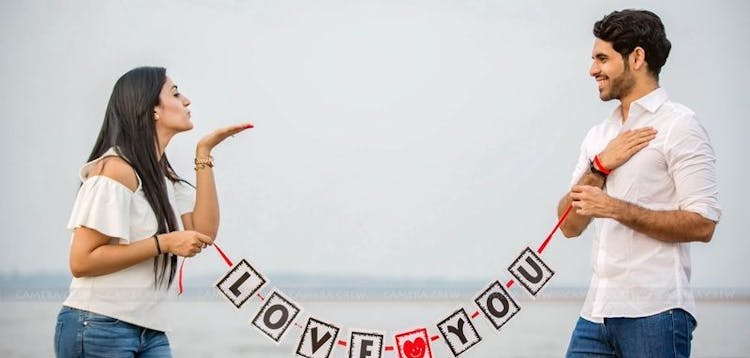 11. Charisma Of Formal For An Outstanding Shoot
 Formals can provide you with an insta-worthy photoshoot. A black tux looks fantastic and makes you the most charming guy. In the same way, brides can opt for a prom dress in any decent color to look like a super-stylish bride. This fashionable couple photoshoot dress will never disappoint you.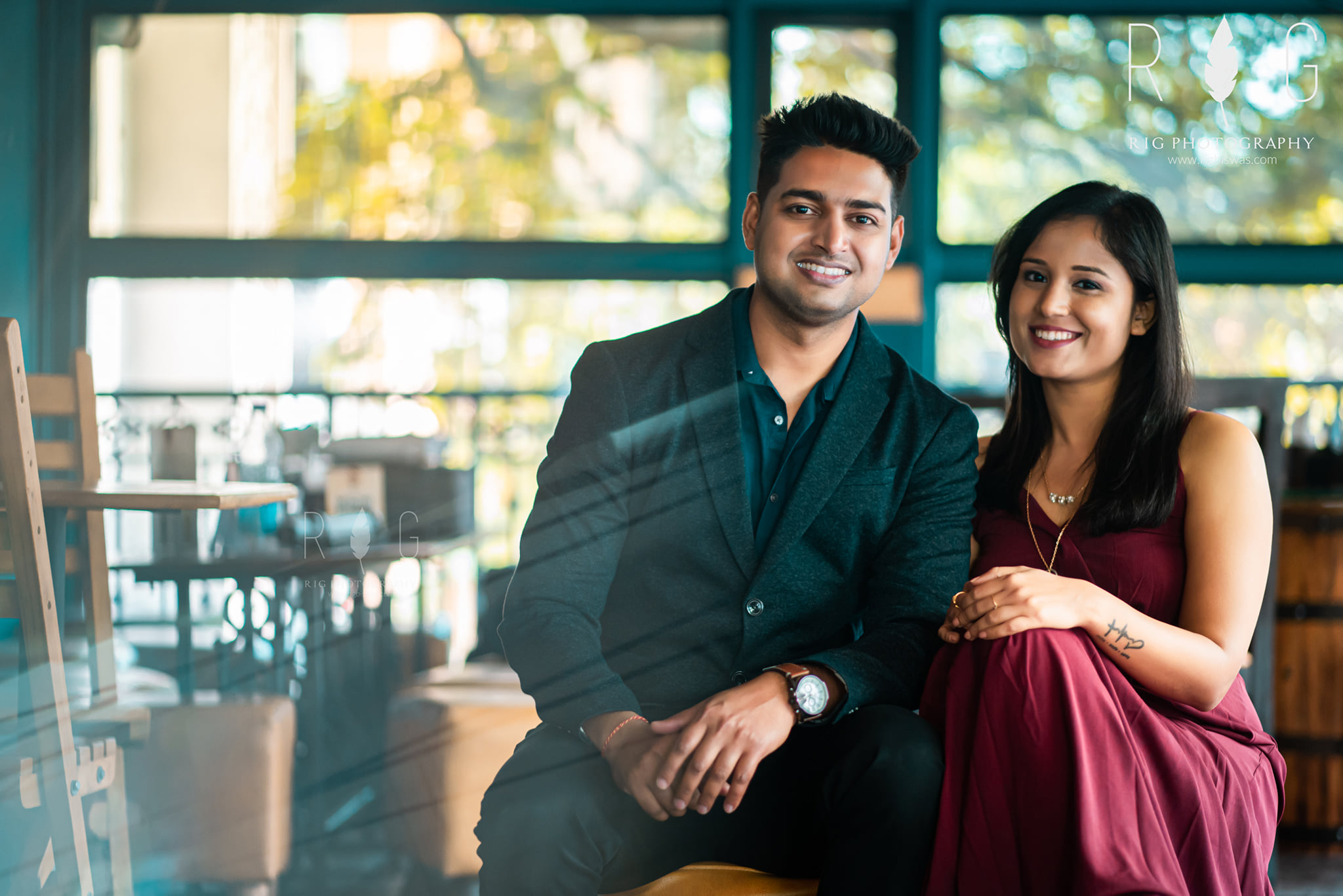 12. Jazz Up Your Pre-Wedding With The Stunning Structured Gown
A designer gown with hand embellishments when paired with diamond jewelry can provide you a breathtaking look in your photoshoot. The charming groom can match the aura with a black tuxedo. This eye-catchy outfit is one of the most effortless pre-wedding dresses.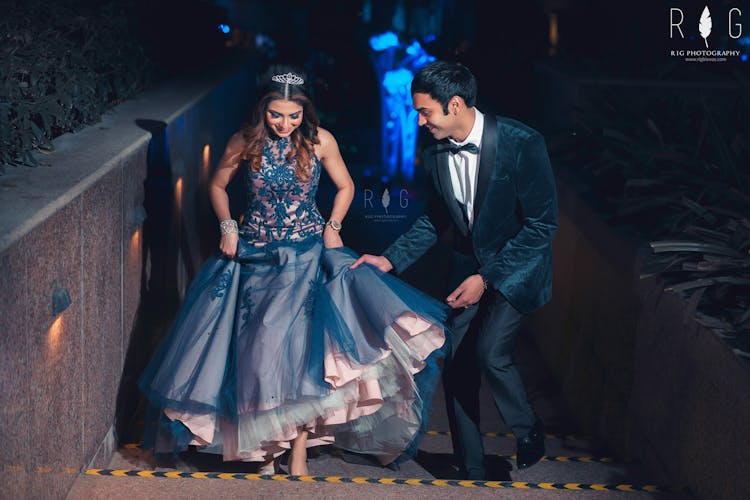 13. Blissful Combo Of Blush Pink
Another eye-catchy combination with a stylish Nehru jacket is a pink gown. The twirling pose of this beautiful bride is a mesmerizing pre wedding poses for couples. The blush pink shade of the floral gown is making the bride look plenty gorgeous and the stylish groom walking behind her is truly adorable.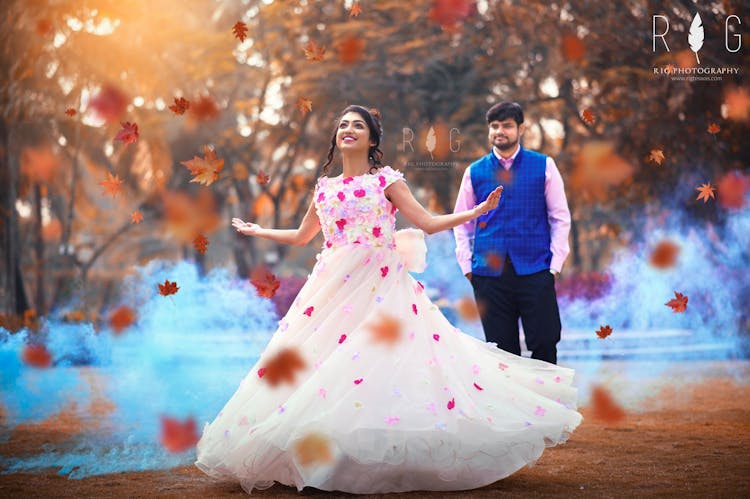 14. Playful And Vibrant Salwar
Girls if you wanna look like a pretty Punjabi kudi, then pick a Patiala suit and traditional jewelry. The vibrant hue and a Bollywood-inspired mustard-field backdrop will add all the fun and romance to the atmosphere.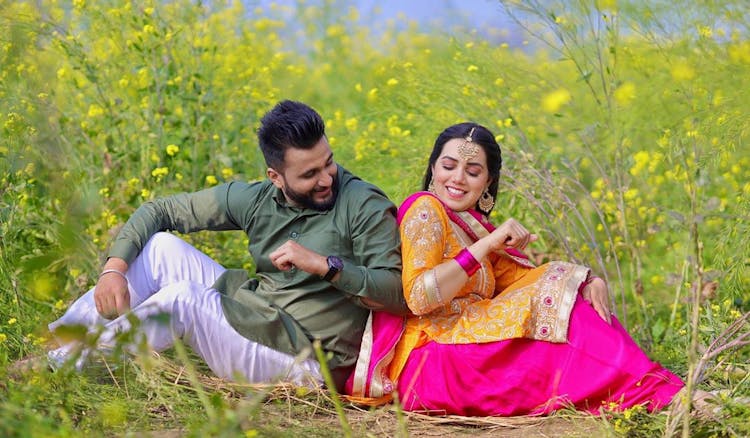 15. Alluring Black Outfit For Pre Wedding Photoshoot
An eye-catchy black gown when flowing in the air creates a stunning effect in pre-wedding photography. This perfect outfit, when accessorized with diamond jewelry and bold makes creates a fashion statement.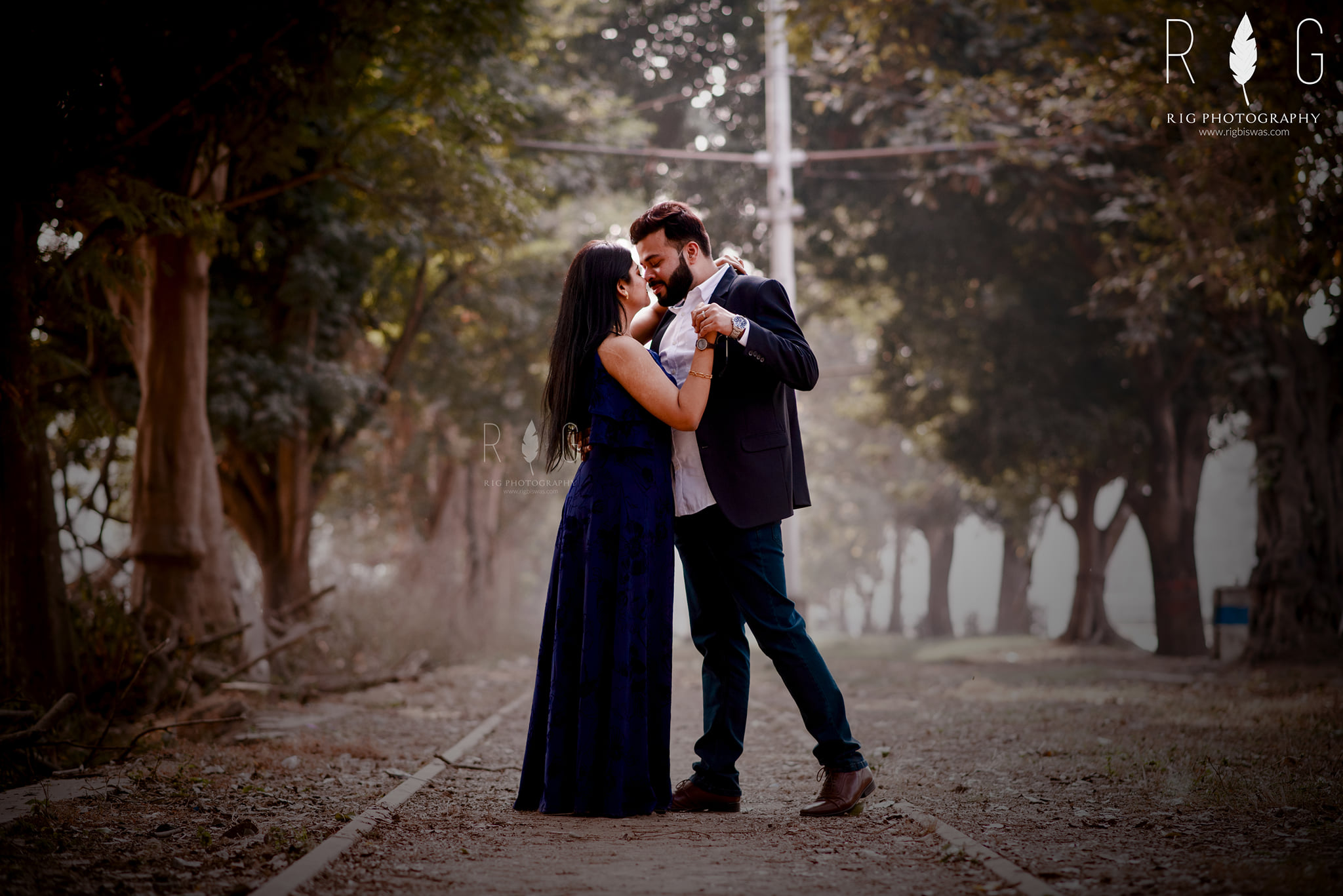 Your pre-wedding photoshoot is all about developing a stronger bond and creating valuable memories. Thus make sure to hire a professional and creative Kolkata wedding photographer like us to get some cheesy pictures clicked.