New & Trendy Mehndi Outfits For Brides In 2022
Make your mehndi ceremony iconic and memorable by checking these cool and trending ideas on glamorous mehndi outfits for brides.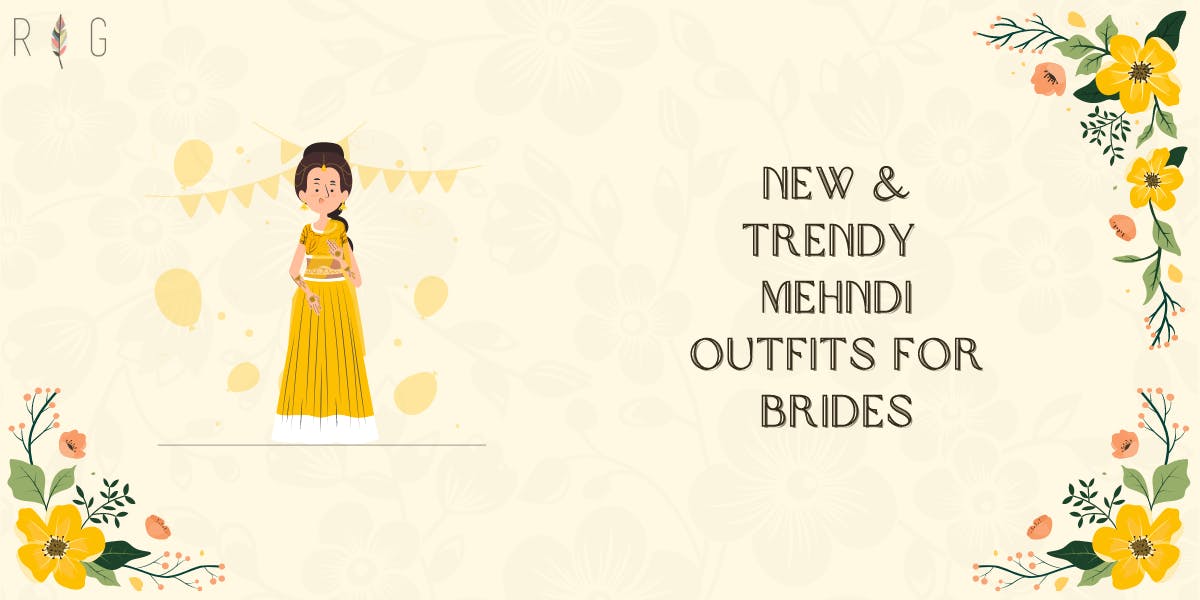 A fun-filled event like the mehndi ceremony deserves a gorgeous and eye-catchy outfit that will make the bride-to-be no less than a glamorous celebrity. Brides mostly opt for a bridal lehenga for this cultural event. But in recent times, young brides are looking for more unconventional options to flaunt their bridal look in the best way possible. If you have ever visited the website of a creative and professional wedding photographer in Kolkata, you might notice plenty of bridal mehndi poses where brides are flaunting their alluring outfits, stunning jewelry, and beautiful mehndi designs in a most dramatic way.
You too can capture your fabulous mehndi outfit in your memory forever through the best wedding photography. And to make this possible you need to choose an ideal and comfortable mehndi outfit. However, mehndi is usually a homely function, but don't miss the golden opportunity to make your mehndi look like one of the sweetest memory of your life. From dreamy bridal lehenga to most of your life. From dreamy bridal lehenga to the most stylish and latest outfits, here is a list of some glamorous mehndi outfits for brides.
 1. Latest Bridal Jump Suit For Adorable Brides
Green jumpsuits are a perfect bridal outfit for your mehndi ceremony. Take some inspiration from this adorable bride in a green jumpsuit flaunting her mehndi design. Her golden waistband are providing her a natural and refreshing look in this bridal jumpsuit. The beautiful smile on her face is raveling her happy and fun side on this lively event.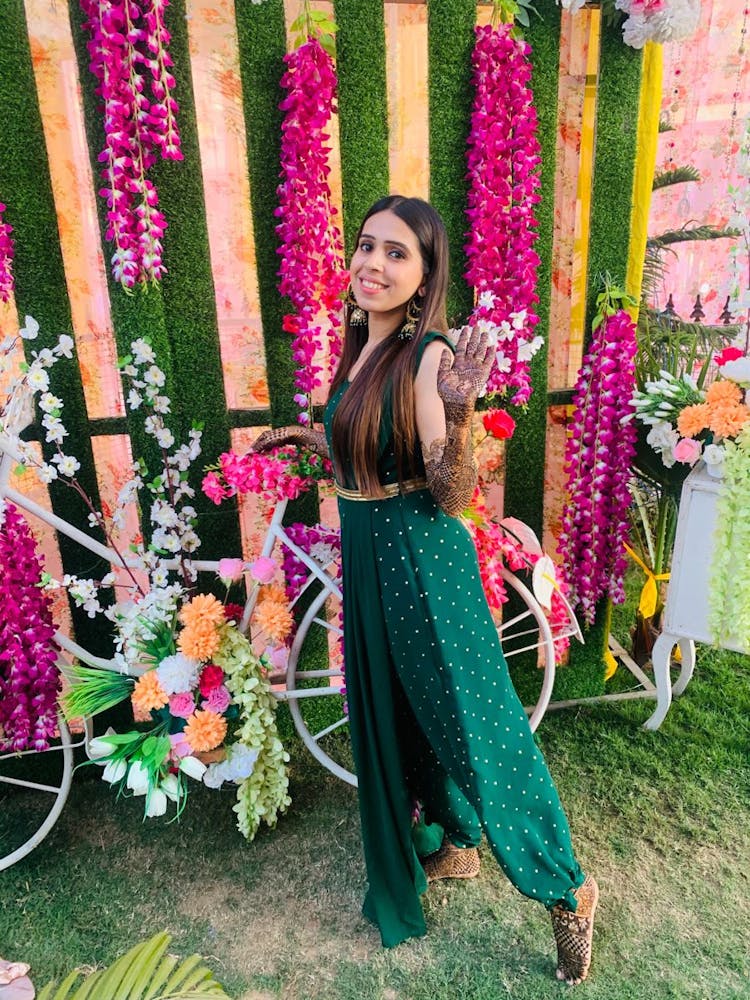 Recommended: 15 Breathtaking Haldi Ceremony Dress Ideas For Brides In 2022
2. Shiny Mirror Work Lehenga For Glam Event
What can be a better option than a graceful and extremely glamorous mirror work lehenga? The turquoise hue of this pretty lehenga with the right touch of the glimmering mirror takes the bridal look to a whole new level. The traditional Rajasthani mirror work lehenga is an impressive bridal mehndi outfit to wear on your mehndi function.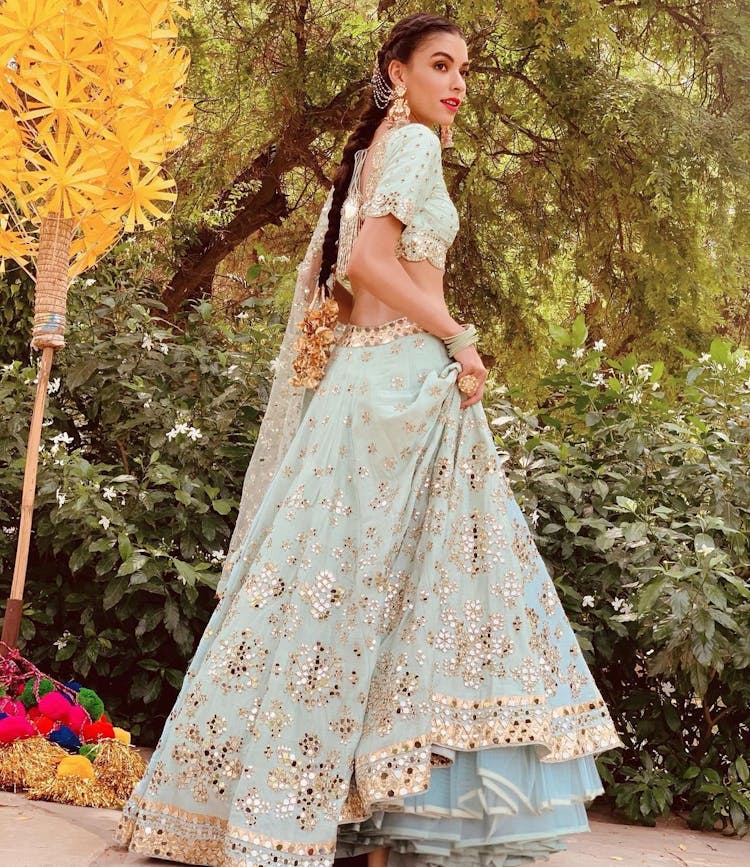 3. Designer Open Slit Kurta Over Plain Lehenga
This peach color open slit kurta is a show-stealer. The glamorous kurta over a beige shade lehenga is a fashion statement in mehndi ceremony dress that can offer an ethereal dreamy look. The bride has beautifully paired this wonderful outfit with a gold ring and jhumkas that are making her a chic bride.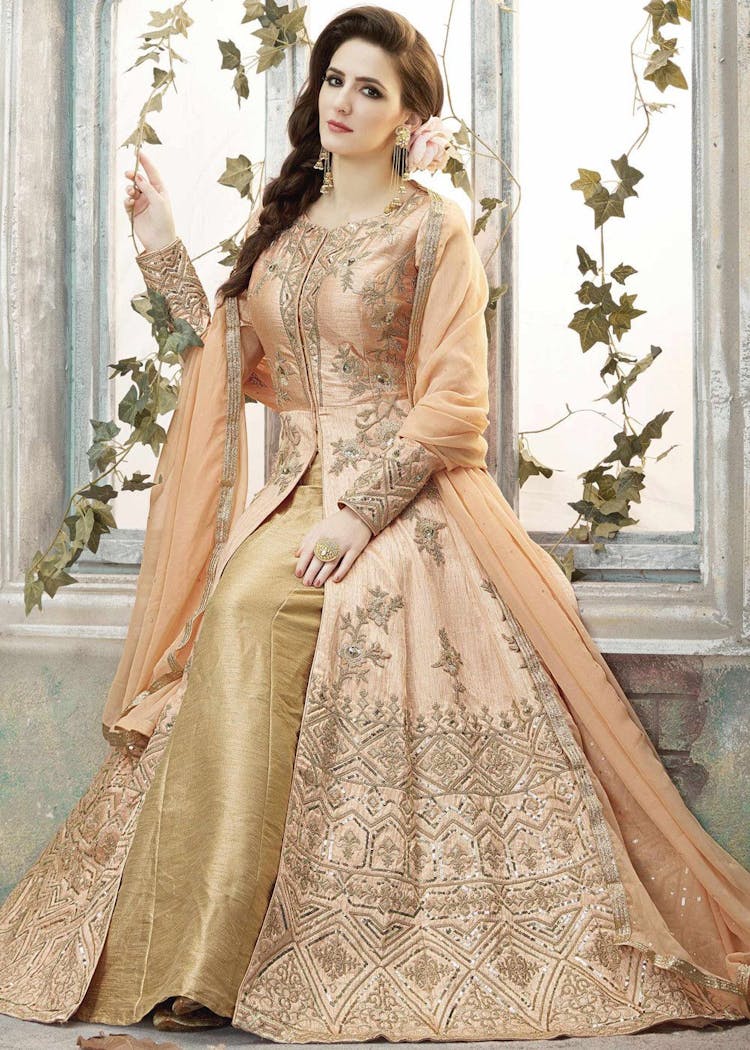 Must Read: Top 13 Trending Bengali Lehenga Design [2022]
4. Royal A Chic Bride
Bored of seeing the traditional Banarasi and embroidered lehenga in wedding photos? Rock your mehndi event with a Rajasthani bandhani print lehenga which will surely make you look like a queen in Bengali wedding photography. These super-light lehengas will give you the edge that you need. Pairing these regal lehengas with Kundan jewelry and an elegant bun will enhance your regal look.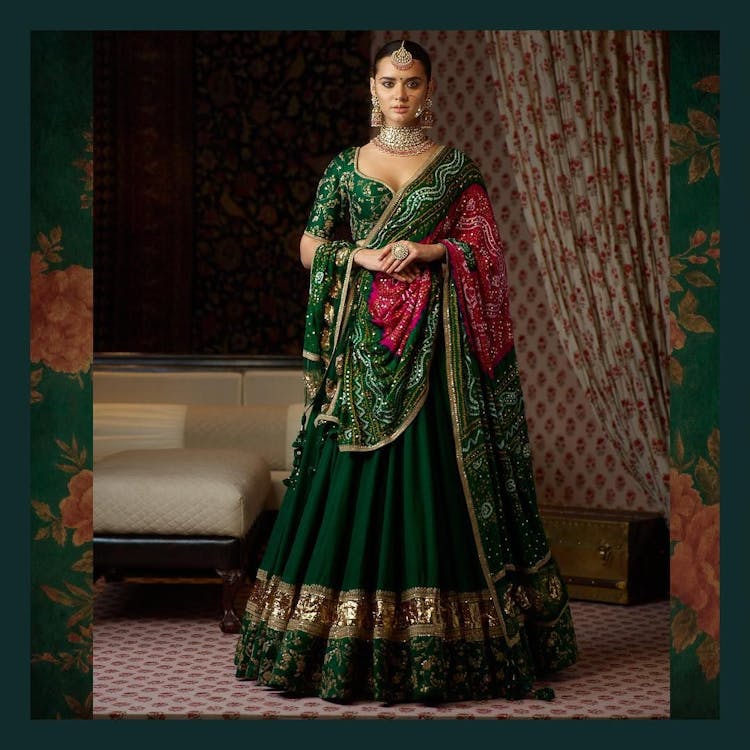 5. Breezy Mehndi In Ruffled Lehenga
One can stop admiring the beauty of this ruffled lehenga. This pistachio shade lehenga designed with sequin work looks absolutely stunning on this beautiful bride. Her minimal look with this designer lehenga deserves more appreciation. This mehndi bride dress is a delectable pick for a daytime summer mehndi event.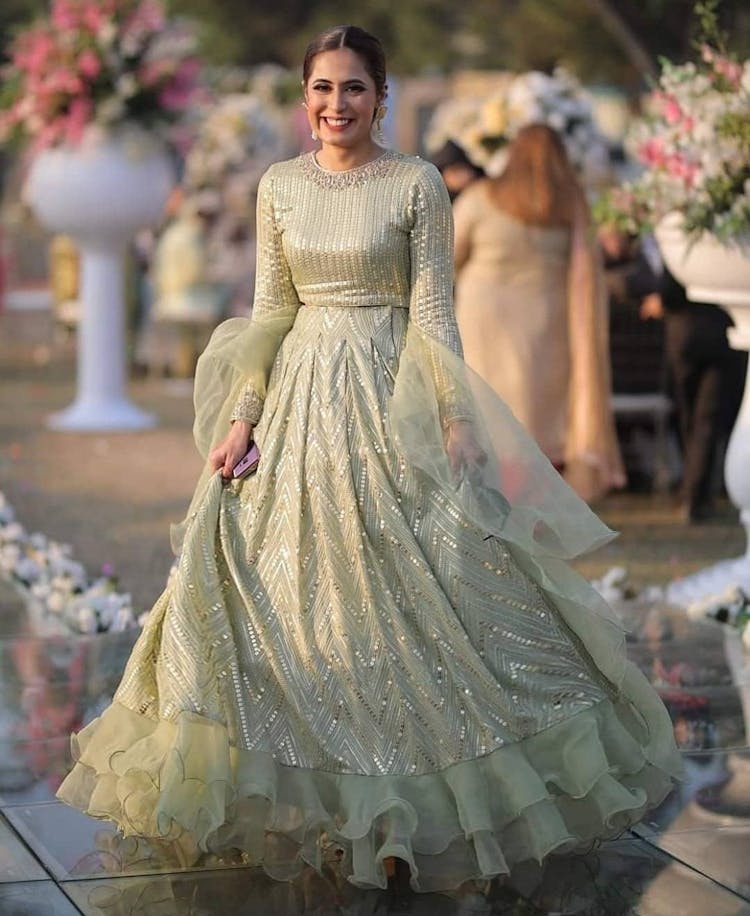 6. Splash Of Colors In A Multicolor Lehenga
You can never go wrong with a rainbow-inspired multicolor lehenga. Brides are experimenting with these vibrant shades of lehenga to make their mehndi ceremony a colorful event. A classic combo of rainbow colors in a lehenga when worn with an embroidered blouse and flower jewelry provides you the most charming look. This pretty and flowery mehndi dress is the right pick for a quintessential bridal mehndi pose that will be a cherishable memory forever.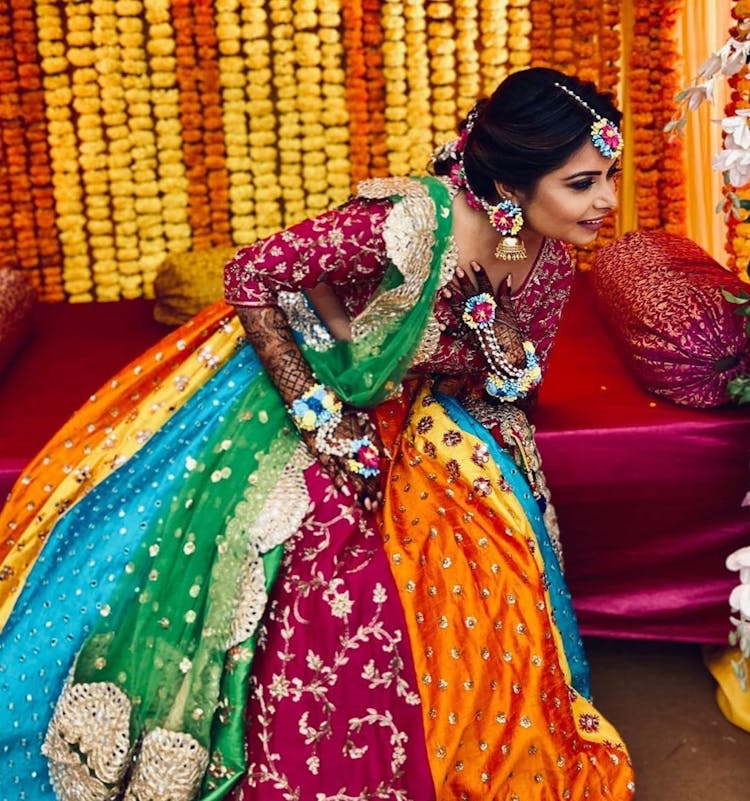 7. Express Your Love With Coordinated Dress
Coordinating outfits is a new trend in the bridal fashion world. This bride has planned to wear a matching choli and lehenga with his prince charming. This is one of the most captivating mehndi poses that we recently came across. Her floral jewelry and minimal makeup with a stylish ponytail is a perfect choice for a mehndi event that brings out your vibrant and peppy personality.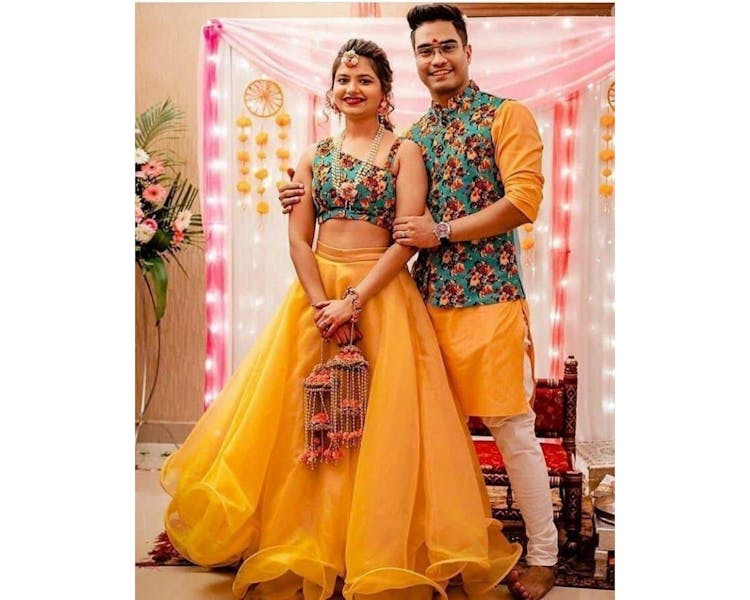 8. A Fairy Tale Event In Net Lehenga
A lovely blush pink lehenga with a sleeveless blouse looks like a dream outfit for a fairy tale wedding event. This beautiful diva has opted for a minimal look with open hairs and kept it all-natural. The intricate patterns on her floral choli go well with her net lehenga. Her contemporary look is a great pick for a pretty princess wedding pose.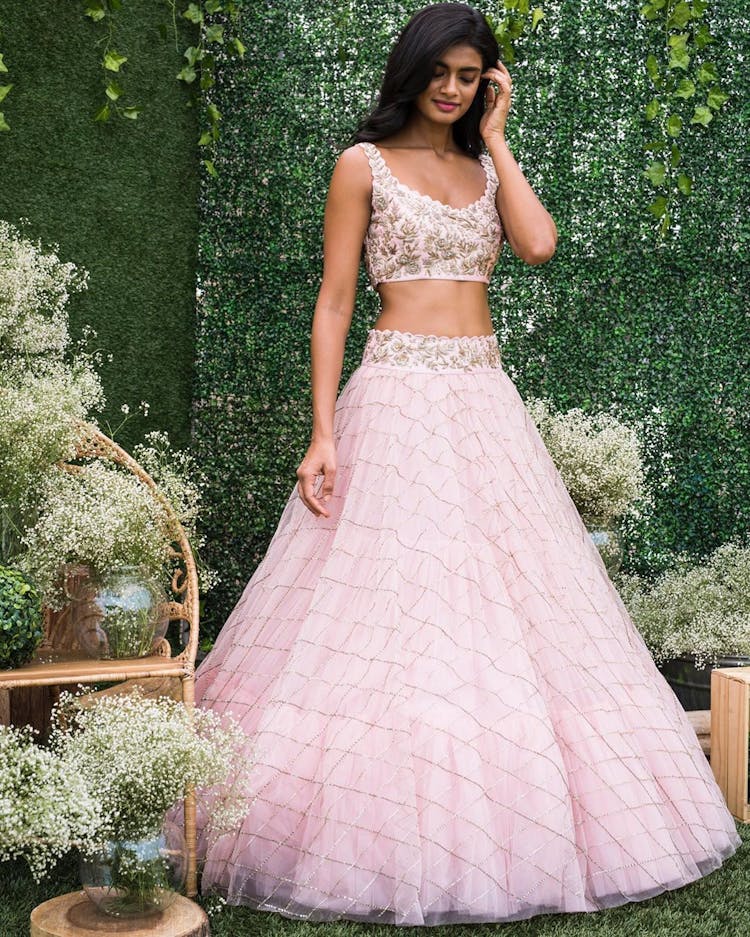 9. Sassy Off Shoulder Blouse And Lehenga
Add aesthetical charm to your mehndi look by picking a dark maroon shade velvet lehenga with an off-shoulder blouse. Love the way this bride has beautifully paired her designer lehenga with matching jewelry. The golden embroidery on the dark maroon shade lehenga is a show-stealer. This gorgeous dress for mehendi ceremony is a delight to look at.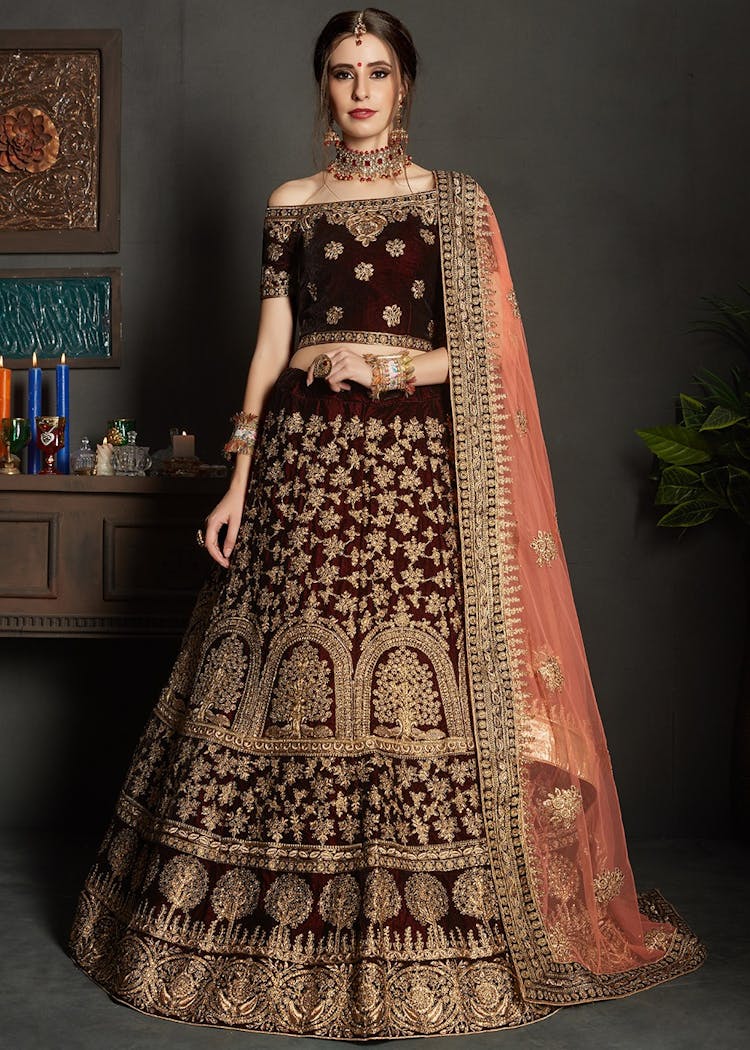 10. Trending Floral Lehenga
Floral lehengas are an elegant classy and vibrant option to add a beautiful appeal to your bridal look. The exquisite craftsmanship of this gorgeous red lehenga in floral print is adding an extravagant wedding vibe. The beautiful combination of red lehenga and golden embroidery on the borders is winning our hearts. Red is always considered a good shade for wedding purposes. Believe us these gorgeous Mehendi outfits for brides gets special attention in the pre-wedding ceremony.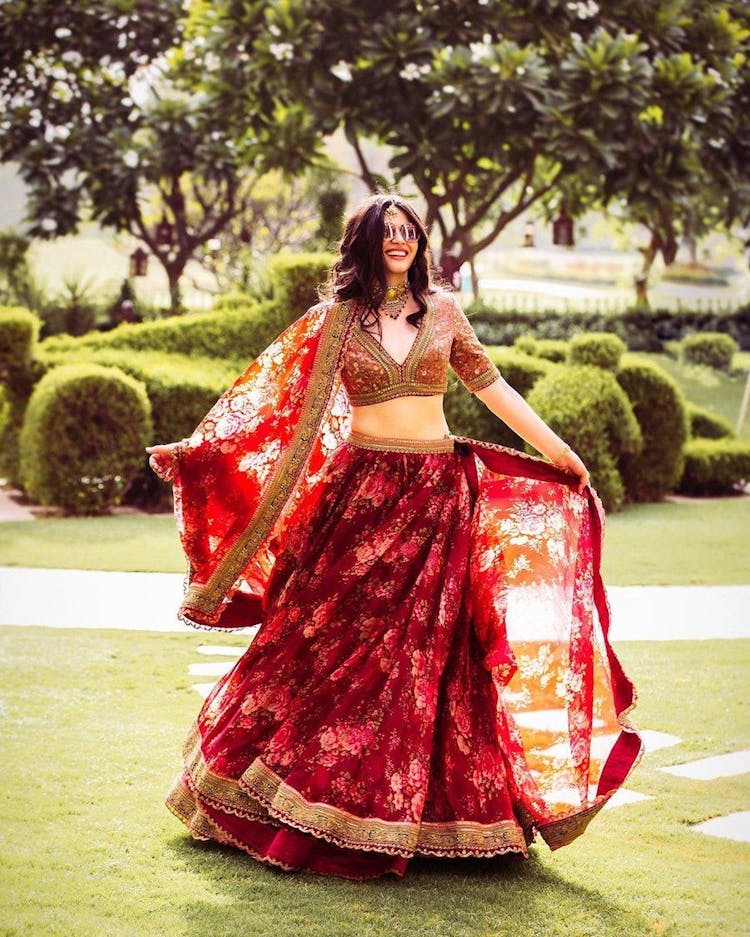 11. Desi Swag Of Dhoti Saree
Doesn't this bride look extremely glamorous in this stunning mehndi outfit? To maintain the mehndi vibe this stylish bride has paired a bright yellow blouse and draped her silk saree in a dhoti style. Usually, we have seen this saree draping in the Maharashtrian wedding but nowadays this dhoti saree is no longer a tradition. It has become the latest trend in the fashion world. This vibrant color yellow silk saree with exquisite embroidery work and numerous pleats is one of the most stylish mehndi look for bride. You can also wear this stunning outfit on a sangeet night for that oomph factor.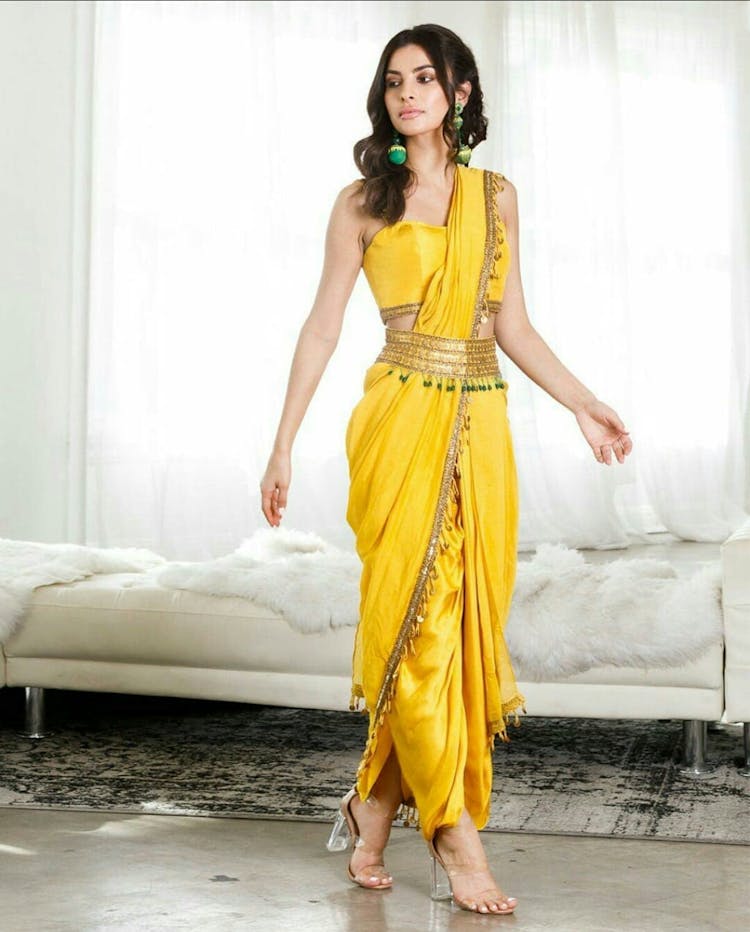 So what are you waiting for? Bookmark your favorite mehndi costume from these trendy mehendi outfit ideas for bride to shoot some insta-worthy photos.