15 Breathtaking Haldi Ceremony Dress Ideas For Brides In 2022
Want some fabulous Haldi ceremony dress ideas for brides? Here take a look at this blog we have presented you with 13+ unique Haldi outfits.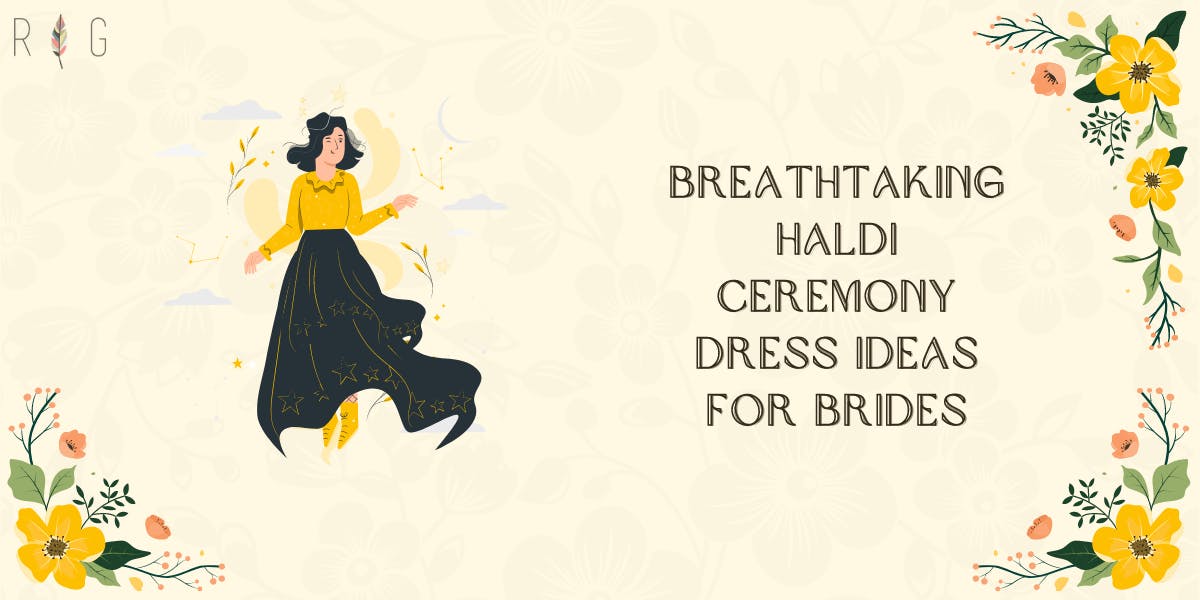 Brides from all over the globe carefully arrange their wedding outfits, matching each one with the proper jewellery, shoes, and makeup. The Haldi ceremony outfit, on the other hand, is something people put delayed buying until the last minute. As you'd be covered with Haldi at this ceremony, it's natural that you don't want this Haldi dress for the bride to break your bridal budget. Regardless, every bride desires their Haldi outfit to be attractive.
So what exactly is the Haldi ritual, and why is it important enough for a wedding to consider?
The Haldi ceremony involves applying a mixture of turmeric, sandalwood, oil, and rose water to the bride-to-be to erase any negativity, to fill her with positivity, to add glow, to cleanse the soul, and to symbolise blessings to whoever applies it. Haldi is said to be one of the most delightful yet emotional rituals for the bride to create memories.
The ingredients that are used in the paste are said to give a bride's face an incredible glow.
As Haldi is among the most enjoyable ceremonies of the entire wedding, you should make an effort to look your best. And believe us when we say that your Haldi dress for the bride doesn't have to be expensive! You only need a minimum amount to look great no matter what. To figure out the best options, we've put up a list of Haldi ceremony outfits.   Check out till the bottom of the article and save it for your wedding. 
Here are some Breathtaking Haldi ceremony dress ideas from the wedding photographer kolkata
1. Raw Silk Saree With Half Sleeve Blouse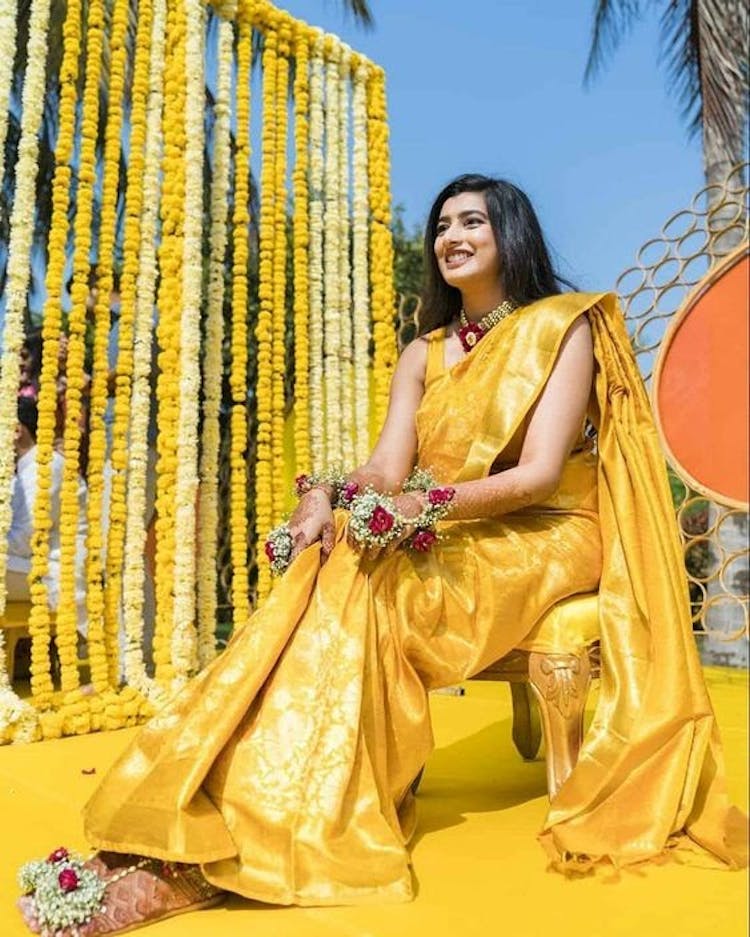 Recommended: Top 15 Fashionable Bengali Groom Dress Ideas For Reception Ceremony
The raw silk saree, which may be matched with jewellery, can be a unique Haldi outfit choice for your Haldi ceremony. Since your friends and family will want to show off their Haldi skills, pair this beautiful saree with a sleeveless blouse.
2.  Elegant Yet Traditional Saree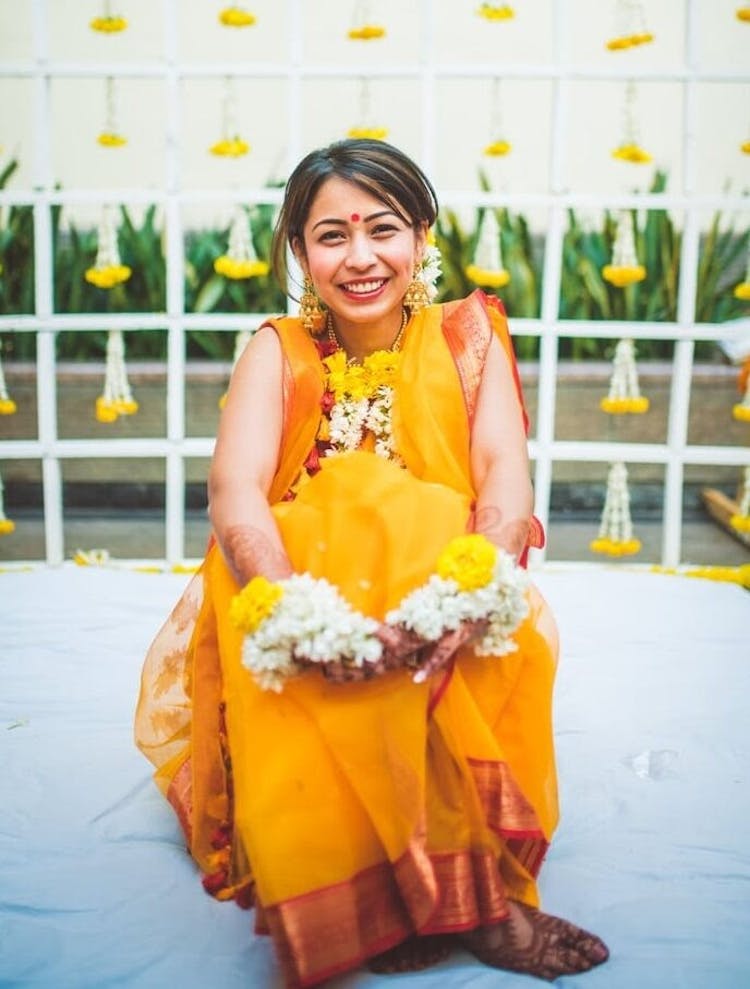 An beautiful and classic saree with a half-sleeve blouse and fresh flflower arrangements as an ornament will never go out of style for a Haldi ceremony. Right?
3. Yellow Dress For Haldi To Impress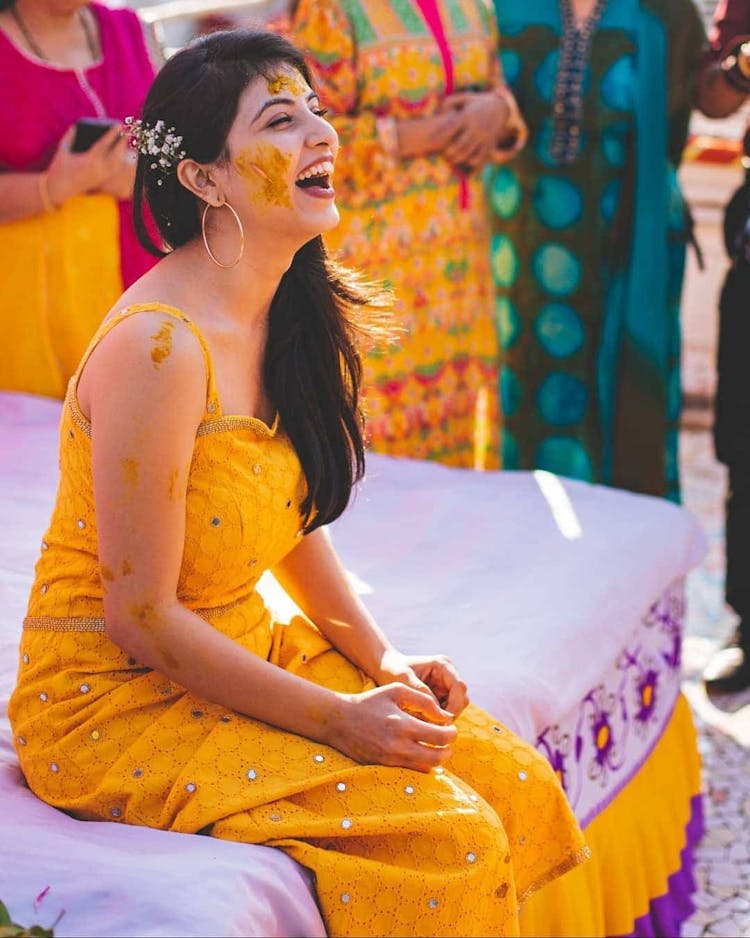 Hello Brides! You can wear a pretty yellow dress to your Haldi ceremony rather than the traditional and usual outfit. As your wedding festivities are all about expressing oneself, you can wear whatever you choose! The delicate mirror embroidery on this yellow dress gives it a minimal, yet modern style!
Brides, go ahead and be yourself; it's your wedding. Enjoy!
Must Read: Top 10 Bengali Mehndi Design Ideas
4. Yellow Organza Handpainted Kurta With Pant & Dupatta By Aachho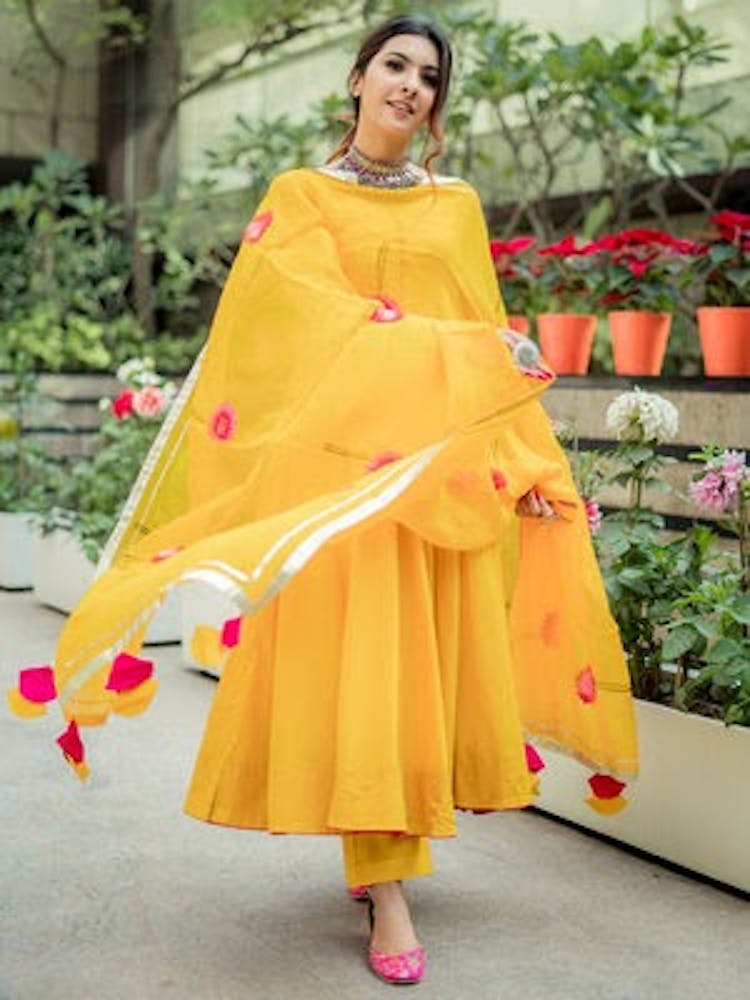 Don't you agree that a Kurti and pant combo with a handpainted dupatta looks very sophisticated?   To be honest, we are begotten by customized minimalism.
5. Chanderi Kurti In Lime Green with Flared Palazzo By Anokherang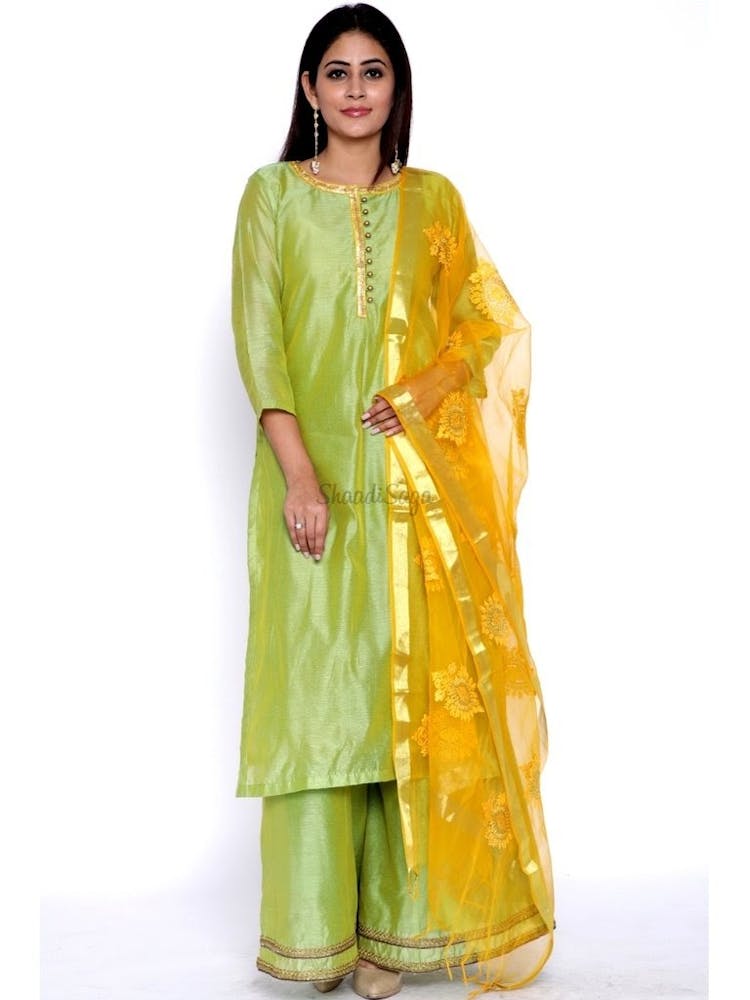 If you want something a little more glamorous than a regular linen Haldi outfit, go for a silky suit, such as this lime green chanderi silk Kurti and palazzo with a lovely yellow dupatta!
6. Yellow Lehenga With Pretty Pink Blouse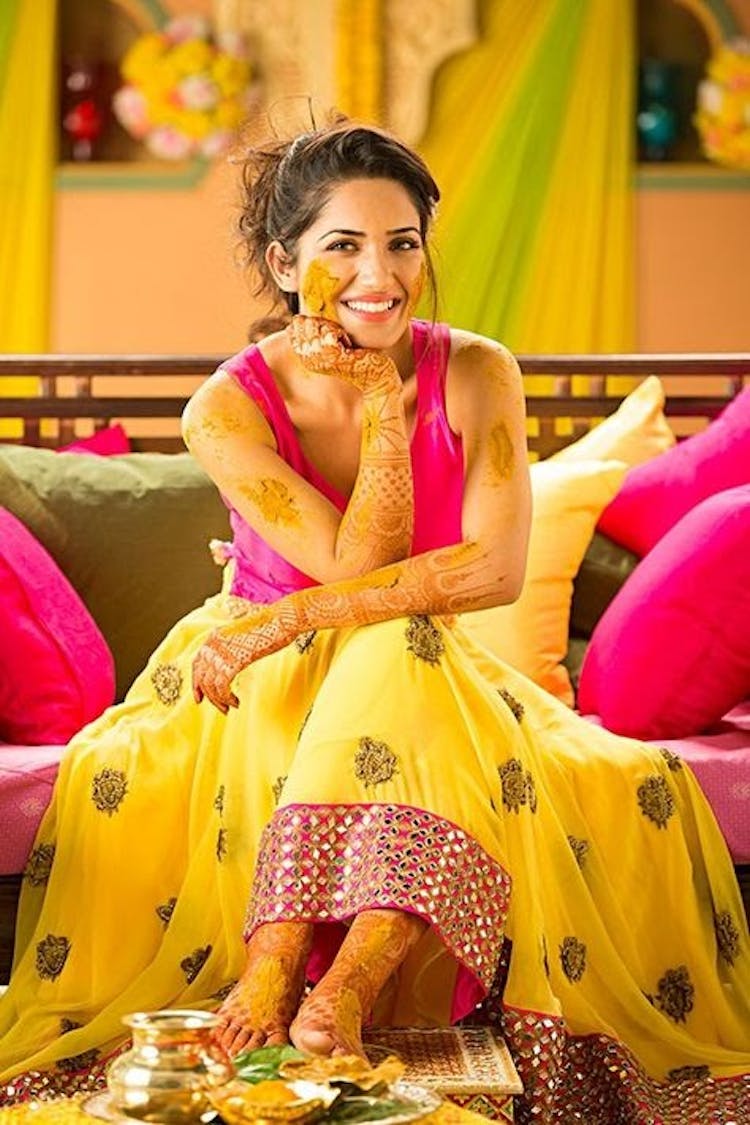 A bride's Haldi dress must be unique, but remember that it is no matter how prepared you were, it will be ruined. So go for a simplistic yet gorgeous look such as this yellow Lehenga with scattered needlework everywhere and a heavy border with mirror art and a simple pink blouse.
7. With Some Additions, The Colour Shifts From Bright Yellow To Gorgeous Red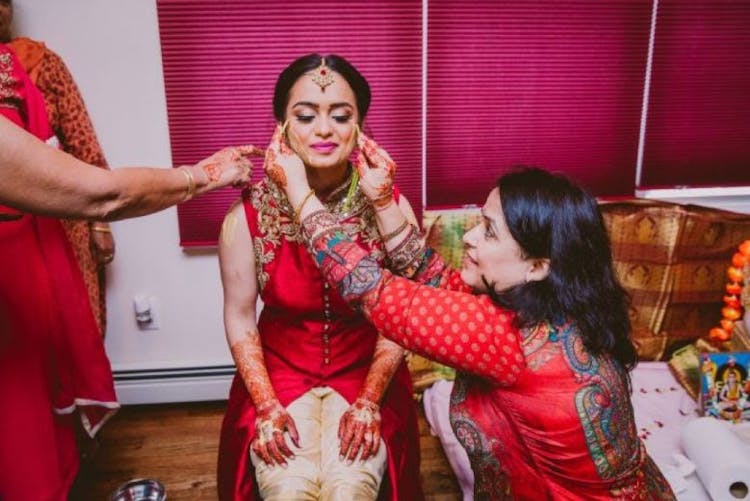 Whenever it comes to a traditional Indian Haldi celebration, that's what you call high-level exploring. Although there is some needlework and a ruby maang tika, the colour combination between the light coloured pants and the red Kurti is stunning.
8. Monochrome  Saree With A Blue Blouse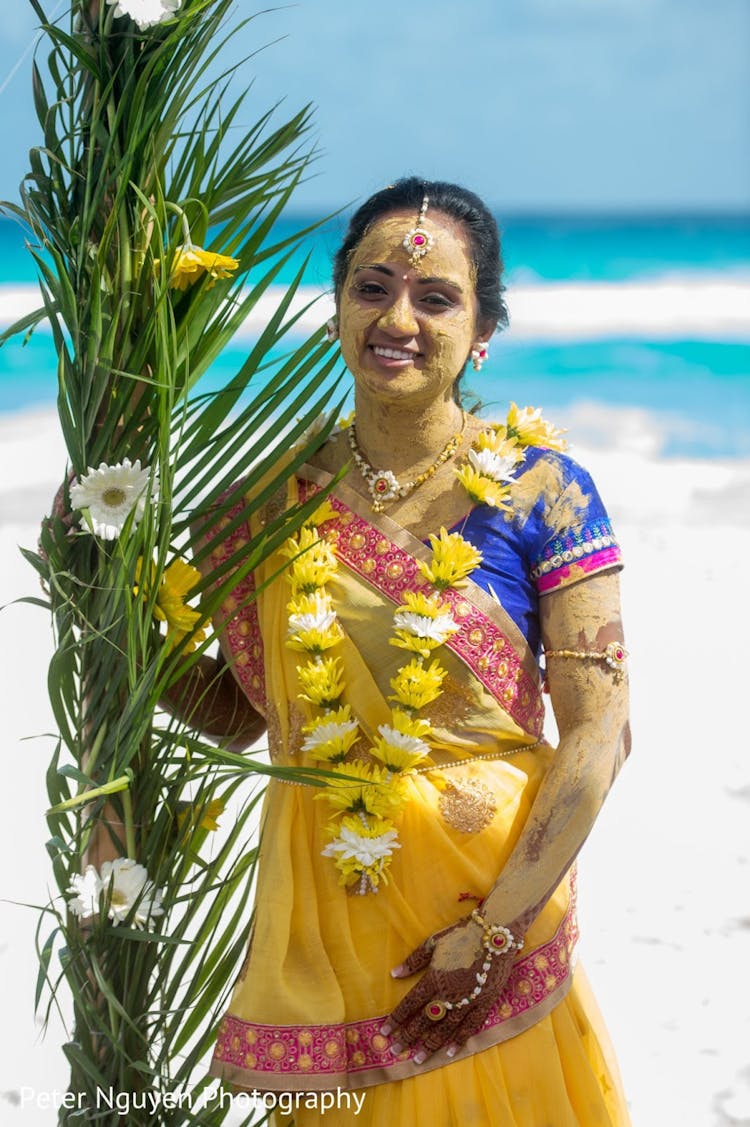 For an outdoor Haldi ceremony, why don't steal the spotlight with a pop of vibrant colours on a monotonous yellow saree and some cool shades for your Haldi ceremony outfit to claim a spot? This pretty South Indian bride looks that much more beautiful on the beach during her Haldi ceremony in this outfit.
9. In The Middle Of The Bright Yellow, There Is A Burst Of Flowers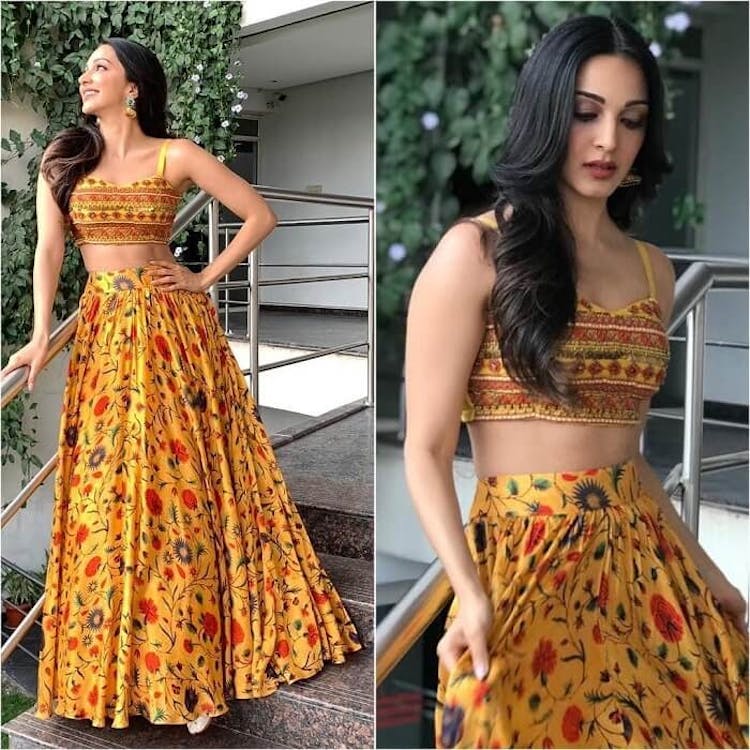 Creating a minimalist style is a skill within itself, but a touch of vibrant colour with flowers doesn't hurt anybody either! Right? 
The Haldi ceremony is perfectly matched by such a skirt and top with a sprinkling of vibrant flowers and an exotic printed blouse. It's most fashionable, but it's also ideal for the young bride who simply couldn't afford to be out of style.
10. Multi-Colour Always Win!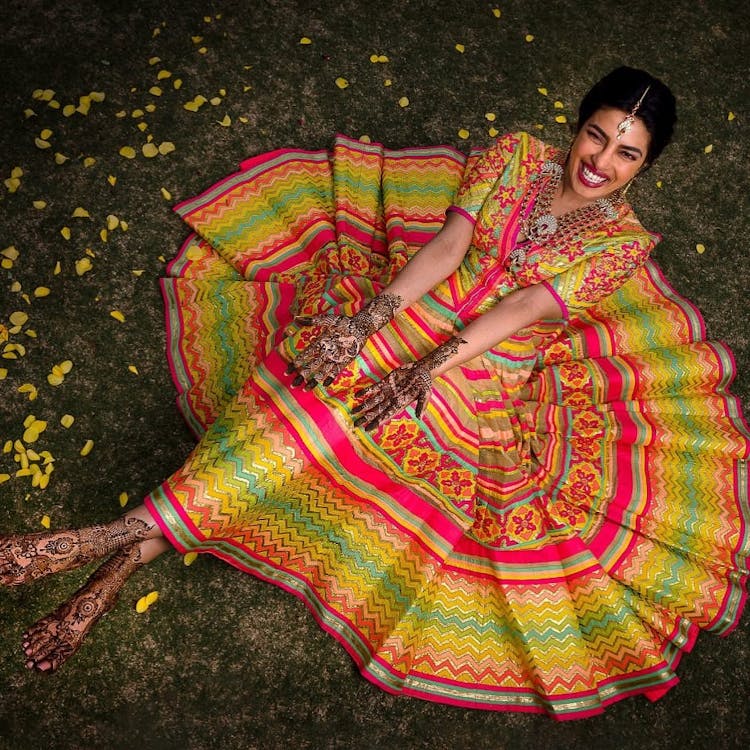 Like Priyanka Chopra sparkled in a multi-coloured skirt at her mehndi ceremony years back, so can you stand out from the crowd while still looking classy in those beautiful colours. Right? Brides take some fashion inspo from PC!
11. Orange Embroidered Lehenga Choli With Dupatta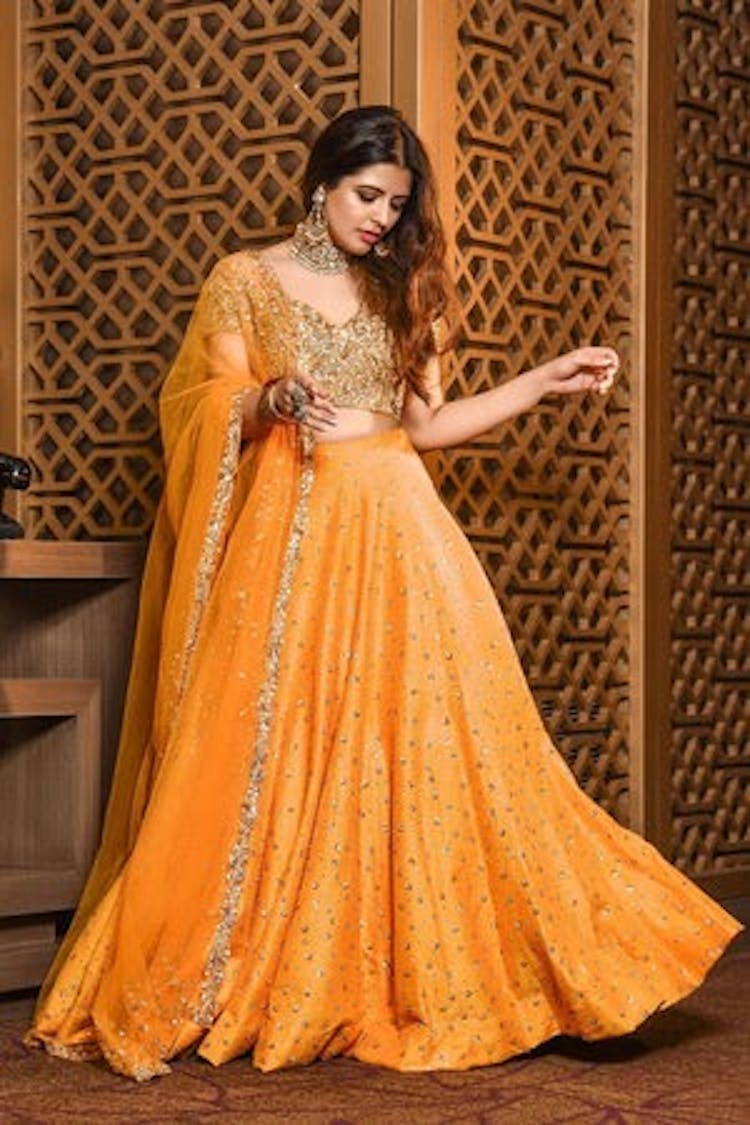 Another gorgeous Haldi ceremony dress idea for you all bride-to-be. This beautiful Orange Embroidered Lehenga and sparkling golden Choli With Dupatta would make your Haldi memorable.
12. Pleated Skirt & Shrug For A Stylish Look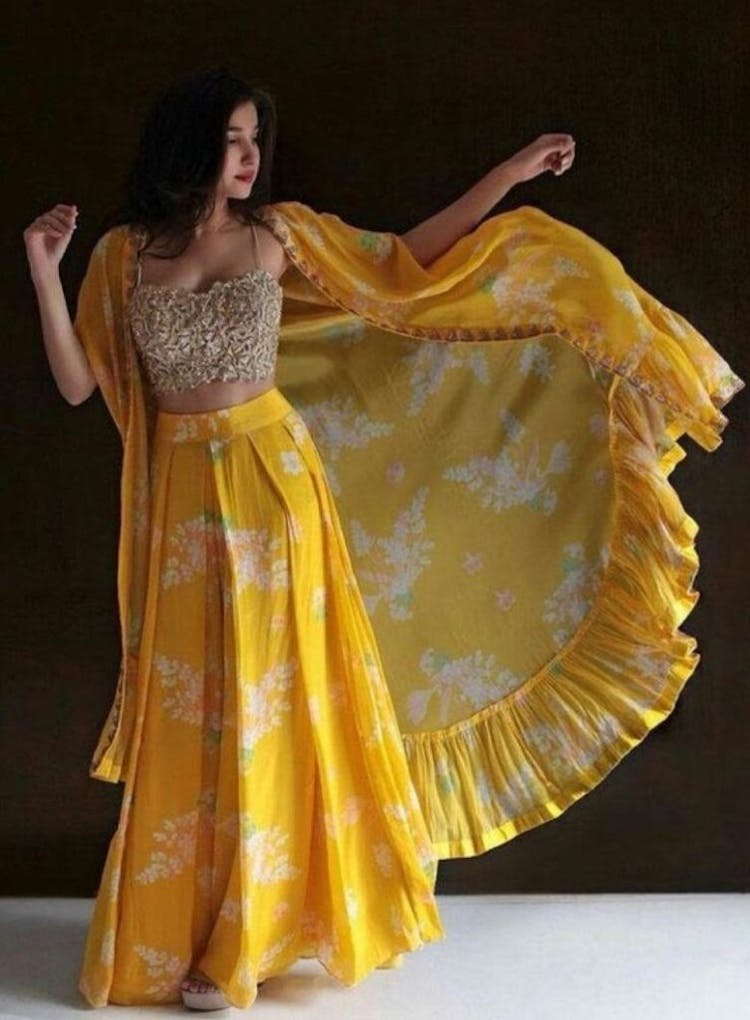 For the cool brides, who choose comfort yet want to slay, this is a statement Haldi outfits the bride. Pleats and ruffle with white floral prints go all over the shrug and skirt to do the talk. It appears that you don't need to put a lot of effort into it.
13. Color Blocking Style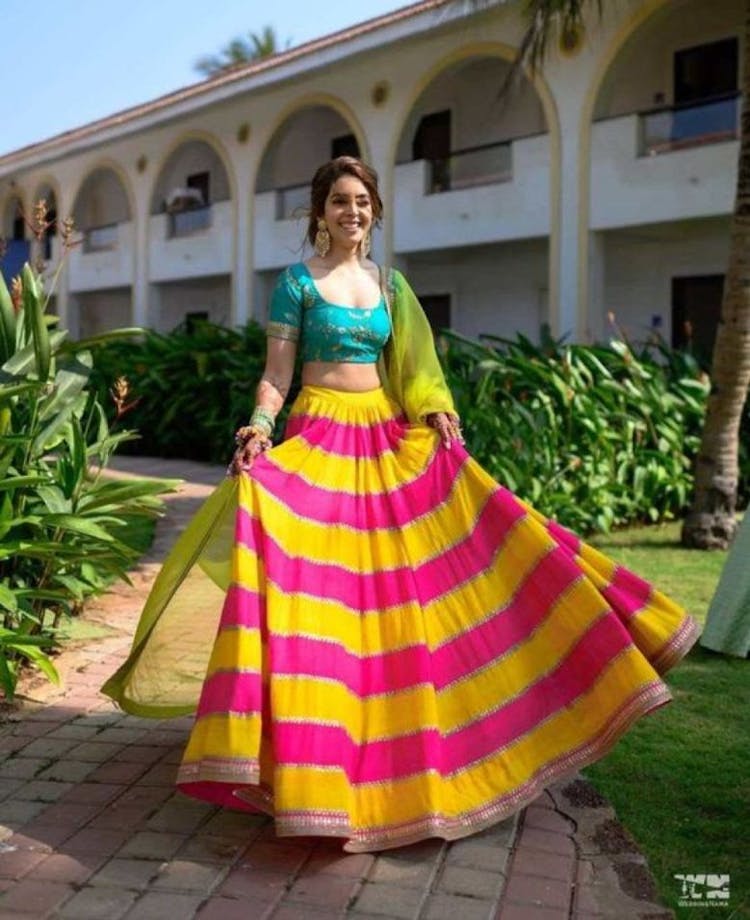 Apart from the Haldi ceremony, the colour blocking fashion is currently popular and can be used for other functions as well. Colour blocking additionally makes you appear leaner and draws attention to your overall outfit.
14. Sunset Yellow Gota Patti Georgette Saree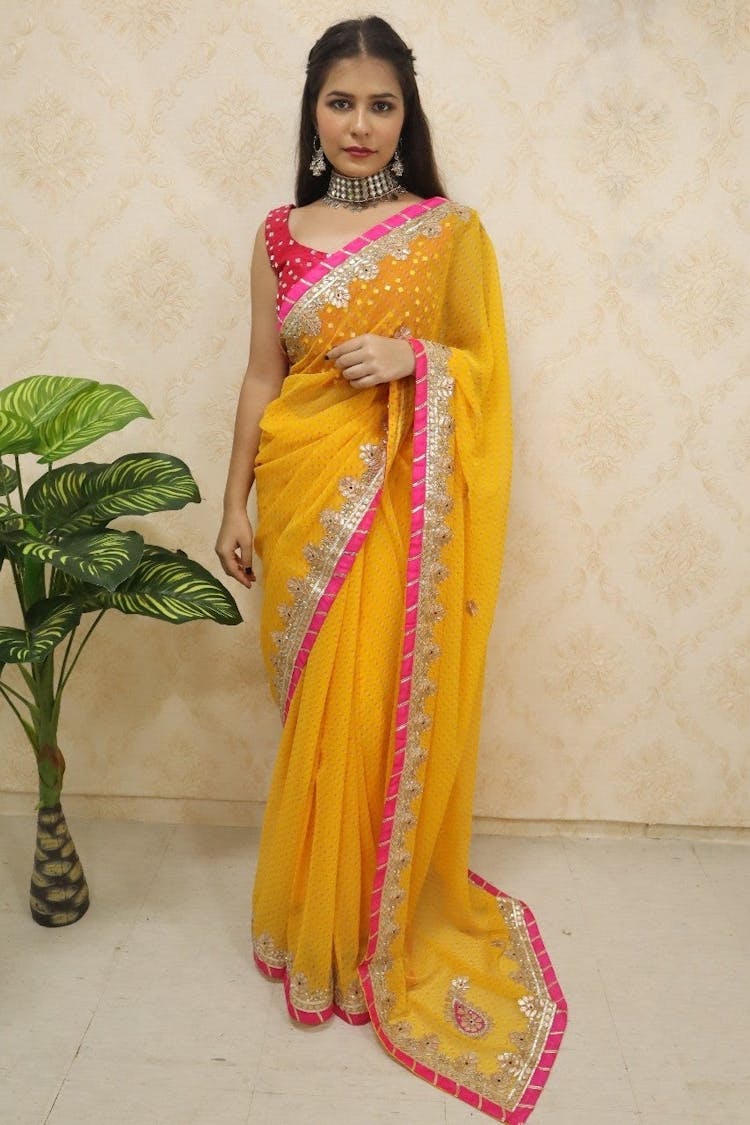 This georgette bright yellow saree's Gotta Patti embroidery with pink borders makes it traditional yet beautiful for your Haldi Ceremony. Brides you can for this undoubtedly.
15. Ruffled Saree with A Floral Print Blouse For Haldi Ceremony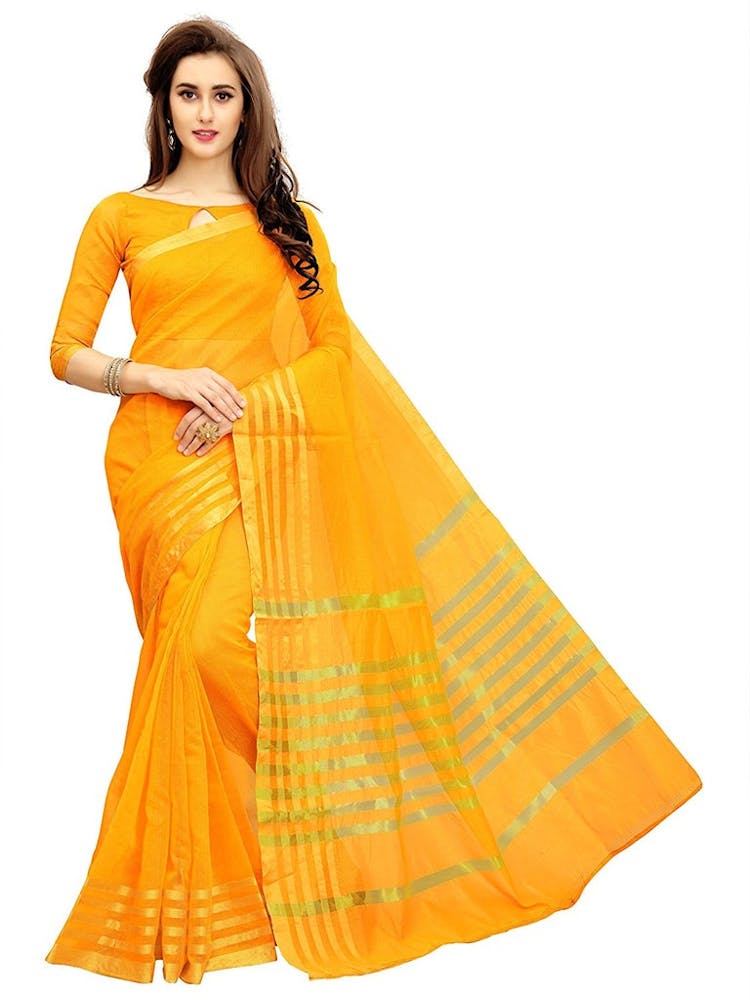 Ruffle sarees are fun, and so this yellow stunnning one is perfect for your Haldi ceremony with a modern twist.