Top 13 Trending Bengali Lehenga Design [2022]
A wedding day is the most beautiful day in a girl's life. Are you confused about what to wear on your D-day? Here is a list of some bridal lehenga designs.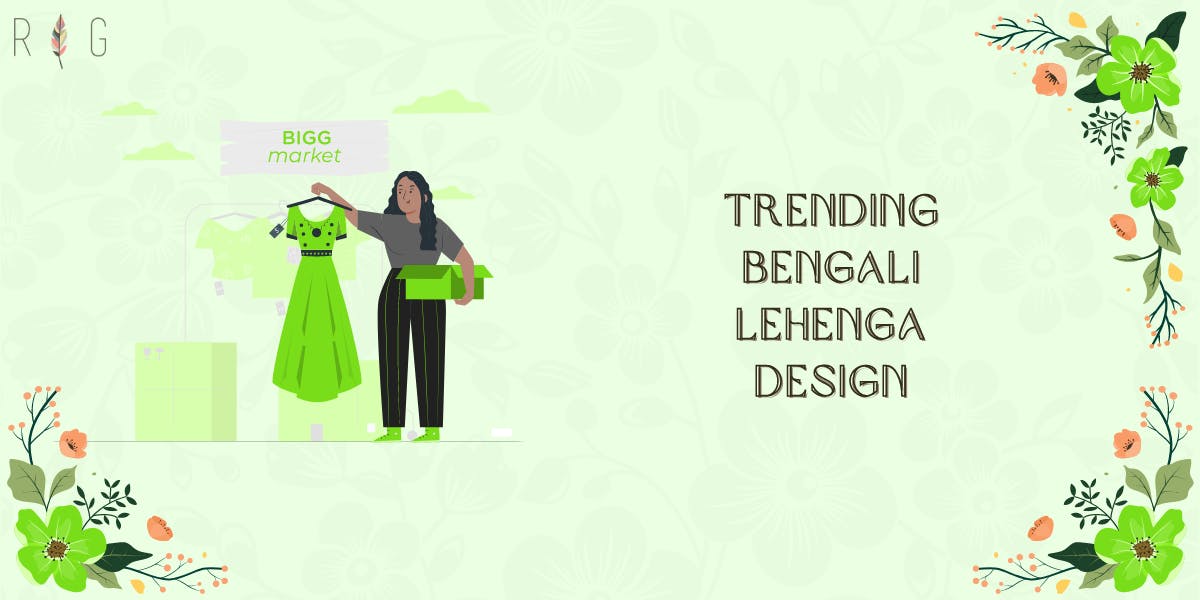 Lehenga is a bridal costume that is loved by most Indian girls and women. Wearing colorful lehenga's on festive occasions and cultural weddings is a very common thing. Just like other traditional garments of India, Lehenga also has a glorious history that begins with the Mughal era. The lehenga was introduced in India by Mughals and worn by the Mughal women. Later it becomes very popular in states of North India and they adopted lehenga choli as an integral part of their dressing.
These days you can see various bridal lehenga designs available on market. Bollywood has played a significant role in making this traditional garment a popular festive outfit amongst the young generation. Remember the magnificent nilakshi lehenga worn by Preity Zinta in the movie "Kal ho na ho"? It was such a beautiful bridal outfit designed by Manish Malhotra.
We, one of the best wedding photographers in Kolkata, have listed some trending bengali lehenga design. So, if you want to achieve a glam wedding look to stand out then scroll down and have a look at the list of the latest bridal lehenga designs.
1. Lavish Gold And Purple Embroidered Lehenga
A light purple lehenga with golden embroidery is a dream outfit for a fairy tale wedding. This light-shaded lehenga is also easy to carry and this comfortable outfit will make the bride glow with more confidence. Pairing this remarkable lehenga with diamond or Kundan jewelry will provide the best bridal look.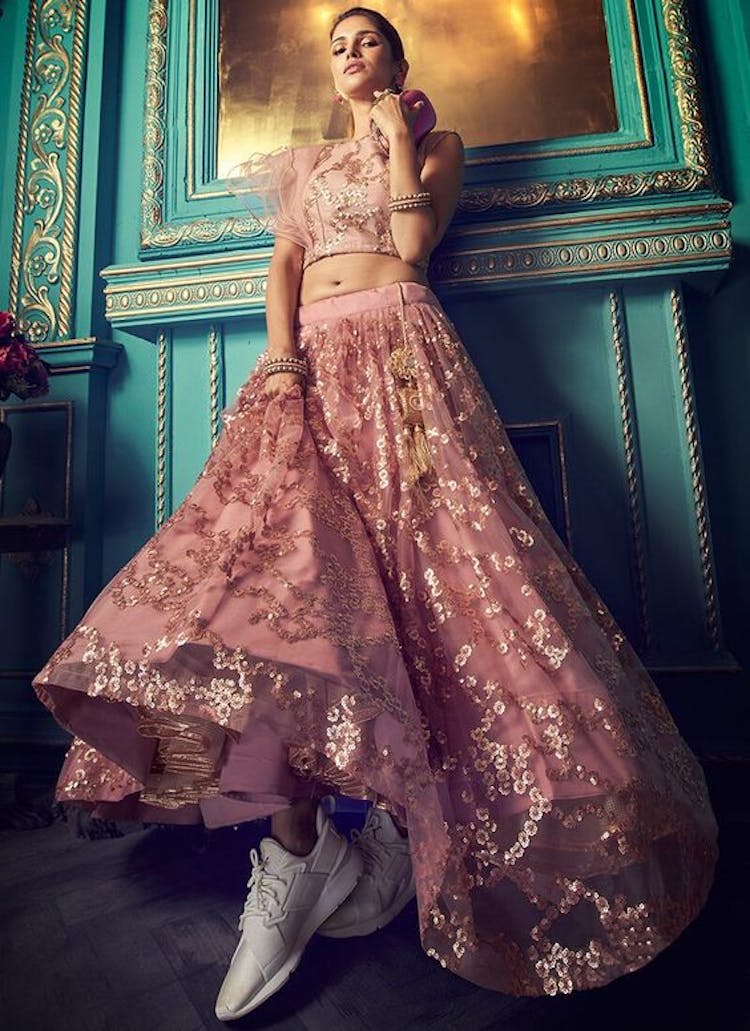 Also Read: Top 15 Fashionable Bengali Groom Dress Ideas For Reception Ceremony
2. Shimmering Metallic Lehenga
The metallic designable lehenga is the latest trend. You will notice many celebrities choosing this unique color outfit for their wedding day. A combination of rose red and metallic shade lehenga will make you look like the most pretty and fashionable bride.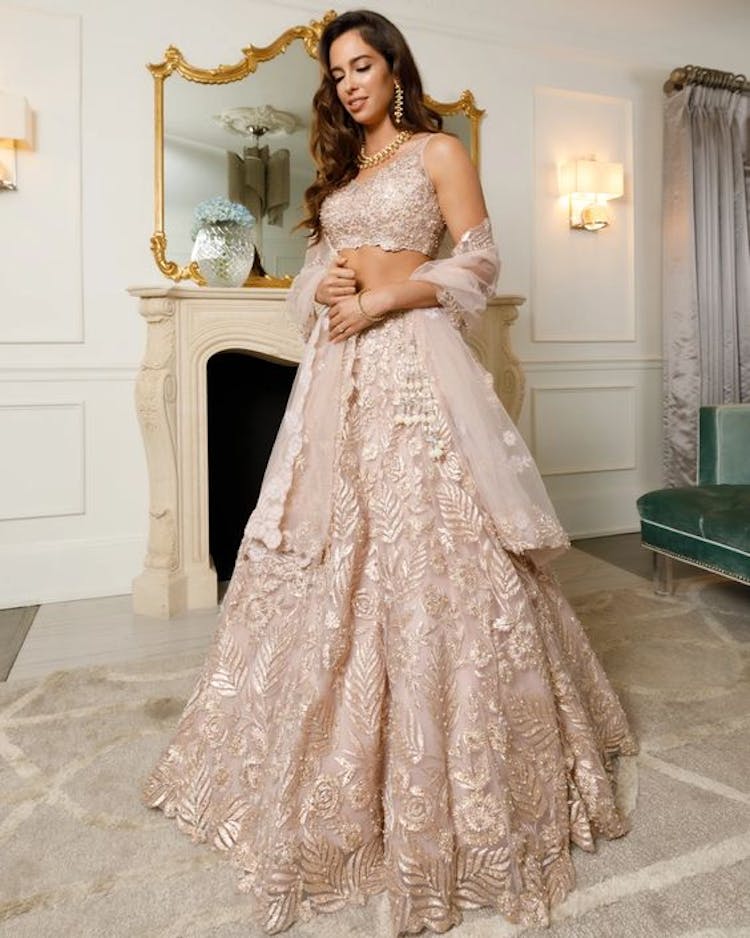 Recommended: Top 10 Bengali Mehndi Design Ideas
3. Spary Red Anarkali Lehenga
This traditional outfit is the epitome of elegance and royalty which will provide you with an empress-like feeling. The red lehenga is considered an auspicious one to wear on the wedding day. Also, the color red is a symbol of love and passion. This beautiful gold embroidery lehenga is a unique outfit to wear on your special day. The anarkali lehenga is the new unique edition of Bridal lehenga trends.
4. Captivating Light Blue Bridal Lehenga
If you want to create an ever-ending impact on your guests on your wedding day then choose this lovely and calm color. Everyone's eyes will get fixed after looking at the Bengali bride in Lehenga. Taking a pale peach side dupatta will offer you a very fascinating look.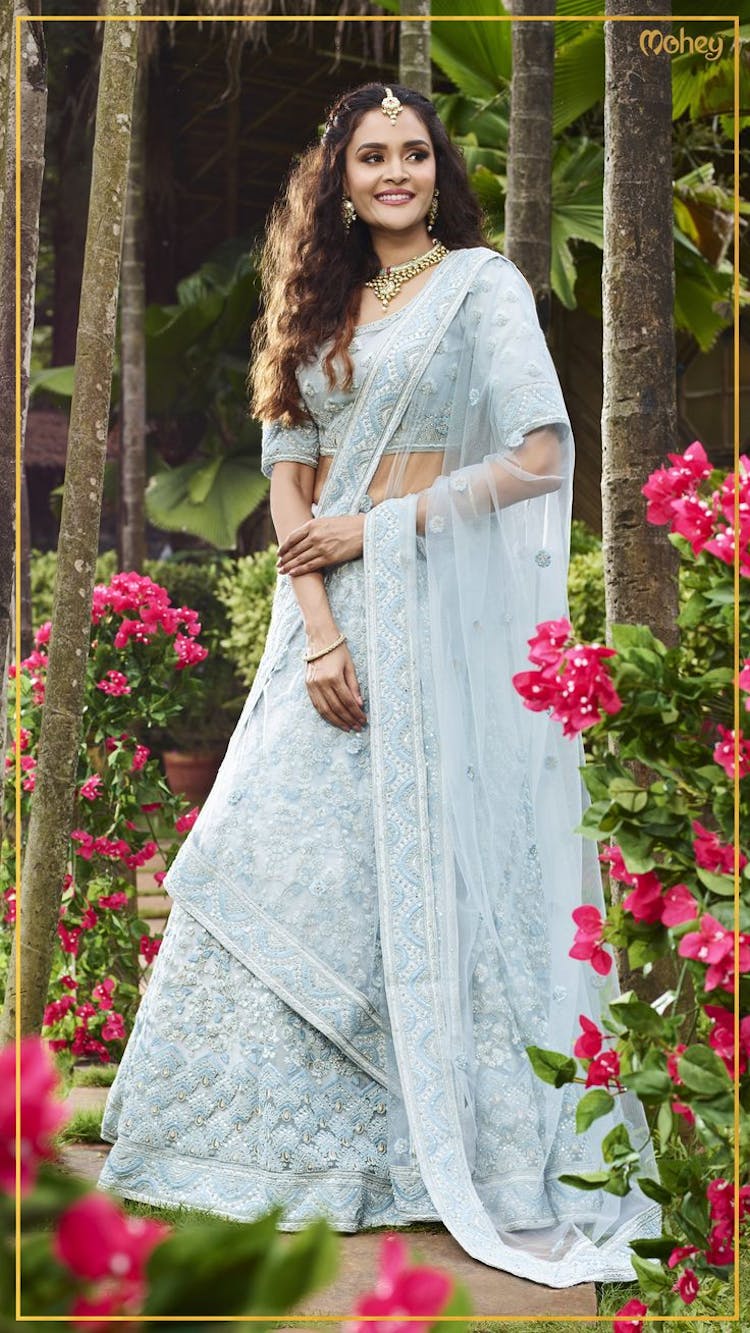 5. Glamorous Maroon Velvet Lehenga
When it comes to bridal wear, most girls prefer red. But if you are not a great fan of red and want to try a similar but darker shade then you can opt for a maroon lehenga. A velvet lehenga in maroon color with silver embroidery can be a marvelous choice for a Bengali wedding lehenga. This can be a great way to look like a modern and beautiful bride.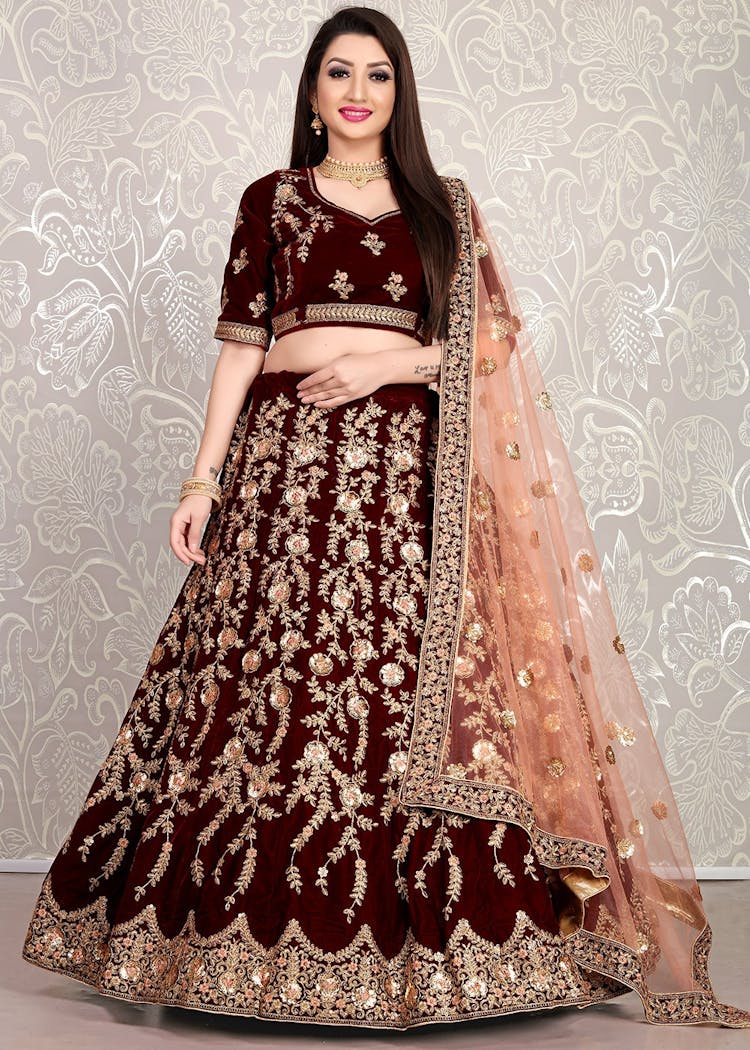 6. Serene Floral White Bridal Lehenga
The color white symbolizes innocence and purity. In American and European culture a bride wears a white gown on their wedding day. Unlike western countries, Indian brides were not supposed to wear white on their wedding day. But the modern brides are breaking this taboo and started wearing ivories and off-white shaded lehengas at the wedding. A bride in a white outfit simply appears like a heavenly angel. A Bengali bride with a lehenga in white looks ravishing.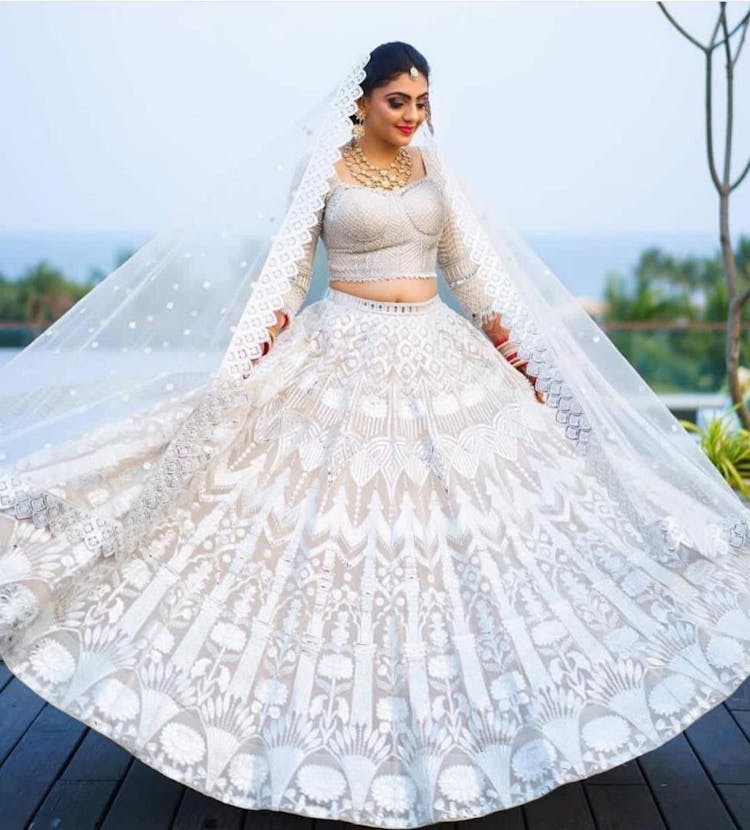 7. Dusty-Grey Indo Western Lehenga
Do you want to grab the attention of your reception ceremony? Then what about wearing the latest and trendy Indo western lehengas. The dusty-gray or any other light color Indo-western lehenga will complement your bridal look. This stunning outfit provides you with a very stylish and mesmerizing look just like a Bollywood diva. This Bengali bridal lehenga look is very popular amongst young girls.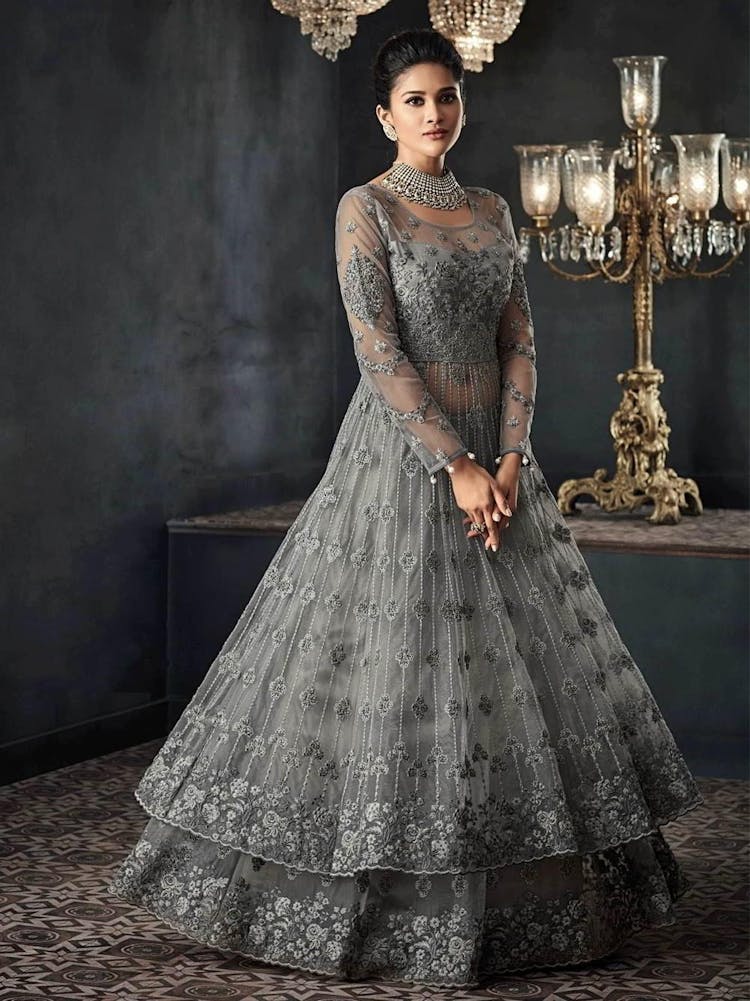 8. Charming Baby Pink Bridal Lehenga
Pink is loved by most of the girls. They are more inclined to shades like baby pink or blush pink. This candy color lehenga can be a perfect and dreamy outfit for a wedding night. Wearing this gorgeous lehenga with matching jewelry can bring real charm. Your choice of impressive lehenga will become the highlight of the event.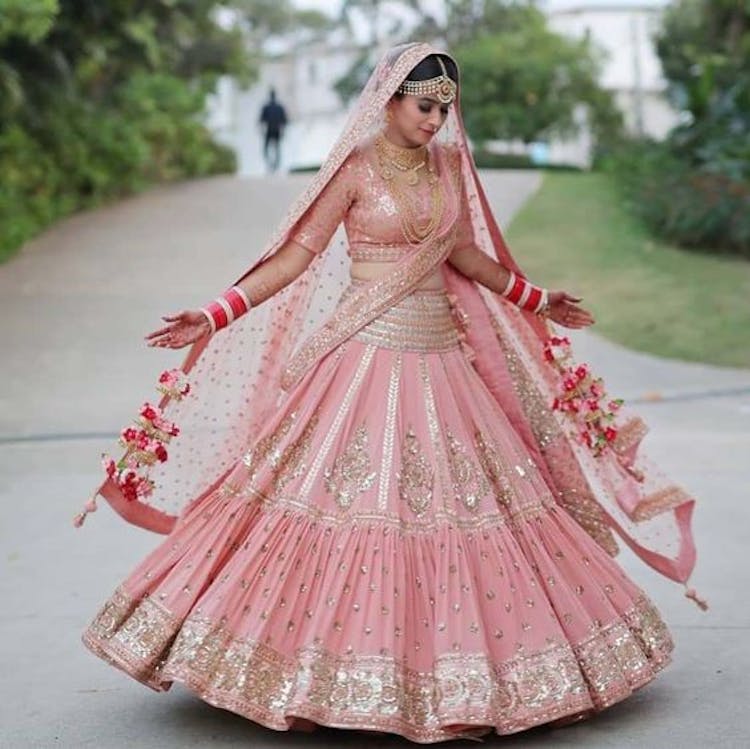 9. The Royal Blue Lehenga
The royal blue color has a feeling of royalness. The best thing about this color is it looks absolutely stunning every season. The elegance of this beautiful designer lehenga steals the limelight of every event. And when you wear it on your wedding night, it surely works wonders.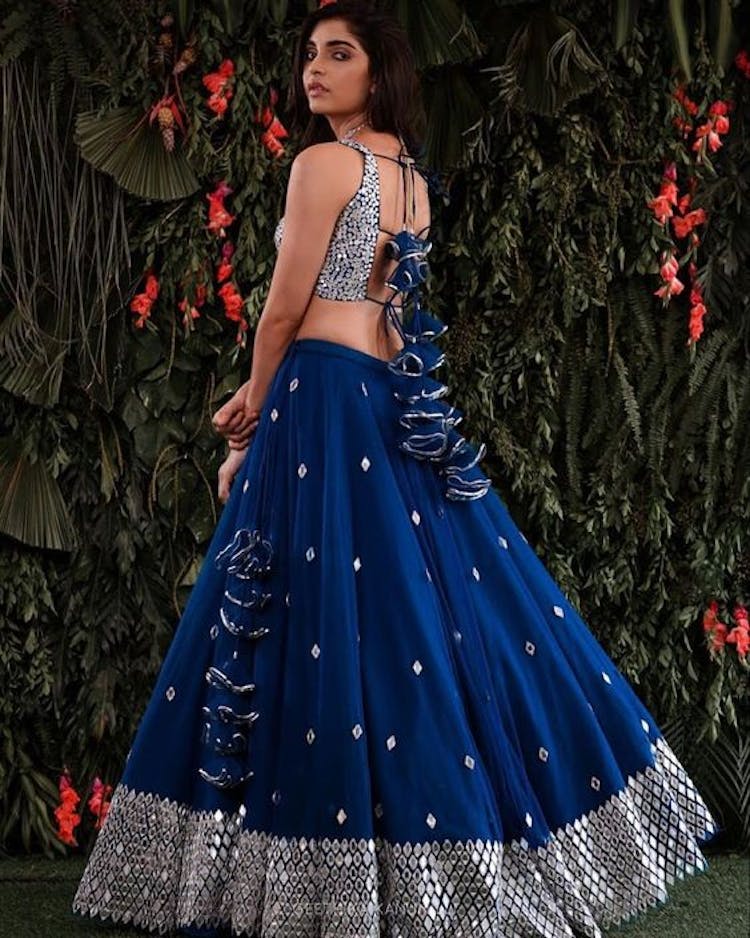 10. Mesmerizing Golden Bridal Lehenga
A golden designer lehenga is also a great choice for the wedding ceremony. The prettiest color gold that shimmers brightly grabs all the attention. A bride wearing a gold lehenga looks utterly elegant. This underutilized shade makes you stand out.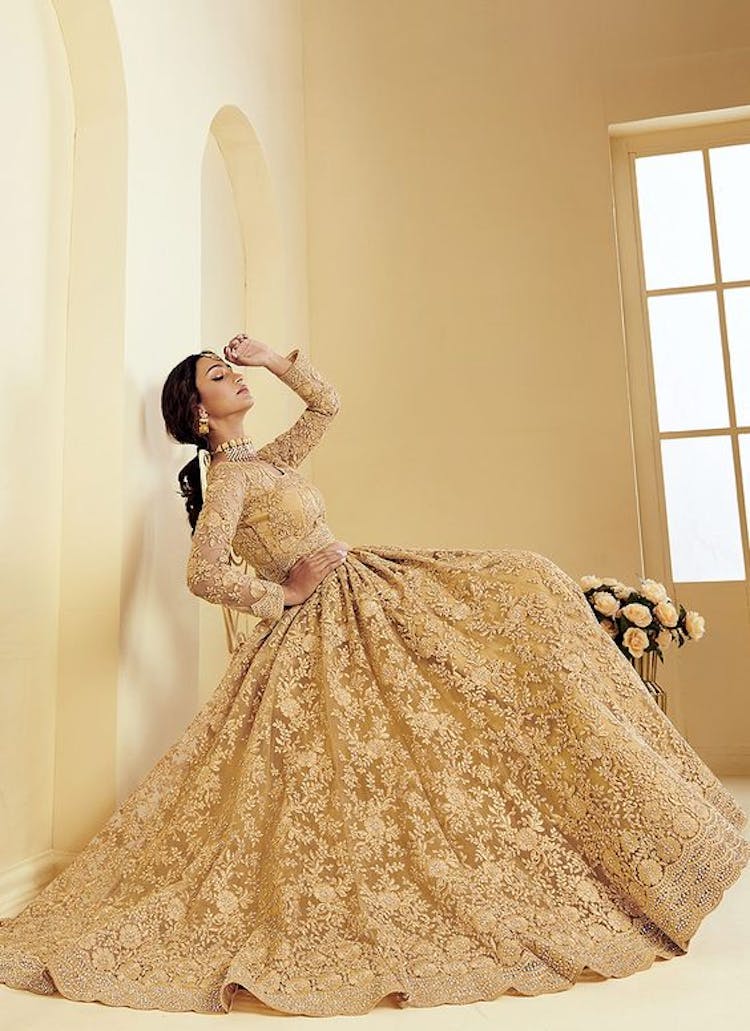 11. Shiny Magenta Bridal Lehenga
Magenta is a beautiful color that is meant for the winter wedding season. This Bengali-style lehenga offers a special charm when paired with gold jewelry. You can pick up this classy bridal lehenga if you are looking for a bold and sophisticated outfit for your wedding.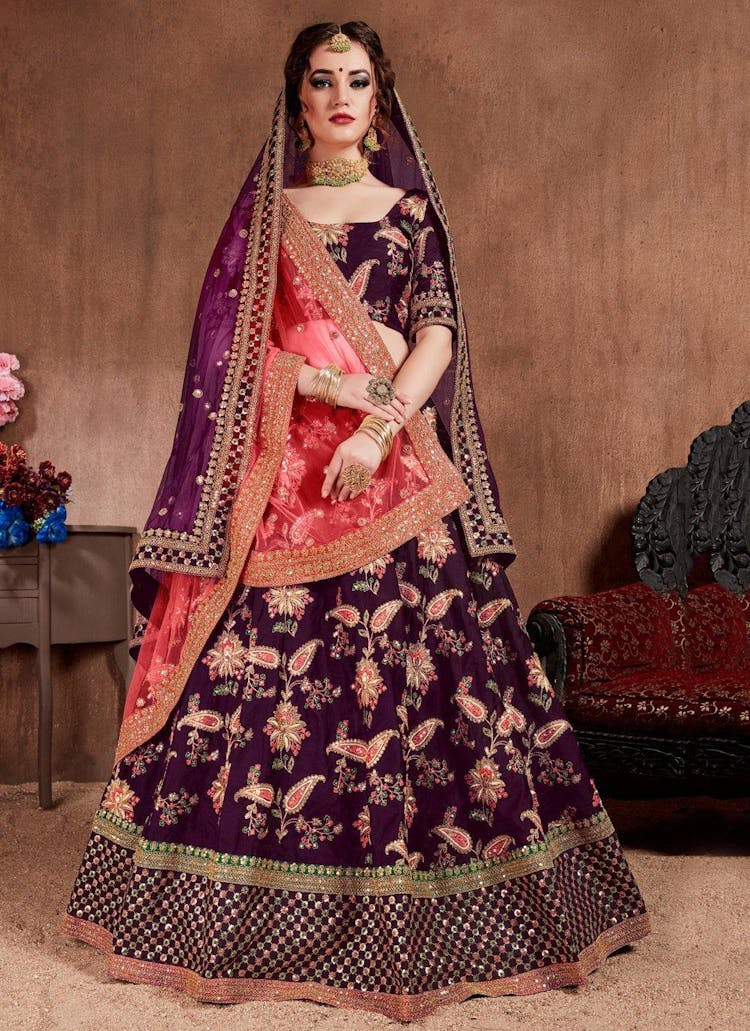 12. Lesty Orange Bridal Lehenga
Orange is an understated color. Colors like fiery orange or ochre are an ideal choice for a pre-wedding ceremony. The warmth of an orange-colored lehenga adds extra elegance to the bridal outfit. You can pair this beautiful lehenga with matching jewelry.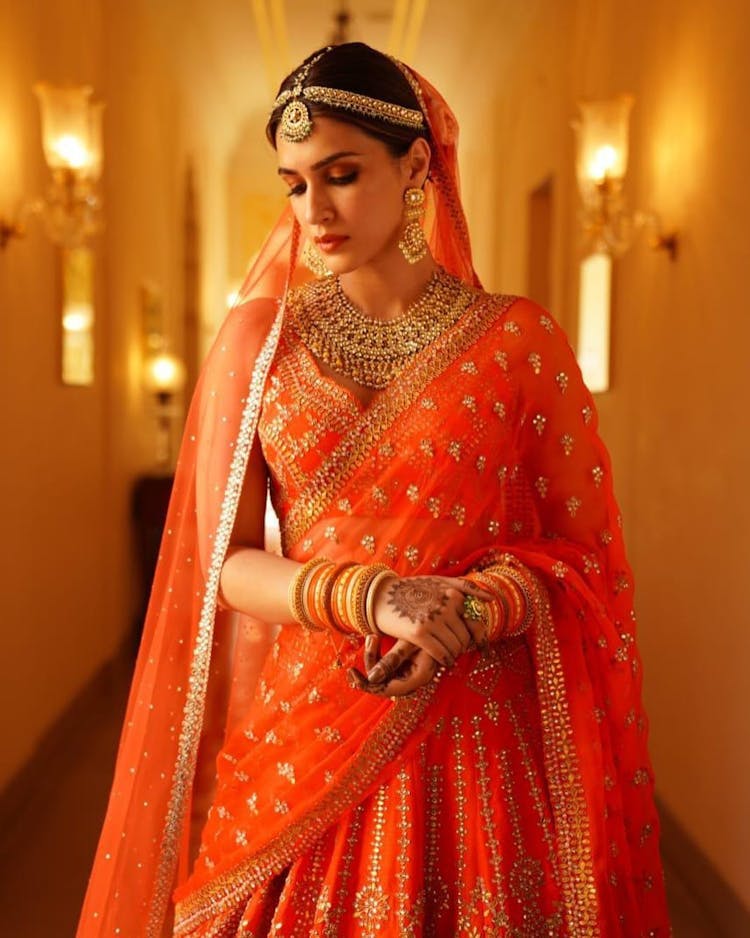 13. Rainbow-Inspired Bridal Lehenga
Would you like to rock your wedding party with bold and vivid hues? If you want a modern twist in your bridal lehenga, then picking up the multi-colored bridal lehengas is a perfect choice. This is the top-trending bridal lehengas that will surely win back your round of applause on your entry.