Latest Baby's First Birthday Photo Shoot Ideas In 2023
Capture joyful moments of your baby's 1st birthday with creative first birthday photo shoot ideas. Create lasting memories with us today!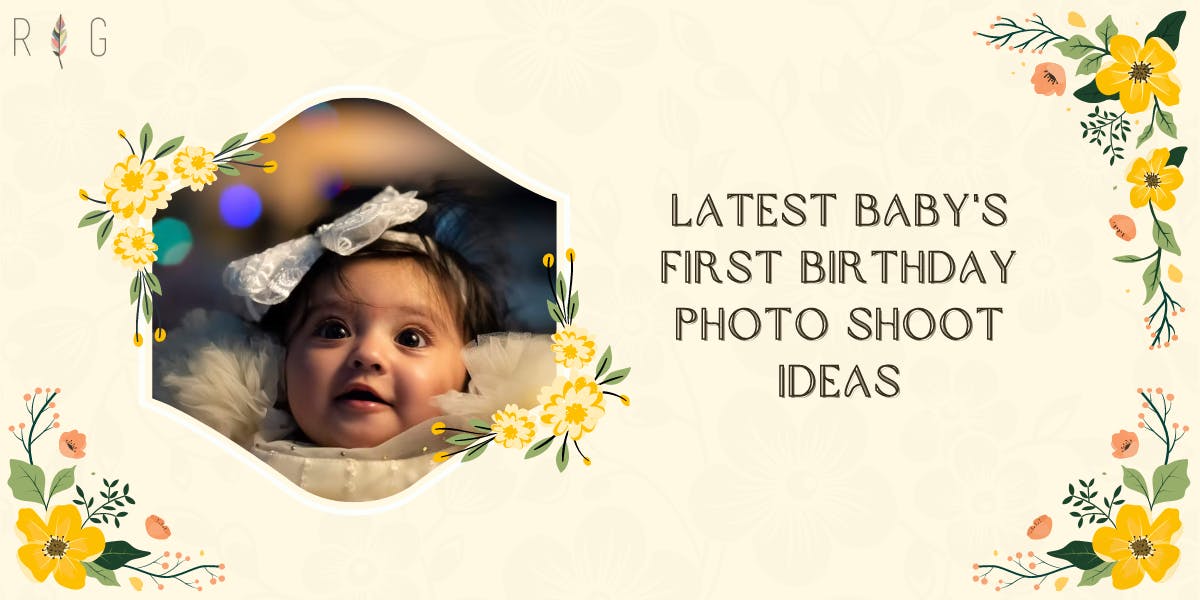 A baby's 1st birthday is a very important occasion and holds a special significance in each couple's life. This first milestone should be celebrated in a way that can be remembered for a lifetime. As parents, we want to remember every beautiful moment of our child's existence, and what better way to do it than with a memorable birthday photoshoot?
The 1st birthday photoshoot not only generates lasting memories but also helps us to freeze time and enjoy these amazing shots or memories for years to come. Remember to hire a professional baby photographer in Kolkata to ensure capturing the best moments pictures of this special day.
You might have searched online for "baby photography near me" to get the best ideas for the photo session of your little munchkin. But, if you haven't find the best one, you can browse the ideas listed below.
In this blog post, we'll look at some wonderful first birthday photo shoot ideas for baby's first birthday celebration. From charming props like small cake and soft toys to themed shots inspired by superheroes or fairy-tale wonderlands, the choices are unlimited! So, let your imagination go wild as you plan the perfect baby photo shoot that reflects your child's unique personality.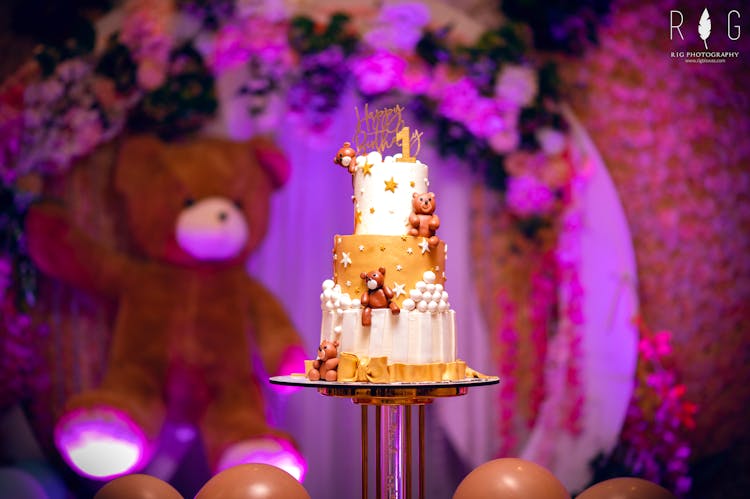 Planning Your Baby's First Birthday Photo Shoot
There are many well-known maternity photographer in Kolkata who also specialize in Bengali Annaprashan photography as well as birthday photography. However, you must look for someone who has a great portfolio, the best online reviews, and years of experience in handling one-year-old for a photoshoot. They can help you select an ideal theme for your child's birthday picture.
Looking For Newborn Photography Ideas? Check This : 18 Trending Newborn Photography Poses Ideas You Should Try
Latest First Birthday Photo Shoot Ideas And Tips
1. Bday Cake Smash
One popular trend among parents is cake smash photography where babies dive into a beautifully decorated cake smash set with pure joy on their faces. A cake smash session can result in messy yet adorable pictures.
This is one of the best 1st birthday photoshoot ideas at home that can be simply celebrated with a birthday cake or even a cupcake.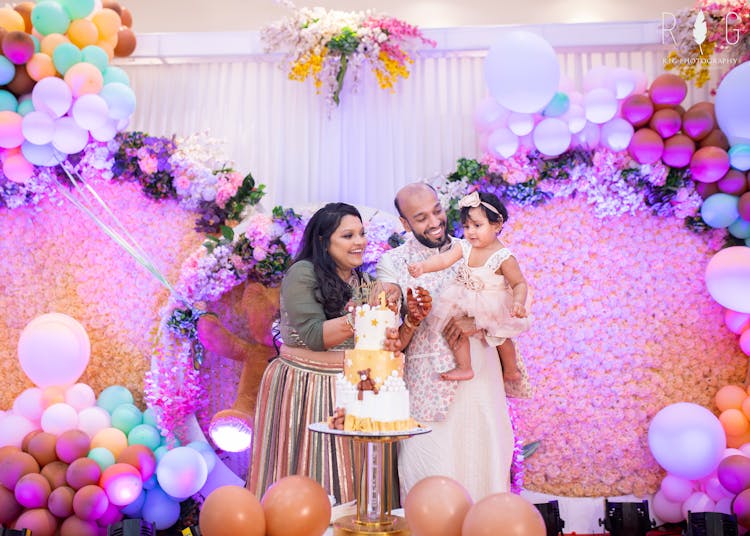 Get Ideas For Your Baby's Rice Ceremony - Bengali Annaprashan - Baby's First Rice Eating Ceremony
2. Magical Clouds
Make your little one's first birthday special by showing him/her floating on clouds by using fluffy cotton balls as props while dressing your baby in soft pastel colors. The result? A wonderful chance to capture angelic smiles!
Going To Attend A Relative Wedding Soon , First Read This: All About Traditional Bengali Bridal Jewellery Collection
3. With Parents Forever
Celebrate the special bond between parents and child by capturing moments with your one year old shared through candid images full of warm hugs, kisses, and laughs. This 1 st birthday photo shoot idea emphasizes family bonding, which makes it even more special!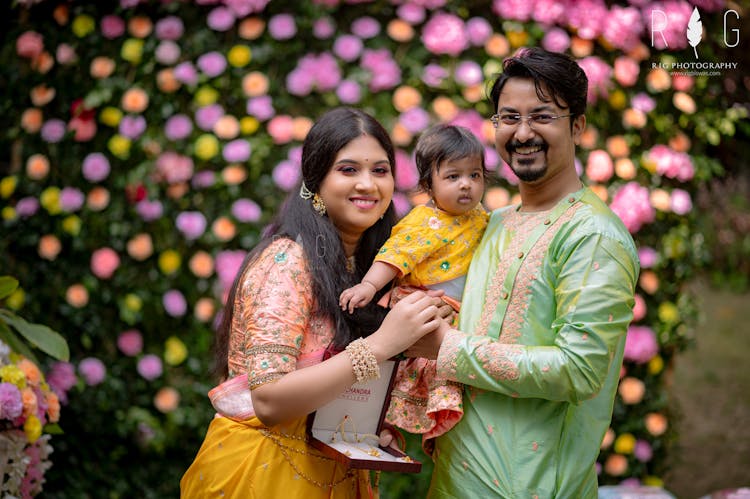 4. Flowers Everywhere
Surrounding your baby with blooming flowers creates breathtaking images that are rich in color, purity, and natural beauty. Use floral arrangements as backdrops or let your child play with them. This is a better way to celebrate the first birthday which results in a great photo.
5. Winter Wonderland
If your baby's birthday falls during the winter season, embrace the magical charm of snowflakes and let your baby look like an innocent Santa. Dress them up in cozy outfits with unique props and decorations for a beautiful and happy baby shot.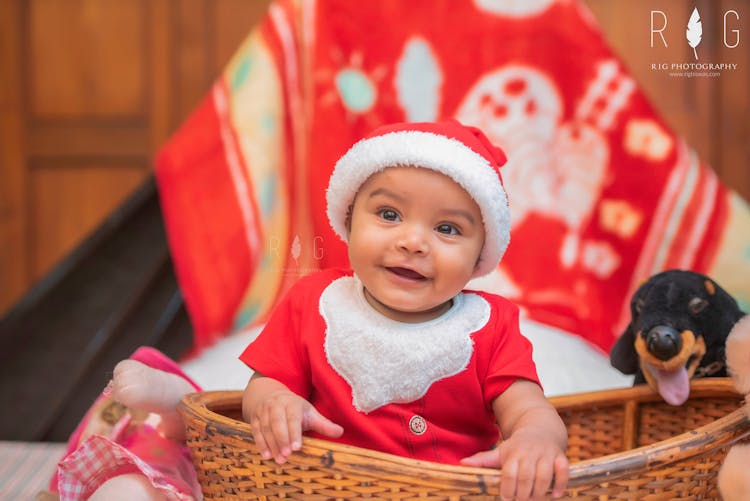 6. Fairy Tale Magic
This is one of the most magical first birthday photoshoot with parents we have ever seen. Dress your baby girl in a pastel outfit with flower crowns to transform her into a colorful fairy princess.
Take inspiration from this lovely couple who has matched their outfit with the baby with a beautiful backdrop for the photography session.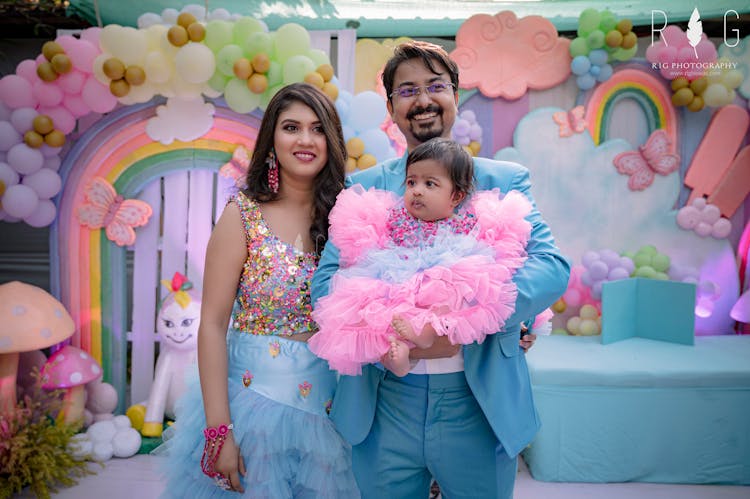 7. Kisses from Parents
There is nothing more heartwarming than capturing those sweet moments when parents shower their little ones with kisses. Such first birthday shoot ideas make beautiful memories that last a lifetime.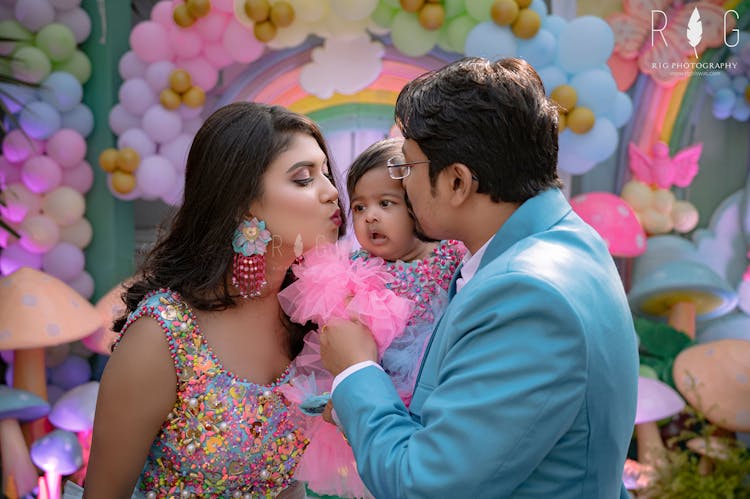 8. Balloons Galore
You can use number-one balloon along with a happy birthday banner for a portrait session. These are some most popular yet fun-filled first birthday decorations that will bring a joyful vibe to the atmosphere. Create a vibrant setup using balloons of different sizes, colors & shapes.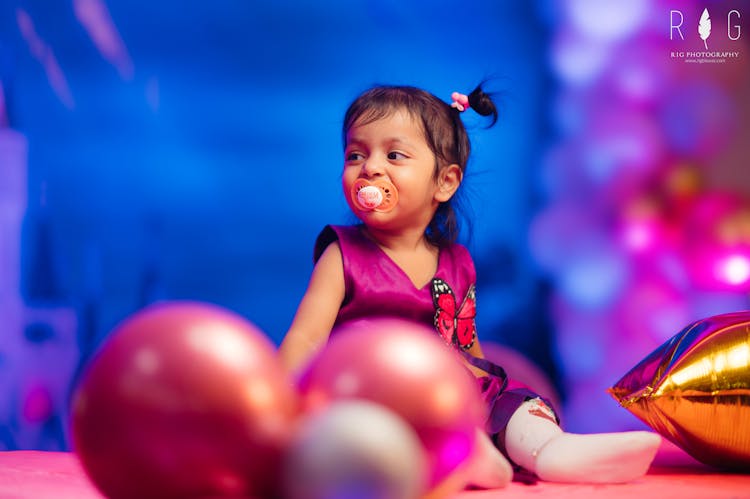 Trending Outdoor Shoot Ideas For First Year Birthday Photoshoot
9. Soft Toys Galore
If you're not impressed by the cake smash photo shoot idea, you can try this one. Make a cozy setting with fluffy teddy bears or other cuddly and puff creatures to surround your child while they play amid all the cuteness.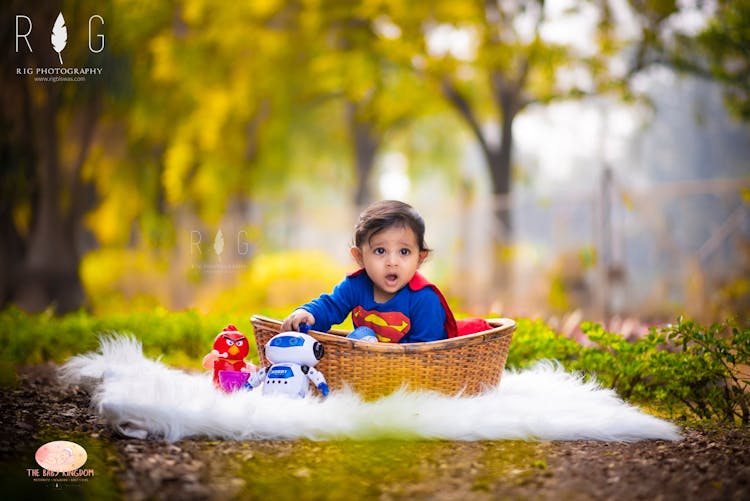 10. Water Bubble Fun
Capture sheer delight on their faces as they playfully engage with water bubbles. You can use a bubble machine to create bubbles in the air. This is a simple yet captivating idea that encourages your child to smile and make the memories even more special.
11. Sports Enthusiast
If you are sports-loving parents or simply want something different, you can use props around your child such as jerseys, balls, cricket bats - anything that makes your baby's first milestone birthday unique!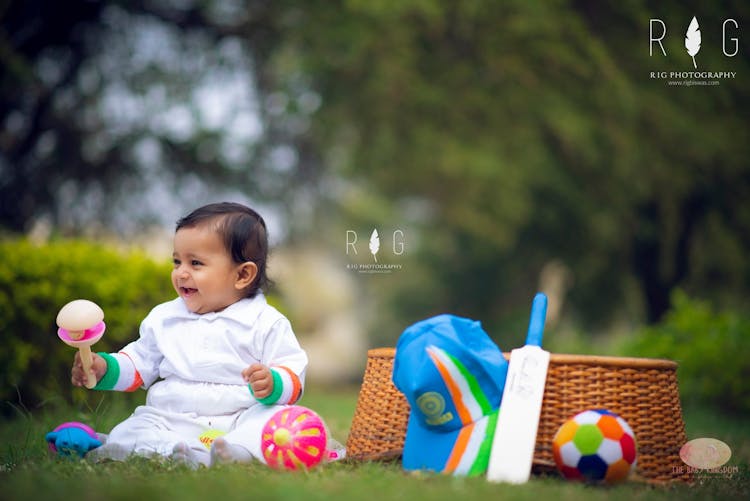 12. Garden Delights
If you are looking for an outdoor location photoshoot, this might inspire you. Make the most of nature's wealth by planning a garden-themed photoshoot. Get your child in the garden area and use different kinds of photo props like balls, a lush green backdrop, or flowers to create a beautiful birthday picture.
13. Superhero Extravaganza
Transforming your bundle of joy into their favorite superhero might make them feel joyful during the shoot! Dress them up in logo-adorned capes and set up imaginative scenes with a variety of props. This kind of 1st birthday photo ideas are definitely worth capturing.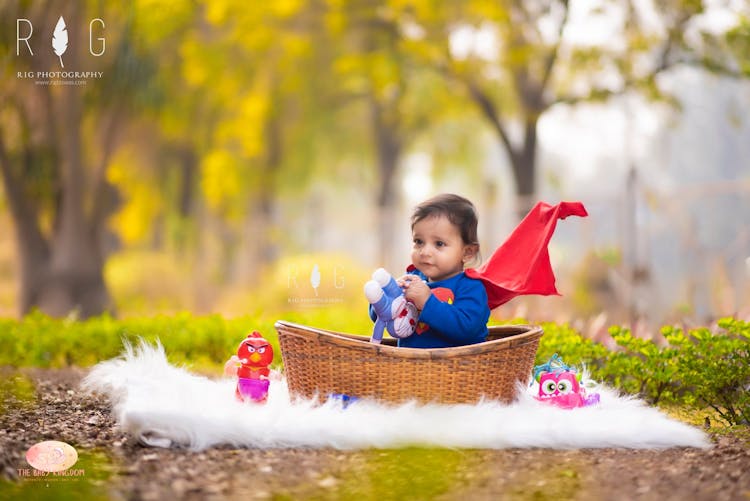 Plan Your Baby's First Birthday Photo Shoot Today!
As you plan your baby's one year birthday photoshoot, remember to let your creativity shine. Choose an idea that reflects your and your child's personalities while expressing the essence of this memorable occasion.
Remember to choose professional photography services such as Rig Photography, which specializes in family-oriented sessions. Our expertise will ensure spectacular photographs that capture the love, excitement, and happiness expressed within each frame.
So go ahead and do it! Embrace these ideas or come up with your own - after all, it's all about enjoying the wonderful journey of being parents of a lovely child!