Find The Best Bridal Lehenga Shop In Patna For You!
Buying the perfect bridal lehenga is truly a daunting task. But here are some famous bridal lehenga shop in Patna that might help you choose the best one!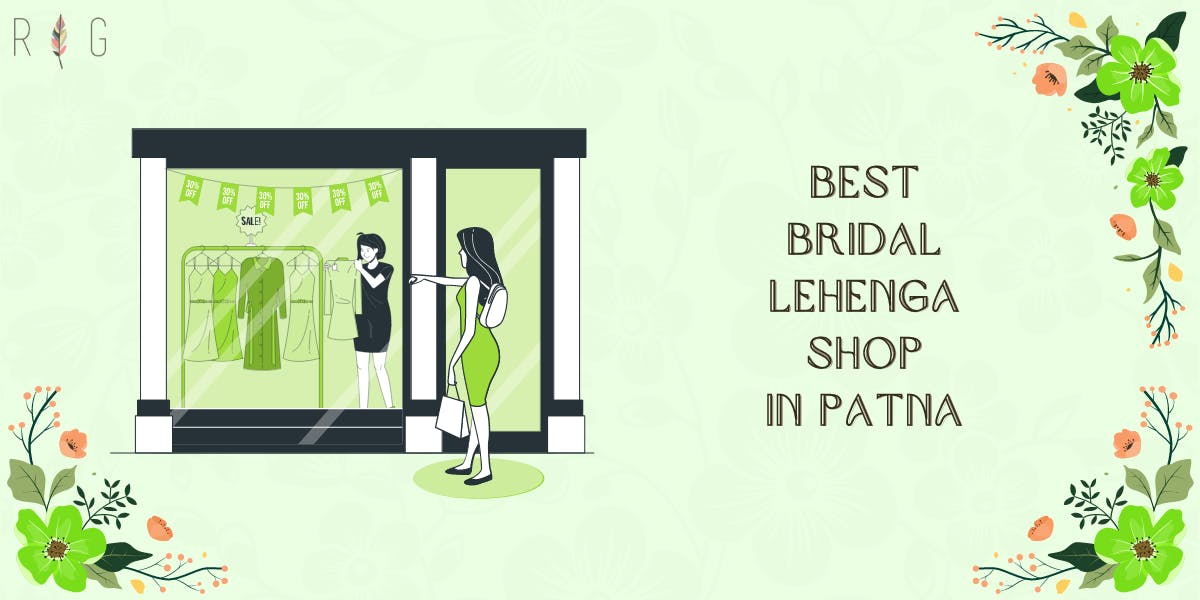 Indian weddings are very lavish affairs that need a lot of planning. Most of the wedding planning revolves around venue decoration and shopping for the bride and groom. A lot of time and effort goes into making sure that the bride looks nothing less than a princess on her D-day. In recent years, the lehenga has become a popular wedding outfit for brides to flaunt their ethnicity. While some brides prefer to buy their lehengas from their family's favorite shop, others like to experiment with new trends.
As a bride-to-be, you're most likely on the hunt for a dreamy bridal lehenga. With plenty of options in lehenga designs and shades, shopping for a bridal lehenga in Patna has become a tedious task. But you do not need to worry more about finding the best bridal lehenga shop in Patna. We know the value of looking perfect in every shot clicked by wedding photographers in Patna
This is only possible when you look gorgeous in your wedding attire. So, to help you find out the perfect piece of bridal lehenga we have created this blog. Scroll down to find the best place to begin your lehenga shopping!
1. Poshak Boutique
The Poshak fashion boutique is a huge store featuring designer bridal lehenga in Patna. This bridal shop has everything ranging from wedding gowns to bridal lehengas. They also offer customized wedding outfits for wedding engagements and other Indian occasions.
Located at – J364+WMP, Gola Rd, Chanakya Puri, Patna - 801503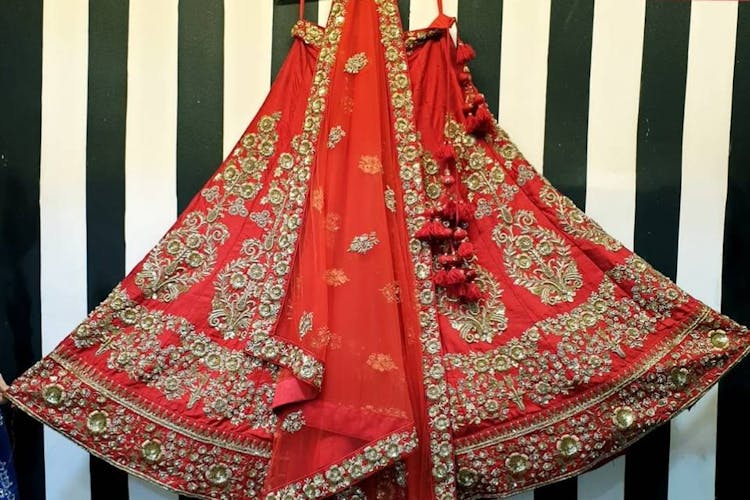 Recommended: The Most Romantic Couple Restaurants in Patna You Should Know About
2. Fab India, Bailey Road
Fab India is a leading retail store in Patna that deals in ethnic wear. This store has an array of lehenga styles for special occasions. Fab India has established itself as a big brand all over India. They provide quality products for occasions such as a wedding and festivals.
Located at – Pillar No. – 27, Bailey Rd., Opposite Siv Mandir Jyoti Puram Colony Patna - 800014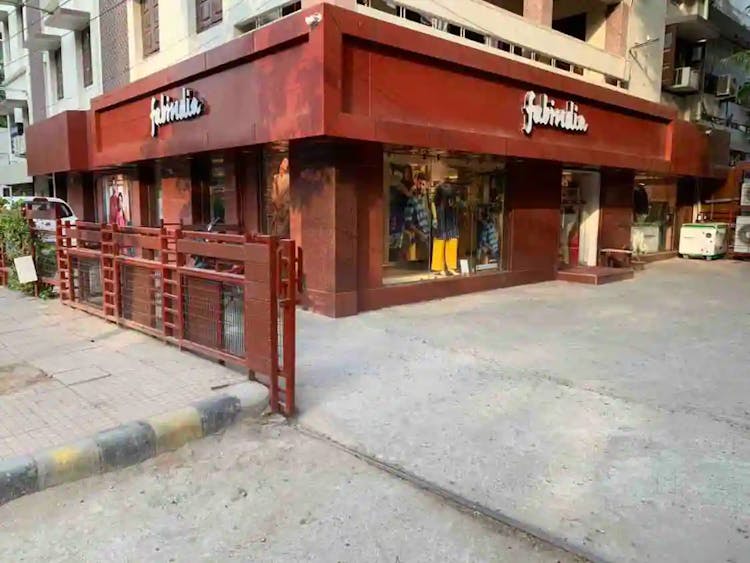 Must Read: Bookmark These Pre-Wedding Shoot Location In Patna
3. Apurva Bridal Lehenga Showroom
Apurva bridal lehenga showroom is a well-known name in the city. This Patna lehenga showroom has a wide range of designer lehengas, silk sarees, gowns, and Anarkali. If you decide to wear a lehenga from this renowned bridal store on your wedding day then make sure to book the best wedding photographer in Patna. They can help you capture some jaw-dropping bridal portraits in your stunning outfit.
Located at – Boring Road, Surya Cristal Building Maruti Carlo Showroom, Patna - 800001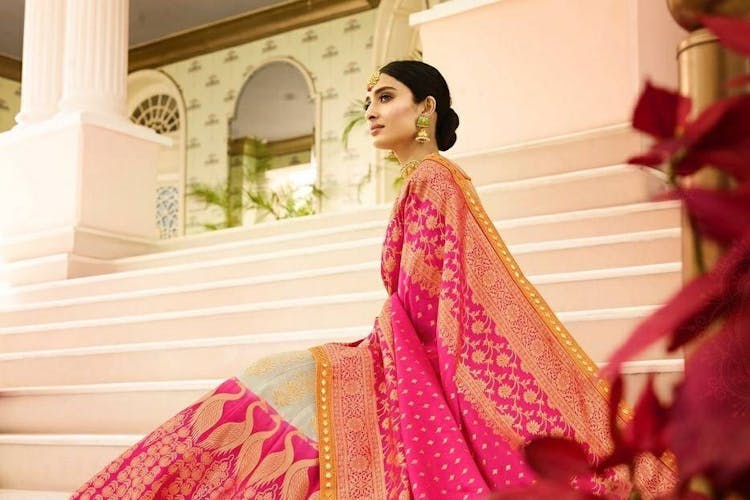 See More: Save These Marriage Hall In Patna For Upcoming Wedding
4. Aurelia
Aurelia is a renowned bridal lehenga showroom in Patna that deals in various kinds of traditional garments. Their exquisite collection of bridal lehengas promises to add glitz and glam to your wedding look. They also offer international shipping to their foreign clients at an extra price.
Located at – Kankarbagh Main Rd., Beside Sagar Restaurant Rajendra Nagar Patna - 800020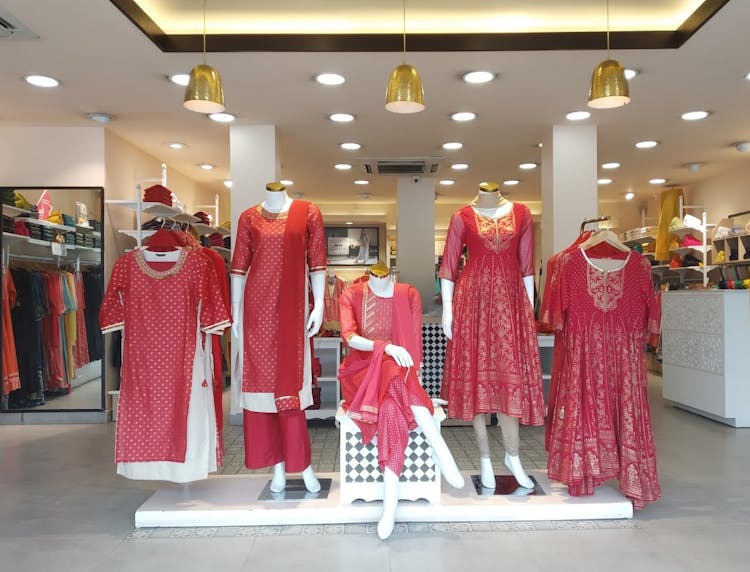 5. Couture Island
Couture island is one of the best designer lehenga shop in Patna. This store is very popular among Patna brides for its attractive designs. The delicate work of their bridal lehenga adds a royal feel to your wedding look.
Located at – New Dak Bungalow Rd., Kaushalya Estate Bander Bagicha Patna - 800001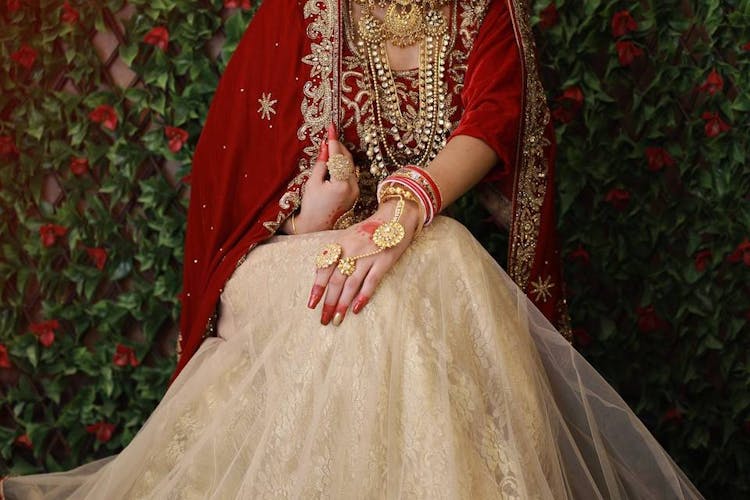 6. Nini's Fashion House
Nini's fashion house is a hub of fashionable outfits. It offers all kinds of the latest wedding wear at reasonable prices. Their wedding collection can help you emerge as a flawless bride on your special day. You can shop here for the best lehengas for your mehndi, sangeet, and Haldi function.
Located at – 11 Krishna Kunj Behind Carlo Motors Boring Rd., Patna - 800001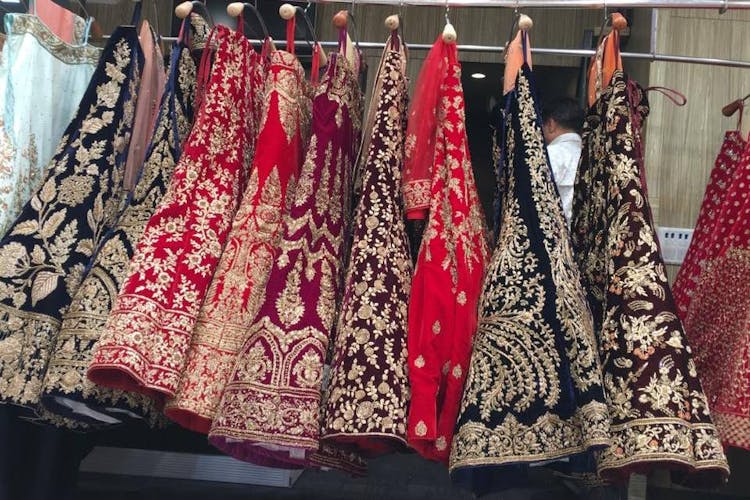 7. Abhishek Bridal Lehenga Showroom
This is the best lehenga shop in Patna that can offer you a plethora of exquisite wedding lehengas. Their traditional outfit can make no less than a royal figure on your big day. They also provide custom-made wedding outfits as per their customers' requirements.
Located at – Boring Rd Surya Crystal Building, Patna - 800001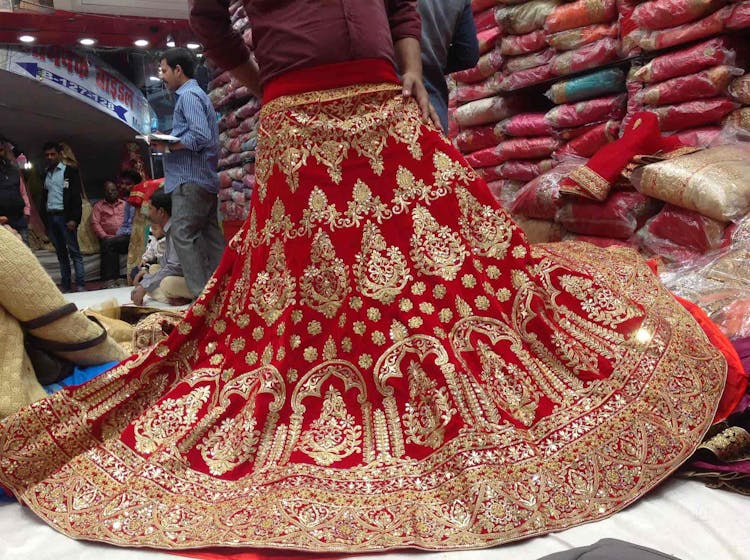 8. Bahurani Sarees & Lehenga
Bahurani sarees and lehenga is considered the best bridal lehenga shop in Patna. This is an ideal place to get your hands over the most classy wedding lehengas and pastel sarees. Their bridal lehengas have intricate embroidery which makes them appear more spectacular.
Located at – Blog B2 Shop No. 112, Maurya Lok Complex, Dak Bungalow Road, Patna - 800001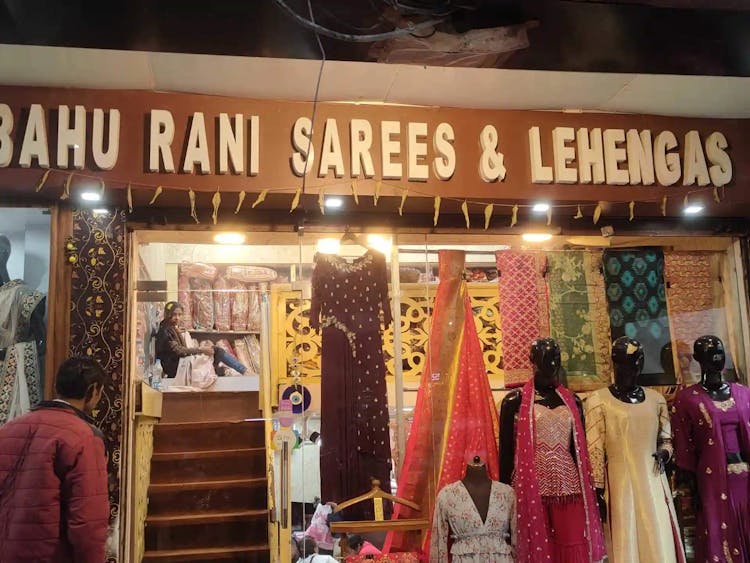 9. The Ramp
A ramp is a perfect place for bridal wedding shopping in Patna. Their designer couture offers you unique lehenga designs that can help you to walk like a glamorous diva on your wedding day. Their designer outfits are made of excellent quality fabrics and are comfortable to wear on every occasion.
Located at – 1st Floor Hira Panna Arcade, Pataliputra Kurji Rd, Patna – 800013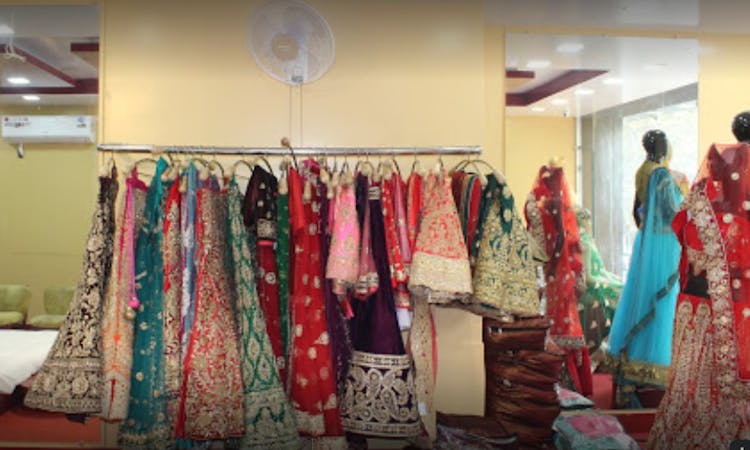 10. Label Ritu
Label Ritu Kumar is a high-end couture in Patna that has a huge collection of modern lehenga designs. They can offer you the most gorgeous bridal lehengas as well as trendy Indo-Western outfits. You are sure to end up purchasing your wedding outfit from their eye catchy collections once you step inside their store.
Located at – Apartment Plot No. A Ritika PVT. LTD Sukriti, 39, Old Jakkapur, Lodipur, Patna - 80001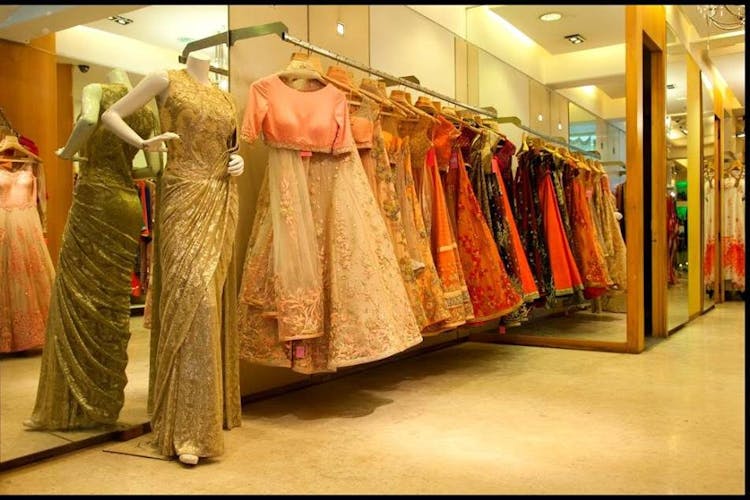 FAQ:
1. What Are The Different Types Of Bridal Lehenga Available In Patna Stores?
Different types of bridal lehengas available in Patna stores are floral lehenga, cape lehenga, ruffle lehenga, etc.
2. Can I Get A Customized Lehenga In The Bridal Lehenga Shops In Patna?
Some popular Patna lehenga shops offer customized lehenga services. They have a team of experienced tailors who stitches your lehenga as per your needs.
3. Can I Try A Wedding Lehenga Before Purchasing It?
Yes, you must try your wedding lehenga in the trial rooms to know whether it fits your body and suits your personality.
4. What Is The Average Cost Of A Bridal Lehenga In Patna?
The average cost of a bridal lehenga in Patna is Rs. 3000.
5. How Long Before The Wedding Should I Begin My Search For Bridal Lehenga?
You should begin the search at least six months before your wedding functions.