Save These Marriage Hall In Patna For Upcoming Wedding
Planning for your dream wedding in Patna? We have shared here the list of best marriage hall in Patna that are perfect and budget-friendly.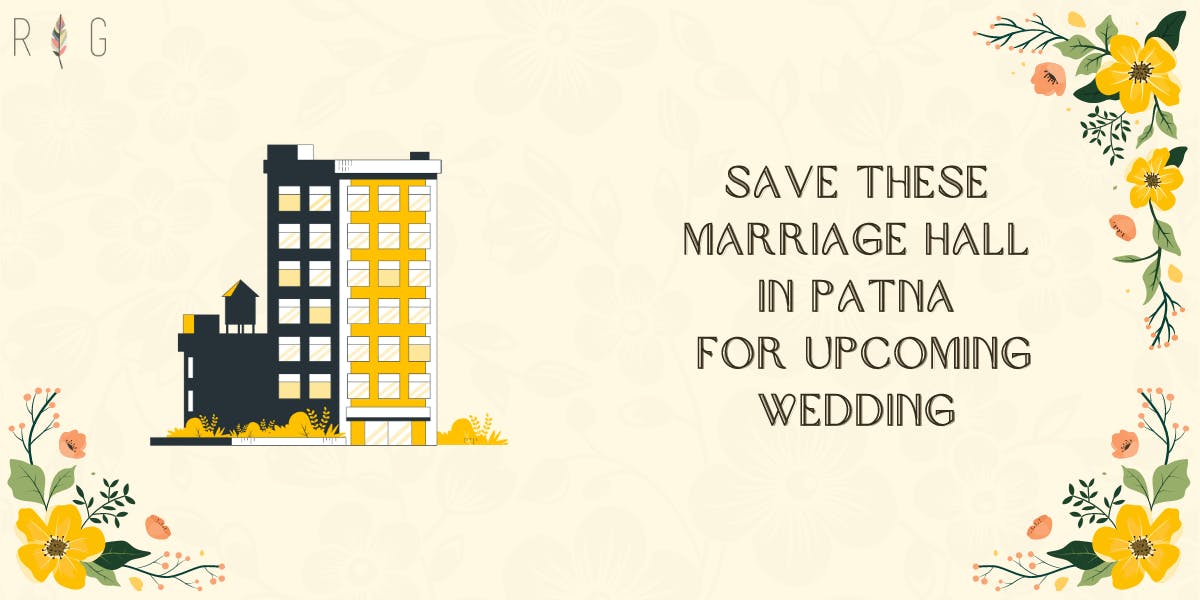 Choosing a perfect wedding hall are of utmost importance for a couple looking to tie the knot in a grand way. Patna city has a large population and there is plenty of wedding to choose from. A perfect wedding venue ensures that all the ceremonies can be performed perfectly. Hence, booking a perfect wedding venue should be the top priority for any couple looking to get married. With so many options available, it can be hard to find the perfect hall that meets your needs. It's important to take your time while selecting a marriage hall. Make sure to it's the right fit for you and your partner.
Finding a good space can also help your wedding photographer in Patna to click some stunning wedding pictures. A marriage hall that meets all of the couple's needs will help create a memorable event. Each wedding venue has its advantages. So, you must find a place that can let you celebrate your wedding with your loved ones in the most perfect way possible. Scroll down below to find some of the best marriage hall in Patna to plan a grand wedding.
1. Golden Moments
Golden moments is the best banquet hall in Patna that is a perfect blend of opulence and class. This marriage hall has a grand space that lets you celebrate your special day in the best way possible. It is located 15 minutes away from the Patliputra Junction.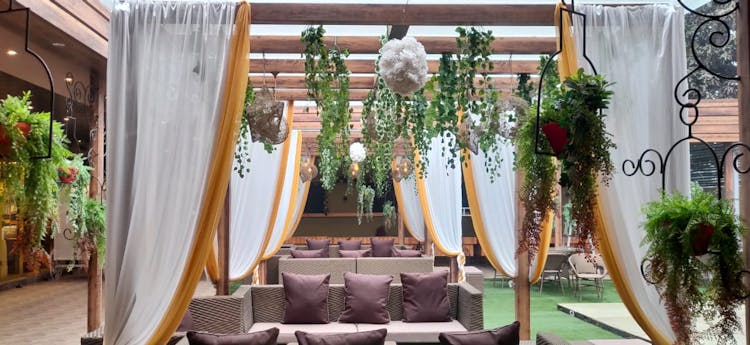 Must Check: Bookmark These Best Wedding Photographer In Patna For Your D-day
2. The Quaint Resort
The quaint resort is a luxurious wedding venue in Patna. It has a spacious banquet hall and a massive lawn. This wedding venue is perfect for a big fat Indian wedding. It allows you to host an indoor as well as an open-air wedding event. Make sure to hire the best wedding photographer in Patna to preserve the memories of your grand wedding.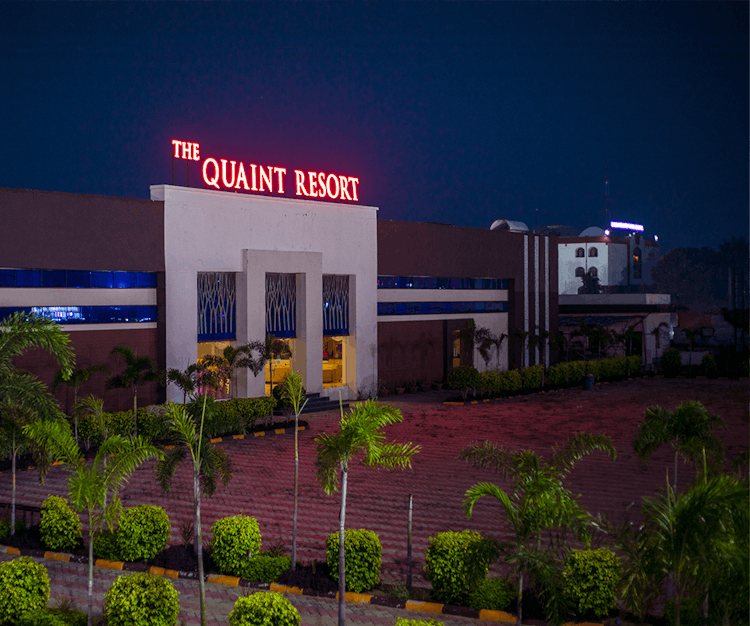 Also Read: Trending Mangalsutra Designs For 2022 Brides-To-Be
3. Hotel Vista Palace
Hotel vista palace is the best option in Patna to host a memorable wedding. This wedding venue can accommodate wedding guests up to 200 persons at a time. Its marvelous banquet hall is an ideal option to host a fairy tale wedding.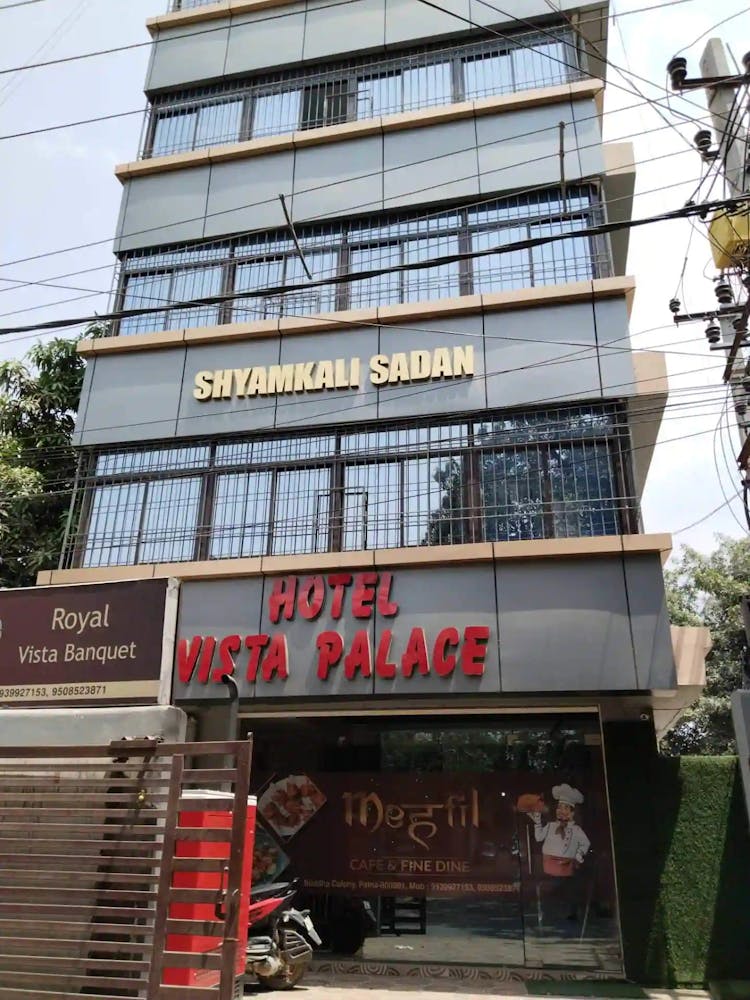 See More: Trending & Stylish Mehndi Dress Ideas For Groom
4. Golden Flavour
Golden flavour comes under the top 10 marriage hall in Patna that lets you host pre-wedding and wedding events. This impressive venue has an indoor banquet hall with a sitting capacity of 120 guests. The venue also offers delicious cuisines that your guests will enjoy.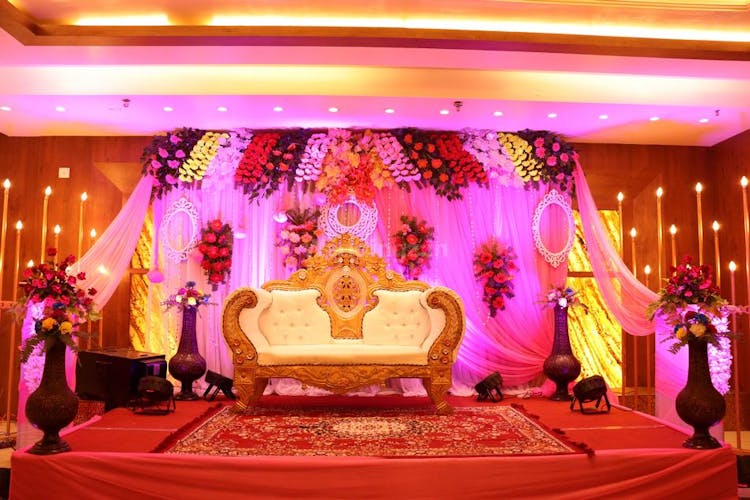 5. Umrao The Banquet
Umrao the banquet is the best marriage hall at Patna that lets you host pre-wedding and wedding events. It is an ideal venue for a grand Indian wedding. The essence of the Indian touch in the architecture of the venue can make your simple wedding a memorable one.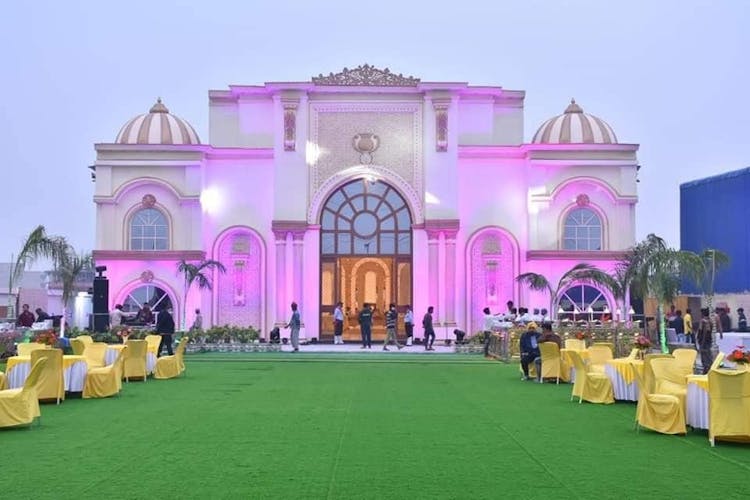 6. S.D Vatika Palace
S.D Vatika is one of the best locations in Patna to host a wedding ceremony. This venue offers delicious Indian, Chinese and continental cuisine to make your guests happy. It also offers an in-house decorator team to add a magical vibe to your wedding theme.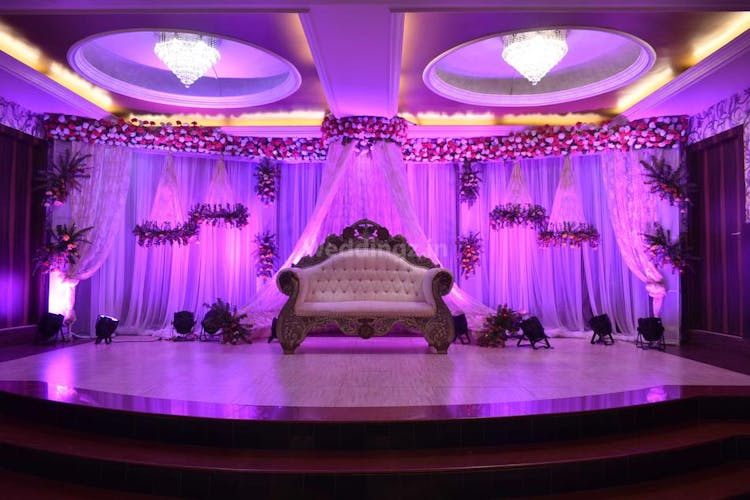 7. Hotel Bodhi Tree
Hotel bodhi tree is a popular AC banquet hall in Patna. It is located 1.2 K.M. away from Patna junction. Hotel Bodhi tree has a skillful in-house decorator team that takes care of your wedding decoration needs. It also provides a wide range of vegetarian and non-vegetarian food for your guests.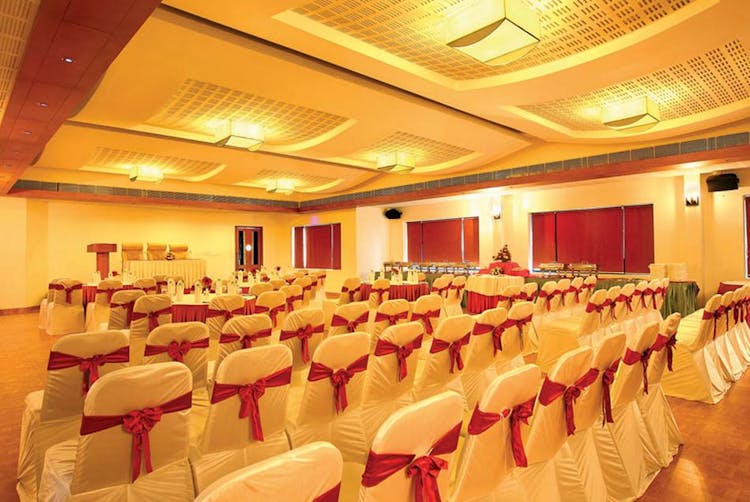 8. Imperial Garden
The Imperial garden is a cheap and best marriage hall in Patna. The venue offers a lush green lawn space that helps you plan an open-air wedding event. It also offers 3 complimentary rooms for the couple and guests. The hospitality of the staff and delicious cuisine offered by caterers can make your wedding day more special.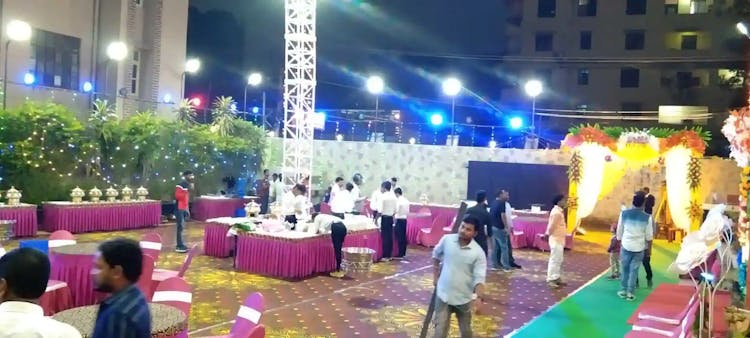 9. Hotel The Golden Sunrise
The golden sunrise is a favorite choice among the Patna couple. This venue can accommodate up to 200 visitors at a time. This wedding venue also has a team of experienced wedding planners that can help you plan a grand event.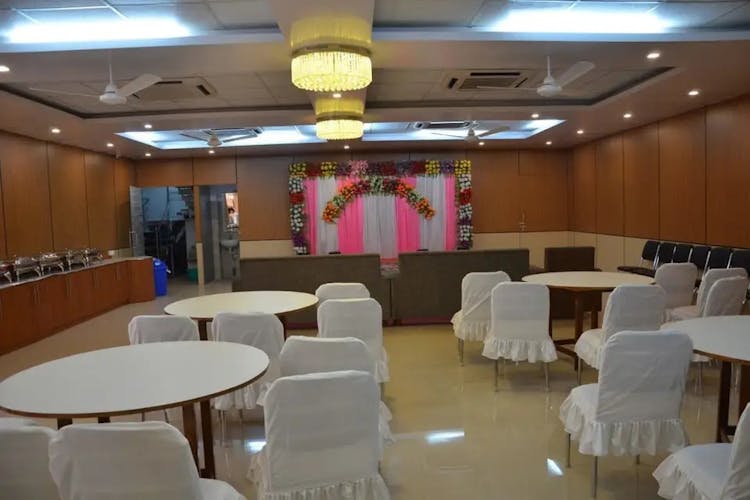 10. Shubh Mangal Vatika
Shubh mangal vatika is another beautiful wedding venue in Patna. This marriage hall can hold up to 800 visitors at a time. They also offer a wide range of cuisines for your guests. They maintain neatness and hygiene all around the wedding venue. Their services can help you host a dreamy wedding event.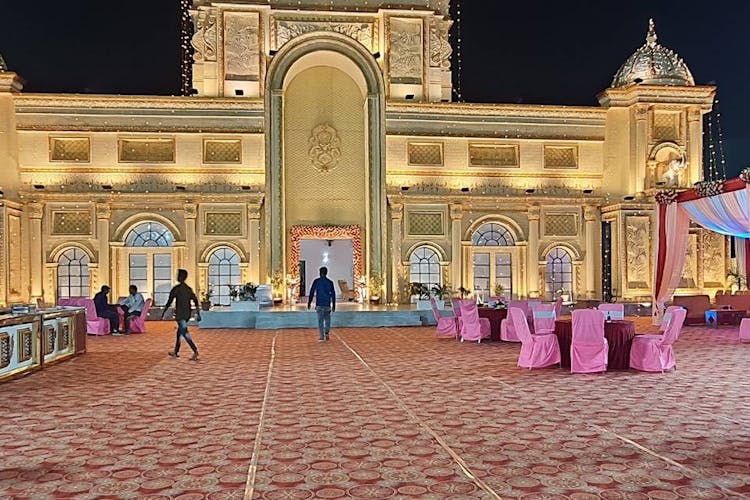 FAQ
1. Do The Banquet Hall In Patna Offer In-House Catering Services?
Many marriage halls in Patna have in-house caterers who serve the best cuisine for the event. However, you can also hire some other caterer that fits your choice.
2. Is There AC Banquet Hall In Patna City?
There are both AC and Non-AC banquet halls in Patna city. You can opt for the kind of marriage hall that suits your budget.
3. Does Patna Marriage Hall Provide Parking Space?
Most of the wedding halls offer parking space facilities. If you have a large number of guests list then you might check the parking capacity beforehand.
4. Does Patna Marriage Hall Provide In-House Décor?
Most wedding venues in Patna provide in-house decoration facilities. You should check their working style and prices. And if you are not satisfied with their decoration services, then you hire an outside wedding decorator.
5. Do Marriage Halls In Patna Offer Guest Accommodation?
Some marriage halls in Patna offer complimentary room service for the couple and their belongings. If you are looking for guest accommodation, then you have to do a separate booking.
6. How Much Does A Marriage Hall Cost In Patna?
Marriage venues in Patna can range from Rupees 250 to 2100. But it depends on your budget and other specifications.
7. How Many People Can A Patna City Marriage Hall Accommodate Easily?
It depends on the size of the wedding venue. Some venues can accommodate 50 persons at a time, while others can manage more than 750 persons.
8. Does Every Marriage Hall In Patna Provide An In-House DJ Facility?
Some of the best wedding halls in Patna offers in-house DJ facility starting from Rs. 8000.
9. What Are The Cancellation Policies?
Every wedding hall in Patna has a different cancellation policy. Hence, you must check their cancellation policy at the time of booking the venue.
10. How Soon Should We Book A Banquet Hall In Patna For Marriage?
You must book a wedding hall as soon as your wedding date is fixed. This is because there will be a high chance of not getting a perfect venue in the wedding months due to the busy schedule.