The Ultimate List Of Trending Bridal Jewellery For Haldi Ceremony
From trending floral tiara to an elegant pearl necklace explore the amazing list of some most gorgeous bridal haldi jewellery to enhance your bridal look.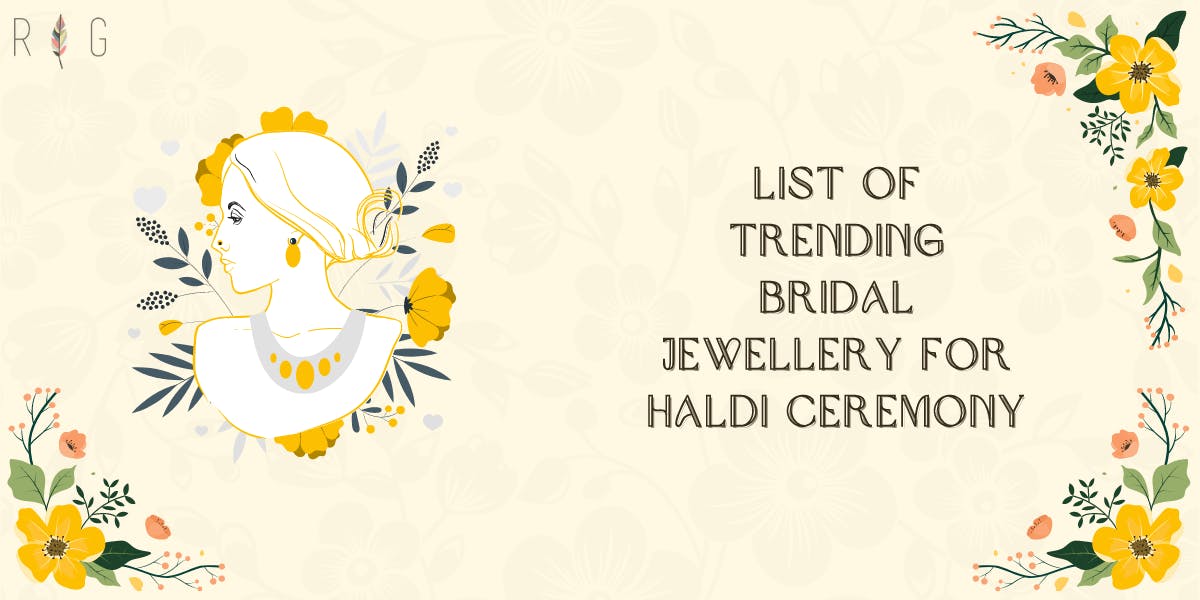 Bridal jewelry is the most important element of a bridal look. Nowadays, girls look for the latest designs in bridal jewelry to get an elegant and sophisticated look. Indian weddings are a fun-filled festival of several days. Various rituals are performed till the end of the wedding. Haldi ceremony is one such lively ritual. Brides look ravishing wearing yellow attire in their Haldi event. To accentuate their Haldi looks, modern brides are experimenting with different kinds of bridal elements like wedding outfits, makeup, and jewelry. During Bengali wedding photography shoots, we have got a chance to witness the eternal beauty of stunning haldi jewellery for bride.
You may have also come across many Indian jewelry ideas while surfing the net. But if you want to adorn yourself with some unique pieces of jewelry to look appealing on your special day, then take a look at these super attractive bridal jewelry designs which we are sharing in this blog post to make your Haldi ceremony a memorable one.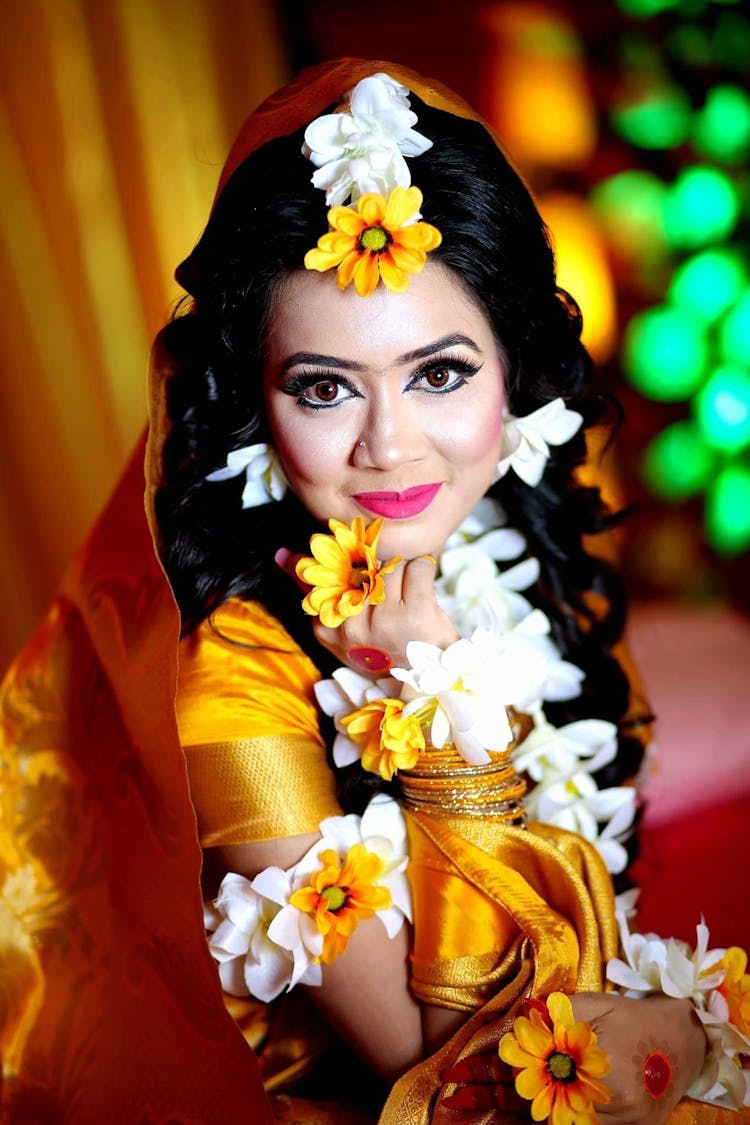 1. Exquisite Floral Jewelry
Floral jewelry is the latest and trending jewelry design preferred by young brides. The breathtaking designs of this ethnic jewelry will make you feel like a princess at your Haldi ceremony. The radiating charm and fragrance of fresh flowers create a happy wedding ambiance. Starting from earrings to the stunning necklace design of delicate flowers adds colorful vibes to your wedding look.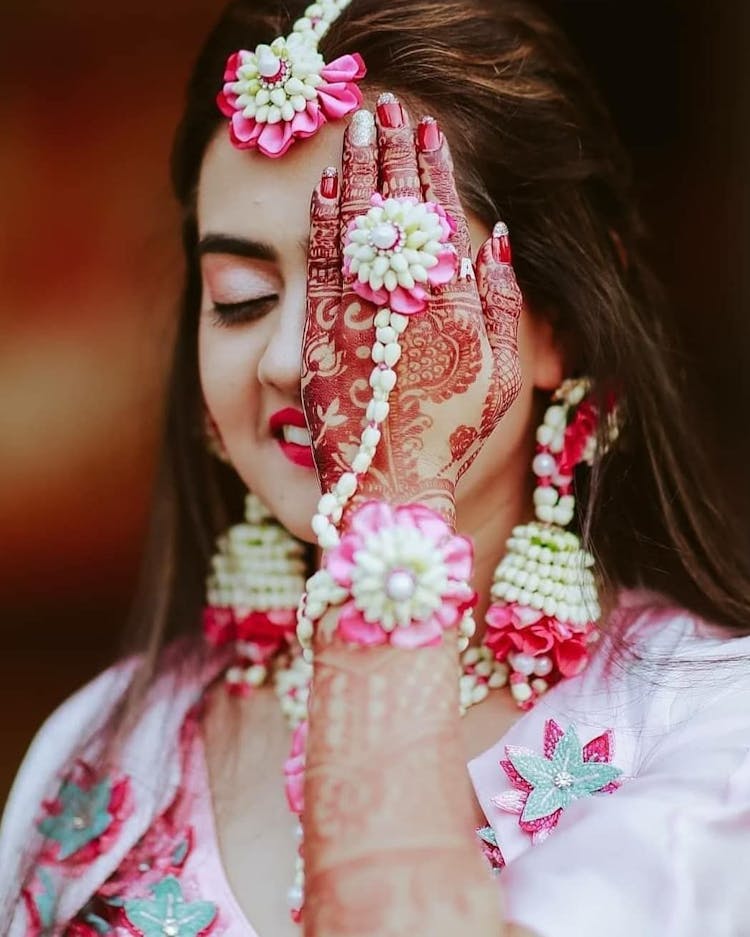 Recommended: Top 11 Trending Reception Look Of A Bengali Bride
2. Appealing Artificial Flower Jewelry
The artificial floral jewellery for the bride is another pleasing jewelry option. Similar to real flower jewelry, the DYI floral jewelry sets a perfect tone for an Indian wedding. This appealing jewelry comes with the special advantage of staying refreshed forever. On the other side, floral jewelry can't stay fresh for long hours. The exquisite designs of this crafty jewelry come in different colors and designs using various materials like stones, pearls, beads, and artificial flowers. If you are opting for a light-shaded lehenga then make sure to pair it with vibrant hues like pink, white, yellow, purple DIY jewelry.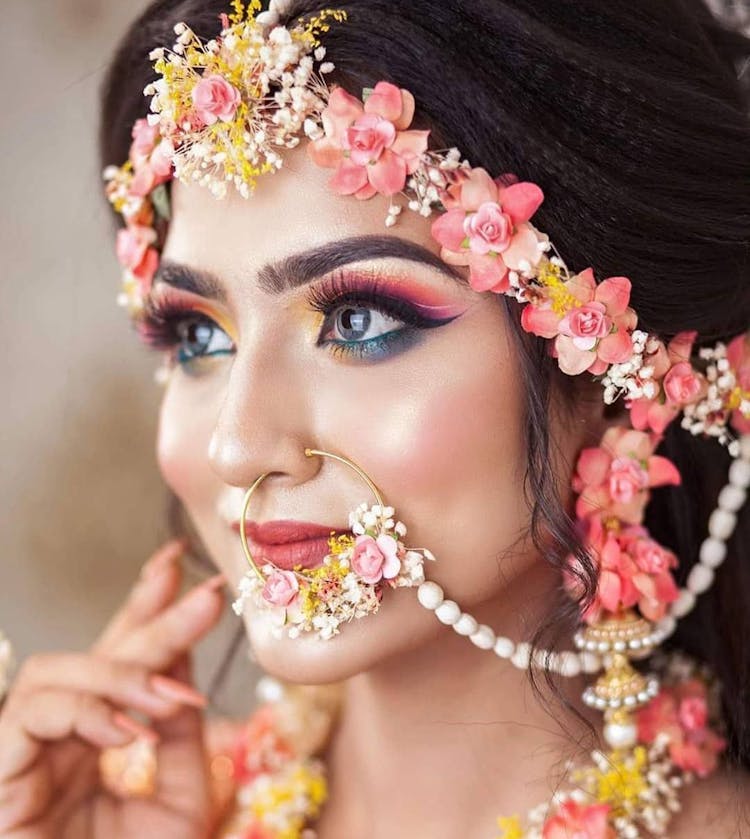 3. Stunning Kundan Jewelry
Look at the royal charm of this beautiful bride. Her stunning Kundan jewelry contrasted with her designer lehenga is an amazing look for the Haldi ceremony. Kundan sets are one of the most exquisite wedding haldi jewelry. This Mughal empire majestic piece of jewelry can make you feel like a royal bride. This stunning necklace, earrings, and matha Patti are setting the perfect tone of a regal marriage.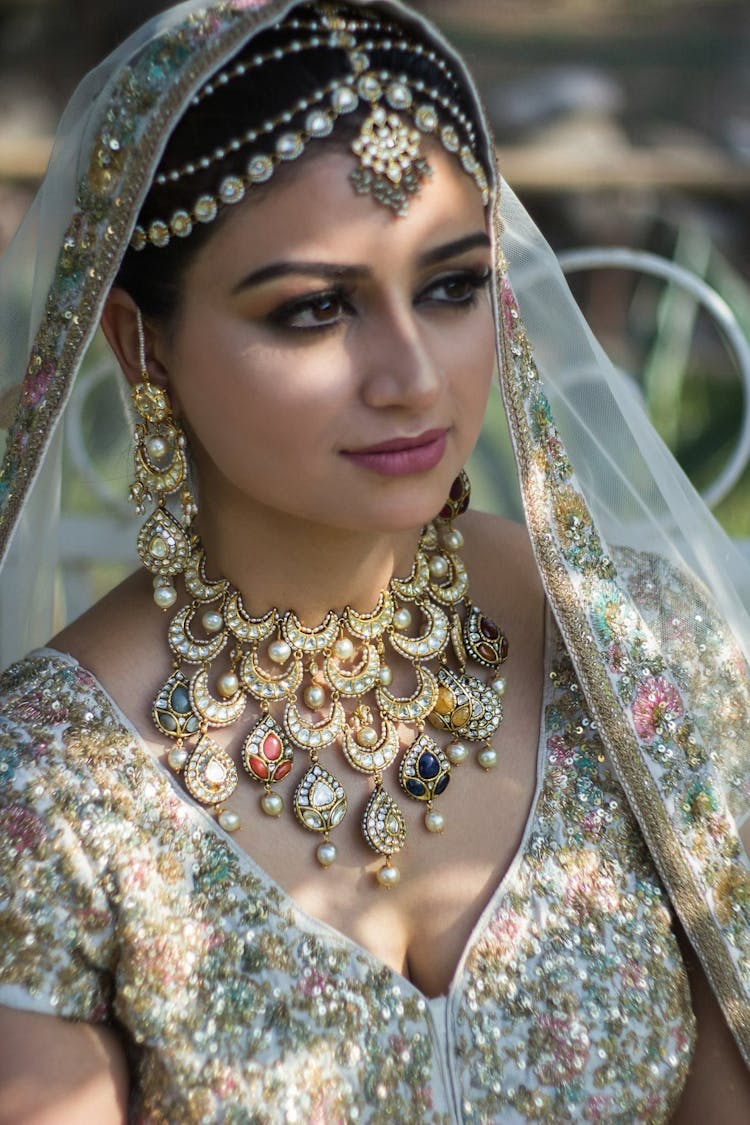 Must Read: Top 10 Bengali Mehndi Design Ideas - Rig Photography
4. Marvelous Collection Of Diamond Jewelry
This Haldi ceremony jewelry set made of precious stones and pearls are the dream jewelry for any Indian bride. A jewelry set adorned with diamonds and pearls can provide you with all the attention in your Haldi event and make you feel like a celebrity on your big day. We all know the beauty of these priceless gems. Capture this timeless piece of jewelry in a beautiful memory of your pre-wedding ceremony by hiring the best wedding photographers in Kolkata.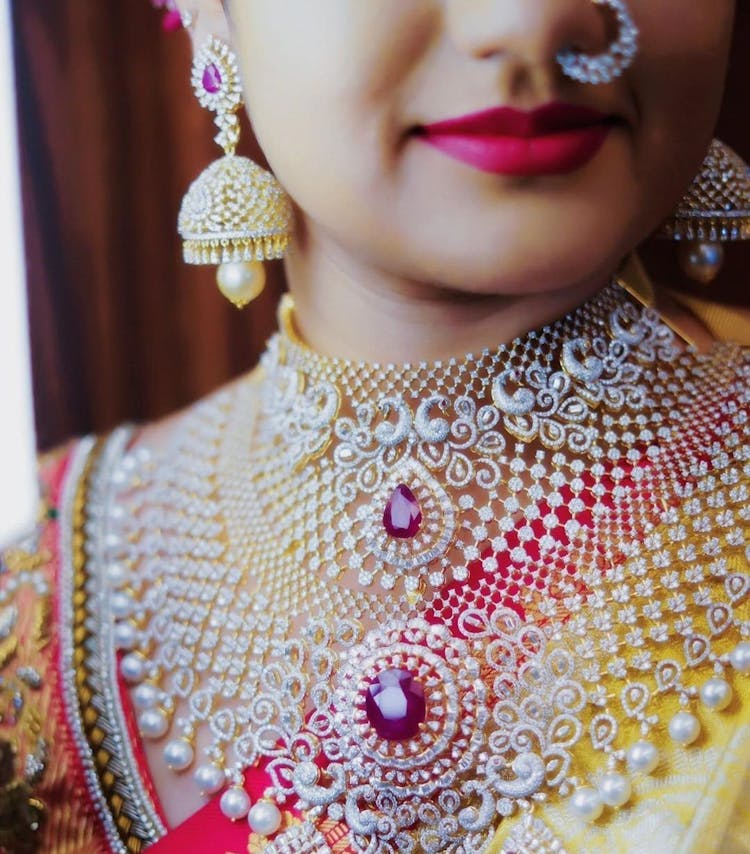 5. The Divine Charm Of Gold Jewelry
Bengali brides never miss any chance to flaunt their charm by wearing gold jewelry. Gold jewelry is the best bridal jewellery designs that can enhance your bridal glow. The elegance of the shining gold set on a haldi bride makes the perfect match with your yellow outfit. The shining elements of gold jewelry offer you a dramatic wedding photo.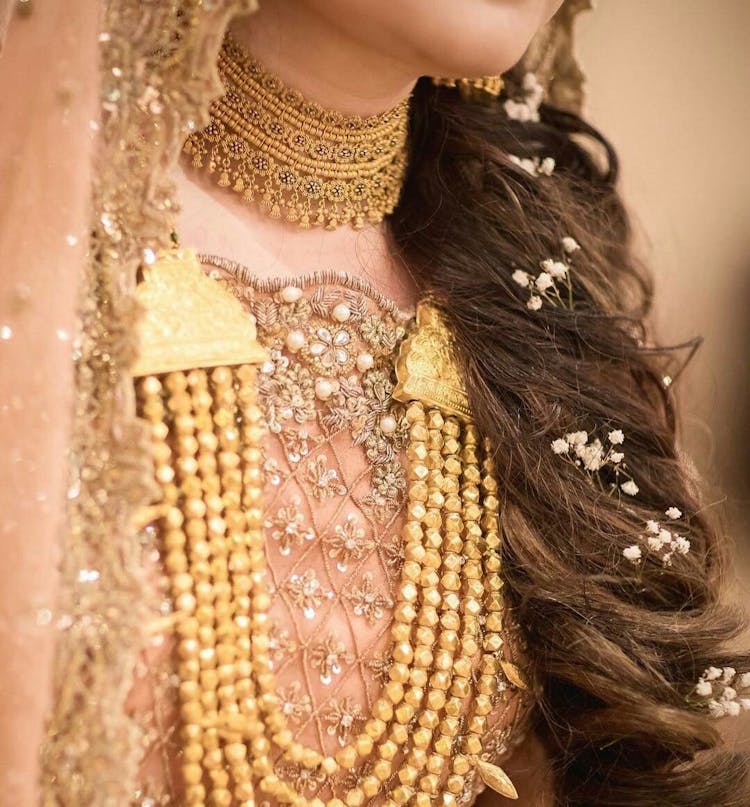 Some Popular Floral Jewelry Designs That You Must Definitely Try
6. Spectacular Floral Maang Tika
Ditch that traditional maang tika to adorn your forehead with fresh and fragrant floral maang tika or matha Patti. This haldi ceremony flower jewellery can add extra glam to your entire bridal look. The beautiful combination of petals and beads in maang tika is an unusual choice for the Haldi event.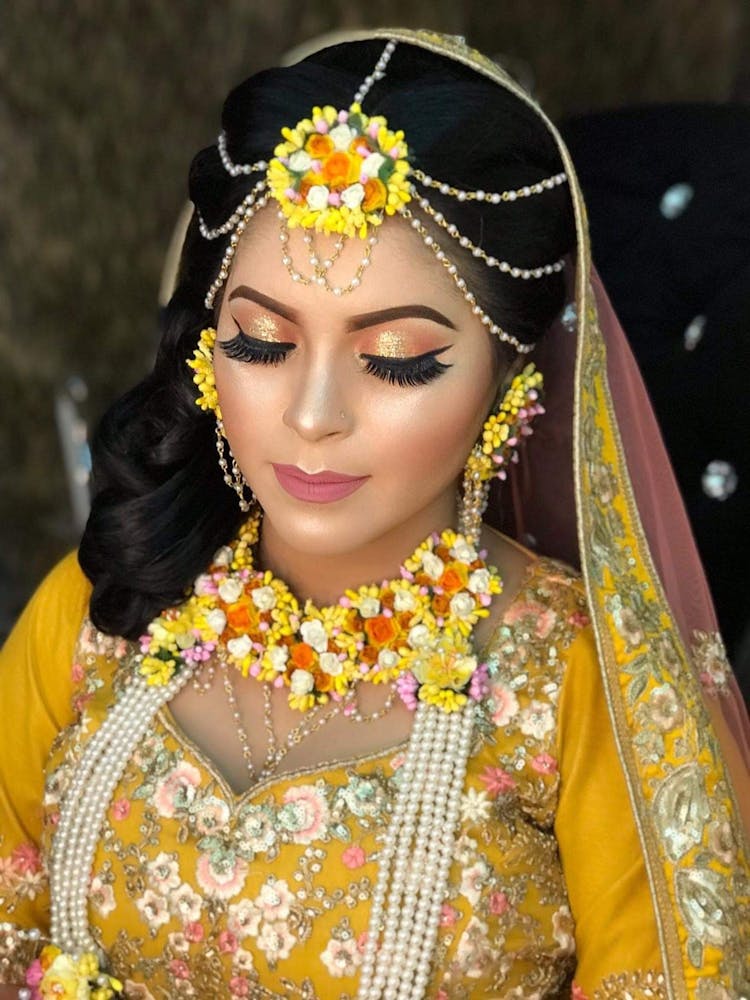 7. Exceptional Beauty Of Floral Nose Rings
The floral nose ring is an amazing ornament in haldi ceremony jewellery set. These beautiful floral nose rings look pretty awesome on would-be-bride. Floral nath made of colorful beads and fresh flowers is a great way to adorn your face.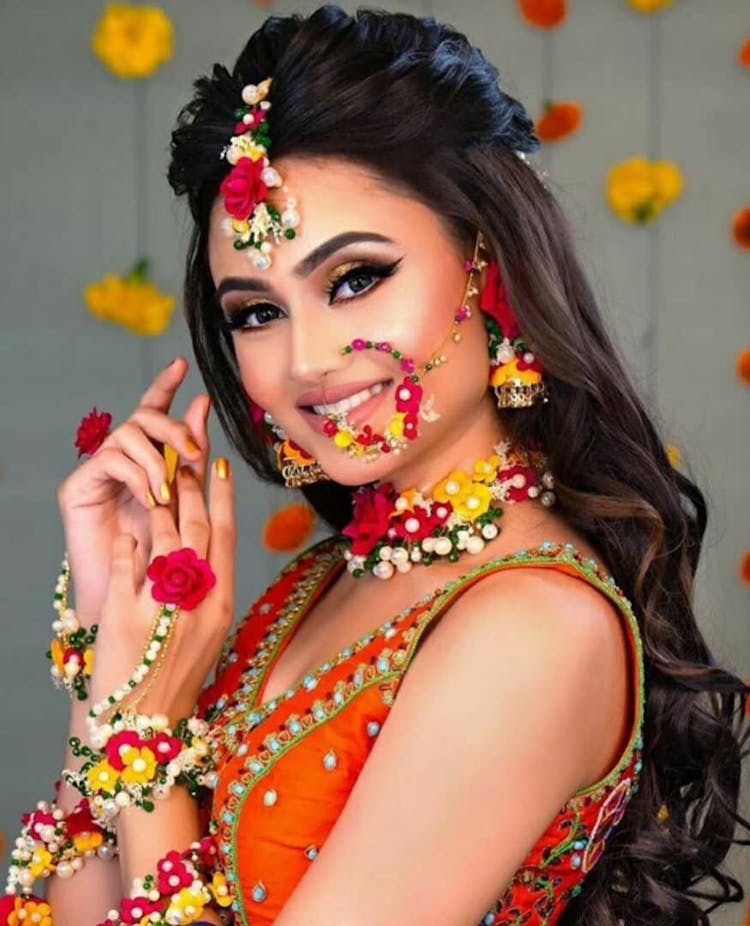 8. Gorgeous Chandbali
The bride here has worn an amazing pair of floral jhumkas or chandbali. The stunning design of jhumkas and vibrant hues are contrasting her Haldi ceremony lehenga. The vibrant colors of this eye-catchy earring is enhancing her bridal glow. The delicate floral jhumkas dangling from your ears provide a colorful appearance to your wedding look.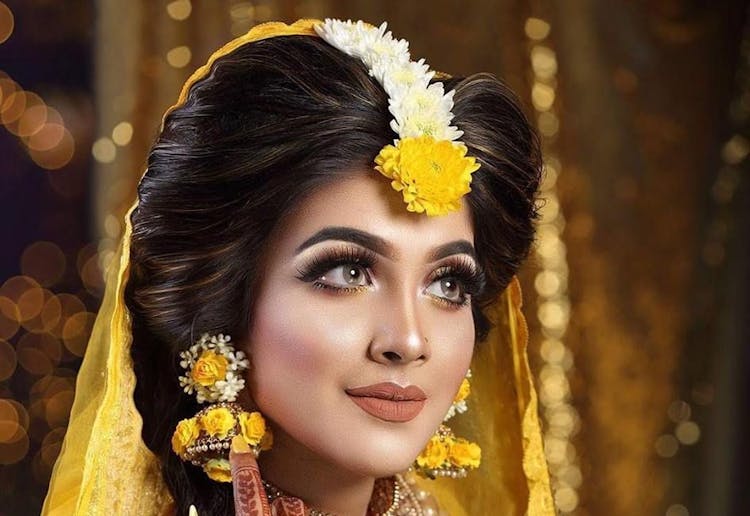 9. Charming Floral Dupatta
The floral dupatta is considered as one of the best haldi jewellery for modern brides that are going to provide you with an outstanding look. We have seen many brides opting for this unconventional and marvelous floral dupatta. This beautiful bride has opted for a phenomenal dupatta made of mogra and rose flowers. The mesh design of this gorgeous floral dupatta is a true example of eternal beauty.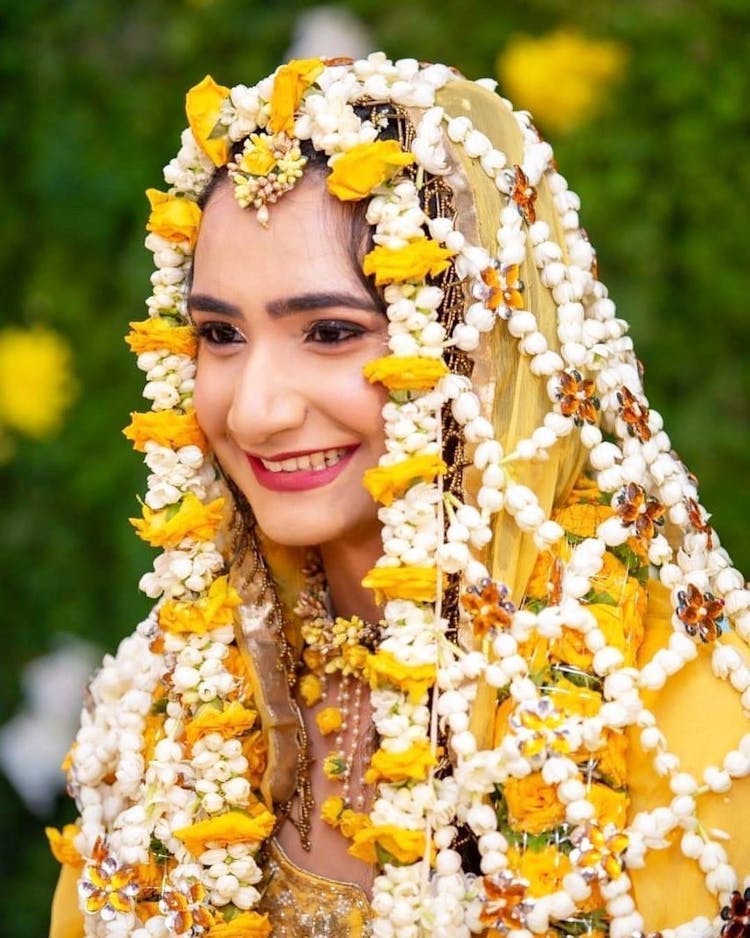 10. Adorable Floral Haathphool
We are truly loving this beautiful wedding haldi jewellery design worn by this gorgeous bride. The adorable combination of baby pink and yellow floral haath phool looks pretty nice on a yellow or pink shade lehenga. This super gorgeous haath phool is available in a variety of vibrant color and designs. The flower-decorated bangles attached with a pearled chain to the finger ring are meant for the most beautiful wedding picture.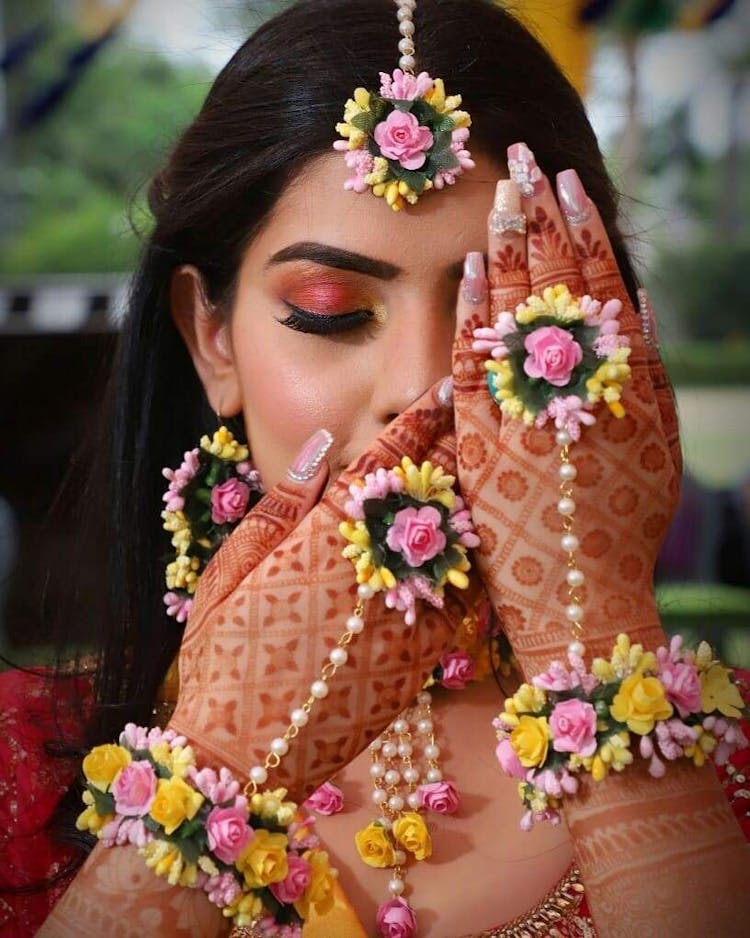 11. Delicate Floral Anklet
This wedding season accessorize your beautiful feet with the floral anklet. Floral anklets are the most trending haldi ceremony jewellery for bride. These delicate and lovely anklets provide your feet with enchanting beauty. Adorned with flowers and beads these floral anklets are a great way to steal the show. You can opt for beautiful anklets made of roses, jasmine or even choose an artificial floral anklet.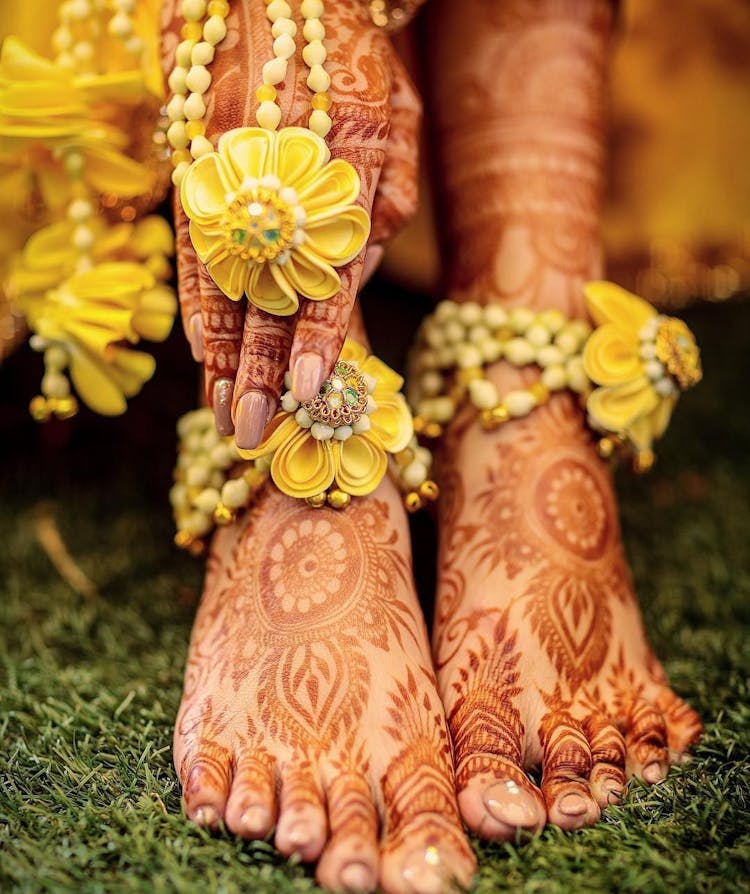 Hope you love these trending bridal haldi jewellery ideas and have bookmarked the best one for your special day. Looking for a professional photographer who can make your haldi look one of the most beautiful moments of your wedding? Then visit our website to check our recent projects which have been quite popular among new wed couples.