13 Latest Bridal Hairstyle For Mehendi Ceremony
Need some inspiration for a bridal hairstyle? Here is a list explaining the best mehendi hairstyle for bride to help you be a glamorous bride.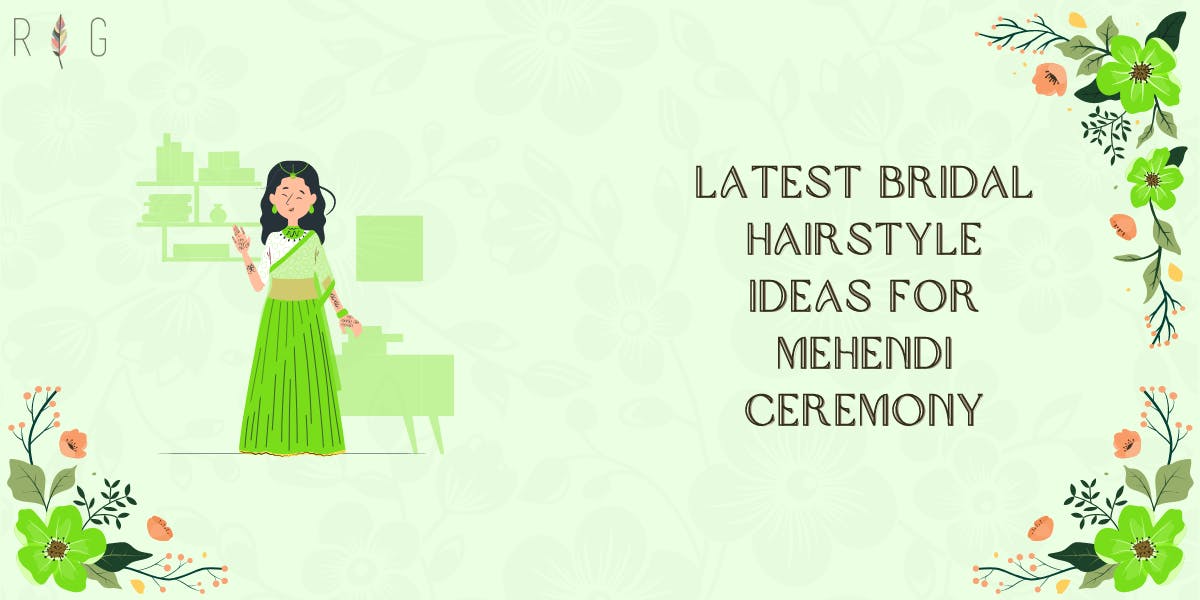 There are many ways to style a bridal hairstyle. It all depends on the type of wedding event you are planning. A perfect hairstyle can make or break your bridal look. Nowadays, brides have become more confident and bold. They are no more afraid to take risks to get a unique and glamorous look. A lively event like the Mehendi ceremony is popular for the drop-dead gorgeous look of the brides. You must leave no chance to preserve the memories of such a joyful wedding celebration. Look for the best wedding photographer in kolkata who can capture your beauty along with the festivity in wedding frames. When choosing a bridal hairstyle for Mehendi, think about the styling options. Whether you want a short and modish hairstyle or a simple and elegant one. Each hairstyle gives you a unique look. But you must always pick the hairstyle that suits your face type and bridal look.
We have curated below a list of trending mehendi hairstyle for bride that can take your wedding look a notch higher. So, keep reading this hairstyle guide till the end to save your dream Mehendi hairstyle.
1. Most Simple & Elegant Open Hairstyle For Bride
An open hairstyle can make you look beautiful at your Mehendi ceremony. This is the easiest hairstyle that can save you from spending long hours on hairstyling. An open hairstyle lets you flaunt your dresses in the best possible ways. It grabs much attention when paired with a stunning floral maang tika.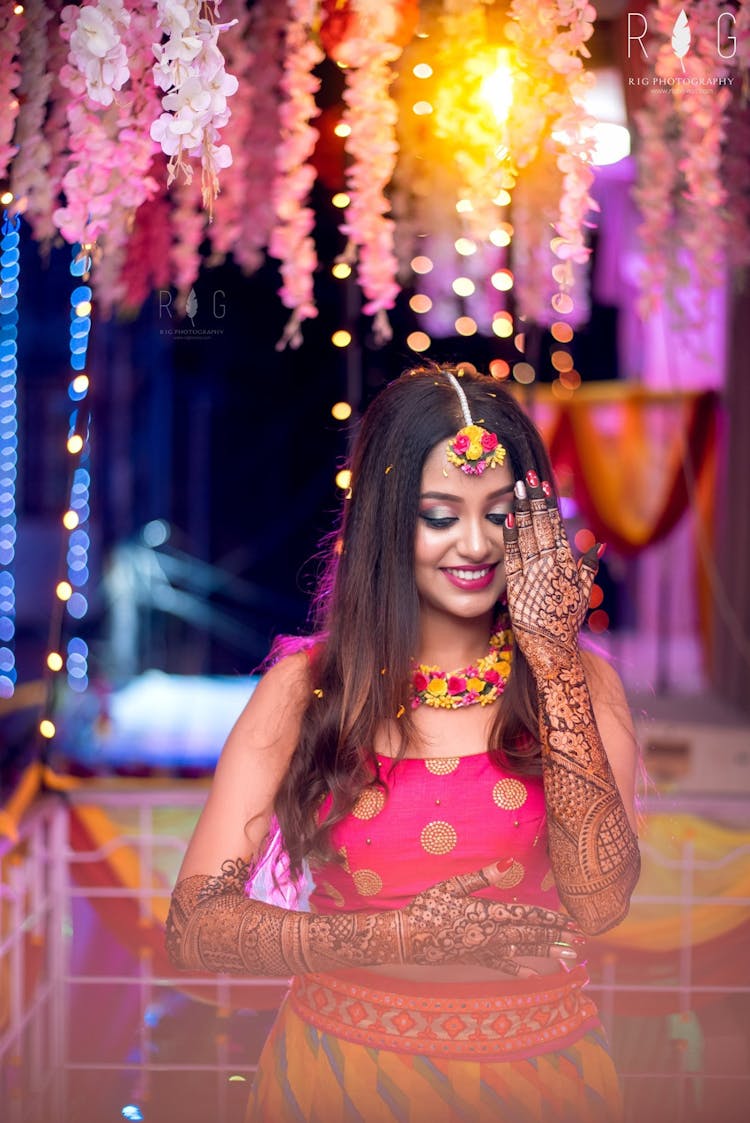 Recommended: 11 Beautiful Jewellery Ideas That Are Perfect For Mehndi Ceremony
2. A Floral Bun In The Retro Style
The eye-pleasing charm of floral buns has always caught our attention. You can take the hairstyle game a notch above by tying your hair into a retro-style bun. This gorgeous bride has chosen white roses to adorn her stylish hair bun. A dramatic bridal pose captured by kolkata wedding photographer is speaking volumes about her bridal charm.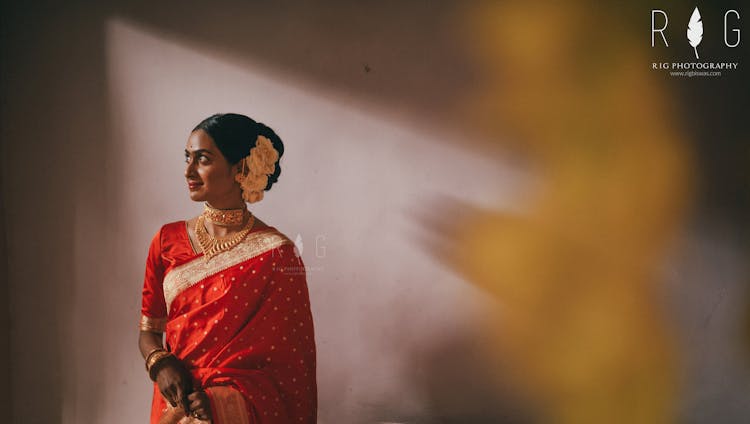 Must Read: Trending Bridal Mehendi Poses To Try For Future Brides!
3. Addition Of Blooming Flowers In Voluminous Braid
Romantic voluminous braid is the pride of a breathtaking bridal look. Our lovely bride has styled her hair into a voluminous braid. She has further enhanced her Mehendi look by adding some fresh flowers to her gorgeous braid. The mesmerizing combinations of pink and white flowers are complimenting her bridal lehenga.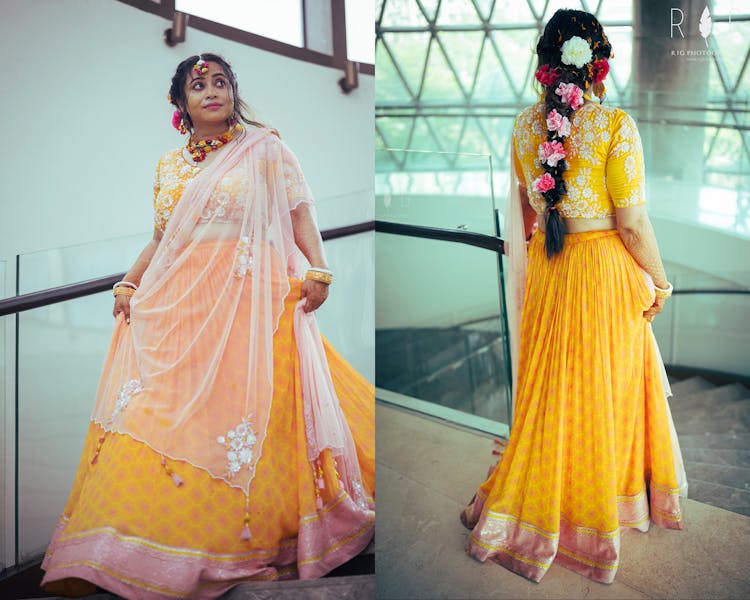 4. Fish Tail Braid With Floral Tiara
This is one of the most alluring mehndi hairstyles with flowers. A voguish fishtail braid is a fuss-free hairstyle that can turn you into a beautiful princess. This bride has tied her hair in an enchanting fishtail braid. Her beautiful floral tiara is adding a wow appeal to her Mehendi look. Her beautiful smile and stunning mehndi design have brought life into this still image.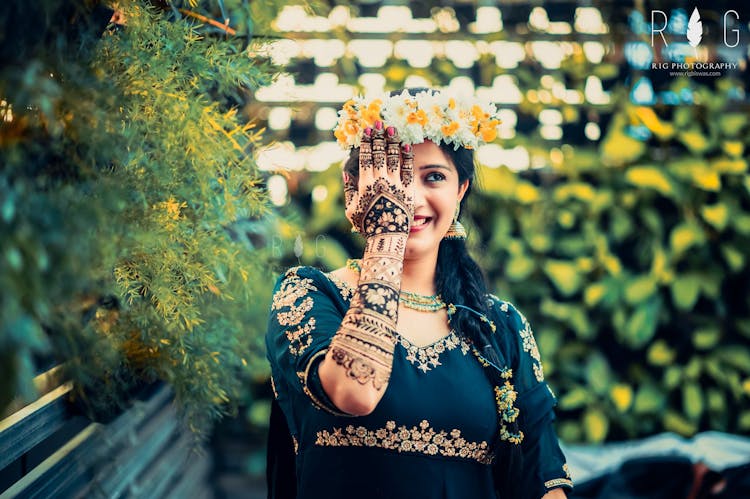 5. A Neat Mehendi Hairstyle For Bride For A Simple Approach
An elegant bridal bun is the most conventional hairstyle with a simple approach. This bride has balanced her simple look by tying her hair into a neat hair bun. Her simplicity and beautiful smile is the major highlight of her Mehendi picture.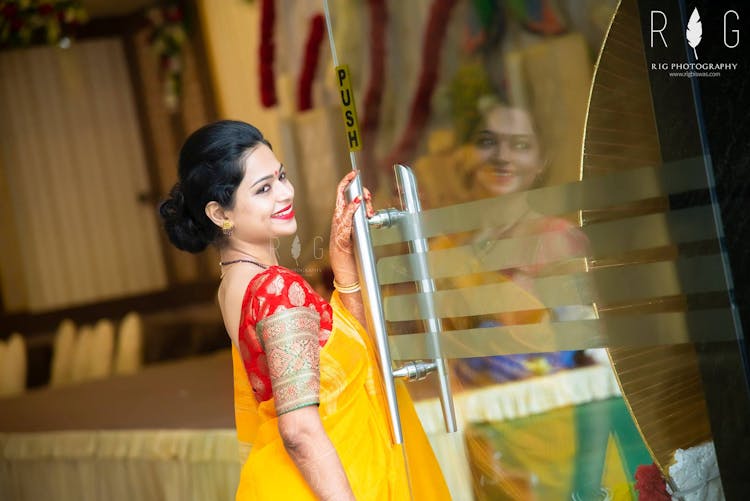 6. Gorgeous Crown Braid With Tiny Hair Accessory
The Crown braid is the perfect mehndi hairstyles for long hair. This gorgeous crown braid with white and blue hair accessory looks appealing to the eyes. This pretty hairstyle is the perfect match for an evening gown or designer lehenga.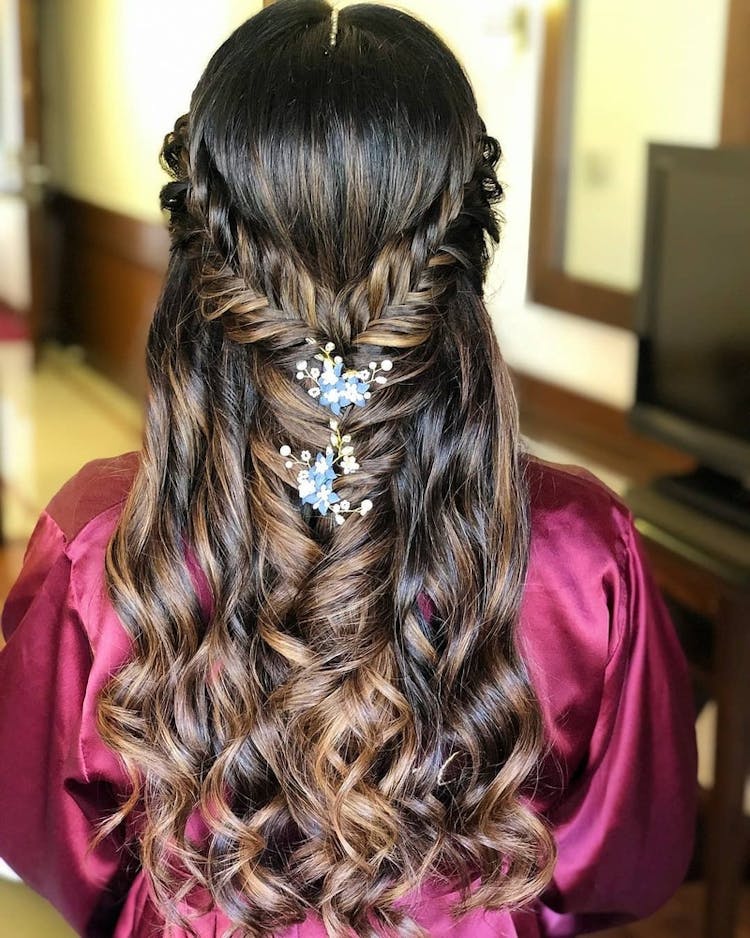 7. A Breathtaking Voluminous Bun With Roses
Get ready to witness one of the most glamorous bridal hairstyles for the mehndi ceremony. This wonderful blend of the voluminous and messy bun is a fantastic job done by a modern hairstylist. Ur pretty bride has adorned her voluminous bun with red roses to amp up her bridal look. You can wear large earrings with this hair bun to give your hair the royal treatment it deserves.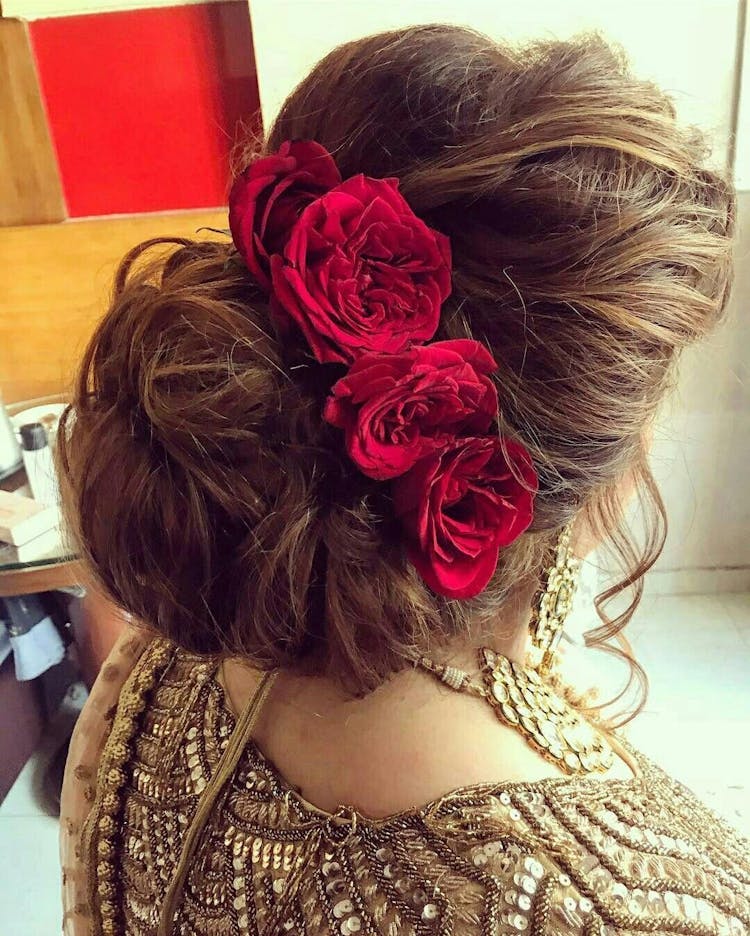 8. An Attractive Open Hairstyle With Twisted Braid
What can be a better option than a stylish open hairstyle to complement your lehenga? This half-tied mehndi hairstyle with matha patti looks gorgeous with a floral accessory. This bride has opted for a crisscross braid to create a stylish open hairstyle. To add beauty to her hair, she used artificial flower studs.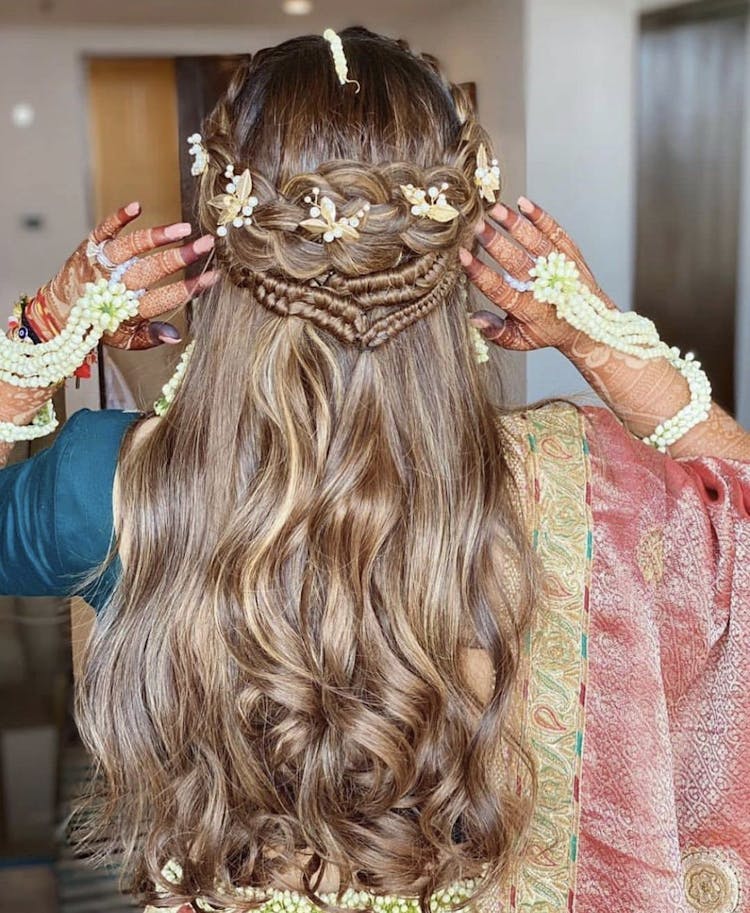 9. A Super Glamorous Mehendi Hairstyle For Bride
The mesmerizing beauty of this appealing hair bun is sure to win millions of hearts. The beautiful swirls and waves of this bridal bun is creating a splendid hairstyle. The beauty of such an eye-pleasing hair bun becomes more by adding a floral wreath to it. This picture-perfect bridal hairdo will give you a classy and enticing appeal.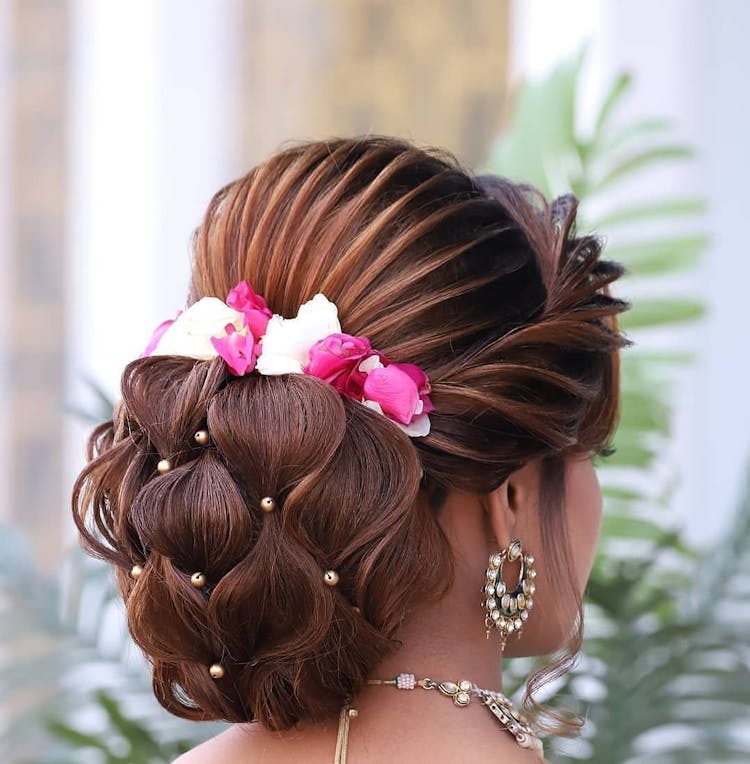 10. Classy Hair Bun With Swirly Roses
It's time to pin your beautiful locks into a rosette bun. This braided bun hairstyle is perfect for a vibrant event like the mehndi ceremony. You can add tiny flowers into this modish hair bun for a whimsical look. This elegant hair bun can complement all ethnic and Indo-Western looks.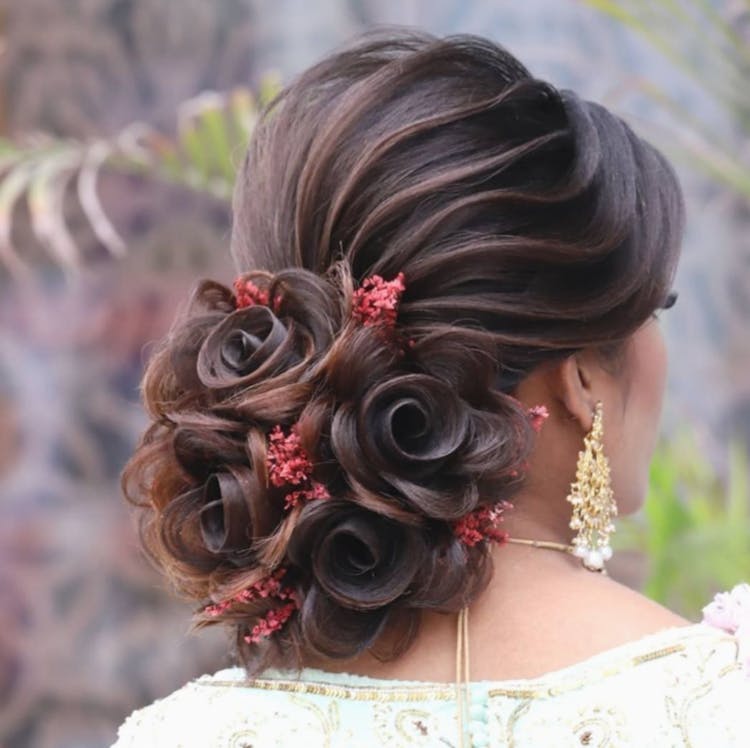 11. A Beautiful Puffed Hairbun With An Overdose Of Fresh Blooms
A puffed hair bun always looks magnificent with a designer saree or an ethnic lehenga. This is a perfect mehndi hairstyle for short hair. You can wrap your bun with a floral bouquet for a mesmerizing bridal hairstyle. This classy hairstyle will make you a standout amongst the crowd.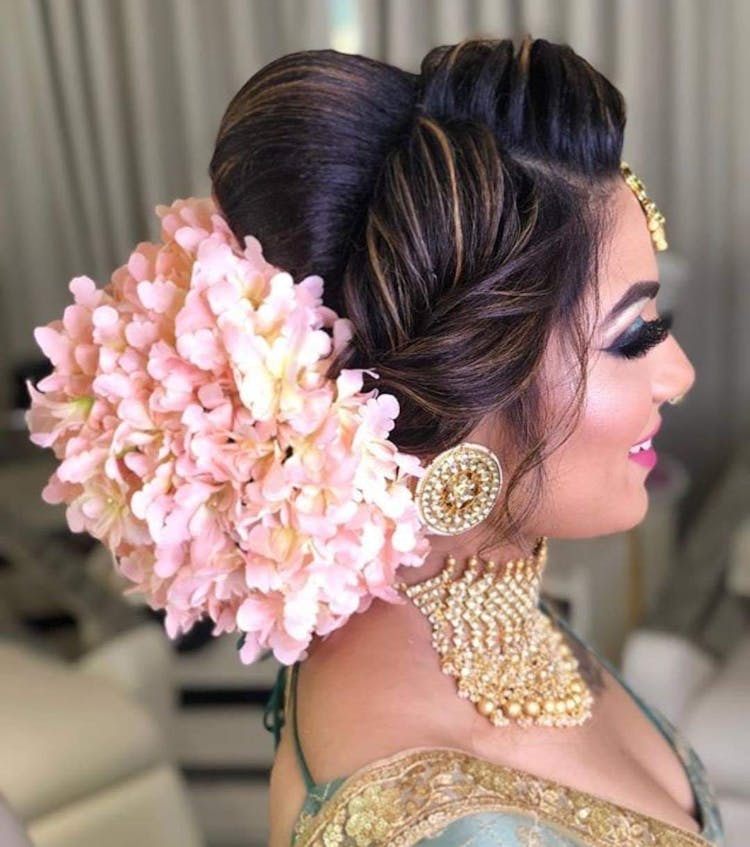 12. An Appealing Low Pony Tail For Long Hairs
A low ponytail is an extraordinary choice for your Mehendi ceremony hairdo. This hairstyle looks even more glamorous with a bridal gown or Anarkali. The voluminous curls of this stylish hairdo can turn you into a super chick bride.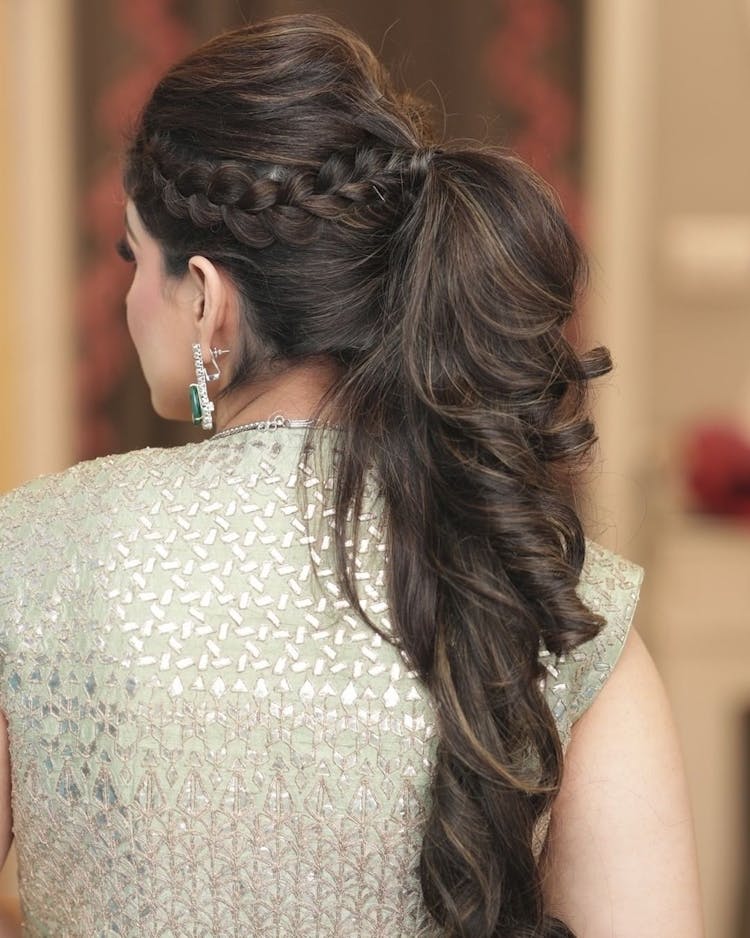 13. Stunning High Pony Tail with Hair Accessory
A high ponytail is another stunning bridal hairdo. It is perfect for super fashionable brides. It's adding extra volume to your mehndi look. Accessorize this voluminous ponytail with stunning hair accessories to be a trend-setter bride.