Top 15 Fashionable Bengali Groom Dress Ideas For Reception Ceremony
If you are wondering about your fashion goals for the reception party then scroll down to read about the latest Bengali groom dress for reception.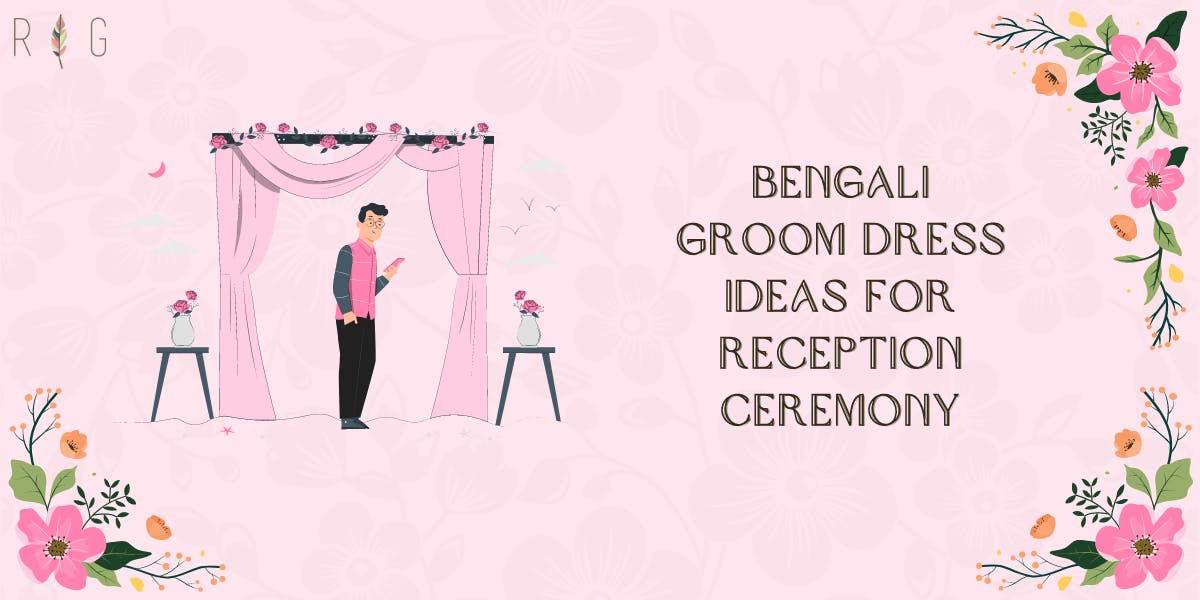 The wedding season has already arrived. Everyone gets busy with their wedding plans which begin with deciding a good venue, wedding décor, and most important is the wedding attire. Are you also one of them who think that wedding outfits are only meant for brides and only brides can grab all the attention by their wedding look?
Well, if you think so you are probably going on the wrong track. Gone are those days when people invited to a wedding only look and talk about a bride's wedding attire.  Nowadays, grooms are also taking their grooming and outfit seriously. It's high time to follow the latest trend and plan a stunning fashionable look not only for the wedding but also for your reception night. You might have seen many celebrities wearing fashionable outfits to be the center of attraction in their receptions.
So here are some awesome bengali groom dress ideas from the best wedding photographer in Kolkata
Fashionable outfits of Bengali Groom for Reception
1. The Stylish Bandhgala Suit
Every man looks outstanding in a Galabandh sit. It is a jodhpuri suit, which is a kind of formal cum traditional wearing. The Bandhgala suits belong to the Jodhpur Rajgharanas. Thus, it is a perfect example of royal fashion. Yet, this ethnic wear basically focuses on the formal style but currently, these royal suits also come in fancy design. These Bandhgala suits are available in various colors and designs. And, when this royal suit is worn by a would-be – groom it will definitely provide a Maharaja kind of feeling.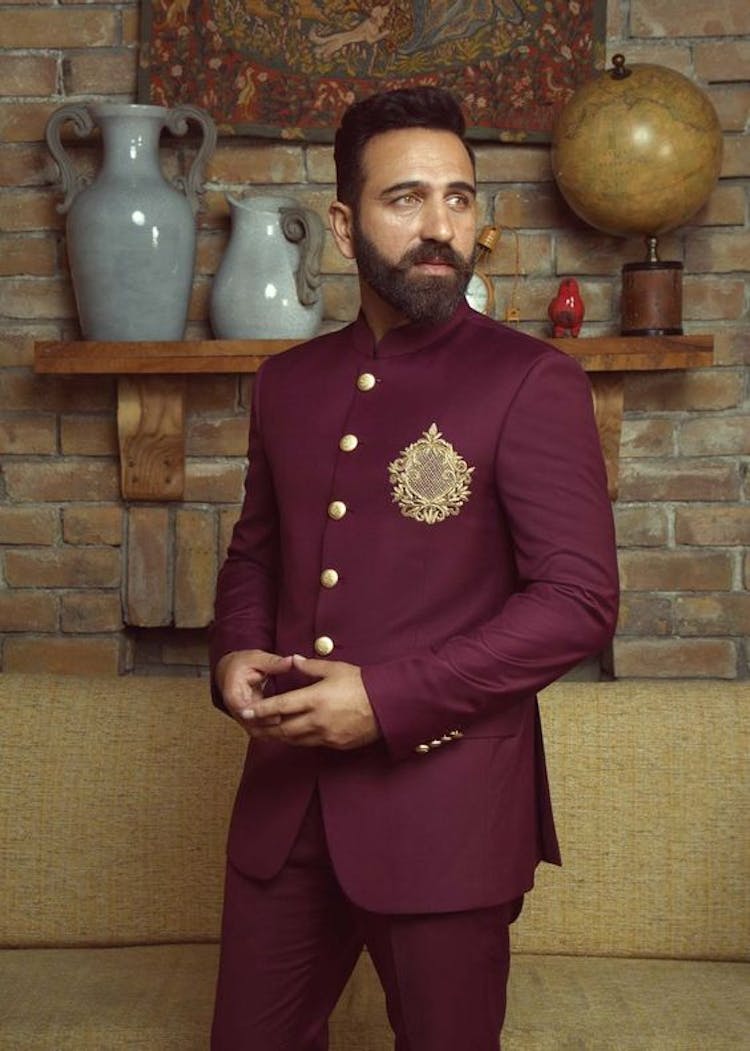 Must Read: Top 10 Bengali Mehndi Design Ideas
2. The Traditional Angrakha
Are you looking for a sophisticated style of wearing for your reception ceremony? Angrakha is a classic example of a sophisticated and traditional outfit. It is worn by the men of ancient India. Today this traditional outfit is enhanced by providing it a modernized look. The modern Angrakha is a perfect example of Indo-western fusion. You can wear this with a beige churidar to get a dazzling look. This is going to be an amazing reception look for a Bengali groom.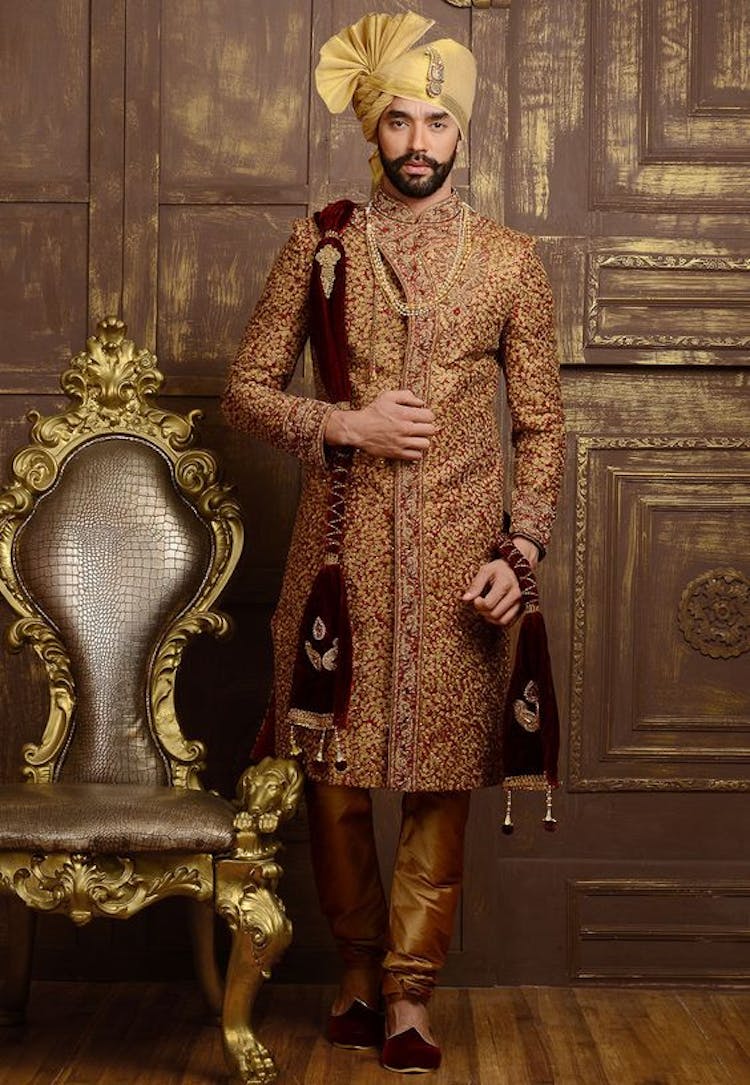 Recommended: 15 Breathtaking Haldi Ceremony Dress Ideas For Brides In 2022
3. Mesmerizing Maroon Kurta With Creamish Dhoti
Dhoti kurta is the traditional Bengali groom dress for reception whether it's a Bengali wedding or a reception ceremony most of the grooms prefer to follow the customs and wear this traditional outfit. The combination of silk maroon kurta with a creamish dhoti set the perfect tone for a wedding party.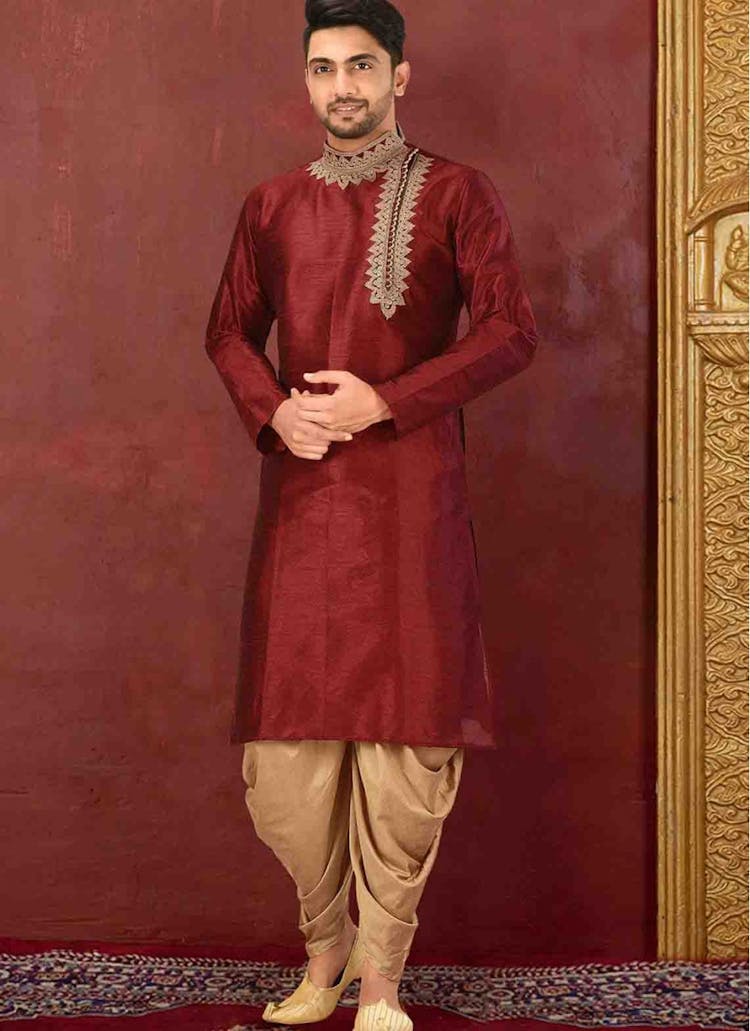 4. Midnight Blue Embroidered Silk Kurta
This is one of the best and breath-taking reception outfits for groom. The shiny and silky blue kurta embroidered and enhanced with stone and beads work looks amazing and provides the groom a presentable look. You can pair it with a beige churidar and dupatta of white color to bring a classy touch.
5. Metallic Silk Kurta With Maroon Nehru Jacket
If you are looking for a simple and stylish look then wearing a Nehru jacket over a kurta is a great outfit idea. You can wear this stylish metallic kurta with linen pants also. This glamorous outfit will be the show stopper of the event.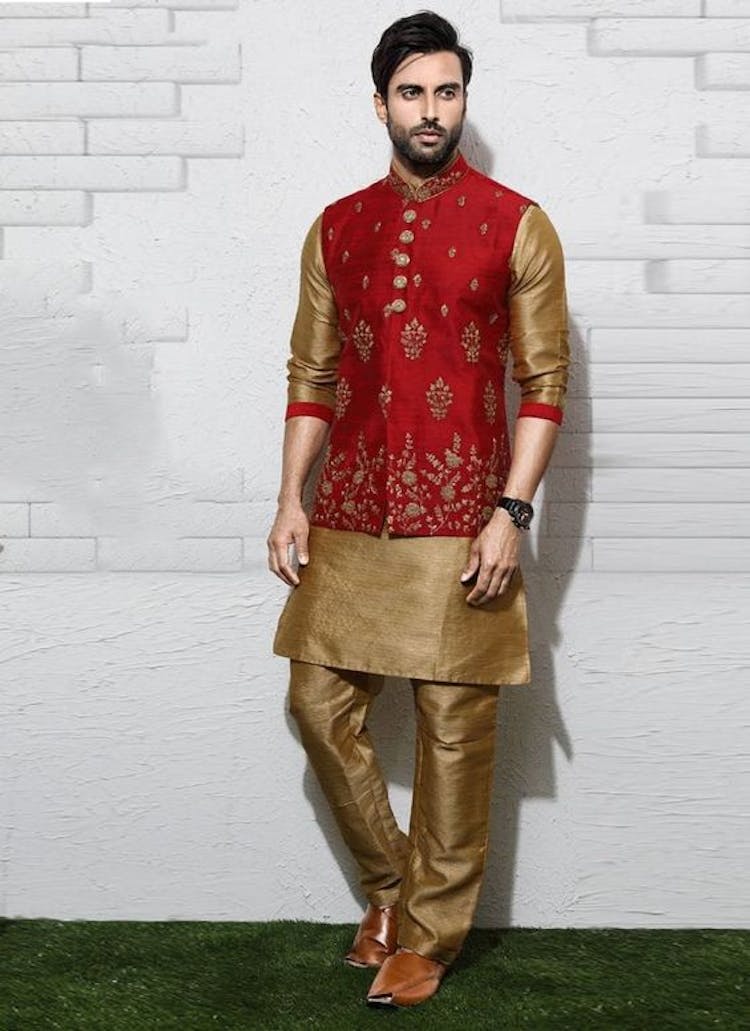 6. The Charming And Elegant Tuxedos
Follow the latest trend and get the tag of "Most stylish" with wine-colored tuxes. It is the most popular reception outfit idea trending these days. A groom dressed in wine-colored tuxes looks absolutely stunning and charms everyone with his wedding look.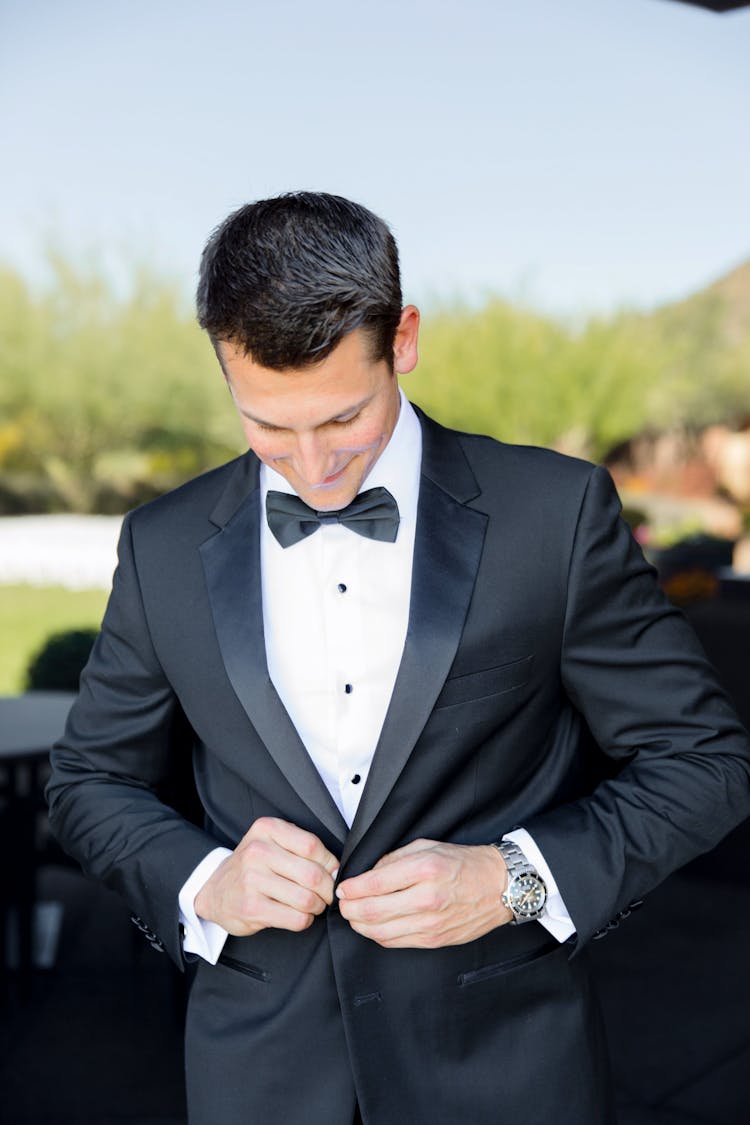 7. The Magic Of Off White And Sky Blue Sherwani
Sherwani is an ethnic outfit made especially for Indian weddings. It offers a captivating look when worn by a newly wedded groom. The elegant combo of off-white and sky blue sherwani for Bengali groom offers a more appealing look. You can take a sky blue embroidered dupatta to highlight the look. To do full justice to this beautiful attire, a groom can also wear pearl malas to add a regal touch.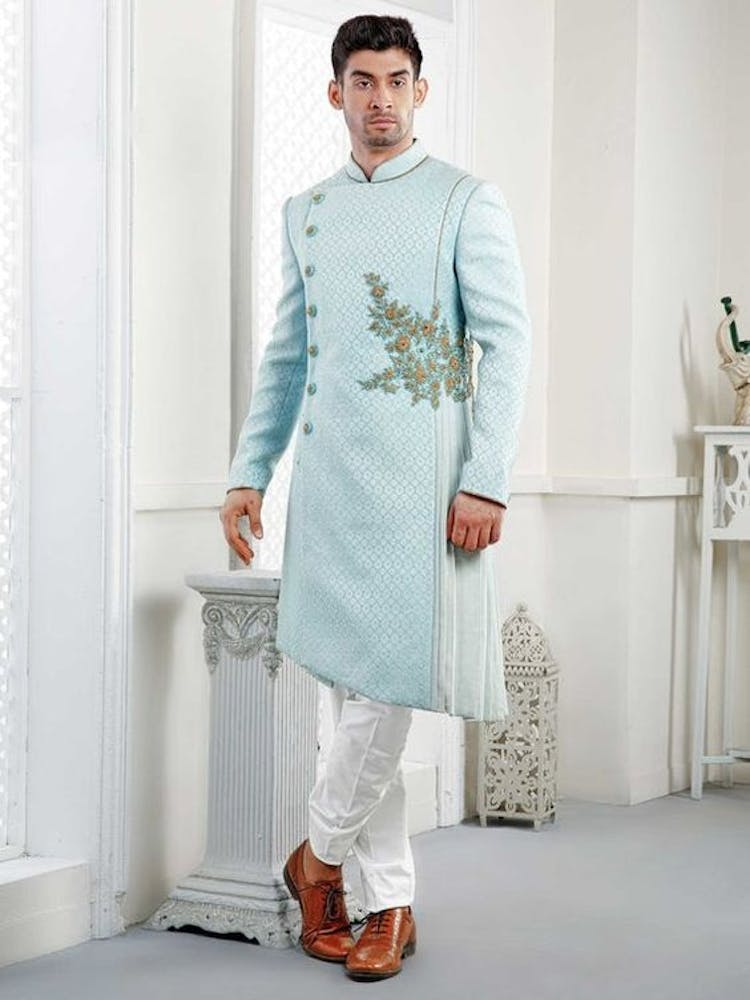 8. The Ethnic Dhoti Sherwani
Another reception wear for the groom is pair of dhoti and sherwani. A cream-colored sherwani paired with a red silk dhoti is an excellent combination for your reception ceremony. So, get ready to win back compliments after wearing this stylish outfit.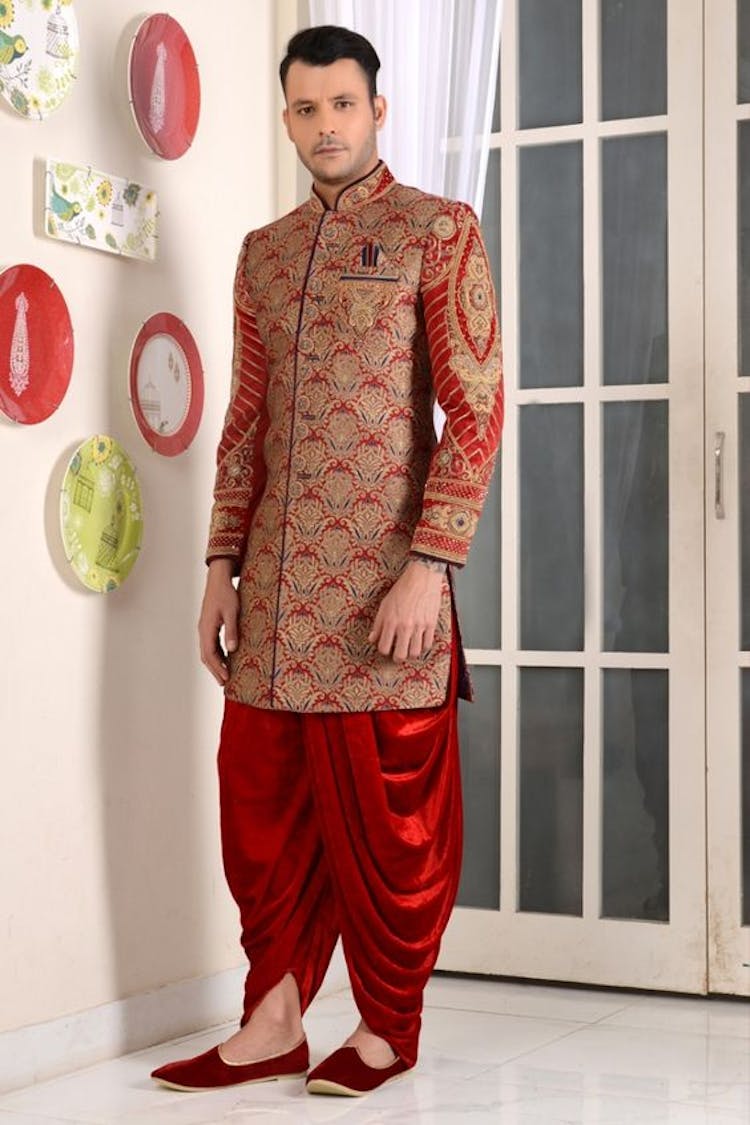 9. The Floral Print Sherwani
The floral print sherwani in royal blue color looks lovely. It looks more beautiful with blue or white color churidar. The floral pattern on the sherwani gives it a unique look and turns out as a great reception dress.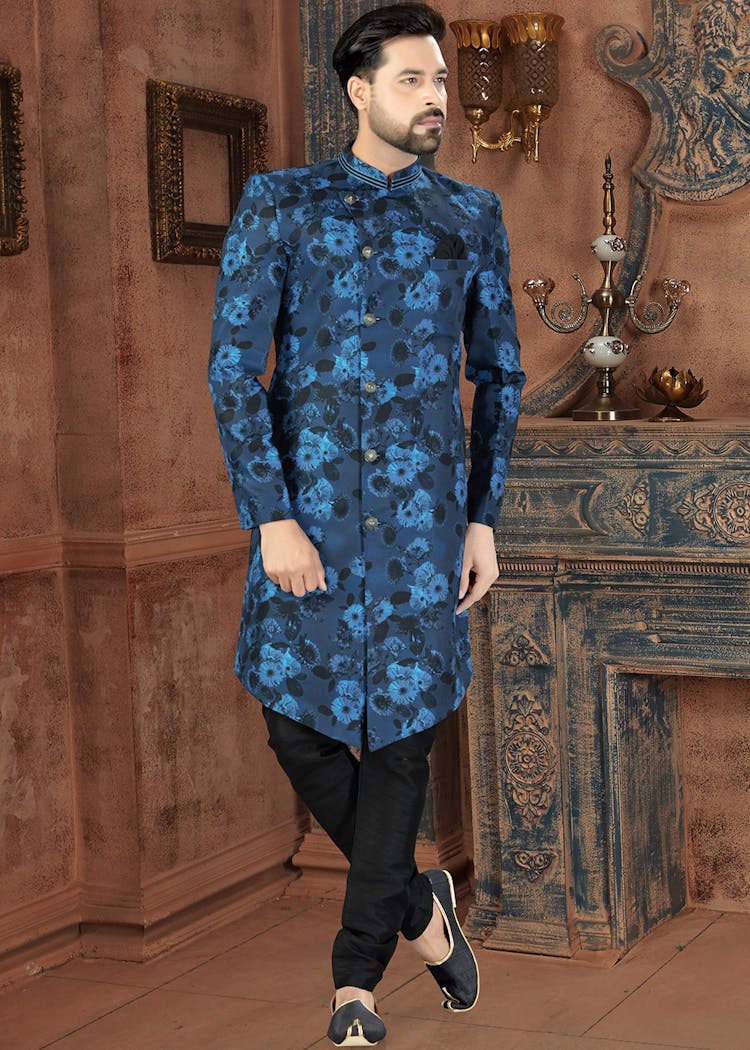 10. The Indo – Western Black Achkan
A black achkan with side buttons when paired with a white churidar and a polished leather shoe is going to provide a charming personality with a confident look. It is a very trendy groom outfit idea which is a brilliant example of an extreme Indo – western look.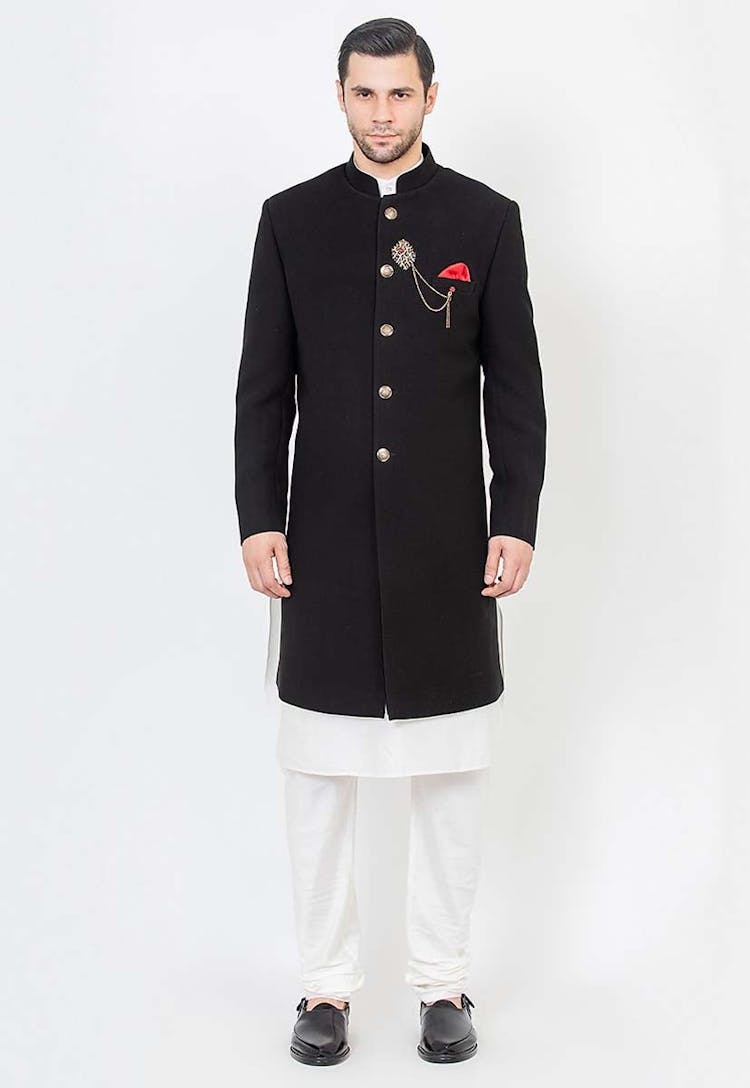 11. Velvet Jodhpuri Suit With White Pathani
One more black and white combination of reception suits for the groom which is a great outfit for men is black colored velvet galabandh and a white pathani. This Jodhpuri suit is a unique blend of two cultures- Indo Islamic. This color combination increases the appeal of the outfit.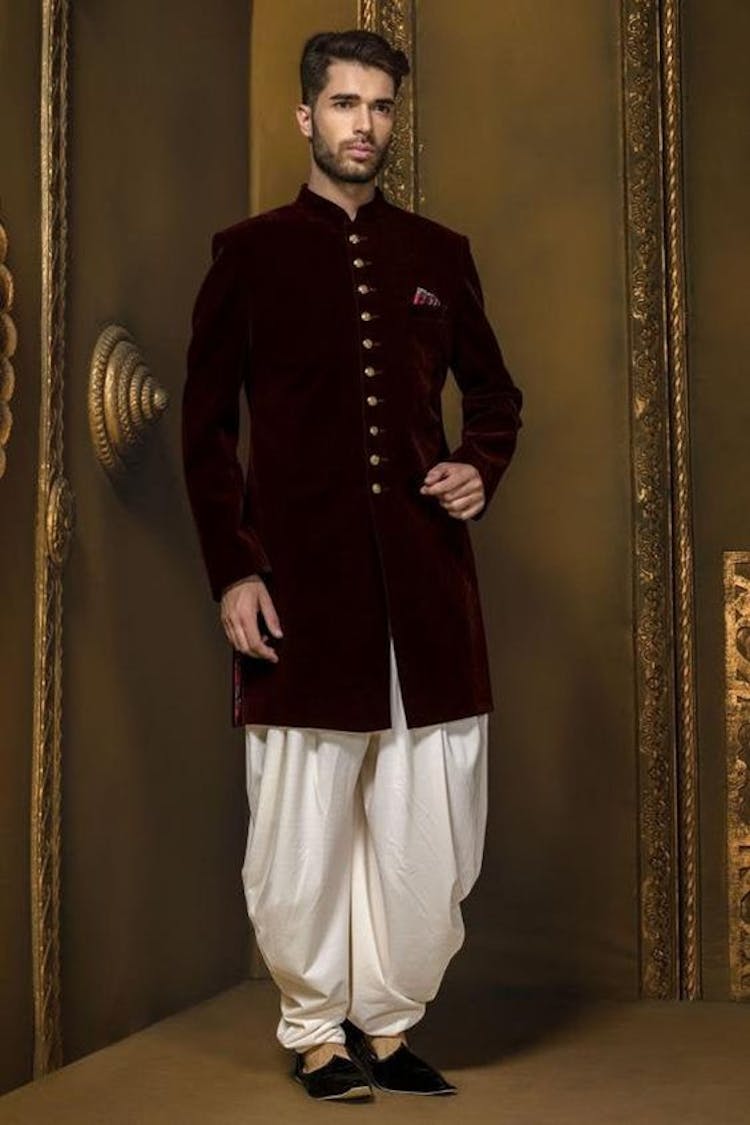 12. Glam Black Suit And White Shirt
One evergreen reception dress for men is a black suit and white shirt. This outfit is a classic example of elegance and style. Wearing this outfit with black leather shoes and a stylish watch is an excellent combination for your reception party.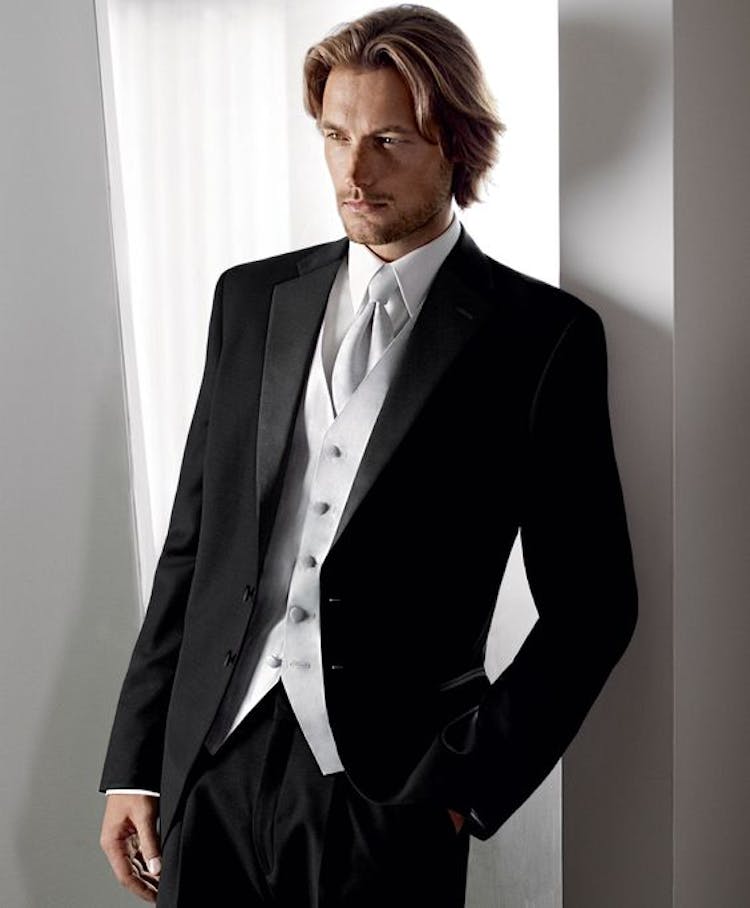 13. Intricate Pink Embroidered Sherwani
Most of the men think pink suits only on girls. But in reality, a light pink heavy embroidered sherwani with a contrasting shawl works well as a Bengali groom reception dress. To give it a better look you can wear it with a golden churidar and a pair of golden mojari.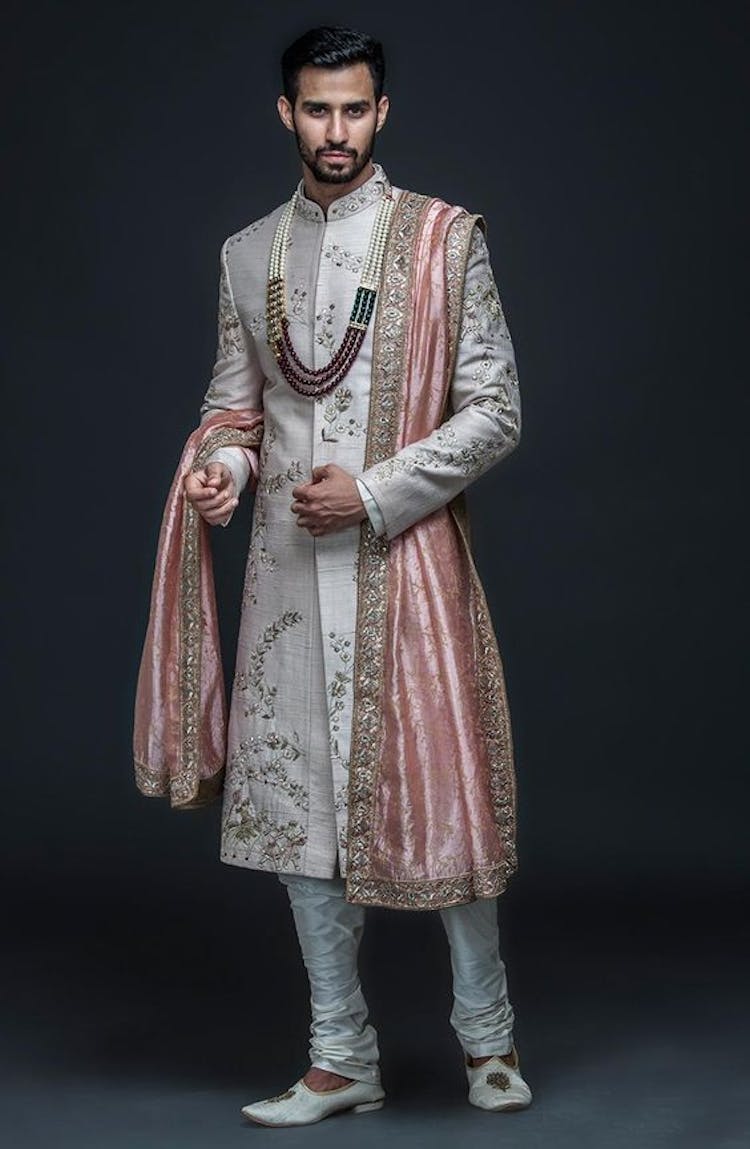 14. The Graceful White
Not only dark hues but lighter shades like white provide a stunning look and come out as a great Bengali groom dress. This classic look is going to be a great option for your reception ceremony.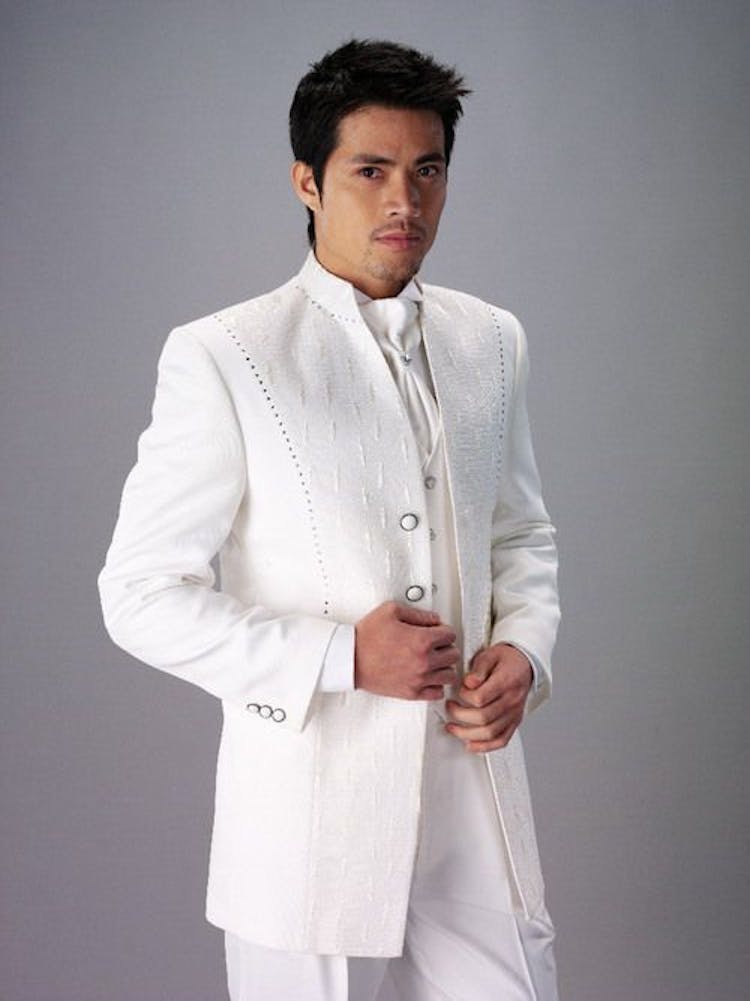 15. The Golden Black Sherwani Coats
The last groom outfit trending these days is the sherwani coat. A black sherwani coat having golden embroidery when worn with a golden dhoti or pathani steals the limelight of your reception ceremony.