15 Simple Cake Design Ideas For Engagement Ceremony
Celebrating engagement with a cake is a must. Read on to discover some simple engagement cake ideas to make your event a memorable one.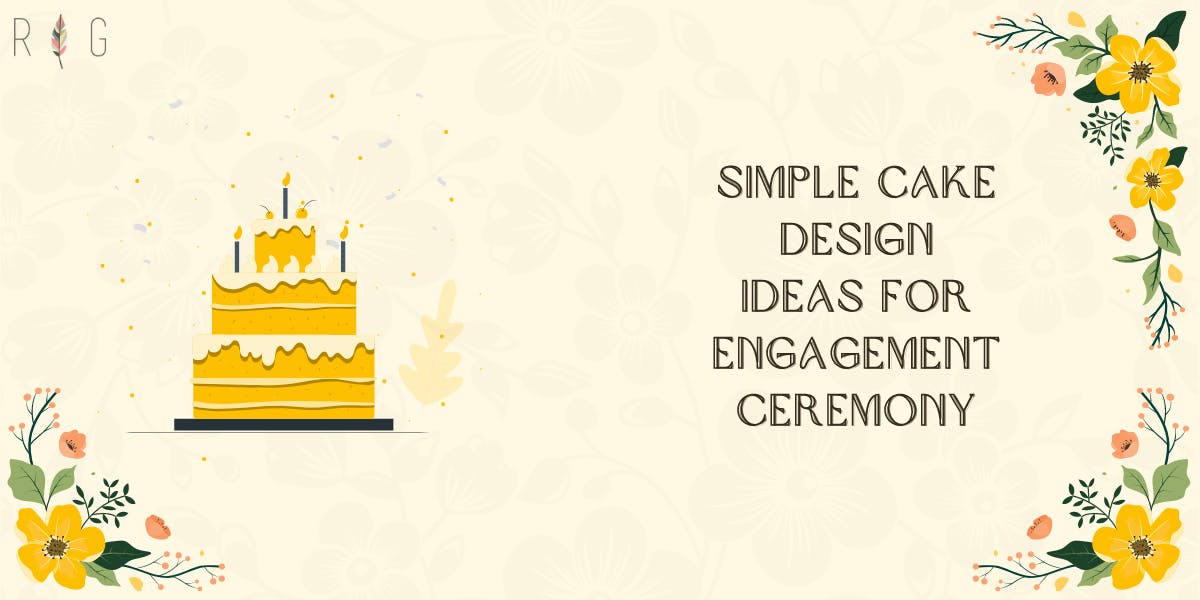 Engagement cakes not only look beautiful, but they are also symbolic. They are often used to celebrate the beginning of a new relationship. Celebrating a ring ceremony with a cake is a new wedding norm in India. Every engagement cake conveys a special message about your choice and personality. The sweet bite of a luscious cake melts in your mouth and brings happiness to your new journey in life. The design of an engagement cake should be a treat to both eyes and taste buds. It gets tough to decide on an ideal engagement cake out of thousands of cake designs and flavors.
Cutting a soft and delicious engagement cake has become a beautiful moment of pre wedding photography in kolkata. So, if you're one of those couples who want to add a royal touch to their engagement party. Take inspiration from these simple engagement cake ideas enlisted below.
1. Three-Tier Floral Cakes
A 3 tier engagement cake design is the most popular cake design in an engagement celebration. Clusters of roses on a three-tier cake transform it into a decorative masterpiece. Decorating your cake with pastel roses gives it a touch of a modish confectionary design.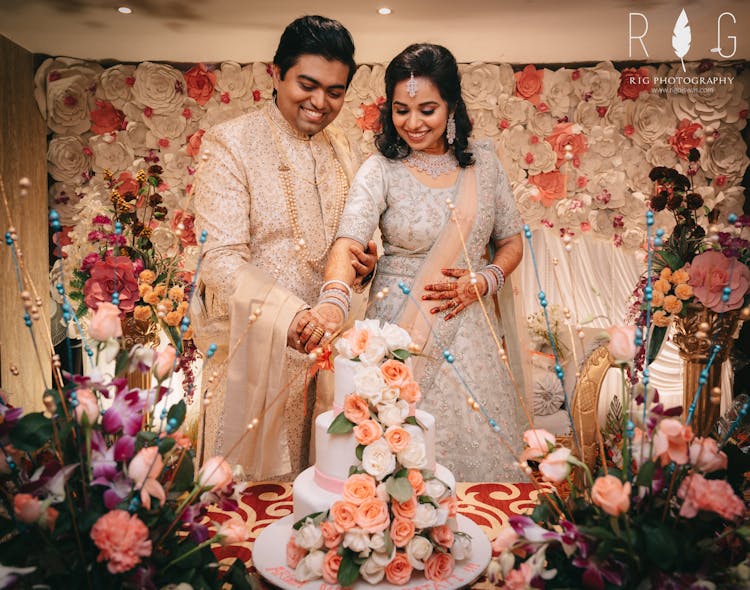 Recommended: The Complete Guide For Your Wedding Shopping In Kolkata
2. Elegant White Cakes
A pristine white engagement cake looks so beautiful. This is the most classic design that is perfect for a minimalistic couple. This simple engagement cake decoration has won our hearts. The charming roses and adorable couple doll on the top of the cake is adding a unique charm to this wonderful cake.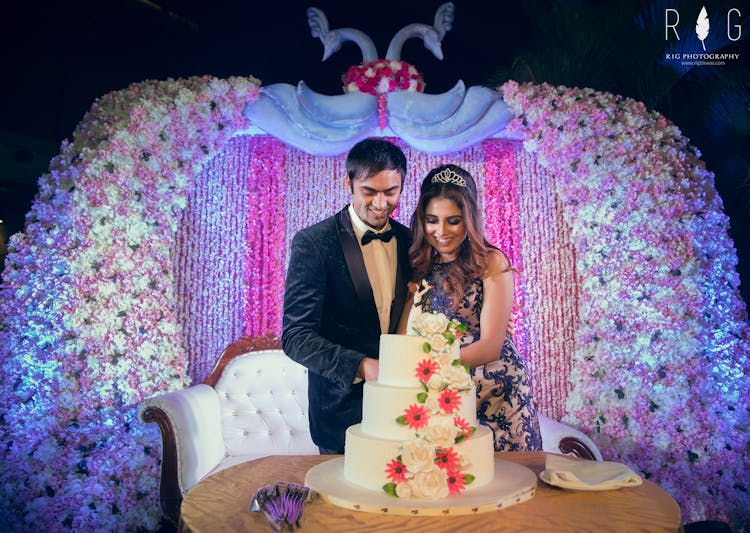 Also Check: Top 15 Popular Bridal Photoshoot Poses Ideas [2022]
3. Engagement Ring Cakes
Make your engagement day special with a ring engagement cake that tastes heavenly. The engagement cakes with ring are the right mix of beauty and deliciousness. A three-tier engagement cake decorated with dainty pearl and roses is a real treat for the eyes. The engagement cake topping is a cherry on the top.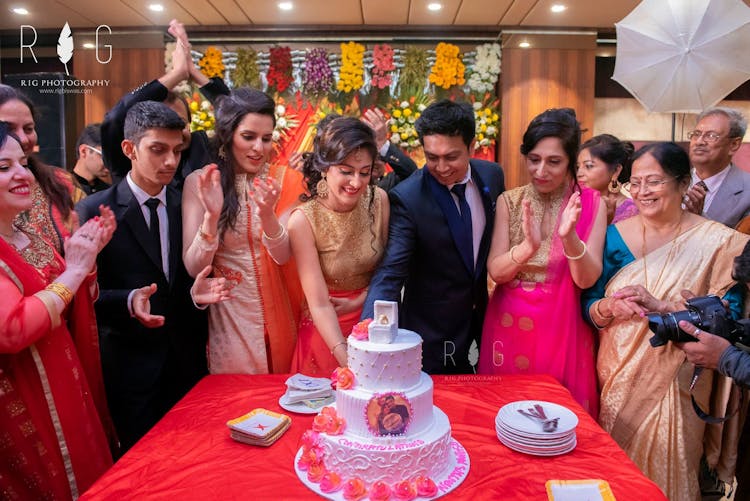 See More: 10 Best Locations For Pre Wedding Photoshoot In Kolkata
4. Romantic Love Story Cakes
The best part about hiring a passionate kolkata wedding photographer is that he can bring life to your engagement pictures. Now you don't need a red rose or a diamond ring to express your inner feelings. Your engagement cakes will say it all. Special engagement cakes will show a beautiful love story in your engagement pictures.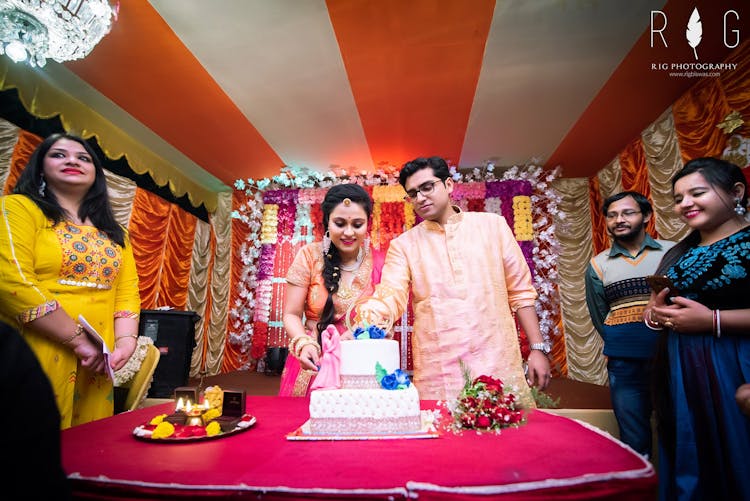 5. Charming Yet Simple Engagement Cake Ideas
This beautiful pastel cake has caught our attention. All the credit goes to its pastel color and attractive design. The dainty flowers decorated on this pastel cake are enough to grab the attention of everyone. The creamy dolls on the top look appetizing and elegant. This is the best theme cake for engagement decoration done in pastel shades.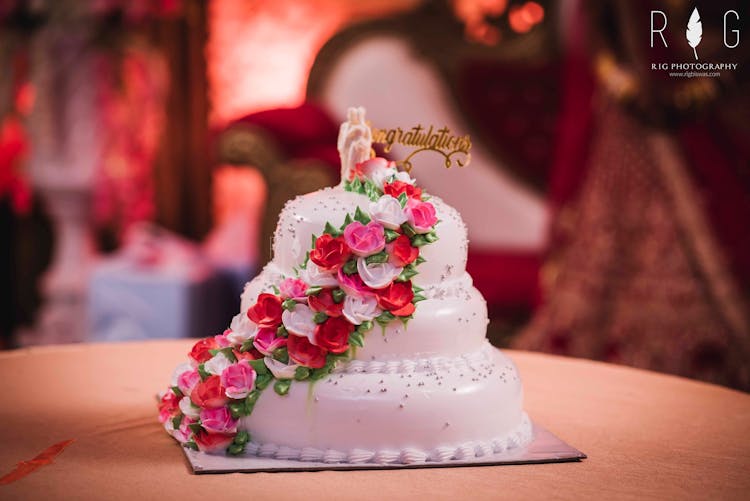 6. The Personalized Cakes
Personalization is the new trend that we have seen in every Indian wedding décor. But this personalization concept is no more limited to the venue decoration and mehndi design. Personalized cakes are becoming more popular for their creative designs. This beautiful couple has picked a simple cake design topped with personalized letters.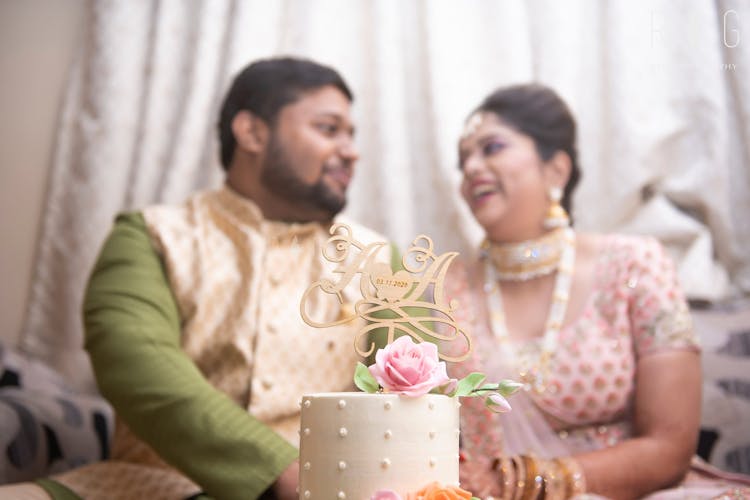 7. An Exotic Engagement Cake
This white fondant cake decorated with exotic flowers looks so delicious. The pretty color combination of the cake and the flowers is giving it an attractive look. The caramel glaze dripping down style is the best finishing of the cake we have ever seen.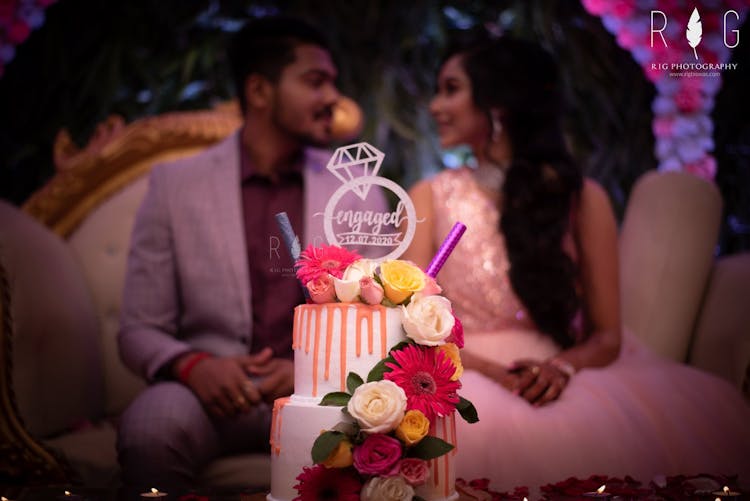 8. Unique Engagement Cakes
Looking for a creative and unique cake design? This abstract cake is perfect for those couples celebrating a boho-themed engagement ceremony. The abstract blogs of these designer cakes will leave a great impression on your guests.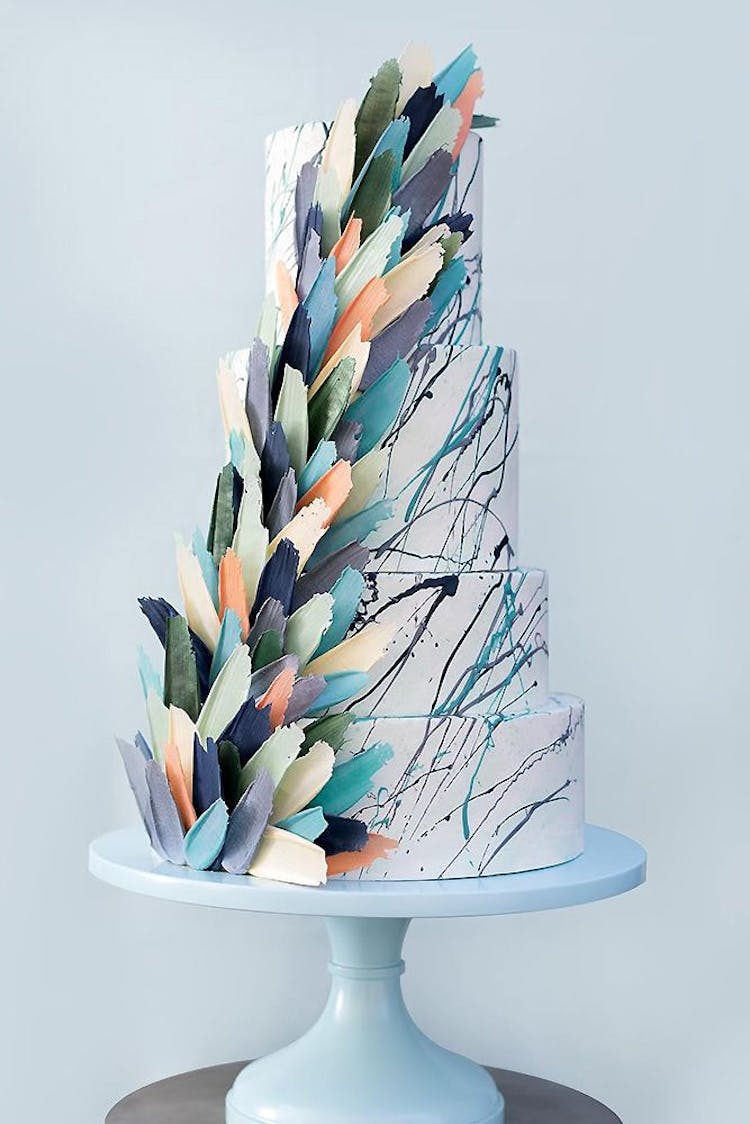 9. Grandiose Of Hanging Cakes
Are you in search of an engagement cake? That can add grandiose to your engagement ceremony. The hanging cakes are the most stylish cake designs for a grand wedding celebration. It adds a classy factor to your engagement party. A decorated cake on a chandelier can be the major attraction of your wedding celebration.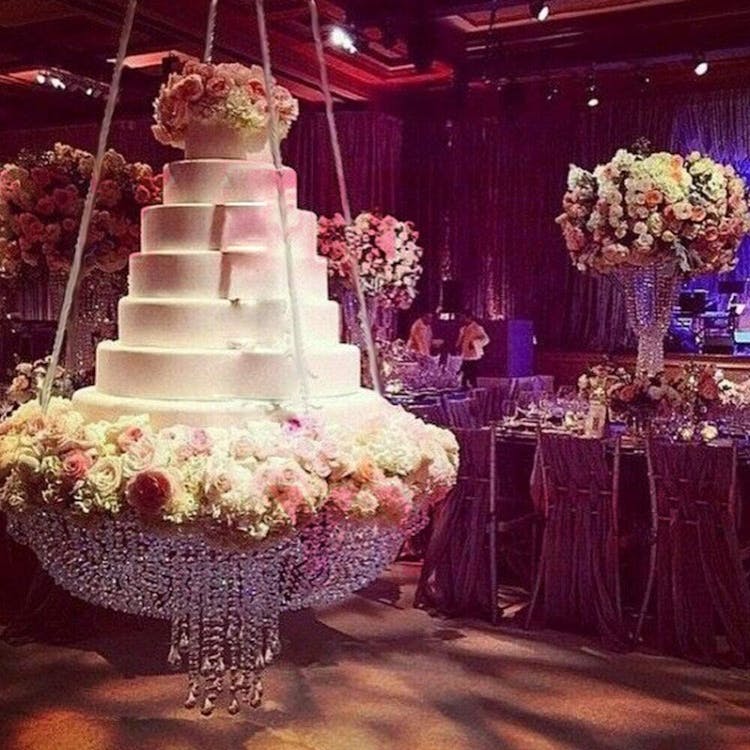 10. Engagement Cakes With Golden Touch
Add a bling factor to your engagement party with a golden engagement cake. A hint of shimmer on dark green engagement cakes is the most captivating cake design. The golden leaves decorated on this alluring cake look amazing and gorgeous.
11. Heart Shape Engagement Cakes
What can be a better idea than mark the commencement of your wedding life with a heart cake? Modern couples preferred this engagement cake design heart shape to celebrate the most romantic moment of their life. Choosing a heart shape engagement cake in a subtle hue can be an ideal choice for minimalism lovers.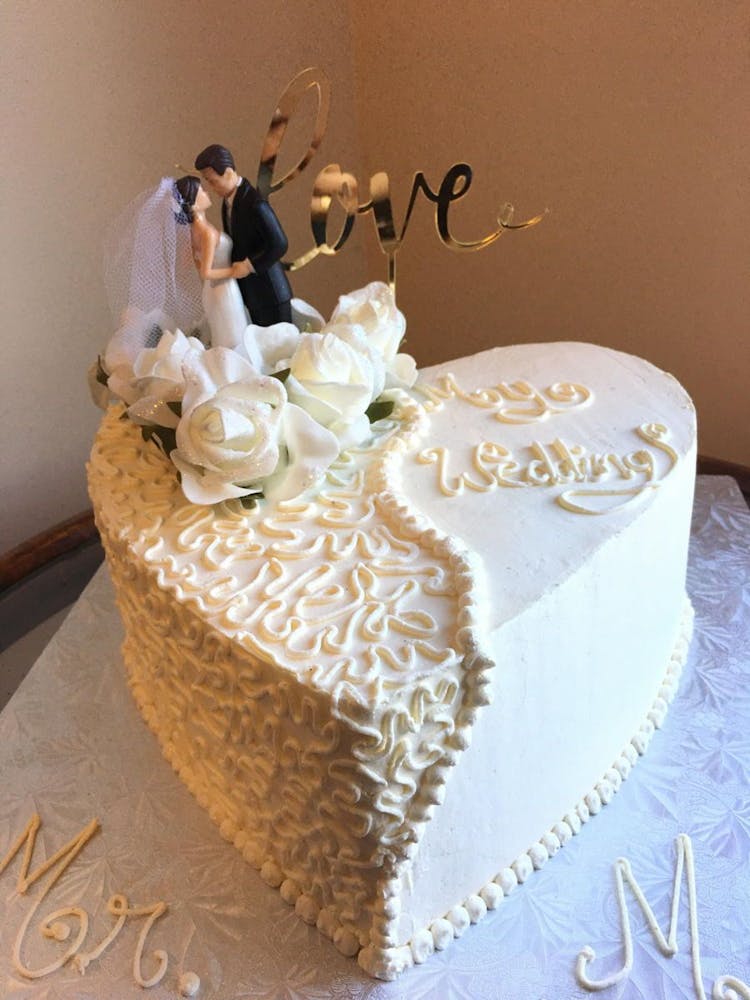 12. Two-Tier Engagement Cakes
How yummy is this 2 tier cake designs for engagement looking? We love the mix of pristine white flowers and blueberry toppings on this cake. This beautiful white cake is making a grand statement at the engagement event. You can add Mr. and Mrs. tags at the top of your cake to add a touch of beauty to the cake design.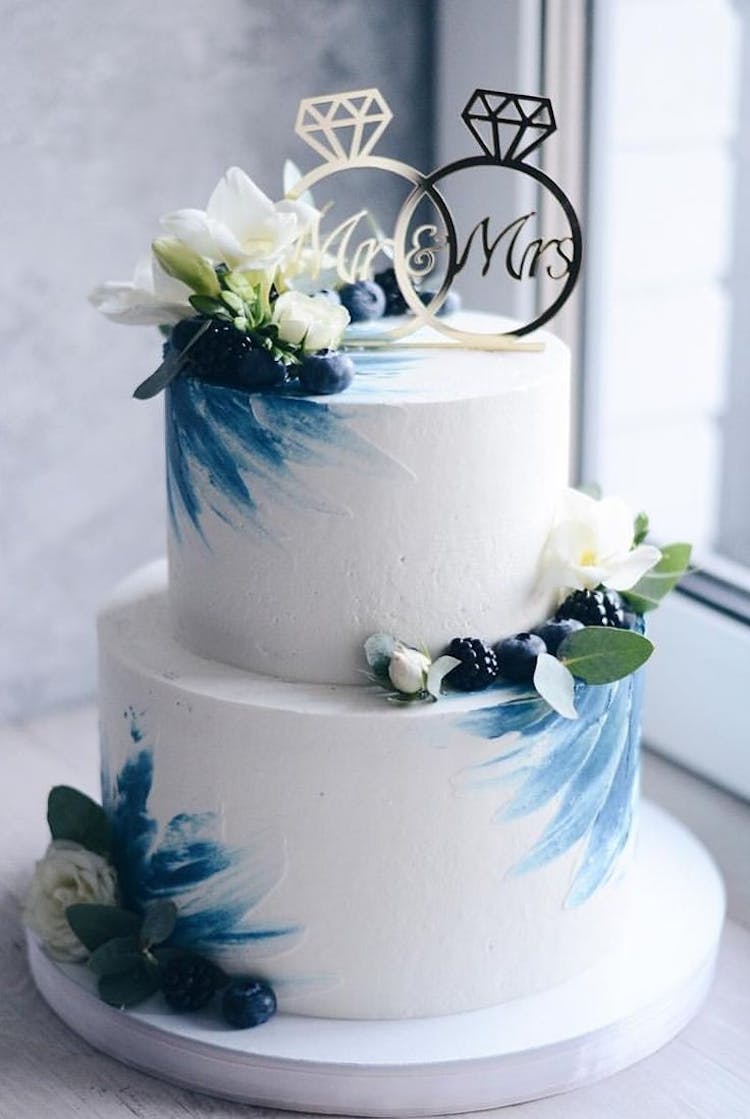 13. Nude And Simple Engagement Cake Ideas
Don't like vibrant shades in cake designs? Then you must pick a semi-nude cake to make a statement at your engagement party. This semi-nude engagement cake with raspberry and cupcakes looks so delicious to try. It is also a great option for a vintage theme wedding celebration.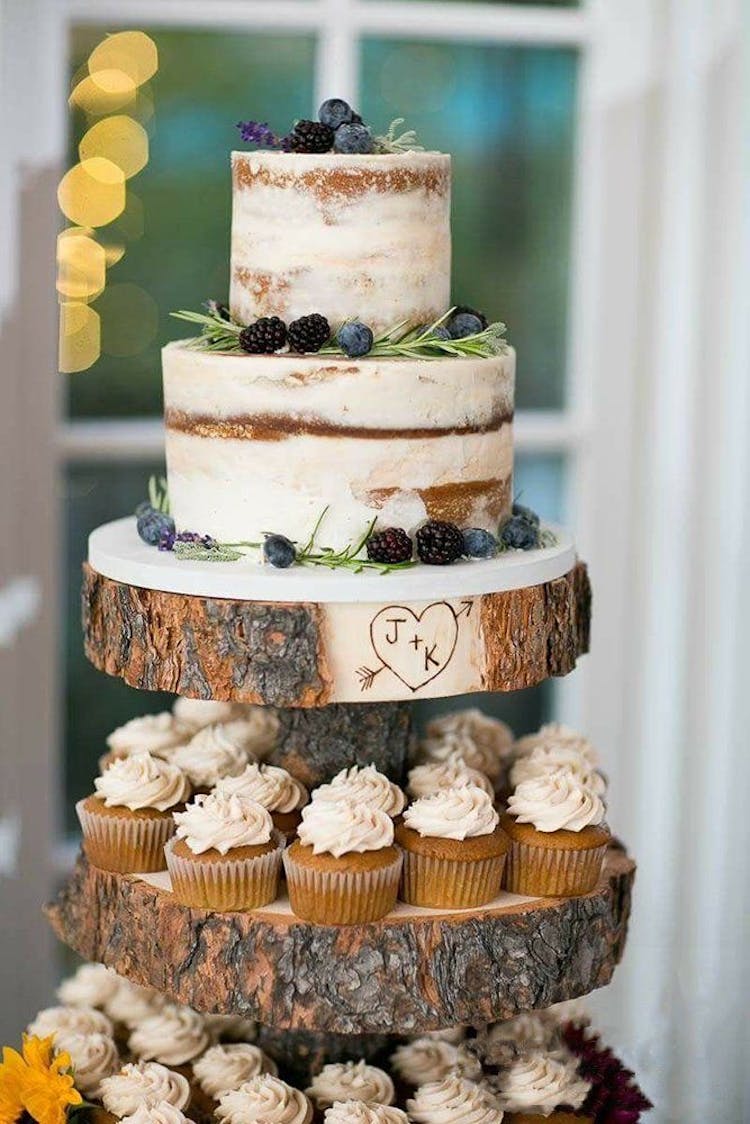 14. Colorful Engagement Cakes
How about adding a splash of blue color to your engagement cake? Take inspiration from this oceanic blue engagement cake design. This creative engagement cake looks like a freshwater pond. The blooming flower on the top is making it more eye-catchy.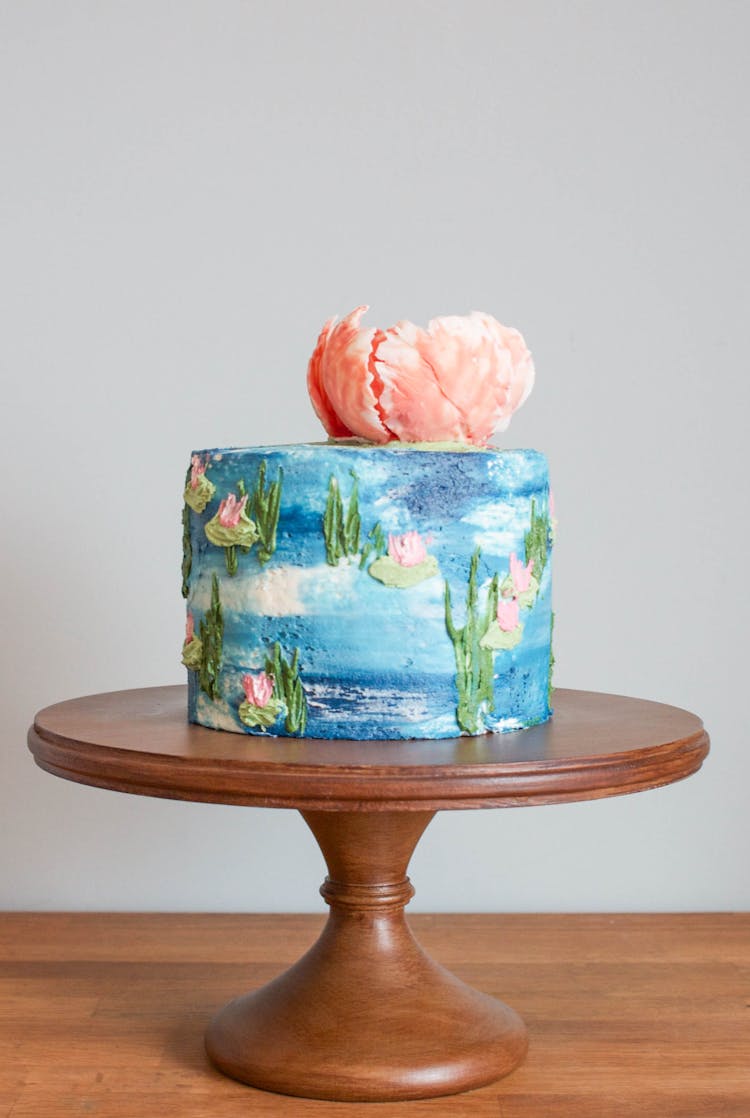 15. Eye-Pleasing Roses Cakes
The rose engagement cake design adds a romantic appeal to your engagement pictures. A bed of lavish blooms made of cream and butter will win the hearts of your foody guests. This creamy and luscious engagement cake comes with an appearance of understated elegance.