10 Best Locations For Pre Wedding Photoshoot In Kolkata
Searching for the best pre-wedding photoshoot locations in Kolkata? Here we are to guide you to create the sweetest memories of your love story.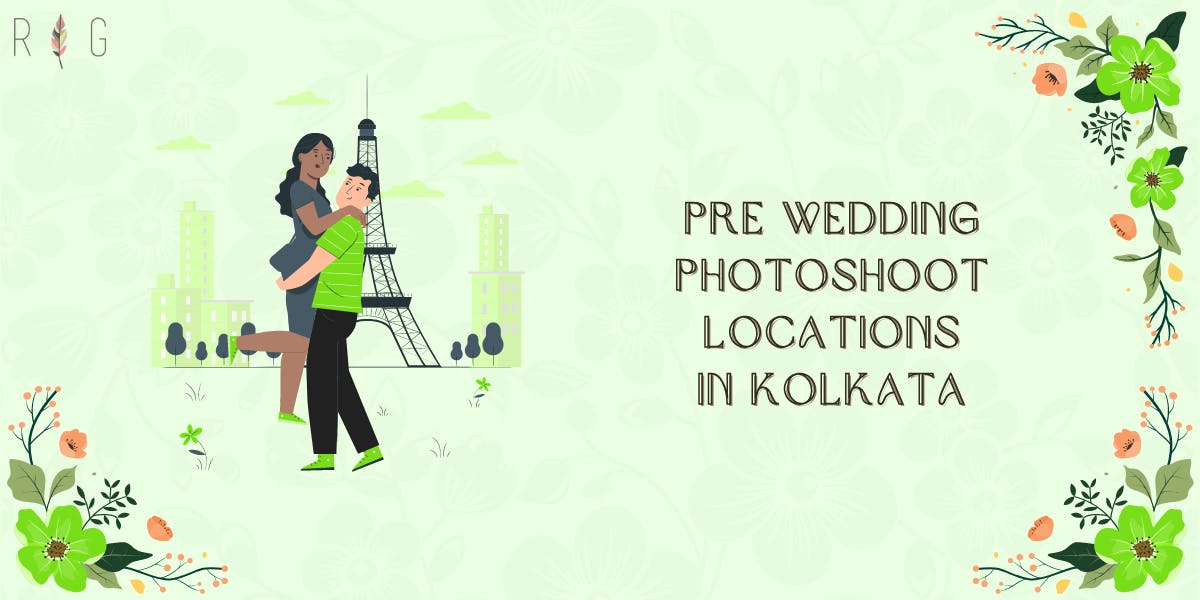 Instead of just the traditional couple pre-wedding photoshoots at the forts of Jaipur or with the Taj Mahal in the background, pick for a pre-wedding photoshoot locations in Kolkata. A successful relationship demands always falling in love with the very same individual. There's nothing quite like planning a sweet and romantic pre-wedding photoshoot with the love of your life to make them fall in love with you all over again. 
As a result, we've been organising a couple pre wedding photoshoot, wedding photography, baby shoots, and a variety of other events. Now we think it's a great time for us to highlight some of the top 10 places for pre wedding shoots in Kolkata, from which you can organize to capture the happiest love moments with just a little support from all of us! You can choose the best pre wedding photographer in Kolkata if you are planning a beautiful and the best pre wedding shoot in Kolkata.
Kolkata, the City of Joy, is filled with arts and culture. One of India's aesthetic and cultural hubs is famous for its ancient buildings. Kolkata is a perfect pre-wedding shoot location, bringing a once-in-a-lifetime adventure, from walking the local streets through endless bazaars to relaxing by the banks of the Hooghly and enjoying a romantic sunset.
Here we, best wedding photographer in kolkata have listed our favourite pre-wedding photoshoot locations in Kolkata, so you can enjoy a day with your Fiancé smiling and creating memories at these wonderful places for pre-wedding photography in Kolkata —
1. Princep Ghat
2. Smaranika
3. Rabindra Sarovar
4. Botanical garden
5. Eco Park
6. Mallick Ghat Flower Market
7. Victoria memorial
8. Maidan
9. Jorasanko Thakur bari
10. Bawali Rajbari
1. Princep Ghat - The Best Pre Wedding Photoshoot Locations In Kolkata
Kolkata is one of the most popular destinations for date nights. The Princep ghats might be your favourite go-to spot and one of the best romantic locations for pre wedding photoshoot in kolkata.  The gorgeous boats floating on the Ganges, the exquisite Corinthian pillars, and the Vidyasagar Setu are there at back. What a romantic scene!  This will be the ideal setting for you to capture some amazing shots with.
Recommended: Top 10 Bengali Mehndi Design Ideas
2. Smaranika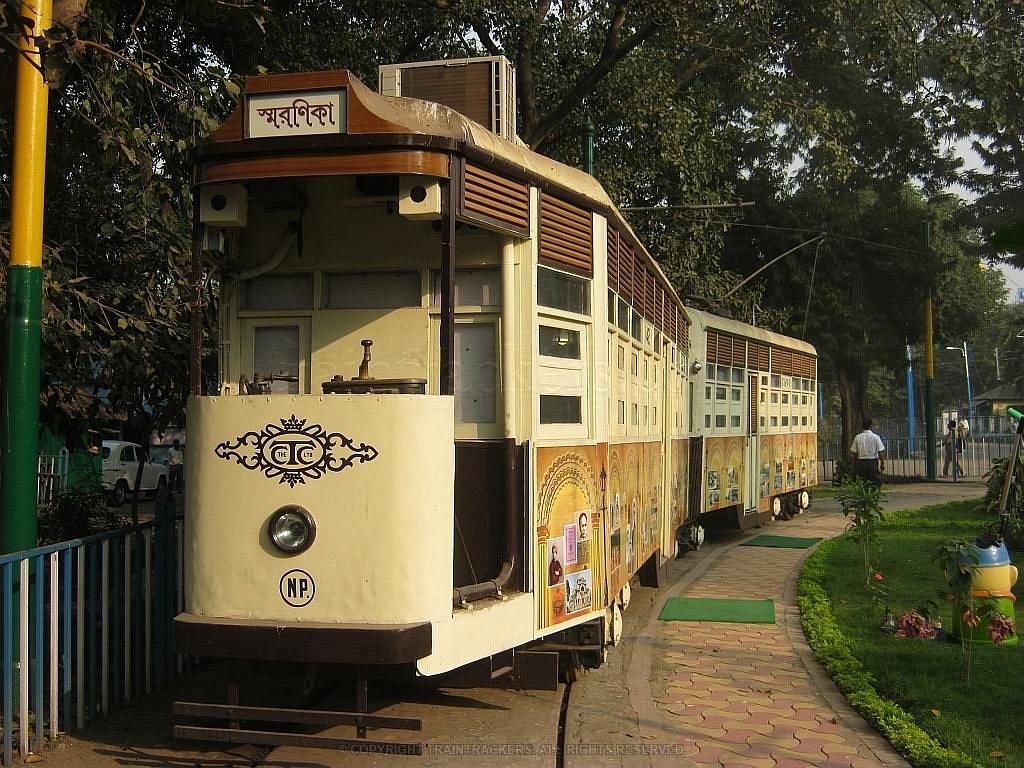 There comes a Tram Museum nearby the Maidan.  With Kolkata Tram Museum Smaranika, you will be free to rediscover the emotions of Old Calcutta and enjoy authentic Calcuttan love. I guess you have heard stories from your grandparents about how they met for the first time on a tram journey. Don't you agree dressing up with a vintage Bengali style saree and Dhoti Panjabi would add more to the vibe?
3. Botanical Garden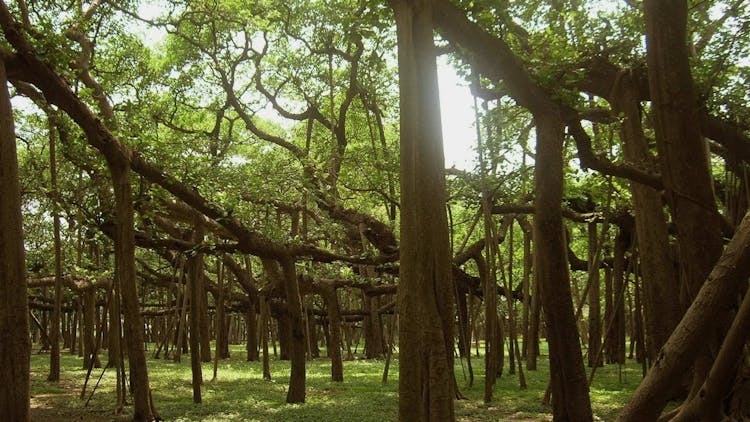 The Kolkata Botanical Garden, another place for a pre wedding shoot in Kolkata, is highlighted by exquisite hedge sculptures, giant amazon lily petals, and a historic Banyan tree. The open green and natural atmosphere of the location is ideal for breathtaking pre wedding photography in Kolkata. The lake in the area offers boating services, which will add more excitement to your day. Trust us and simply give it a shot; We promise you won't be disappointed!
4. Rabindra Sarobar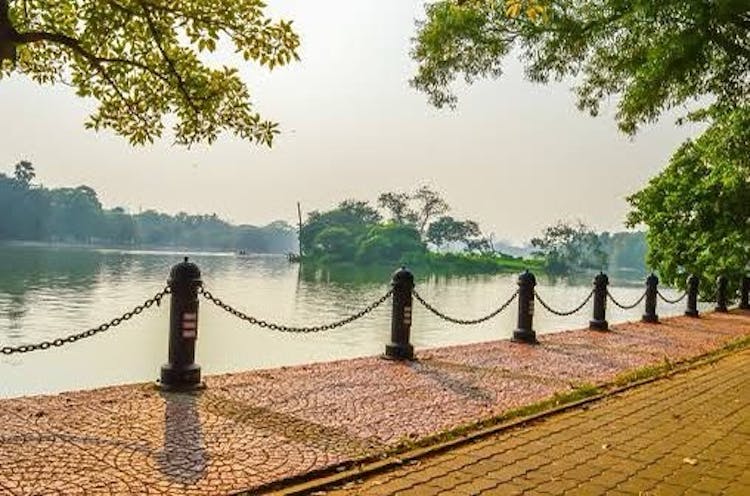 One of the under-rated pre wedding location in Kolkata is Rabindra Sarobar. A variety of migratory birds can be found in this lovely artificial lake in a high spot in South Kolkata. This place without a doubt also is one of the most gorgeous locations for a pre wedding shoot in Kolkata. The stone sidewalk surrounding the lake, the greenery and flowers all around it would lighten your mood immediately.   The British styles of the light posts, seating areas, and railings create a nostalgic feeling which is uniquely Kolkata. 
5. Eco Park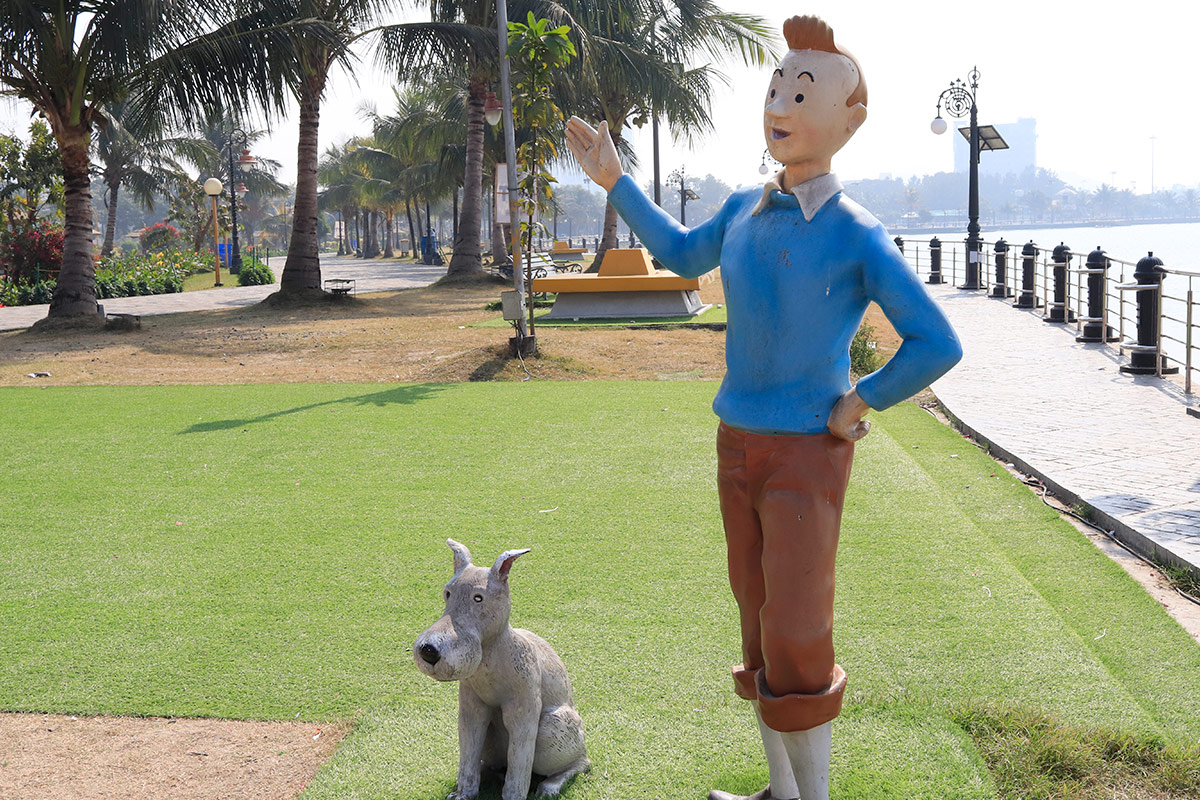 Located in Newtown, Eco Park is a popular and one of the best places for a pre-wedding shoot in Kolkata. If you're from Kolkata, you're likely familiar with this location and how it displays miniature replicas of the world's seven wonders. Not only that, but the Rabi Aranya and the place's art walls make for some of Kolkata's best pre wedding shoots. You can connect over many couple sports like rowing, pair cycling, and others in addition to a wonderful photographic session.
6. Mallick Ghat Flower Market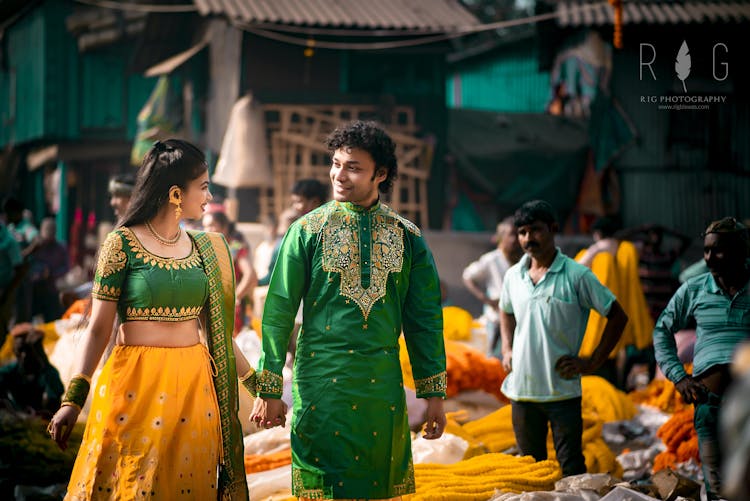 Is there anything more romantic than colourful flowers? Since the beginning of time, flowers have most likely been connected with love and romance. Is there anything better than getting to take some Pre wedding photos filled with romance in Asia's largest flower market? Pre wedding photography in Kolkata is enhanced by the presence of flowers, sunflowers, and marigolds. Mornings are much more beautiful; the sun and fog will give your photos a lovely glow.
7. Victoria Memorial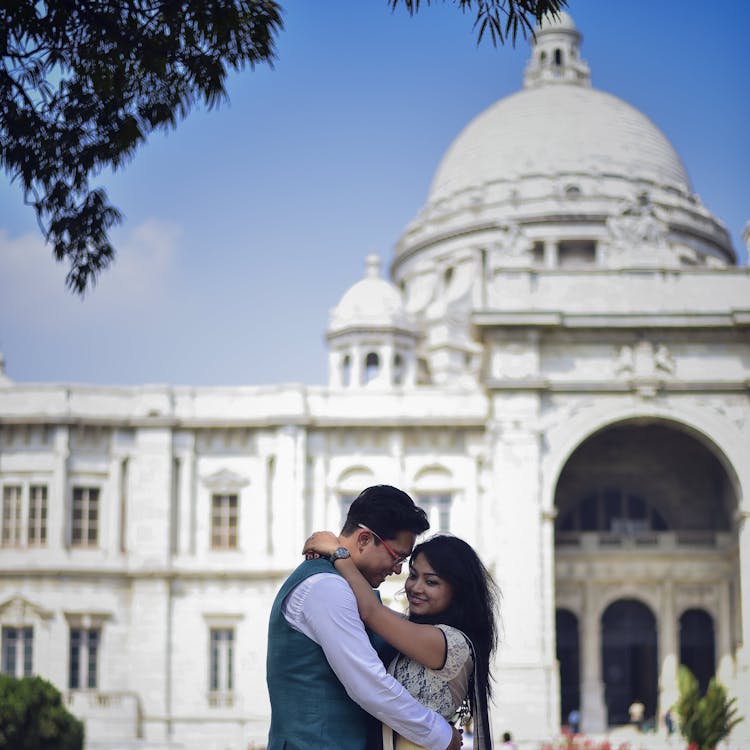 The place's ambience will amaze you with its exhibition of  British heritage. The fusion of Indian, Persian and European styles adds to the overall appeal of the location. A popular location for couples can give you lots of beautiful pre wedding photographs that you will treasure for a lifetime. You could go with a Shakespearean literary theme and have your dream Pre-wedding photo shoot here as well!
8. Maidan
Maidan is our favourite pre-wedding shoot venue for Kolkata couples, stretching from Hooghly in the west to Chowringhee and Park Street in the east. Won't you love  a long area of lush greenery with some lovely stray horses grazing nearby? What could be more relaxing and pleasing to the eye, right? Isn't that another lovely spot for a pre wedding shoot in Kolkata? It's a wonderful place with a variety of backdrops to click some nice professional photos.
9. Jorasanko Thakur Bari
Everyone knows this place! The palace of Bengal's  gem, the world famous Tagore family also reflects the heart of Rabindrik Calcutta. One of Bengal's most scholarly times. This is a place for anyone with a bong heart can connect to. So, what about a pre wedding shoot in Kolkata, complete with a princely Kolkatan vibe? 
10. Bawali Rajbari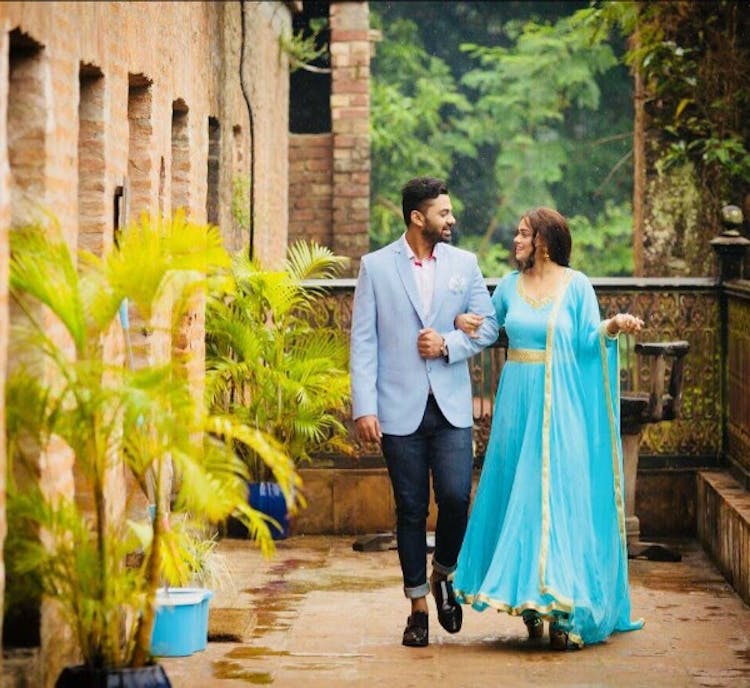 A lovely historical location that makes for an excellent royal pre wedding photoshoot venue in Kolkata. Don't you want to capture all your love story in this setting that celebrates the uniqueness of our Bengali culture?  It's the ideal location for creative royal yet romantic pre wedding photoshoots.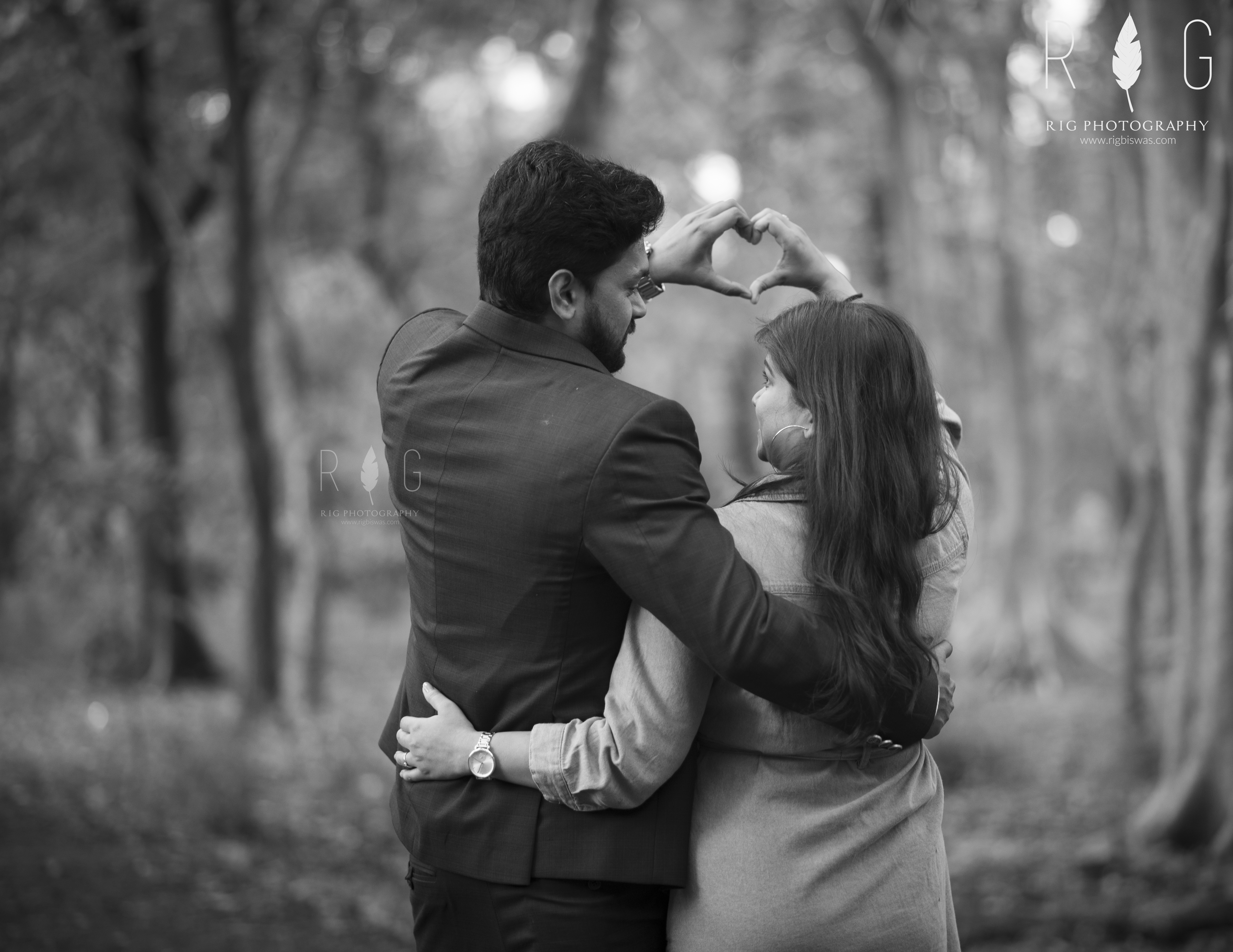 If you're looking for the best professional Wedding Photographers in Kolkata, you've come to the right place.
At Rig Photography, we respect every one of our clients as if they were our own family members, and we enjoy every wedding with the bride and groom, with their family members. Finally, our performance is measured on your positive response and smile to our work quality.