Latest Indoor Pre Wedding Photoshoot Ideas
Looking for unique ideas to plan a pre-wedding shoot? Check these indoor pre wedding photoshoot ideas to add a creative angle to your wedding photos.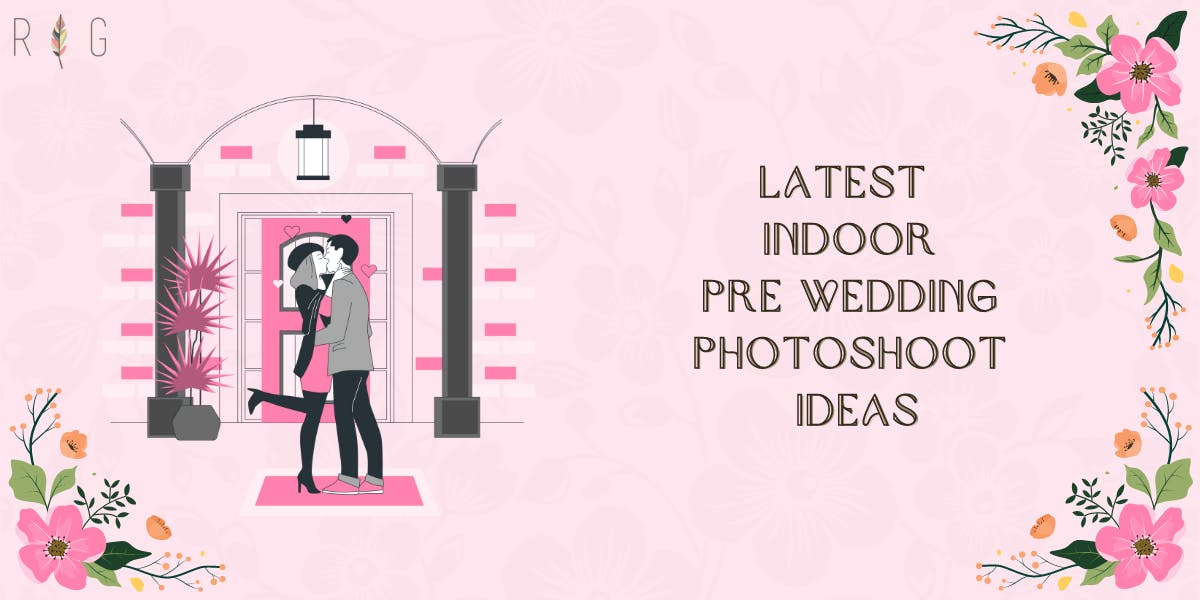 For many couples, pre-wedding photography is a crucial part of the wedding planning process. It allows the couples to capture the excitement and anticipation leading up to the big day.
Planning a pre-wedding shoot in a picturesque location is a dream of many couples. However, indoor pre wedding photoshoot has become a new trend after the pandemic period. An indoor couple shoot offers couples a special opportunity to capture intimate moments. Also, indoor photography is a great way to create classic, timeless photos that will help to preserve memories of the wedding day.
With the help of a professional wedding photographer in Kolkata, you can create stunning images of your special day. Whether you are looking for a creative or fun-filled approach, a right photographer can make your photoshoot memorable.
So, here are some trending indoor pre wedding photoshoot ideas that can add an interesting element to your pictures.
1. The Romantic Balcony Is The Best Place In Your House
How many of us have seen romantic movies with scenes of couples doing love talks on a beautiful balcony? Your house balcony is the best place to click some memorable couple shots. You can recreate a lovesome moment on your balcony by hiring an experienced Kolkata wedding photographer.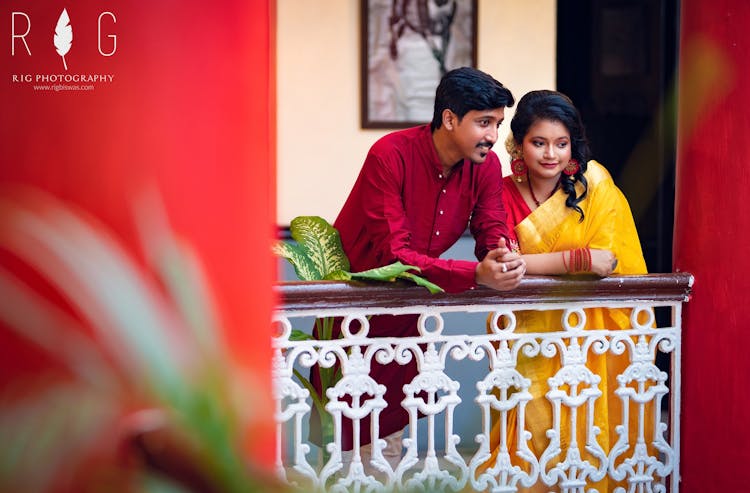 Recommended: Top 14 Trending Couple Outdoor Photoshoot Ideas
2. Add Vintage Feels With Classy Props
If you have an ancestral home that provides a vintage feel then you can make use of that place to perform a memorable indoor pre wedding photoshoot. Classic elements like a gramophone or a vintage wall clock can amplify the beauty of your pre-wedding photograph and take you back in the times.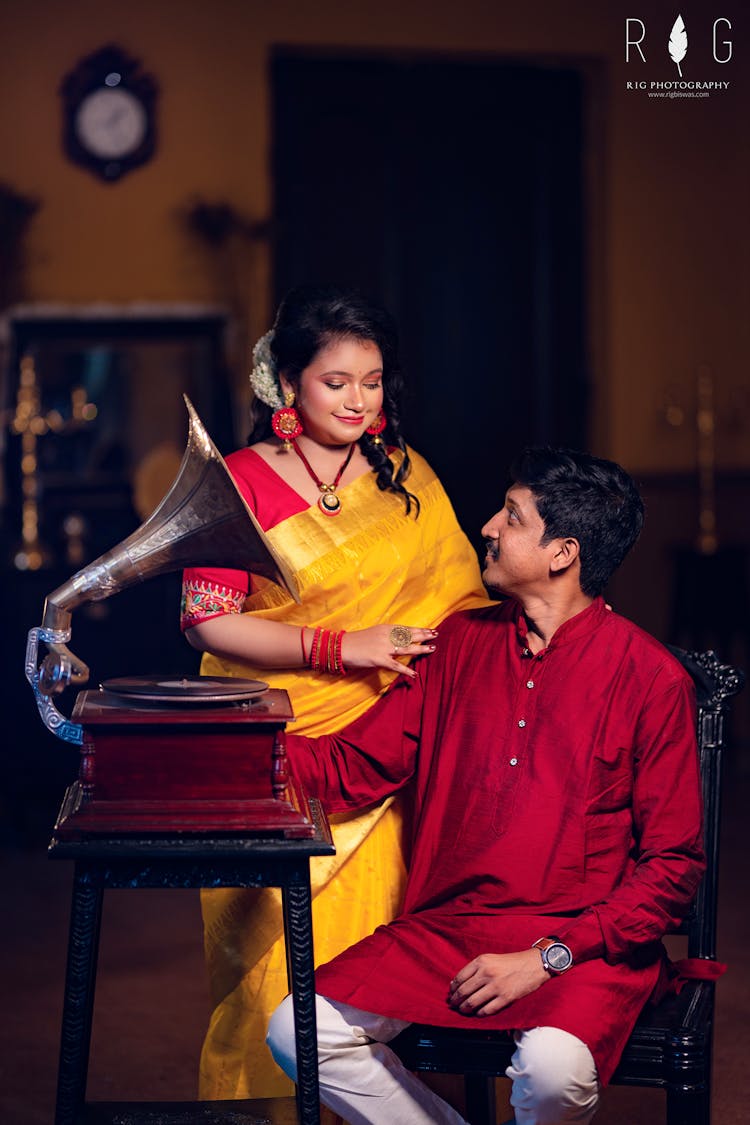 Must Read: Top 15 Pre Wedding Shoot Dress Ideas [2022]
3. Dramatic Couple Shots Are The Best
We love those couples who experiment with dramatic poses to give a unique touch to their pre wedding indoor photoshoot. This kind of dramatic pose is one of the best indoor photoshoot poses for couples that result in creative portraits.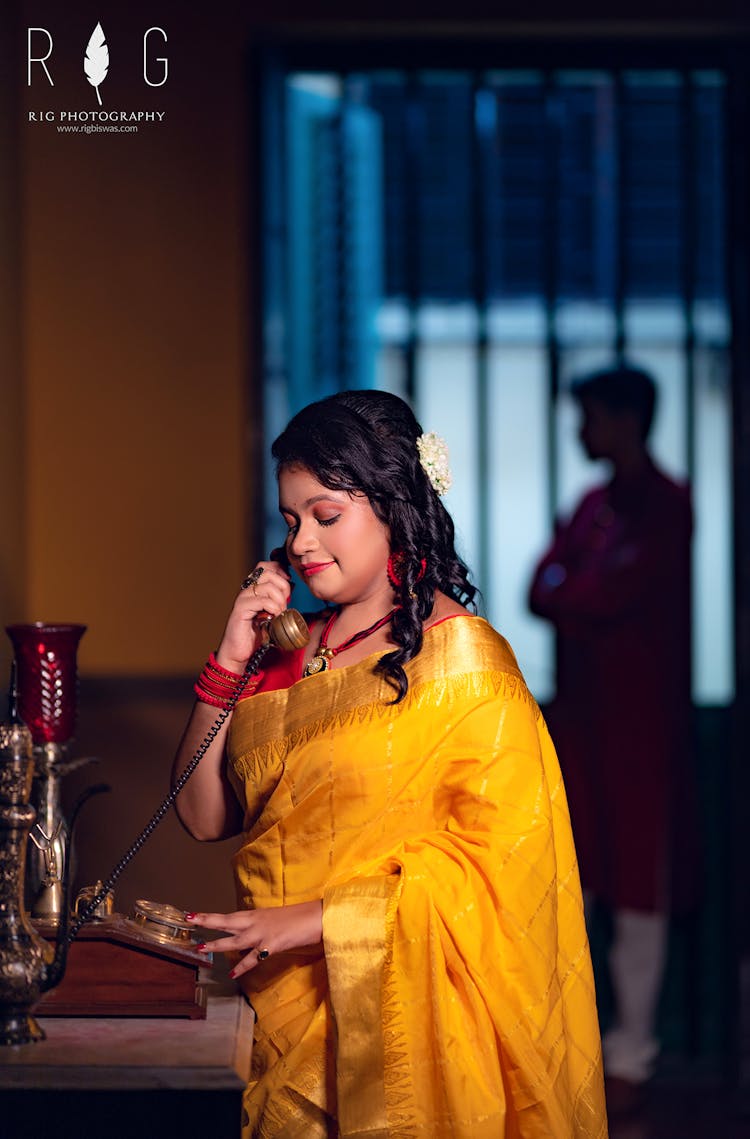 See More: 10 Best Locations For Pre Wedding Photoshoot In Kolkata
4. Experiment with your hobbies in your indoor pre wedding shoot
Nothing can bring out the best pre-wedding pictures other than your hobbies. If you like book reading, you can try the same for your couple indoor photoshoot. Such indoor creative photography ideas always result in awe-inspiring pictures.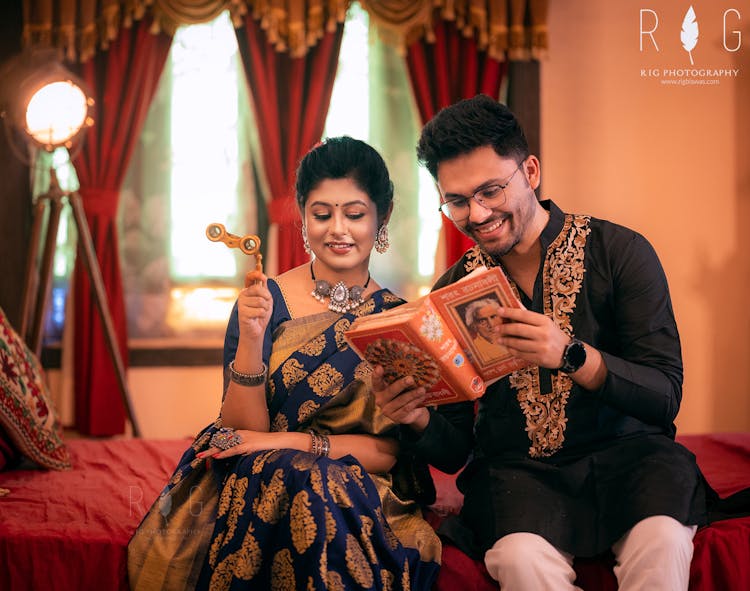 5. A Lovey-Dovey Gossip With A Cup Of Tea
Bengalis are fond of their cup of tea. Take a look at this couple photo who tried to make memories in the most authentic style. Their adorable laugh add a humorous side to this pre-wedding picture. This kind of indoor photoshoot ideas for couples is sure to make you smile years after your marriage.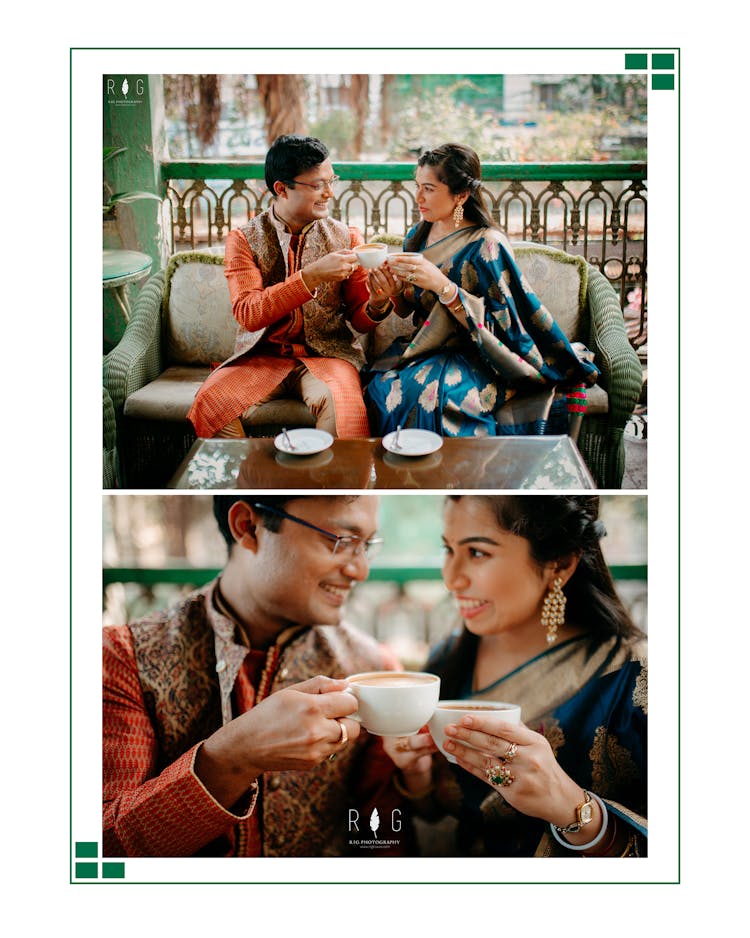 6. A Romantic Couple Dance Is A Sure Shot Win
Instead of looking for creative poses why not opt for romantic dance steps? An adorable couple making perfect dance moves is cool indoor photography ideas. that can add all the charm to your pre-wedding clicks. A classy chandelier in the backdrop will add a surreal feel to the photo shoot.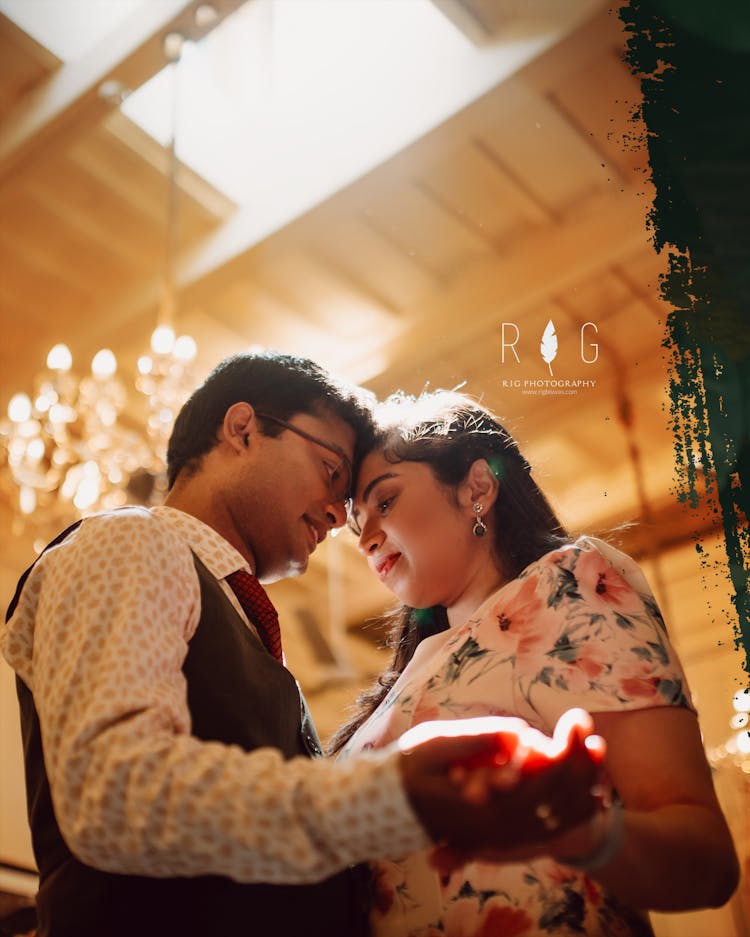 7. Create A Unique Picture Using Adorable Props
If you want to click the most eye catchy pre-wedding photos then you must make use of creative props. This lovely couple has tried to make their photoshoot memorable by using cute props. These are one of the most creative indoor portrait photography ideas that you must try.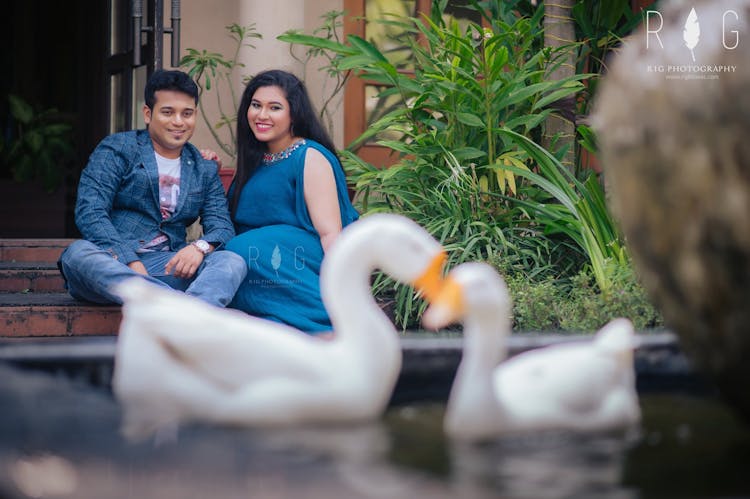 8. A Forehead Kiss Portrays Your Unconditional Love
No pre wedding shoot indoor feels complete without a photo of a couple kissing. Such indoor couple photoshoot poses are the ones that can make our hearts skip a beat. A romantic forehead kiss can offer you some visually stunning pre-wedding pictures. An old vintage building is a perfect location to shoot such creative photos.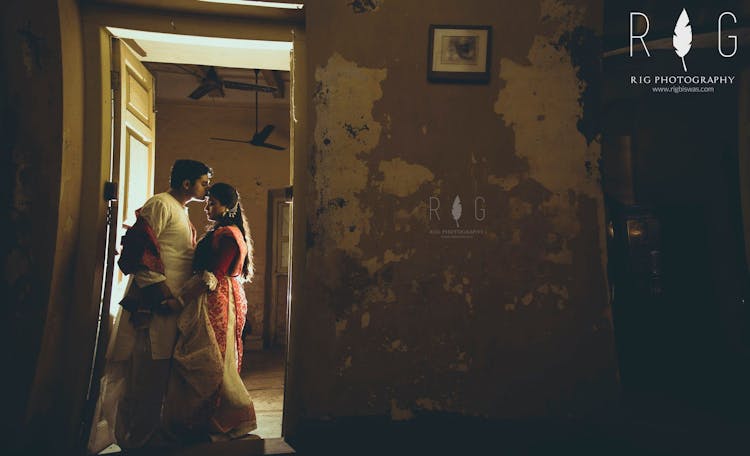 9. Black And White Portraits Adds An Artistic Appeal
There is something magical in the black and white couple portraits. It can add an antique and timeless effect to your pre wedding indoor shoots. Such pictures can express your emotions at their best. This is one of the trending indoor couple photoshoot ideas that are worth clicking.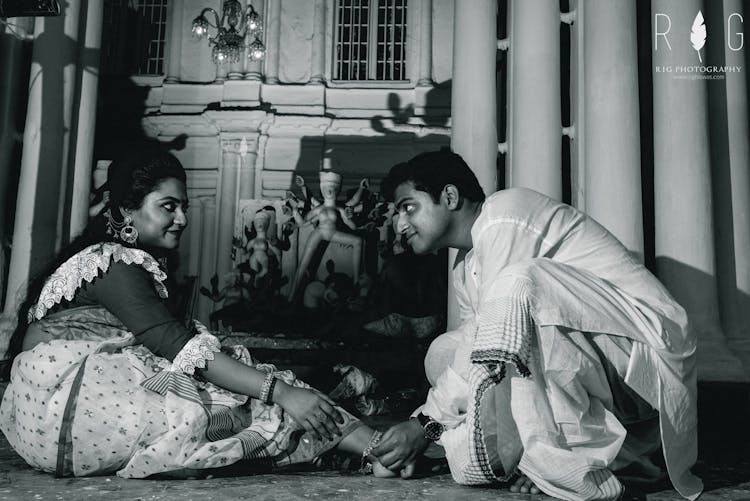 10. It's Time To Shoot Some Intimate Couple Moments!
Many couples prefer capturing their intimate shots during pre-wedding photography. There is a certain allure to those pre-wedding poses. But, if you are a camera-shy couple then you can take inspiration from this wonderful pre-wedding pose that depicts a beautiful love story.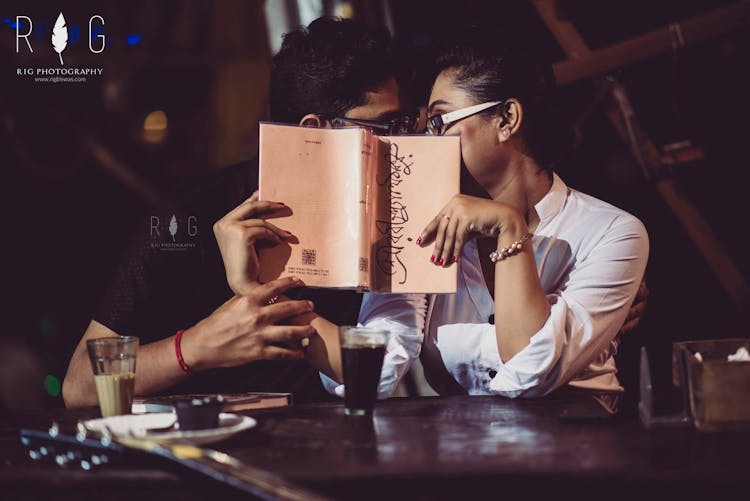 Some Important Tips For Pre-Wedding Indoor Shoot –
1. Know What You Want From Your Photoshoot
Before planning a couple pre wedding photoshoot you must plan what exactly you want. Whether you want to opt for a traditional style or you want to go with a modern approach. Make sure to discuss the photoshoot style you want in your pre-wedding photography.
2. Choose A Better Place
Location plays a very important role in making your pre-wedding pictures more beautiful. There are many options when you are planning an outdoor photoshoot. But, for indoor wedding photography, you must choose a beautiful backdrop for pictures.
3. Think About The Outfits
You must choose the outfit that reflects your personality in indoor wedding pictures. It also depends on the type of pre-wedding photography and the theme you are choosing for it.
4. Choose The Pre Wedding Shoot Poses Carefully
Also, try to choose pre-wedding poses that can add meaning and a romantic side to your pictures. You can opt for fun-filled poses or the most dramatic ones that match your personality.
5. Opt For The Best Props
Props can make a huge difference when it comes to planning an indoor pre wedding shoot. A perfect prop can add an interesting angle to your pre-wedding photos.
6. Add Humor To Your Photoshoot
Funny and cute pictures of couples always stand out. Adding a little bit of humor in your indoor pre-wedding shoot will result in funny and cute pictures.