Latest Groom Haldi Poses You Should Try In Your Wedding
A vibrant Haldi ceremony is as much about him as it is about her. Here is some amazing groom haldi poses to create a treasure trove of sweet memories.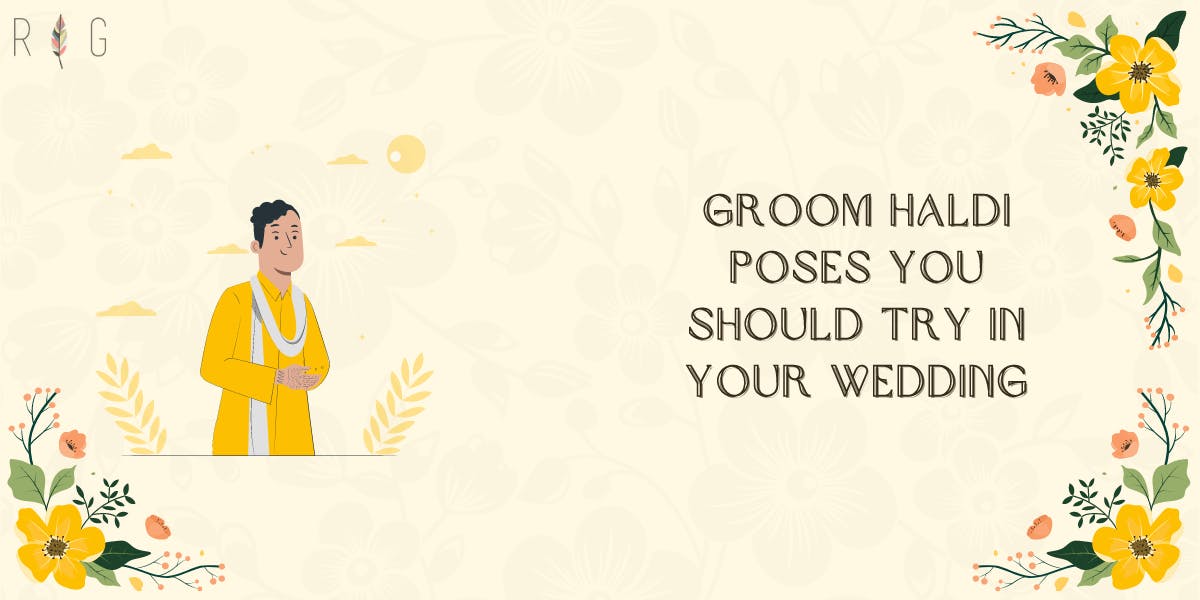 The Haldi ceremony is a colorful wedding ritual that looks beautiful. The auspicious vibes of the Haldi ceremony bring happiness to the wedding house. Nowadays, the Haldi ceremony has evolved from a traditional affair to a fun-filled event. A few years ago Kolkata wedding photography was flooded with bridal portraits. But today things have changed. Now you can see grooms actively participating Haldi function. And one glimpse of such a candid pose can bring a beautiful smile to your face even after many years.
After all the groom is also going to enter a new phase of his life. Hence, he also deserves to get equal attention on the wedding events. So, dear grooms-to-be, get ready to enjoy your Haldi ceremony to the fullest. Because in this guide, we are going to give you the reasons to cherish the beautiful day of Haldi forever. Scroll down and choose the best groom haldi poses from this list.
1. A Beautiful Haldi Ritual Of Groom
Hiring a candid wedding photographer in Kolkata has its own advantages. Watching a groom getting caked with Haldi is a beautiful moment. The Haldi ritual is a captivating shot that makes the best memory of wedding festivity. This adorable groom getting blessed by all his aunts and sisters is looking so lovely. Such candid shots always leave a great impact on people's minds.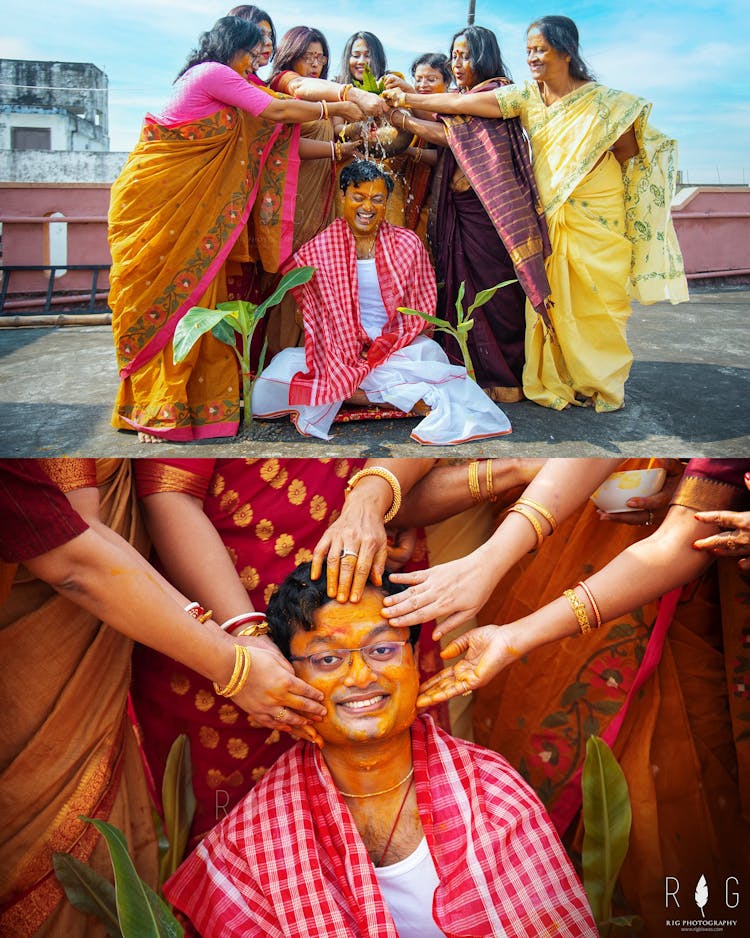 Must Read: 15+ Trendy Haldi Poses For Bride For A Splendid Haldi Photo Shoot
2. Simple Haldi Poses For Groom
If you want to click a simple pose for your haldi day then you must take inspiration from this Bengali groom. Dressed in a mustard yellow kurta and white topor this groom is setting an example of elegance. You can also try such easy poses for groom haldi photography.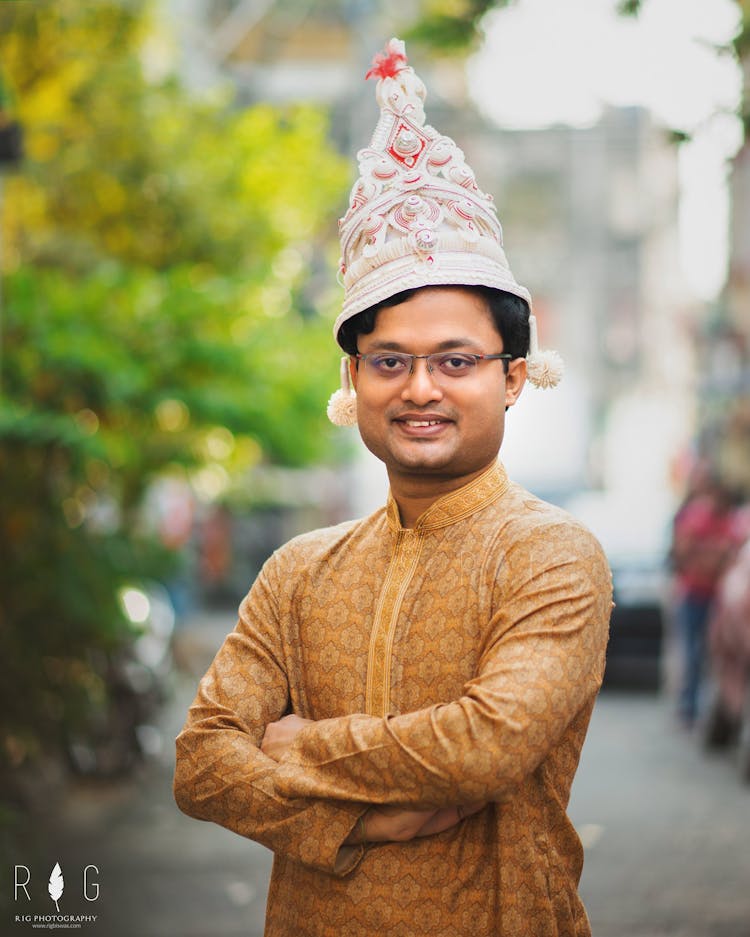 Recommended; Best Wedding Sherwani Designs For Groom You Need To Know
3. Getting Painted With Haldi Pose
When it comes to painting the adorable groom with the turmeric paste the groom's family members always become excited. Look at this cute groom getting painted with auspicious haldi on his special event. Such candid shots always give you happiness whenever you look back at these pictures.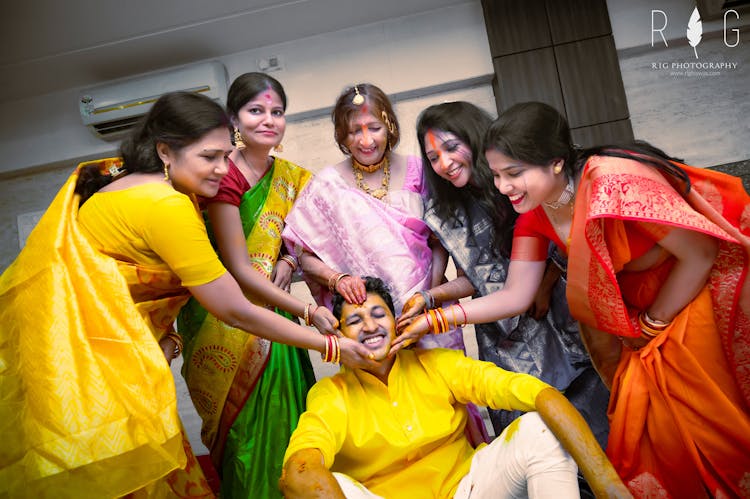 Also Check: Top Trending Varmala Designs For Wedding [2022]
4. A Dramatic Haldi Water Splash
This is the most eye catchy part of the groom's photo session on his haldi day. Having a splash of haldi water is the most fun-filled moment to enjoy. This creative Haldi pose always makes a special place in your wedding album. This wedding haldi poses looks unique and amazing.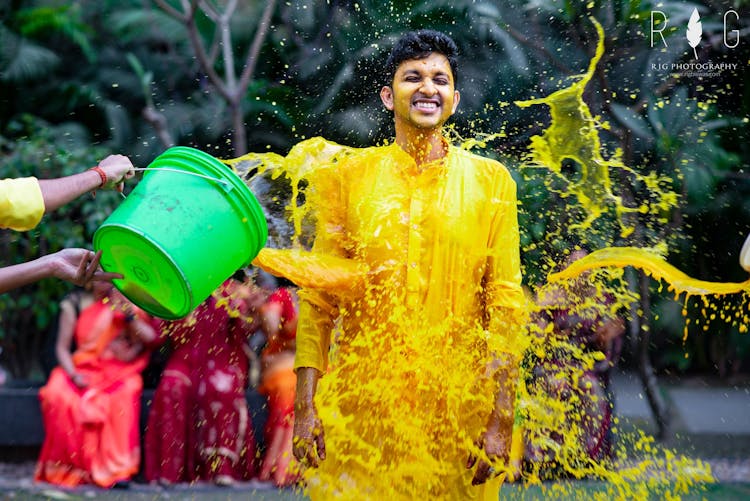 5. Groom Haldi Poses With Traditional Props
Take inspiration from this dapper groom who has slayed his Haldi look by wearing a stylish kurta. He has contrasted his wedding kurta with a matching topor. You can also add such traditional props in your Haldi photoshoot to provide it with a unique touch.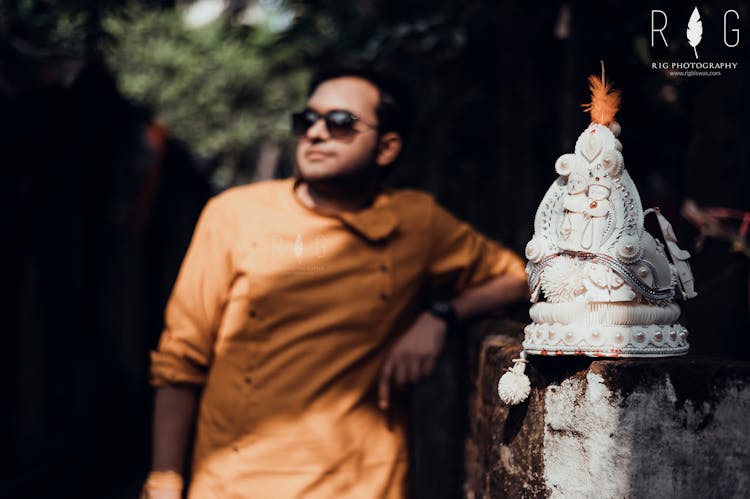 6. Rocking Haldi Poses With Your Dudes
Haldi event is all about the wedding couples. But everything will look incomplete without including your closes friends. Friends can add more joy and humor to your wedding festivity. They can make your boring Haldi ritual a fun-filled and memorable moment to remember. Hence, it is mandatory to click haldi groom poses with your rocking dudes.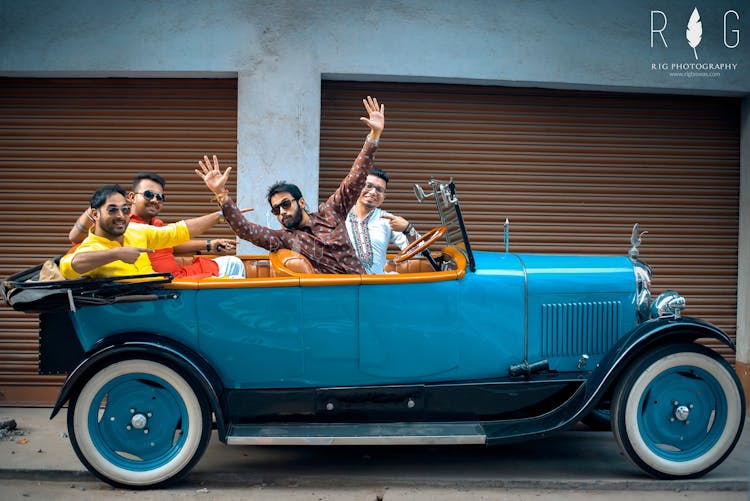 7. A Captivating Haldi Poses On Swimming Pool
Who doesn't love a captivating portrait of their wedding function? This groom has clicked a beautiful Haldi picture beside a swimming pool. This kind of haldi poses is best for the groom who feels shy to pose in front of the camera. If you are celebrating a groom haldi ceremony at a beautiful resort in Kolkata then you must try this pose.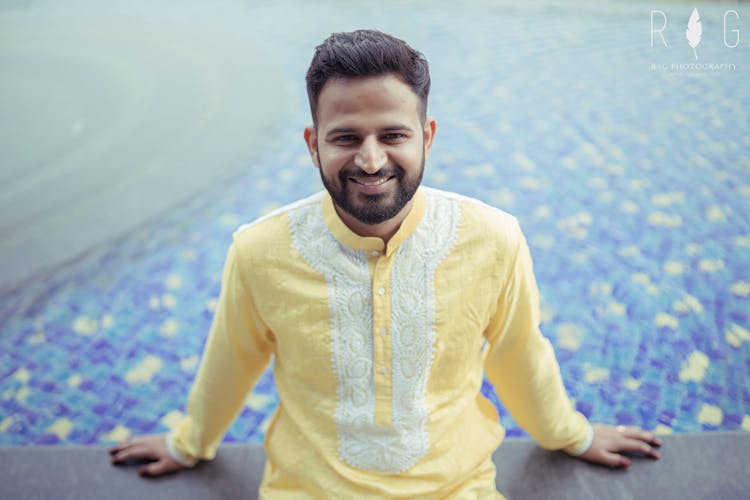 8. Fun-Filled Groom Haldi Poses
One more picture that proves wedding festivity is nothing without your best friends. Our photographers always wait for clicking such humorous moments through their lens. These candid moments contain the joy pure emotions and happiness of the groom in a single frame.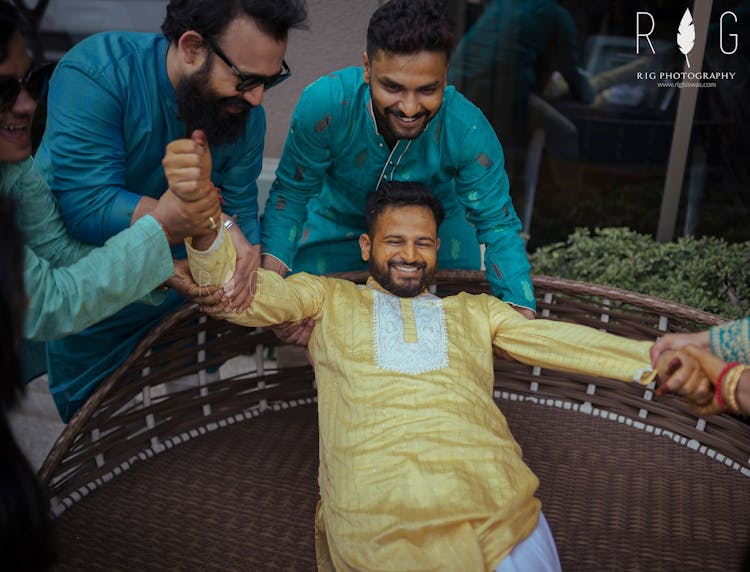 9. Looking Away From The Camera Pose
Ditch the usual Haldi poses and go for a unique one. Look away from the camera to get a wonderful haldi shot that is worth having in your wedding album. This groom has worn a sunglass with his ethnic clothes to make a style statement on his haldi day.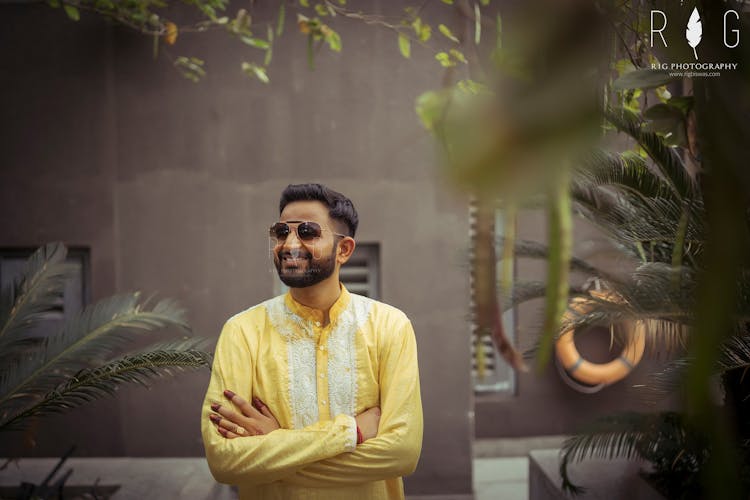 10. Flower Shower On Haldi Couple
A flower shower looks like a heavenly rain falling on the couple. This bride and groom are posing together on their haldi day to make a beautiful wedding memory. A flower shower done with marigold looks captivating in your wedding photos. This one is the most popular haldi poses for bride and groom that you should not miss.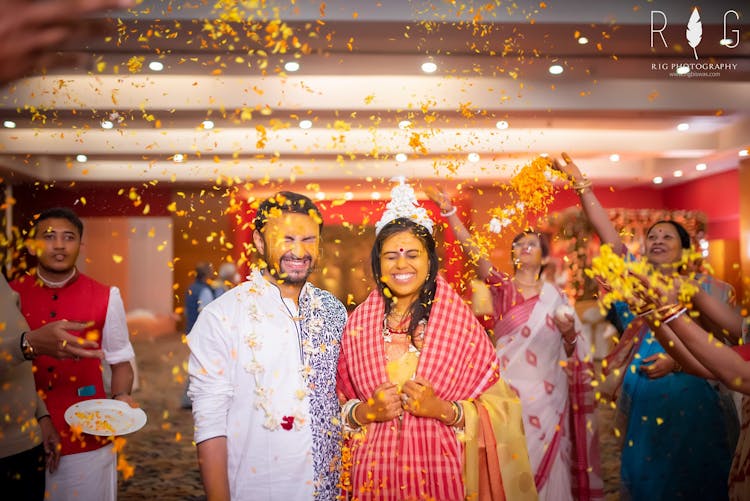 11. A Loving Haldi Pose With Mother
This mother-son duo is sharing some emotional moments at the Haldi ceremony. Mother is the closest person with whom boys share all their feelings. You must click a Haldi pose with your loving mother to keep it as an everlasting memory.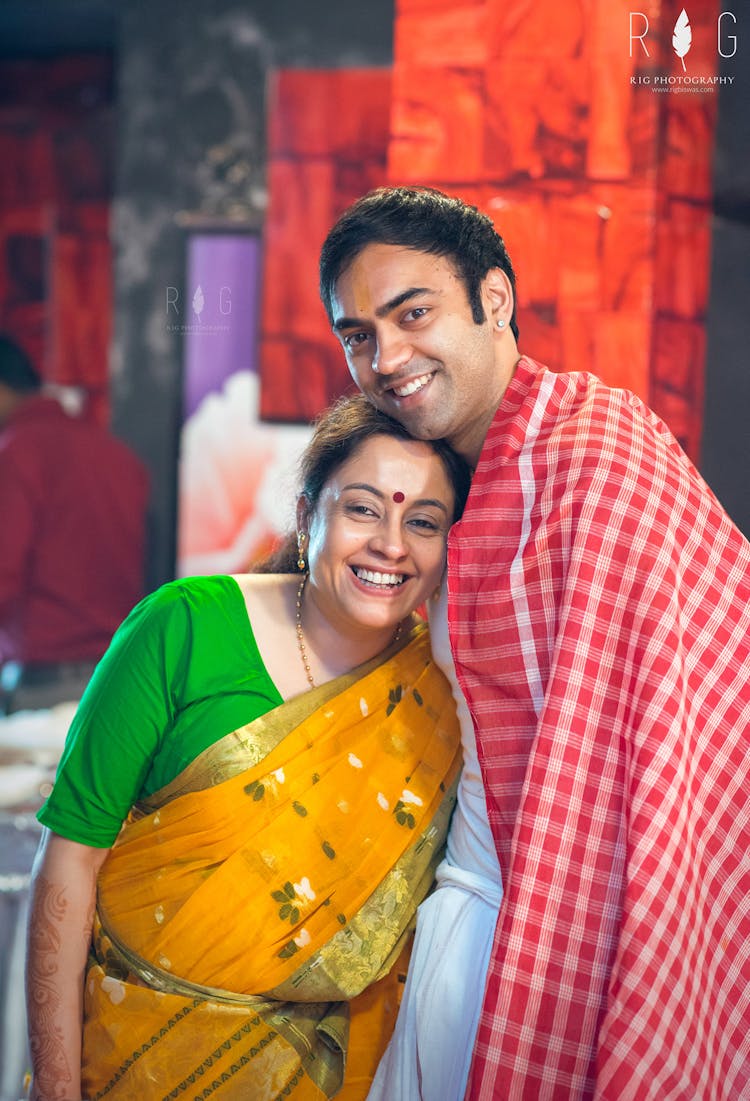 12. A Cute Couple Haldi Pose
There is nothing more beautiful than a cute couple getting an auspicious bath together. The beauty of such moments always stays in our hearts. The blushful face of the couple during this beautiful moment can also be a drool-worthy click.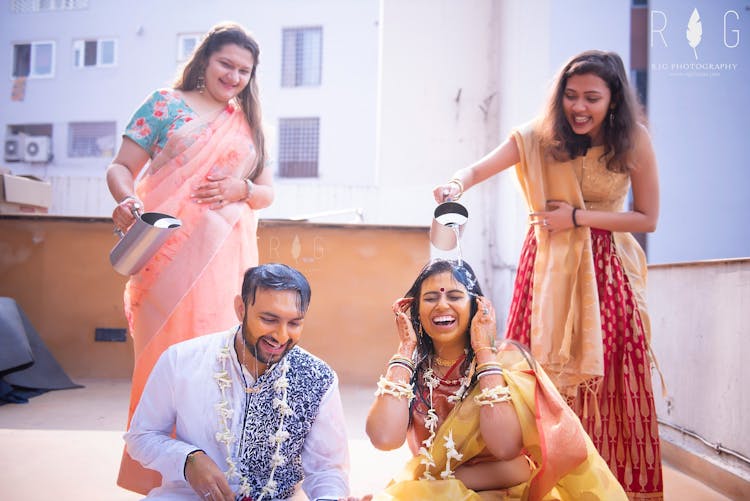 13. Quirky Poses For Haldi Function
It's only during the fun-filled Haldi ceremony that your crazy side comes up. You must never miss this moment to get clicked in the funniest haldi pictures. These mixed emotions of a new journey will make you smile years after the wedding.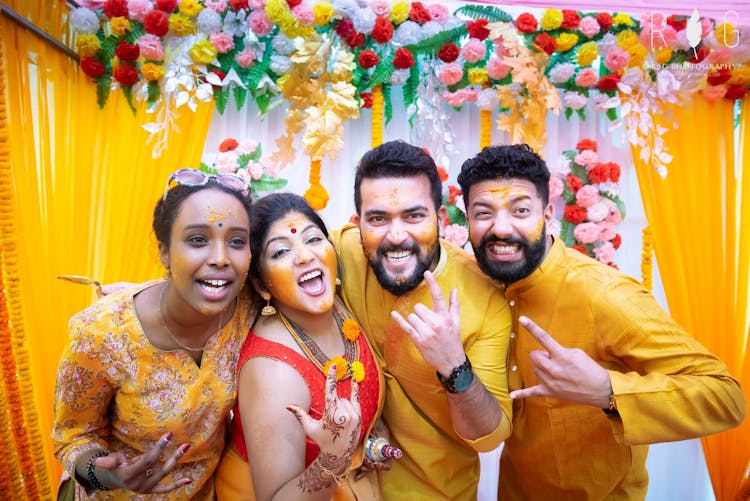 14. Groom Haldi Poses With Loved Ones
Family haldi poses with groom must be included in your wedding album. Your family and relatives are the first ones to make your wedding ceremony a joyful event. They always stand with you in your good and bad moments. Hence, they deserve to be in the first place while clicking beautiful haldi pictures.