Photography Done? Look Up These Designer Wedding Albums
Looking for a creative wedding album to preserve your special memories? Check out our list of designer wedding albums for making a beautiful wedding tale.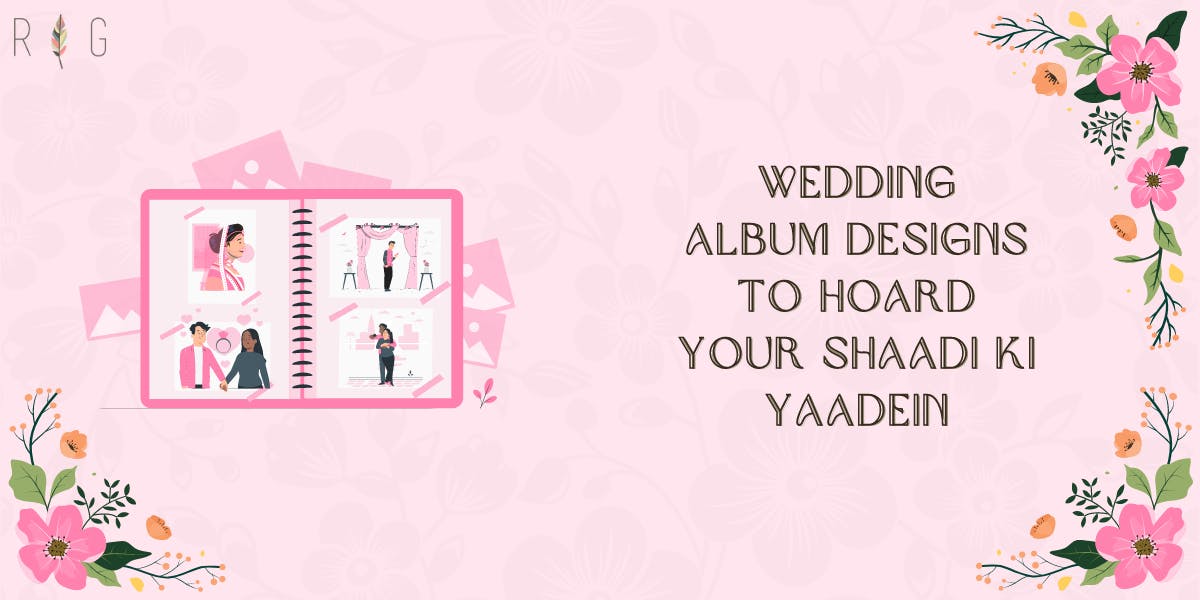 Wedding albums are a great way to showcase the journey of a blissful union. As you flip through the pages of your wedding album, it reminds you of the joy and emotions of you and your loved ones. Even years after your marriage, a wedding album serves as a keepsake of your big day. Couples hiring wedding photographer in Kolkata always ask them for a stunning wedding album.
Indian weddings are a lifetime event, celebrated with full enthusiasm. Every wedding ritual is full of happiness and joy. Your wedding photographer leaves no chance to capture the array of emotions. Wedding photography contains the wedding festivity, beautiful rituals, and quirky décor. You need to choose a wedding album that can serve as an important tool for documenting those moments. In short, it is a visual record that contains the essence of a wedding.
An exciting photo album design can help you preserve your beautiful memories in the best way. Check out here some designer wedding albums to weave the memories of your fairy tale wedding.
1. A Photobook Album To Display A Fairy Tale
What better way to let your wedding pictures shine than by arranging them in a beautiful photobook wedding album? The silk cover of this photobook is an attention-grabbing element. A silk cover photobook in vibrant shades depicts your wedding journey very well. This alluring wedding album is a popular choice for kolkata wedding photography.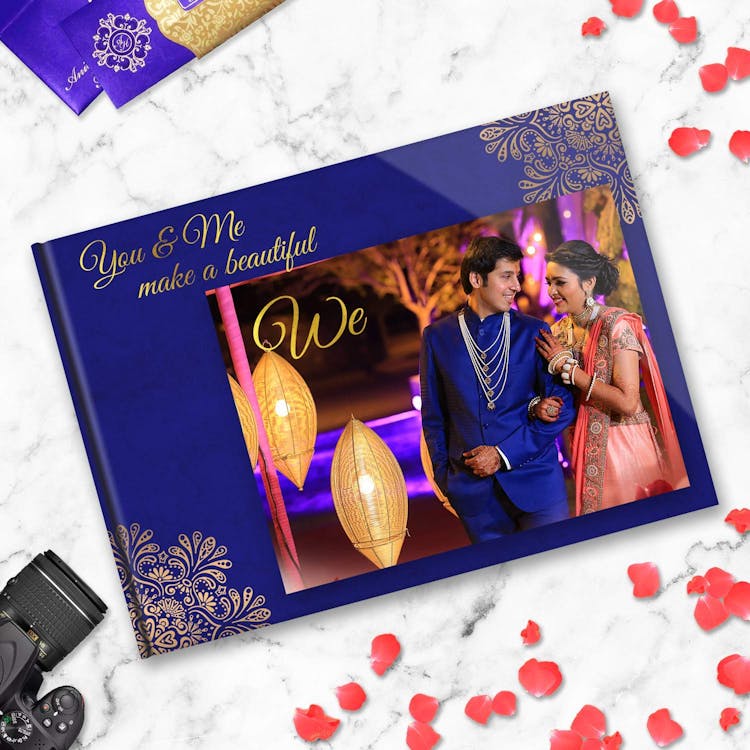 Recommended: 11 Beautiful Jewellery Ideas That Are Perfect For Mehndi Ceremony
2. Leather Photo Album For A Luxurious Appearance
Here's another alluring and luxurious design for wedding album. A leather wedding album is a perfect choice for a vintage theme wedding. The glossy shine of a leather wedding album stays the same even years after your marriage.
Must Read: The Complete Guide For Your Wedding Shopping In Kolkata
3. Showcase Your Love Story Through A Wedding Collage
Photo collages add a wow factor to your wedding album. It is the best way of collecting special moments at weddings and arranging them in chronological order. This is one of the best photo album design ideas that looks simple and elegant. A simple all your wedding moments and rituals in one place like this one given here.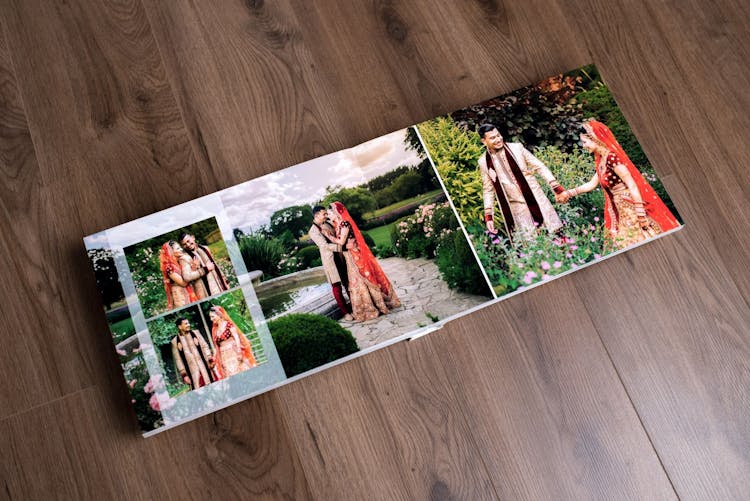 See More: 10 Best Locations For Pre Wedding Photoshoot In Kolkata
4. An Eye-Soothing Combination Of Two Pictures
Have you thought of planning a fairy tale wedding? Then you must choose this unconventional photo album. It portrays your magical moments in a creative way. You can combine two photos to make it a singular and large wedding tale. This wedding photoalbum design is the favorite choice of young couples.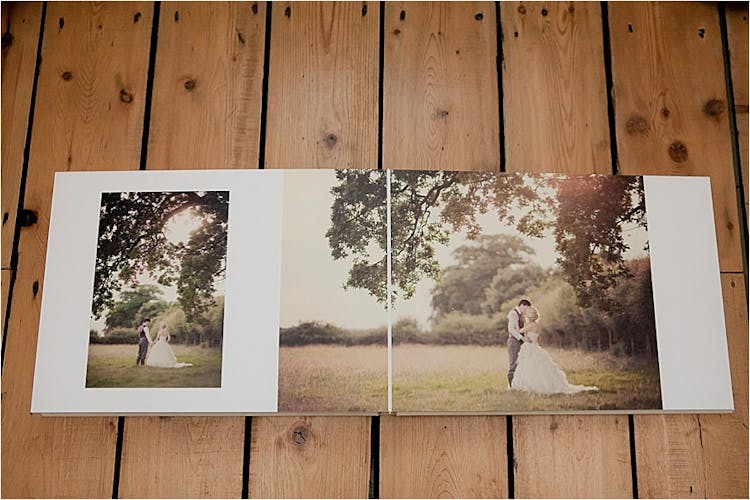 5. Regal Wedding Album Layout With White Space
For an extra touch of elegance, you can choose a wedding album with white space. Inspired by Indian bridal portraits, this wedding album is a masterpiece of art. The simplicity of this regal wedding portrait is sure to win millions of hearts. The border white space around the wedding pictures makes it look like a cinematic tale.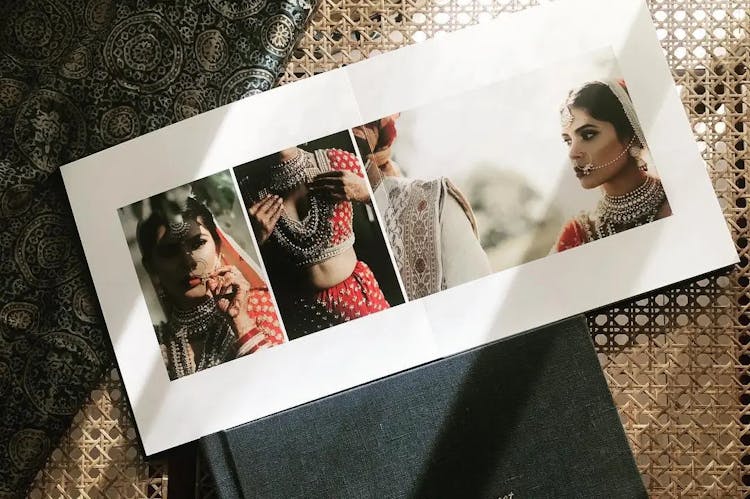 6. A Drool-Worthy Caricatures Album For An Artistic Approach
Looking for a creative way to showcase your wedding journey? Then this unique wedding album is perfect for you. This is one of the unique ways to preserve your special memories. This quirky album recalls the details of every wedding moment in an artistic style. This is one of the most popular designer photo albums that couples are choosing.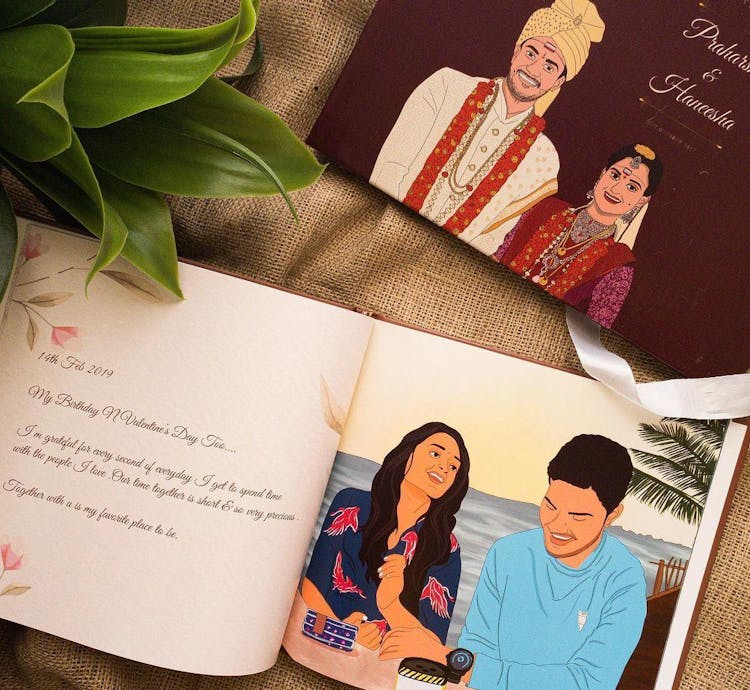 7. A Customized Wedding Album In White Is An Epitome Of Elegance
Are you looking for wedding album latest design? A customized wedding album adds an extra touch of elegance to your wedding story. You can also add your wedding date and couple's name to this handcrafted wedding album.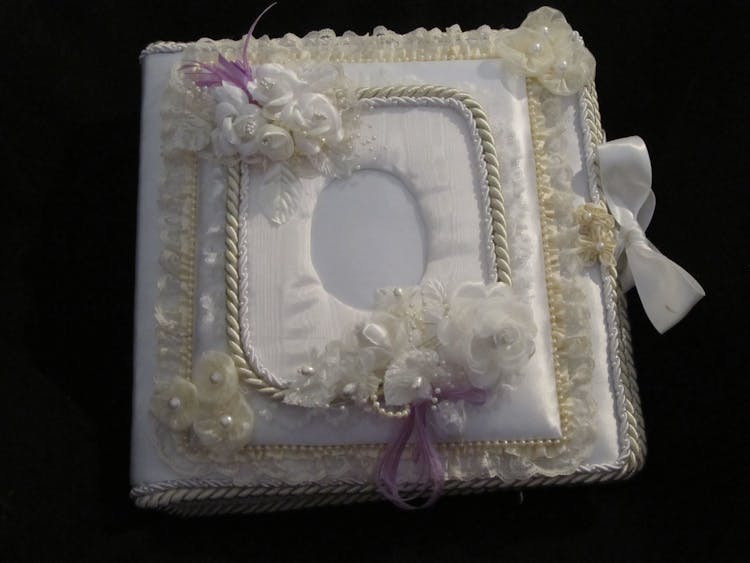 8. Designer Wedding Albums In Floral Shades
How about having a floral wedding album design? A pastel shade wedding album with pretty floral art will look awesome on the cover page. This fairytale-inspired wedding album will look great on your bookshelf. This wedding album design is an ideal choice for a wedding celebrated with a floral theme.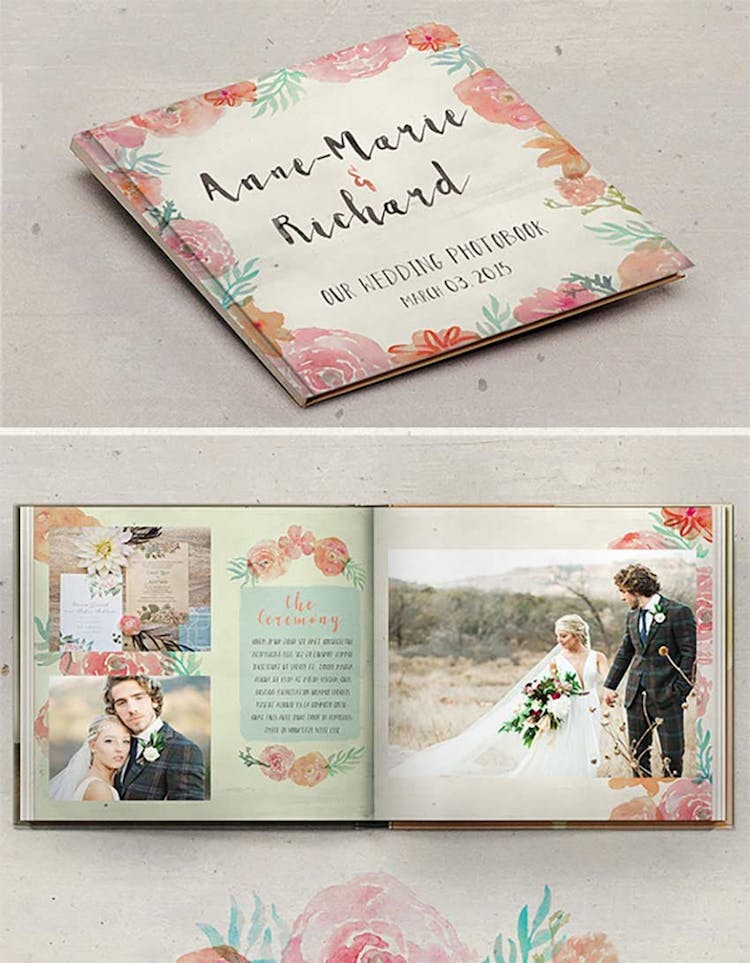 9. An Unconventional Style For A Splendid Wedding Tale
A monochrome wedding album design is a timeless one. You can add a twist to this wedding album design by compiling it with colorful photos on both sides. Such a beautiful layout will give a new definition to the black and white texture of your wedding tale.

10. A Rustic Wooden Box Leather Album For A Classy Couple
Nowadays wedding album designers are introducing offbeat wedding albums. A rustic wooden album box is one such example that looks aesthetically pleasing. You can place this wedding album on a wooden table to give it a classy and vintage feel.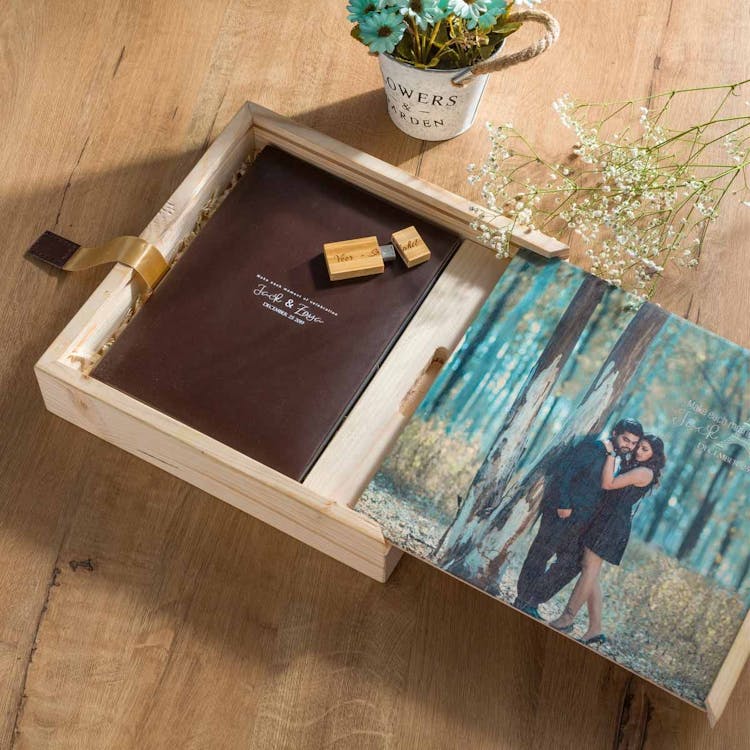 11. Designer Wedding Albums Available In Pretty Hues
There is a myriad of designs in wedding albums. But this Rose-gold wedding album has touched our hearts. Every element of the designer wedding album speaks volumes for its elegance. The pastel hue of this album's cover looks enchanting. It is an ideal choice for making everlasting beautiful memories.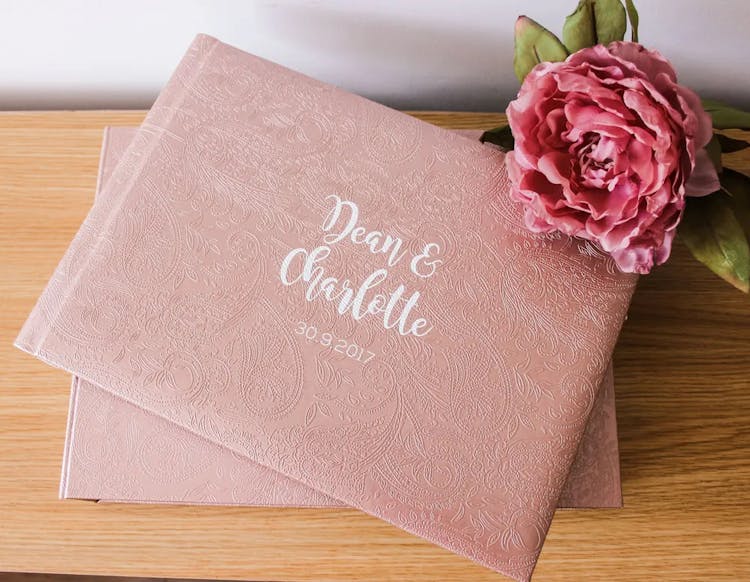 Tips To Choose A Perfect Wedding Album
Always keep in mind to choose an ideal size for a wedding album that is 8x8, 12x12, or 11x14. You must choose the album depending upon the size of your wedding pictures.
By choosing a wedding album you need to make sure the material used in it. You can choose a mat finish wedding album that looks uber special. It is also resilient to fingerprints.
Look for a cover design, that should be striking and extraordinary. Your wedding album cover design must attract attention at the first sight.
Always pick the right theme for your wedding album. Because it will give your wedding album an elegant feel,.