All You Need To Know About Bengali Wedding Rituals
Read on to know all about fascinating Bengal wedding rituals that make a Bengali wedding one of the most extravagant celebrations.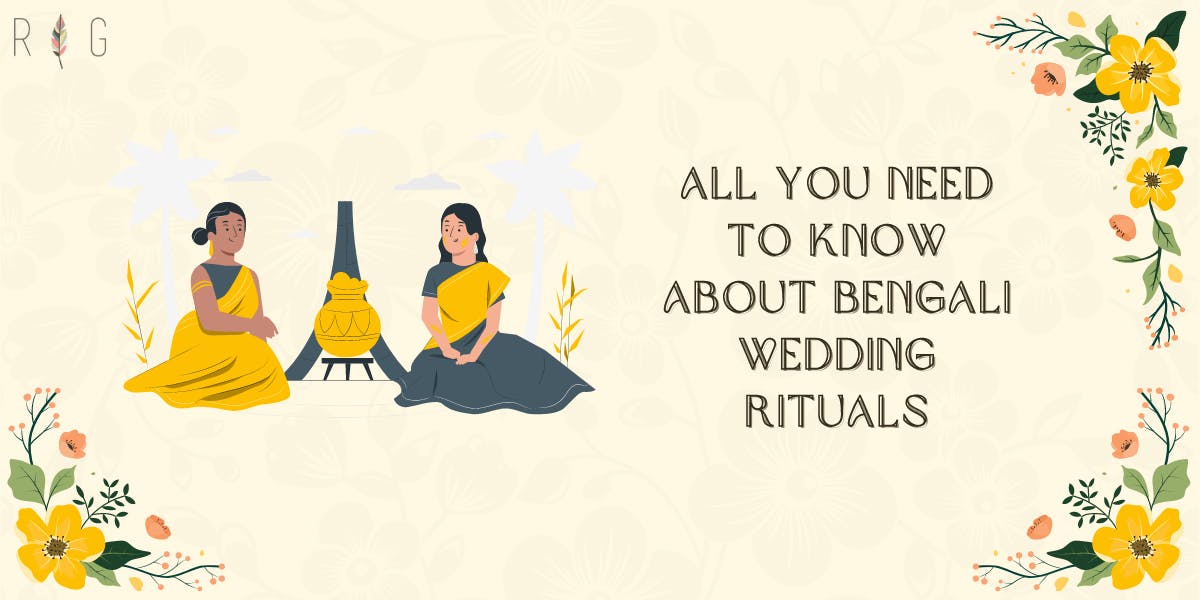 Every culture and region has different wedding rituals in India celebrated in a grand way. One such beautiful wedding diverse India is a Bengali wedding. Bengali weddings are an elaborate mixture of various rituals which are a visual treat to the eyes. These age-old wedding rituals are performed for more than a week. If you want to know about all Bengali wedding rituals, before your marriage, then keep reading this interesting blog created by wedding photographer in kolkata.
Here Are The Popular Bengali Wedding Rituals
1. Adaan Pradan
2. Aashirbaad
3. Vridhi puja
4. Aai buro bhat
5. Dodhi mangal
6. Ganga Nimontron
7. Gaye Holud
8. Sakha & Pola
9. Bor Boron
10. Potto Bostro
11. Saat Paak
12. Subho Drishti
13. Mala Badal
14. Sampradan
15. Yagna
16. Anjali
17. Sindoor daan
18. Bidaay
19. Bou baran
20. Bou bhat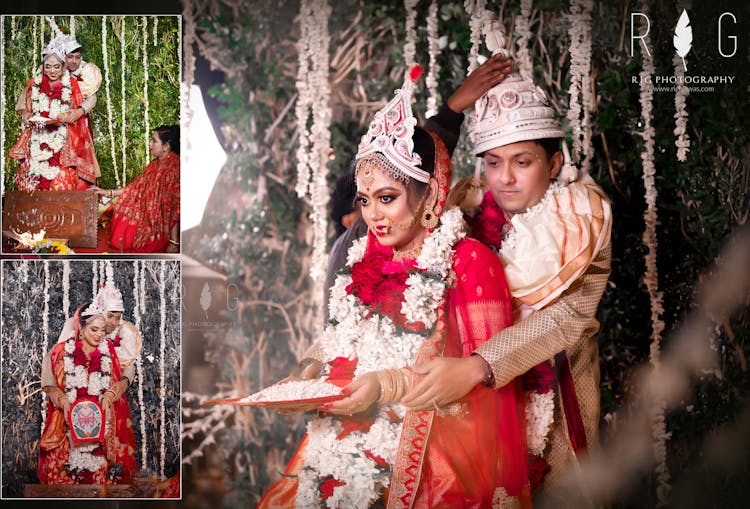 Pre-Wedding Rituals
1. Adaan Pradan
Once the guy and girl agree to marry each other, both the families meet and invite a priest to take a look at their horoscopes to match their lineage and decide an auspicious date to conduct to marriage. Once the wedding date is confirmed, both the families exchange gifts with each other.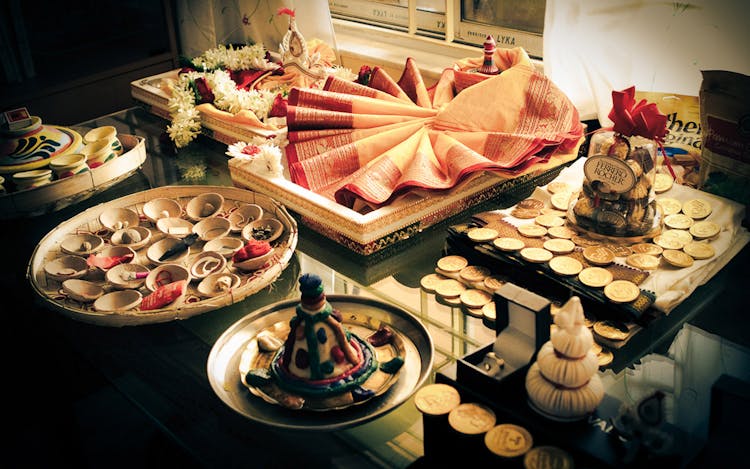 Recommended: 15 Breathtaking Haldi Ceremony Dress Ideas For Brides In 2022
2. Aashirbaad
Aashirbaad is similar to an engagement ceremony. It happens before two-three days of a Bengali wedding. This joyful ceremony marks the beginning of wedding rituals actually. Both the families go the each other's homes to shower blessings on the bride and groom. Blessings were made with elements like husked rice, trefoil leaves, and dubyo. Then the new couple receives gold ornaments gifts from family members and close relatives.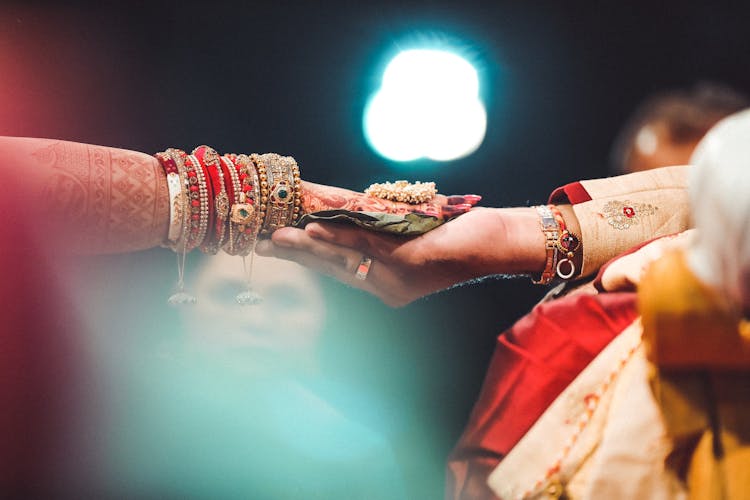 Must Read: All About Traditional Bengali Bridal Jewellery Collection [2022]
3. Vridhi Puja
Vridhi Puja is performed prior to a day to the wedding. This puja is conducted at both's sides' houses to take blessings of ancestors. This important ritual is performed by a paternal uncle of the bride and groom.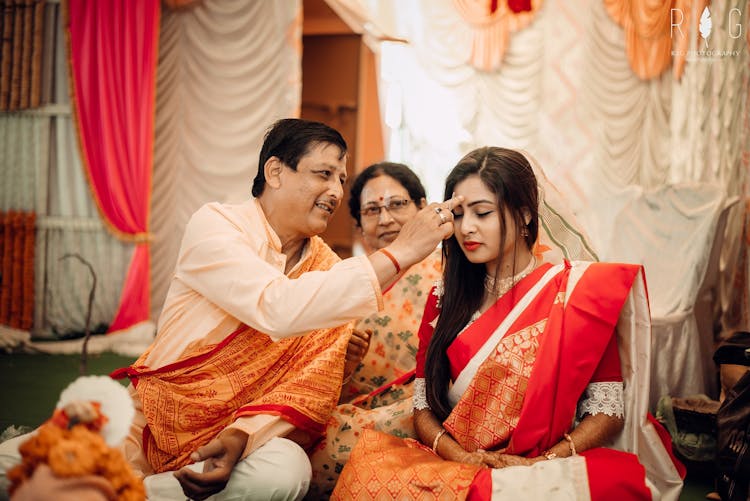 Also Read: Top 10 Bengali Mehndi Design Ideas
4. Aai Buro Bhat
Not only western couples but Bengali bride and groom also celebrate their bachelor party. Yet the style is a little bit traditional, but believe us this is one of the most awaited rituals in Bengali marriage. Aai buro bhat is simply a last delicious meal as a bachelor or bachelorette which is prepared by family, friends, and close relatives. Finger-licking Bengali delicacies are made as per the choice of the couple.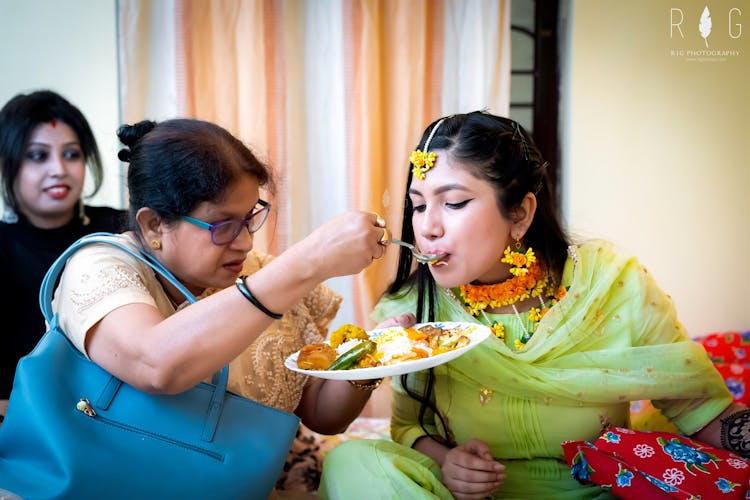 5. Dodhi Mangal
This early morning ritual is known as "Dodhi Mangal" is an important part of the traditional marriage ceremony. Which is performed in the houses of bride and groom separately. Under this ritual, the bride and groom are fed puffed rice and yogurt.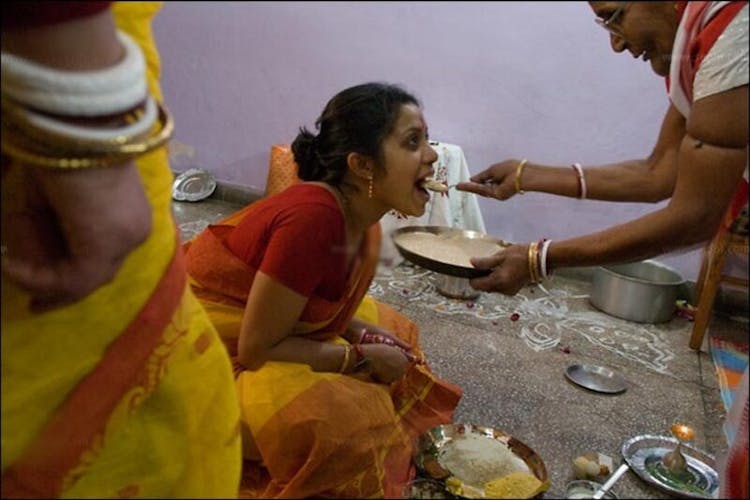 6. Ganga Nimontron
Followed by Dadhi Mongal, a holy ritual of inviting the river Ganga takes place. Women of both families go to the river Ganga or nearby pond by blowing conch shells. After reaching the river they light up a Diya and bring back a brass pitcher full of water.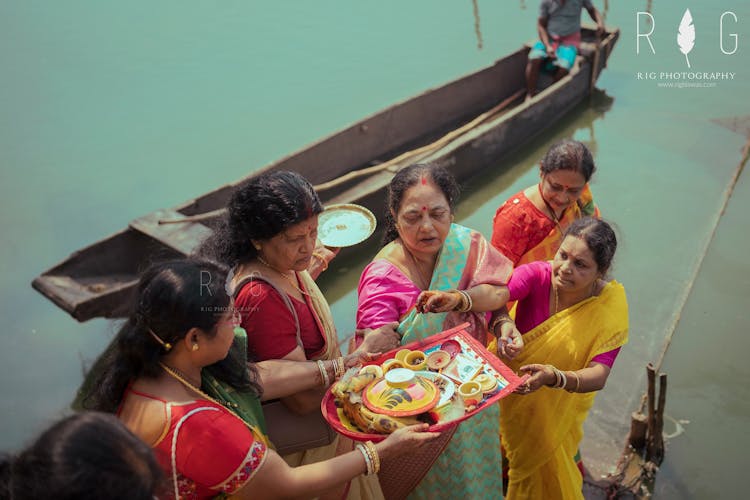 7. Gaye Holud
Similar to a Haldi ceremony, "Gaye Holud" comes under wedding day rituals. The groom-to-be has applied a wonderful spice called "Turmeric" on the whole body and then the same turmeric paste is sent to the bride's home with some gifts and a new saree. The bride is then applied with the same paste and then bathed with the water brought from the river.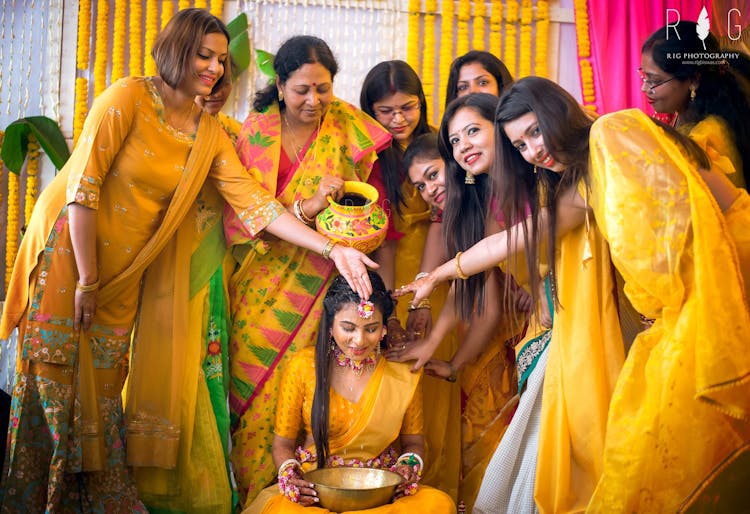 8. Sakha & Pola
In the Sakha & Pola ceremony, seven married women help the bride to wear conch shell bangles known as Sankha and Pola. Sakha symbolizes the quality of the moon, and Pola is the symbol of good health and fertility.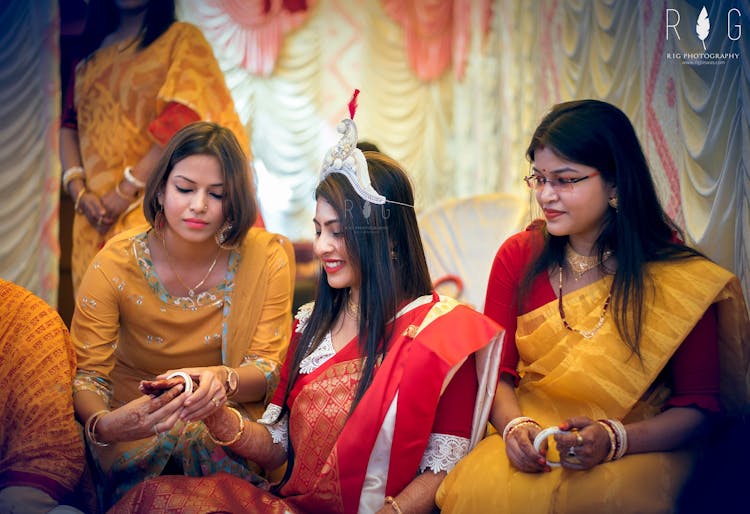 Beginning Of Wedding Rituals
9. Bor Boron
This Bengali wedding ritual begins by welcoming the groom along with baratis. Once the groom reaches the venue, the mother of the bride comes Baran dala and sweets. She performs an aarti of the groom and fed him sweet and water. The whole environment becomes joyful with the sounds of ululation and blowing of conch shells.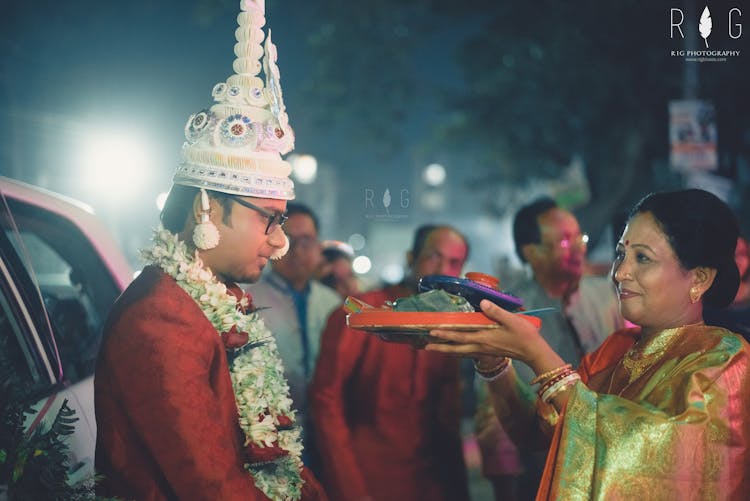 10. Potto Bostro
The groom is seated under a wedding alter, known as chadnatolla, and gifted with new clothes. Usually, this ritual is performed by the bride's father or uncle.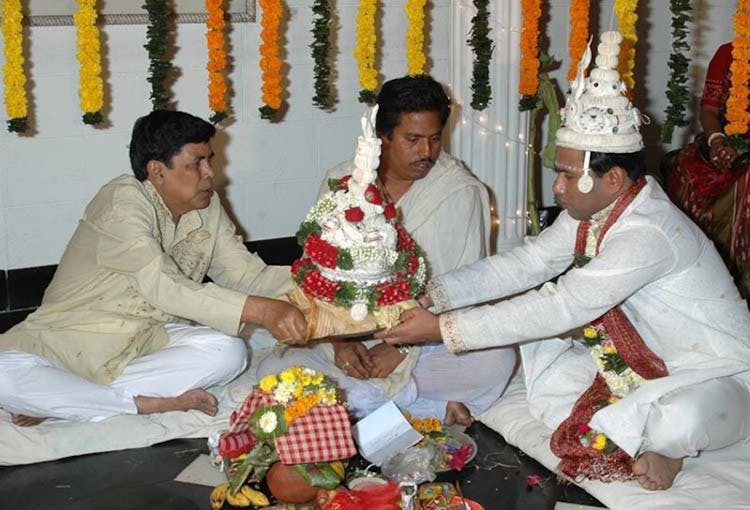 11. Saat Paak
This is the most delightful moment that is very popular in Bengali wedding photography. The beautiful entry of the bride in the mandap, carried by her four brothers or uncles on a pidi or wooden tool is a treat to the eyes. The gorgeous bride needs to cover her face with sacred betel leaves and move around the groom seven times.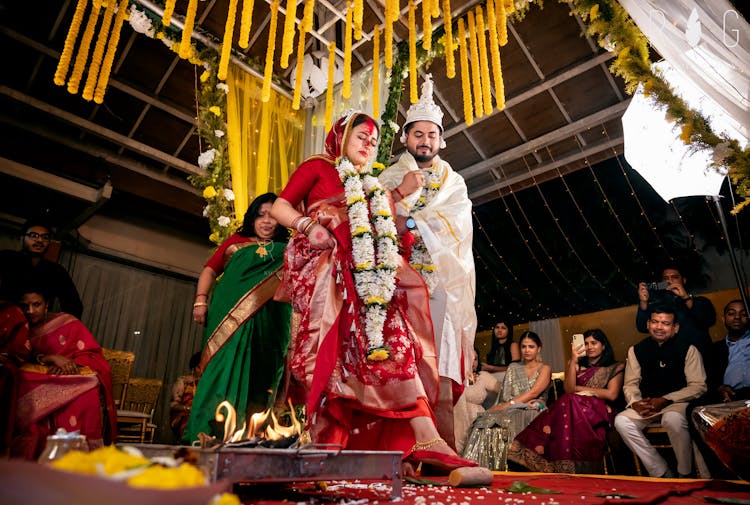 12. Subho Drishti
After completing the seven rounds around the groom, the bride removes betel leaves from her face. Both the couple looks at each other. The exchange of their loving glance is called "Subho Drishti".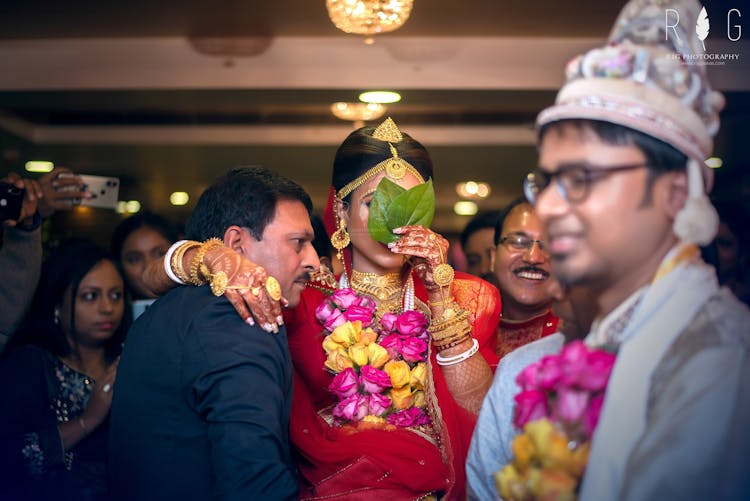 13. Mala Badal
The bride and groom exchange floral garlands in front of everyone present in the mandap and marks the first step of accepting each other as life partners.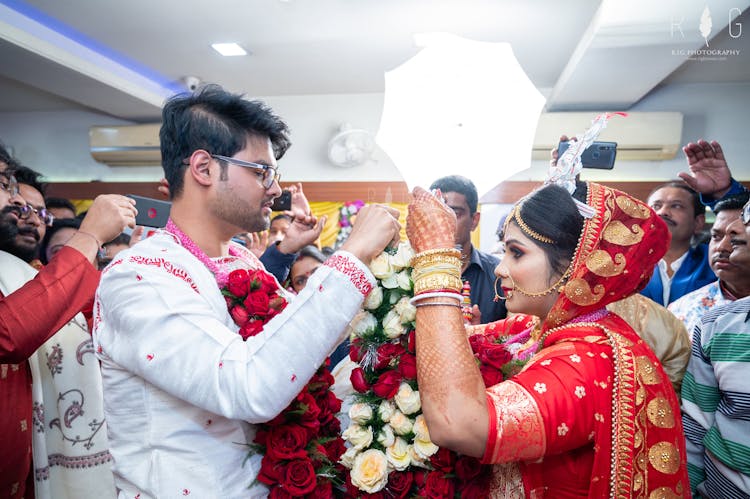 14. Sampradaan
Sampradaan is an important ritual in Bengali marriages that is performed by an elder male member of the bride's family usually done by the bride's father or uncle. The father of the bride gives hand in the groom's hand. The priest ties their hands by a sacred thread and recites Vedic mantras.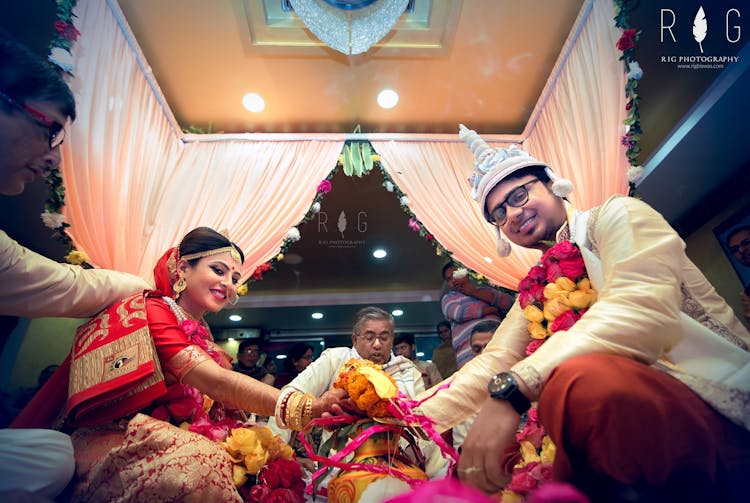 15. Yagna
In this ritual, the priest recites Vedic mantras in front of holy fire and both the bride and groom take seven rounds around the fire by stepping on seven betel leaves.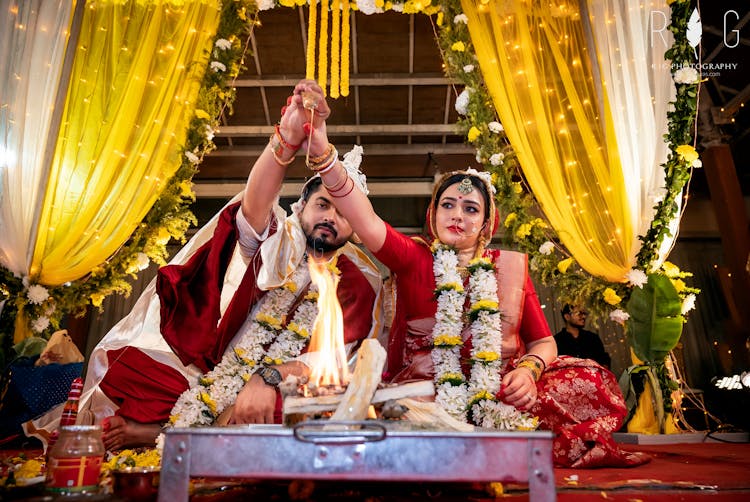 16. Anjali
Followed by Yagna, this amazing ritual demands offering puffed rice in the holy fire. The puffed rice is offered by the bride's brother into the couple's hand which is then offered into the yagna.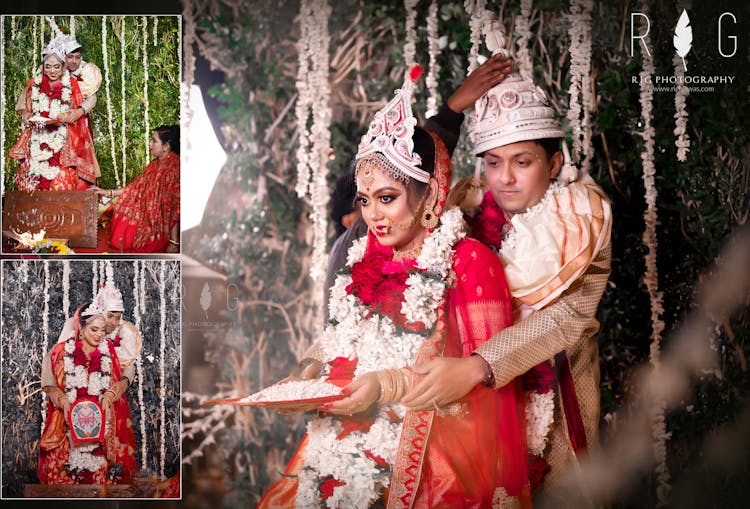 17. Sindoor Daan
Sindoor Daan ceremony is the last and final ritual that unites the couple. The groom applies vermillion on the bride's forehead which makes her a married woman. This Bengali sindur daan ritual is considered one of the best and most beautiful shots captured by wedding photographers.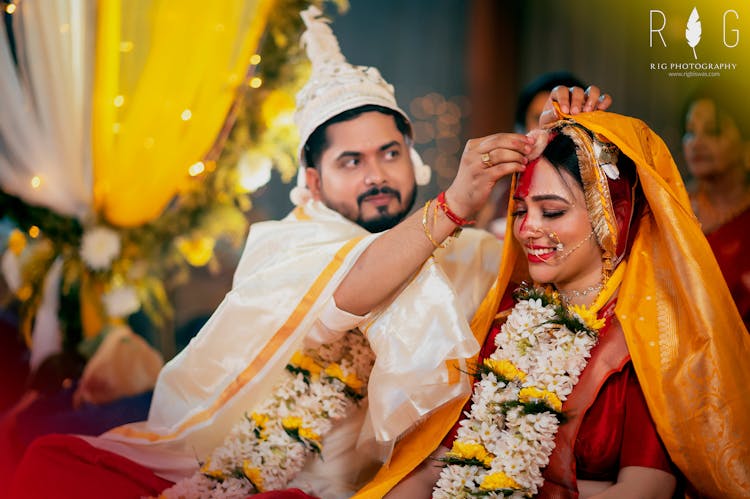 Post-Wedding Rituals
18. Bidaay
The farewell moment arrives with pain and teary eyes to leave the paternal house forever. The bride departs for her new home leaving her family behind.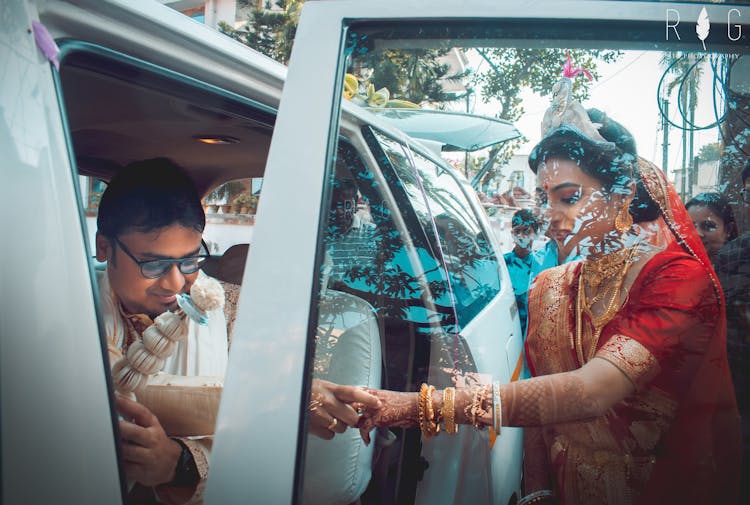 19. Bou Baran
After shedding tears during Biday, the new bride reaches her new home with her husband, which brings immense joy to the family. She steps into the house by putting her feet in a vessel containing milk and Alta.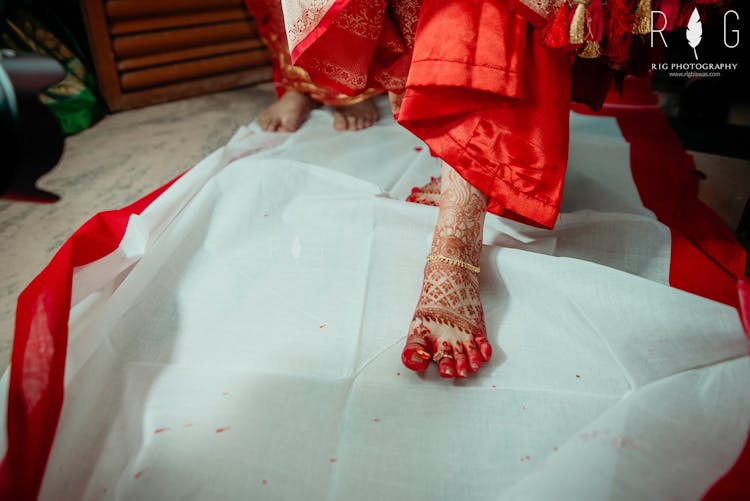 20. Bou Bhat
The new bride prepares her first meal in her new home and serves it with respect to her new family and relatives. This food ceremony is known as Bou Bhat which is followed by a grand reception party in the evening hosted by the groom's family.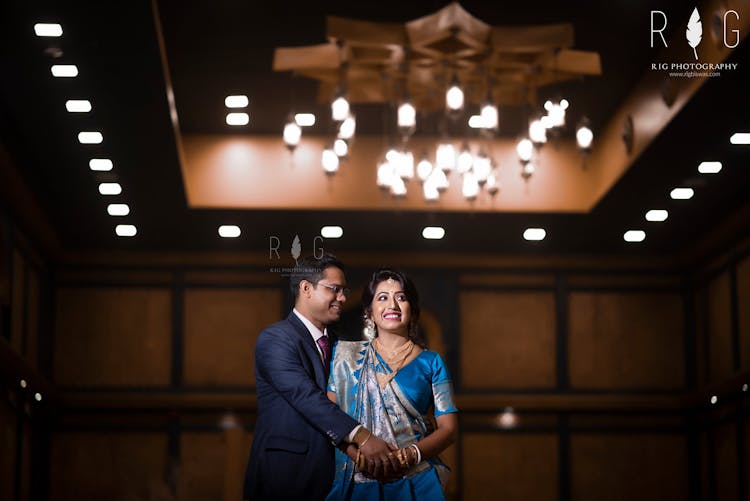 So, these are some of the most important and beautiful rituals that make Bengali weddings colorful and mesmerizing celebration. A wedding planning must be done in a certain way that it becomes an everlasting memory. Hire a passionate Kolkata wedding photographer who can capture some golden and unforgettable memories for your D-day. Rig photography is a fine art best wedding photographer in Kolkata who can provide a cinematic effect to your wedding photos. They are specialized in pre-wedding and post-wedding photography.