Craft Perfect Frames With Siliguri Wedding Photography
Let Siliguri Wedding Photography weave the most eye-pleasing love story by capturing the romance, joy, and blissful moments of your wedding day.
Step into a world of visual poetry as we, the team of the best wedding photographer in Siliguri, transform your precious moments into timeless works of art.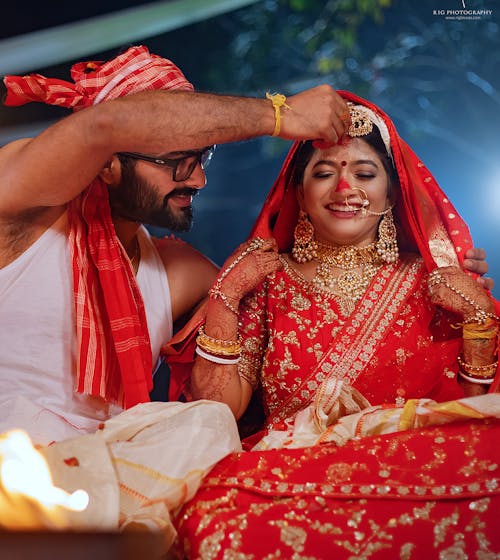 Siliguri Wedding Photography
Weddings in India always bring a bundle of joy and celebrations full of life. As the best wedding photographers in Siliguri, We have the incredible opportunity to capture the beauty of Bengali wedding traditions in the serene backdrop of Siliguri. Our talented wedding photographers in Siliguri try to capture the feelings, joy, and timeless beauty of Bengali wedding rituals with every click. Let us be your storyteller, immortalizing your love in images that will leave you speechless and in amazement.
Why We're The Best Wedding Photographer In Siliguri?
Value Time And Money
We deliver exceptional photography services that exceed your expectations.
Maintains Professionalism 
We uphold the highest standards of professionalism during photoshoots.
Affordable Photography Packages
Our Siliguri photography packages for weddings are crafted to fit your needs.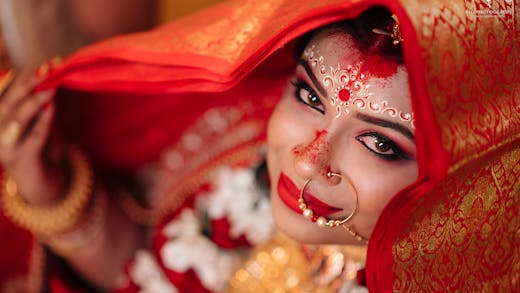 Cinematic Wedding Video Films
Are you looking for experienced photographers in Siliguri who can document your wedding moments just like a magical fairy tale? No need to look anywhere else. Get ready to experience the finest wedding tale with the talented team of Rig Photography. Our team of creative experts combines artistic talent and technical knowledge to create stunning wedding films and pictures that take you back to the beautiful moments of your special day. Whether you are planning an intimate wedding or a grand celebration, we are ready to provide you with the best wedding film in the city.
Explore all priceless moments!
Transform your love story into the most creative
Wedding Frames
Want to preserve all the wonderful memories of your wedding festivities? Reach out to the best photographer in Siliguri to create an enchanting wedding tale.
Check Our Other Photography Services
Discover the world of various photography services that our skilled team has to offer. We document life-long memories, whether they belong to your weddings or newborn photo shoot.
Call Us Now For Amazing Pre Wedding Photoshoot In Siliguri
Do you want an extraordinary pre wedding shoot in Siliguri in affordable price? We can help you with that. Contact us today for more details!
Why Choose Our Best Wedding Photographer In Siliguri?
You might have planned everything about your wedding. But when it comes to wedding photography in Siliguri choosing the best option will shape the way you remember your special day.
Rig Photography is a well-known and award-winning wedding photographer who knows how to blend art with emotions perfectly. Our team understands the significance of every moment, and we strive to create a seamless blend of artistry and emotion in every frame. Our main goal is to capture those priceless moments in Siliguri's calm atmosphere which serves as the backdrop for lovely wedding images.
Our attention to detail and use of advanced photography and editing tools result in the finest Siliguri wedding photography. Our friendly photographer also guides the wedding couple and their families regarding the best backdrop and poses. Choose us as your best wedding photographer in Siliguri, and let us transform your moments into cherished works of art.
Frequently Asked Questions –
What Are The Latest Trends In Wedding Photography?
The latest trends in wedding photography include candid shots, drone photography, creative lighting techniques, and capturing unique moments and details.
How Soon Should I Hire The Best Wedding Photographer In Siliguri?
You should book the best wedding photographer in Siliguri at least 6 to 12 months in advance, especially for popular wedding dates.
Will The Photographers In Siliguri Also Edit The Wedding Images?
Yes, Siliguri wedding photographers also offer picture editing services as part of their wedding photography packages to enhance and optimize the captured images for a polished final result.
Do I Need To Make An Advance Payment To Book Wedding Photographers In Siliguri?
Yes, it is essential to make an advance payment to book wedding photographers in Siliguri. This confirms the photographer's availability for your big day.
What Is The Average Price Of Booking The Best Wedding Photographer In Siliguri?
The average cost of hiring the top wedding photographer in Siliguri might vary depending on features including the photographer's experience, package, and the amount of time spent on your wedding photography.
What Is The Best Location For Pre Wedding Shoot In Siliguri?
Pre-wedding photo shoots can be held in many stunning spots in Siliguri, such as Sepoy Dhura Tea Garden, Salugara Monastery, Sevoke Kali Mandir, and Mahananda Wildlife Sanctuary. These locations offer lovely backdrops for a romantic photoshoot.
Talk to Our Best Wedding Photographer in Siliguri Now!
A wedding happens once in a lifetime! Don't miss the opportunity to make this moment counted under the list of best memories of your life. Connect with us today!
Kolkata West Bengal 700126

speed.rig@gmail.com

+91 98306 93939
Latest Photography Blog Posts
Here's a log of our explorations, that we love to share with you!