Top 7 Wedding Sherwani Shops In Kolkata - Rig Photography
Shopping for a perfect outfit for a wedding is not just the brides right. Explore popular sherwani shop Kolkata to glam up your D-day look.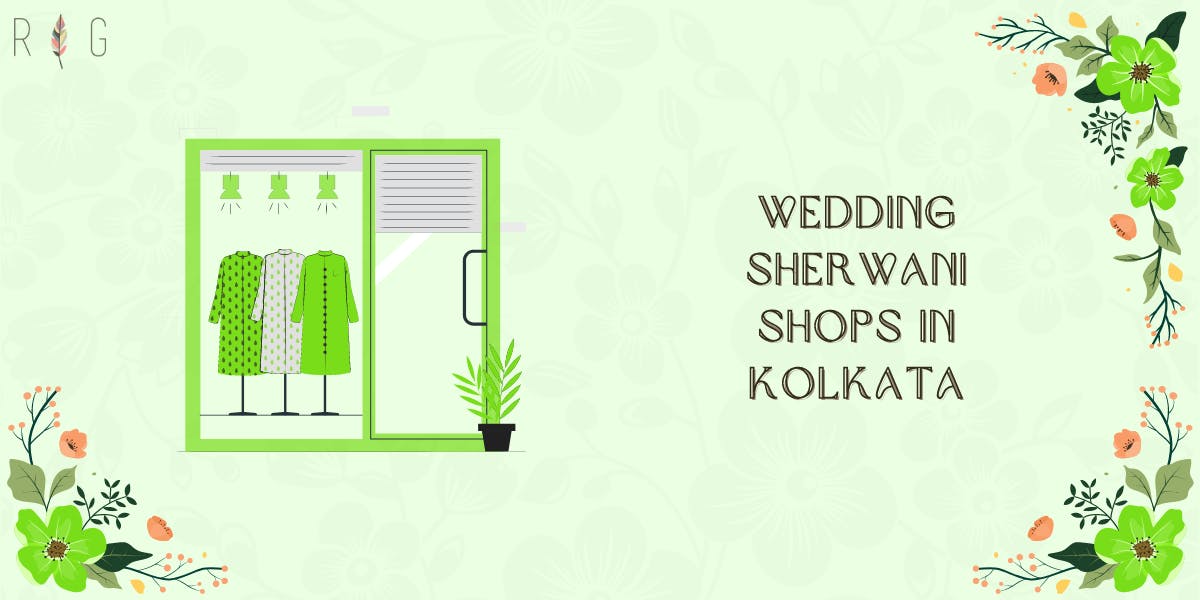 Indian wedding begins with a lot of preparations and shopping. Be it shopping for wedding rituals or for buying the wedding outfit. Looking for the most charming person is the dream of every bride and groom. We all know that girls are crazy about shopping. They need perfection from toe to head in terms of their bridal look. Similarly, grooms are also excited to shop for a dream outfit for their wedding day. And when we are talking about the wedding dress of the groom, how can one forget the most classy outfit of Indian men "The Sherwani".
The way Bengali grooms flaunt their embroidered outfits in splendid poses for Bengali wedding photography is just remarkable. The classy sherwanis are probably the best outfit for the groom which flaunts their masculine fervor beautifully. So, if you are a groom-to-be who is looking for suggestions on his marriage sherwani, stay at this page and read this interesting blog on the most popular sherwani shop in Kolkata. Because the city of joy can offer you endless options of designer sherwani which you will surely love to buy for your D-day.
1. Manyavar
Some outfits can provide you with a celebrity-like feeling. Manyavar's amazing collections can help you get your dream outfit for your special day. This shop is the biggest brand in India that offers designer sherwanis. This fashionable ethnic outfit can make you stand out. From embroidery kurtas to royal sherwanis and Indo-western outfits it has much more to offer you. This men's wedding store is perhaps the most popular sherwani store in Kolkata among the grooms. You can also customize your wedding outfit in this store according to your preferred color and designs.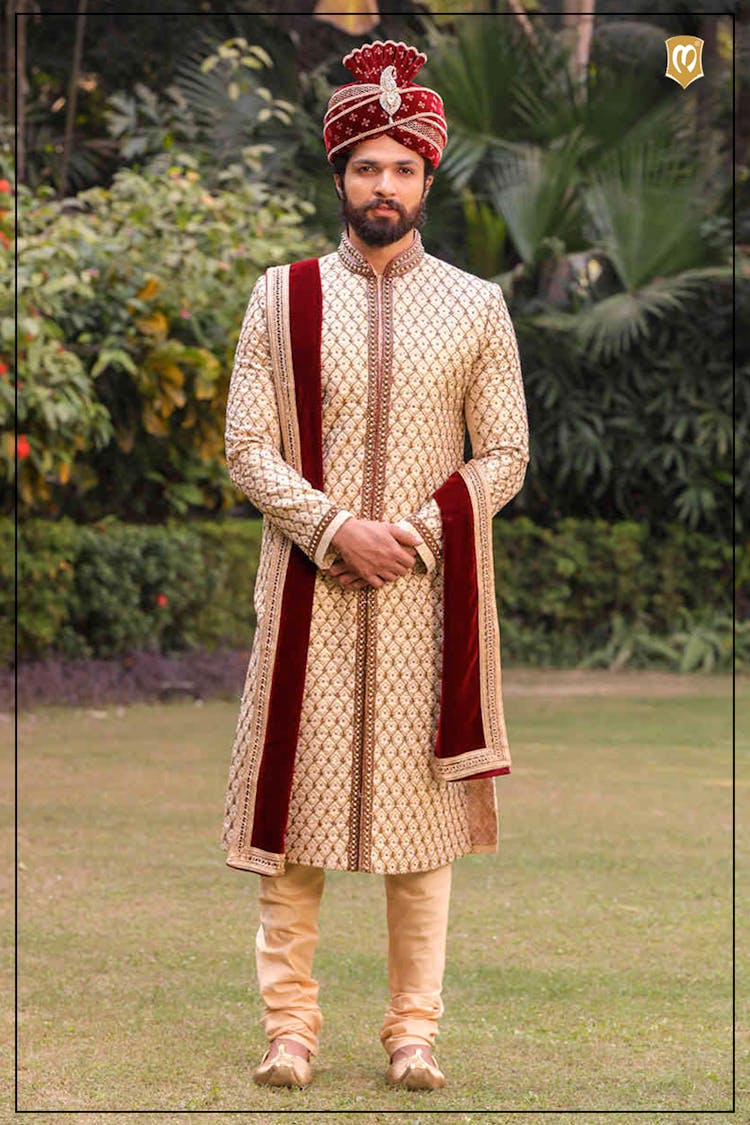 Recommended: Top 15 Fashionable Bengali Groom Dress Ideas For Reception Ceremony
2. Vedam
This store is a fashion paradise for both bride and groom. If you are looking for a premium designer sherwani then you must step into this store. Vedam offers you exclusive collections of popular designers like Tarun Tahiliani, Gaurav Gupta, Manish Arora, and much more. They also deliver the latest and exclusive designs for one of the best fashion designers of India "Manish Malhotra". The prices of this mens sherwani Kolkata store can be on a higher-end but this higher price is nothing in front of your fabulous wedding look.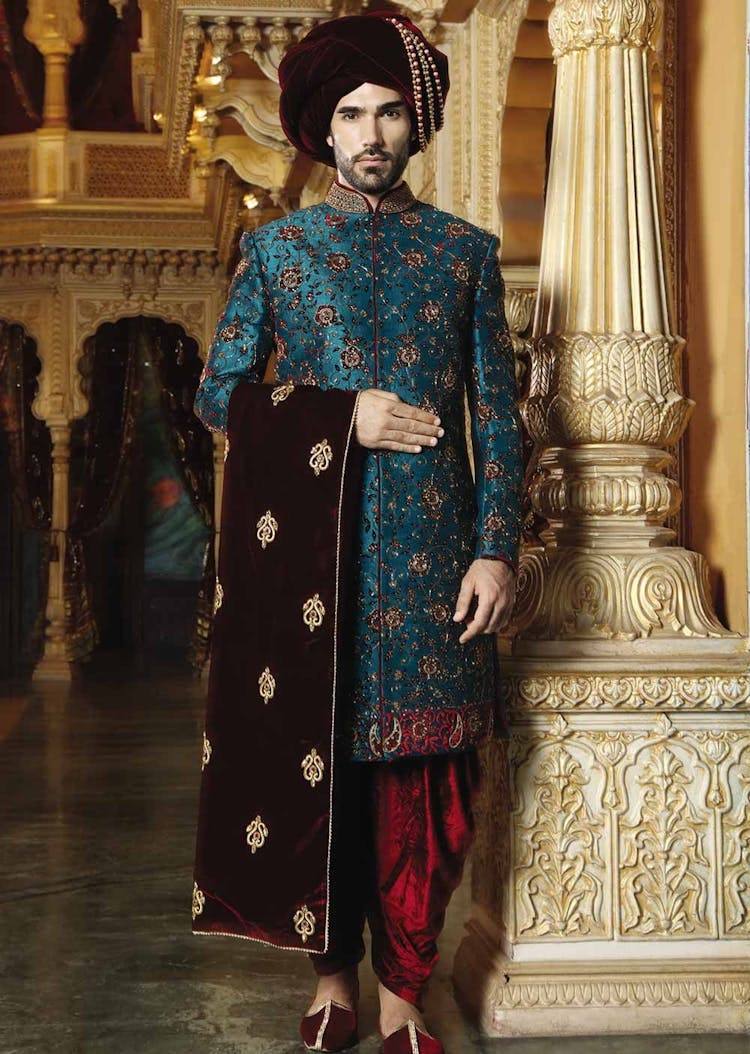 3. Surbhi Pansari
Surbhi Pansari is a favorite choice of Tollywood celebrities when it comes to designer Indian ethnic wear and sherwanis. This sherwani showroom in Kolkata has a wide variety of option to offer that includes your embroidered sherwanis also. This outlet is popular for making the best and classy sherwanis that are even preferred by Indian celebrities. You can also flaunt your designer sherwani in your wedding photographs by hiring Rig photography, one of the best wedding photographer in Kolkata. Surbhi Pansari's signature collection allows you to celebrate the best moment of your life in the most stylish manner.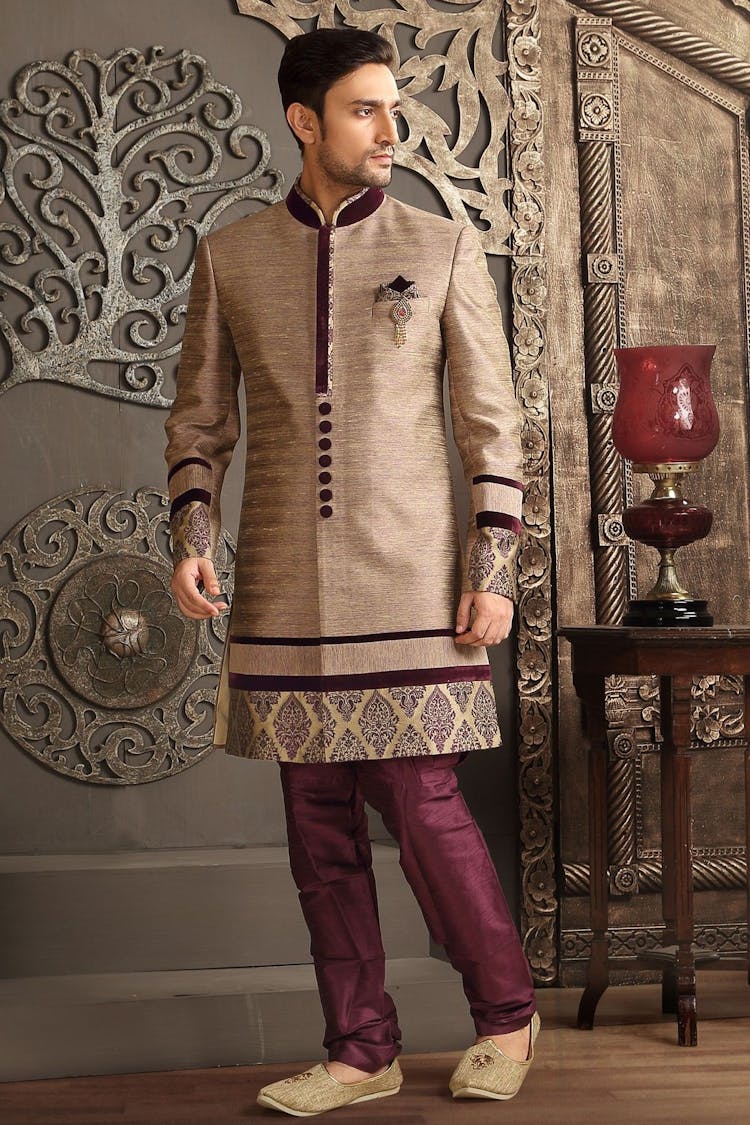 4. Dapper
These multi-designer grooms wear store can grab your attention with its finest collection of wedding dress for men. Dapper is a brand name that was founded by a renowned fashion designer Shilpa Sethi. They also run showrooms in other big cities of India like Jaipur, Delhi, Ahmedabad, and Chennai. From Ayushman Khurana to Vicky Kaushal and Ranveer Singh has tried their exclusive sherwani collection. With numerous designer collections available also on an online platform finding your dream outfit shouldn't be such a difficult task?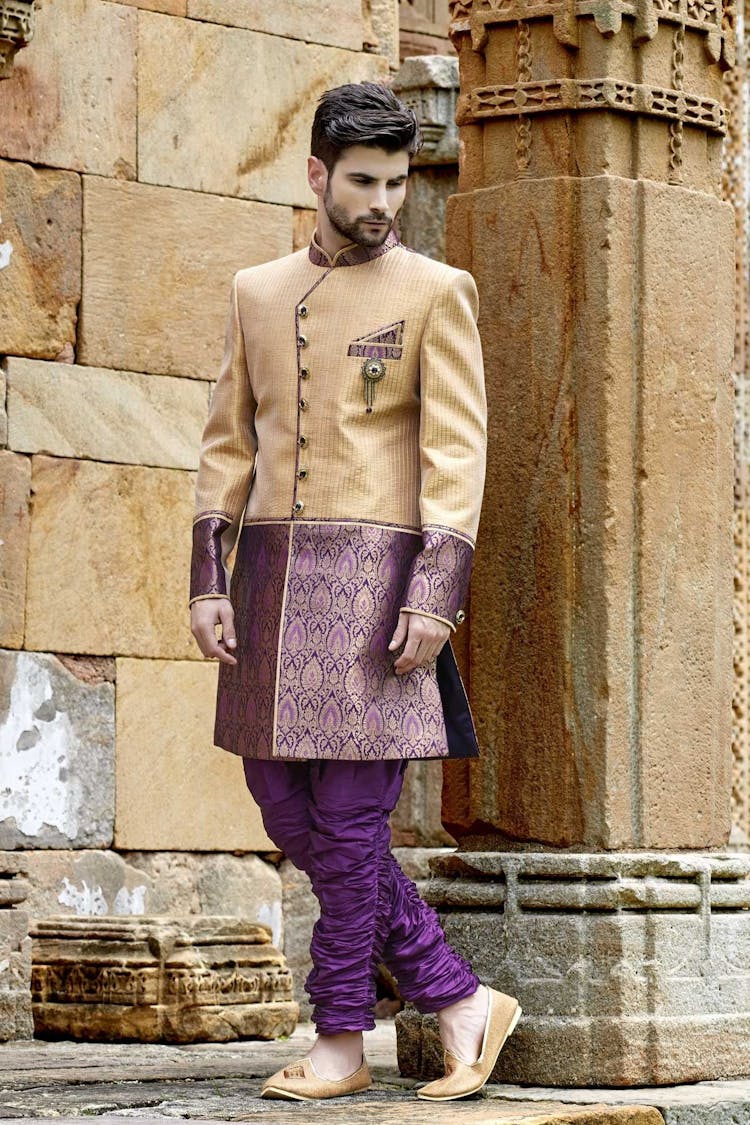 5. Komal Sood
With vast experience in fashion designing, Komal Sood has launched her own fashion store which offers you an extensive Indian wedding dress for groom to men's suit and tailoring. The classic ethnic collection of this store has been at the top of the city for many years. With an array of traditional wear to contemporary outfits, they offer you the perfect accessories to make you the most glamorous groom on your big day. Komal Sood designer sherwani is prepared with intricate design and sleek cuts that can be a spectacular and impressive ethnic outfit to wear in your reception.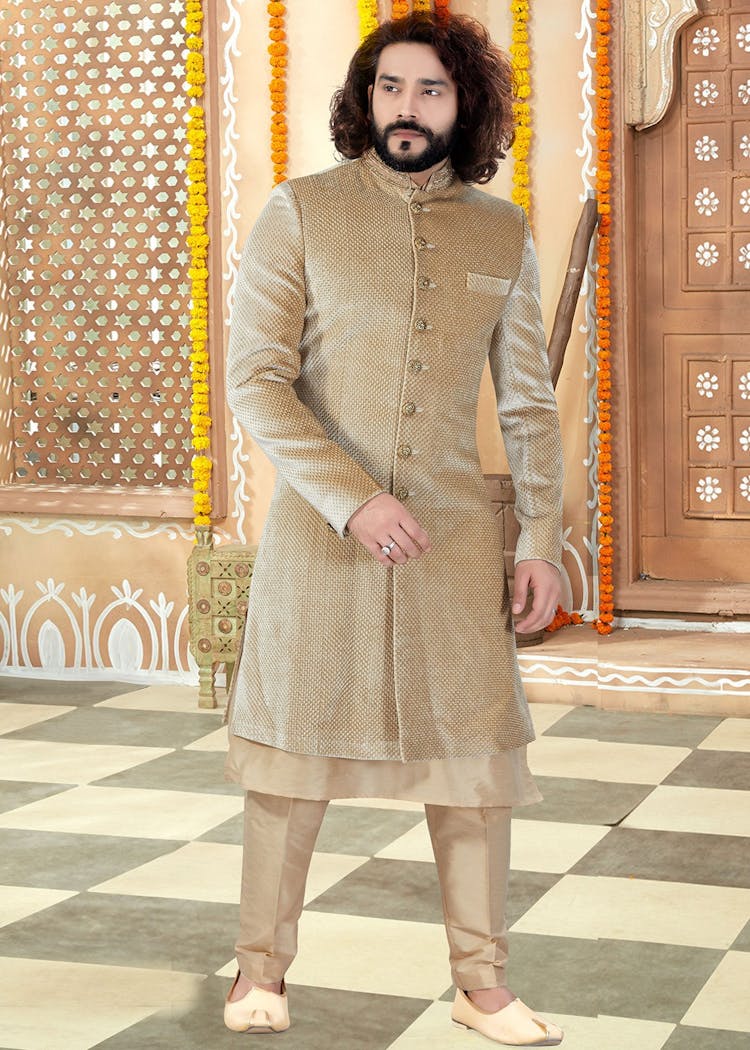 6. Barkat Ali
One of the oldest sherwani showroom in Kolkata, Barkat Ali has been providing impressive groom wear for more than 95 years. Their tailor-made suit and exquisite designs of sherwani make it a popular choice among the common people. Their century-old clothing store makes extremely stylish suits and sherwani that are sure to make you stand out. This tailor store is ideal for grooms looking to get married on an affordable budget. From darker hues to pastel collections and the latest prints you will get all the dream collections for your wedding at this tailor store.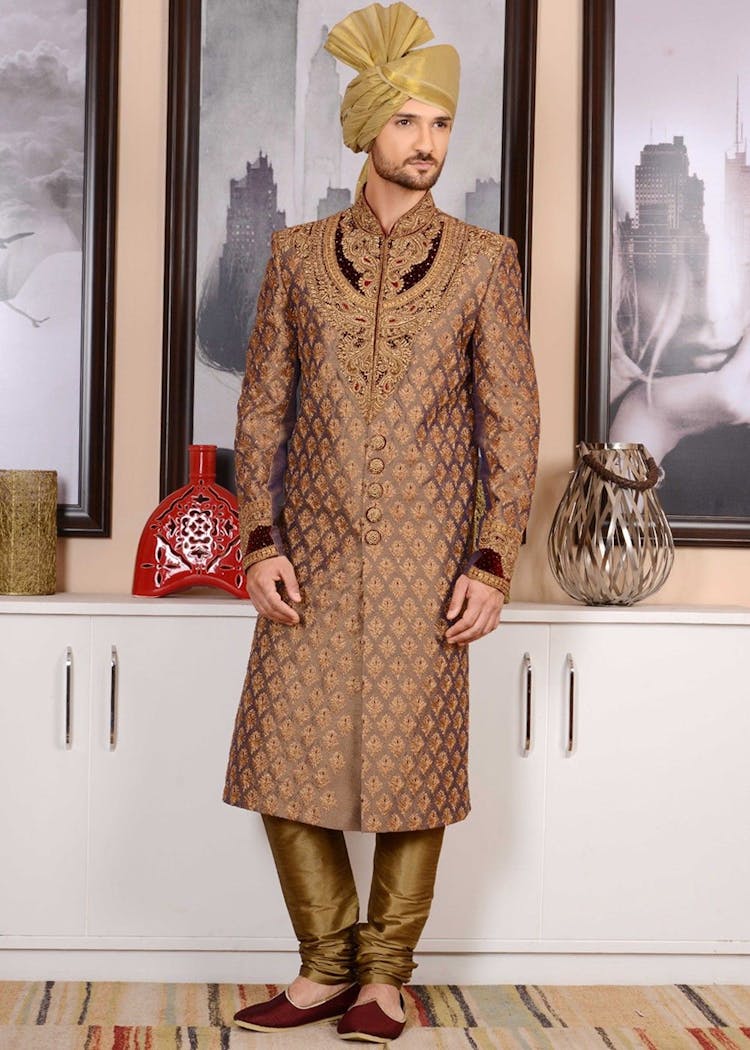 7. Sawariya
If you are looking for a first-class fabric at a reasonable price in the narrow lanes of Kolkata then Sawariya might be the best place for you. This is among one of the best sherwani shops in Kolkata which offers the royal sherwanis, classic bandh galas, and ever-green Nehru jackets in attractive shades and different designs. Every piece of sherwani in this store is a work of art that will not disappoint you. From traditional collection to contemporary range of outfits all will be available right at your fingertips.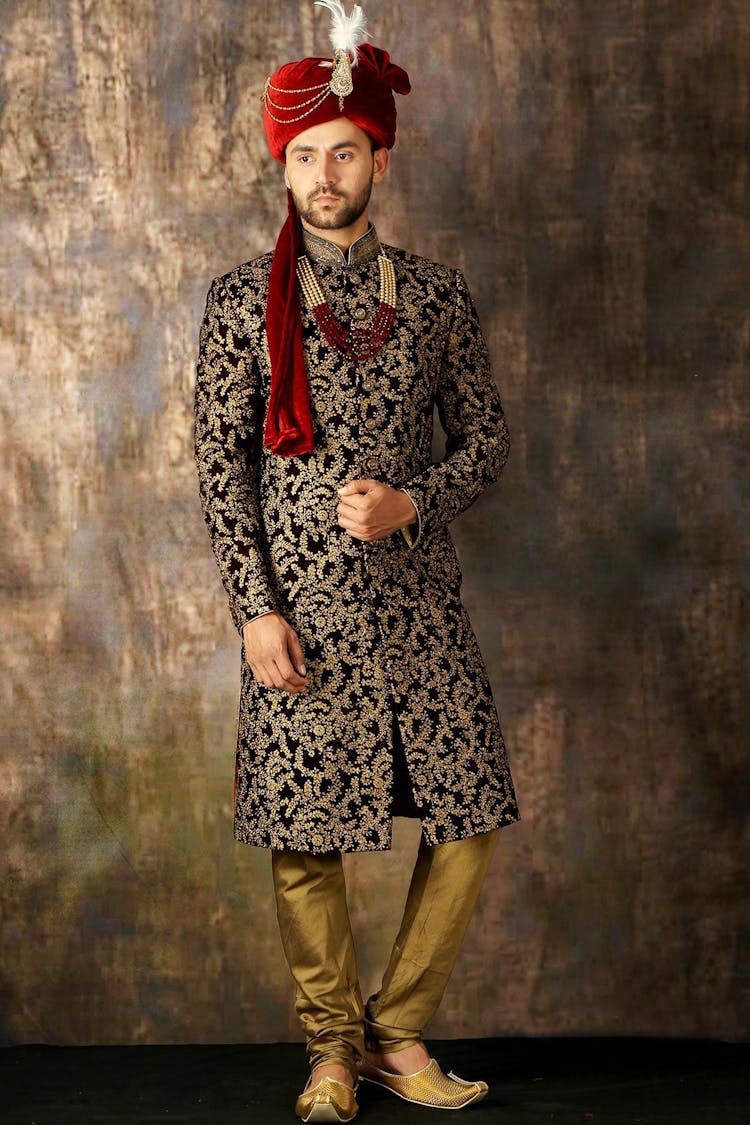 Some Important Tips To Shop Your Dream Wedding Sherwani
A plain sherwani in pastel color must be paired with a floral safa to get a classic look.
Don't forget to buy a contrasting stole with your designer sherwani to bring the royal vibes.
Always choose a sherwani that matches your skin tone and the theme of your wedding.
Shop a bright color sherwani for a summer wedding and a deeper hue for winter or night functions.
You can choose sherwani design with stonework, zari work, sequins work, or the embroider sherwani to get a regal look on your special day.
Wedding shopping is a joyful experience for both men and women. Hope this amazing article on dreams wedding outfits men will inspire you to choose the best wedding sherwani.