15+ Trendy Haldi Poses For Bride For A Splendid Haldi Photo Shoot
Read this interesting blog to know about the trending haldi poses for bride. These unique poses can provide you the most splendid images of your Haldi day.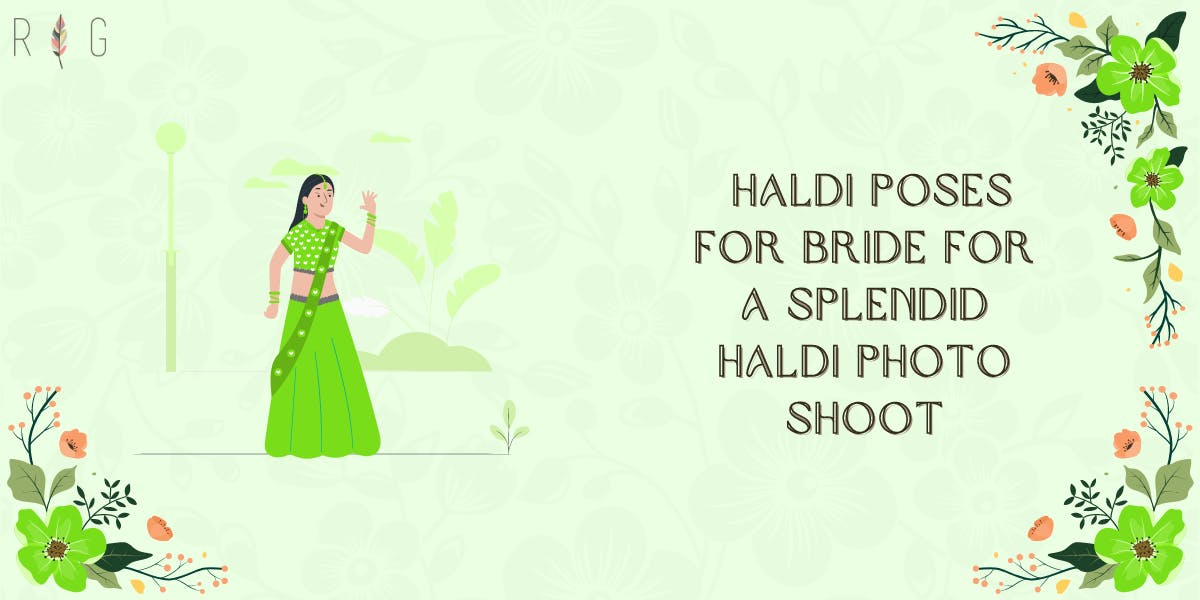 The yellow color of auspicious haldi increases the bridal glow. A bride dressed in Haldi outfits and floral jewelry looks like a beautiful princess. These haldi moments filled with mixed emotions can create beautiful portraits. Nowadays, the Haldi ceremony is celebrated with showering colors and flowers on brides. The Haldi ceremony has now become a grand fiesta celebrated with love and happiness.
Capturing the essence of a lively event can give you some everlasting and sweet memories. An experienced kolkata wedding photographer can give a creative touch to your bridal pictures. You need to look for some unique haldi pose to get the best wedding album. Here we are listing the best and trending haldi poses for bride that are worthy to steal the limelight with enough charm and poise.
Let's begin the search for an eye-catchy haldi pose.
1. An Eye Catchy Haldi Pose With Loving Sis
We can't stop admiring this spellbinding Haldi picture of a beautiful bride with her sister. Bridal poses for haldi with siblings are the most beautiful ones. You have grown up fighting over small things and loving each other for wanted reasons. Your sister deserves to get all the attention on your special day. This sweetest Haldi pose will always remind you about the loving bond both of you share.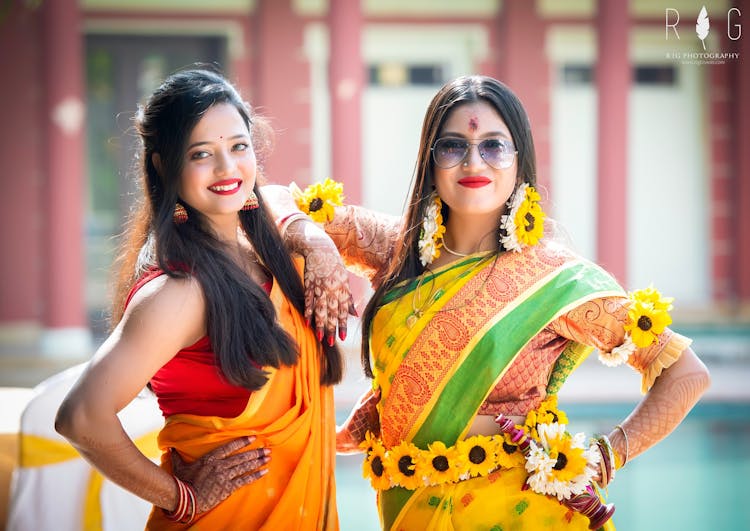 Must Read: 15 Breathtaking Haldi Ceremony Dress Ideas For Brides In 2022
2. A Fun-Filled Flower Shower
Colorful flowers can add festive vibes to your wedding events. Make your Haldi photoshoot more unique with a joyous flower shower pose. This dreamy portrait of a beautiful bride is depicting her true emotions. You can go all filmy by posing around with your family in a pool of flowers like this bride has done.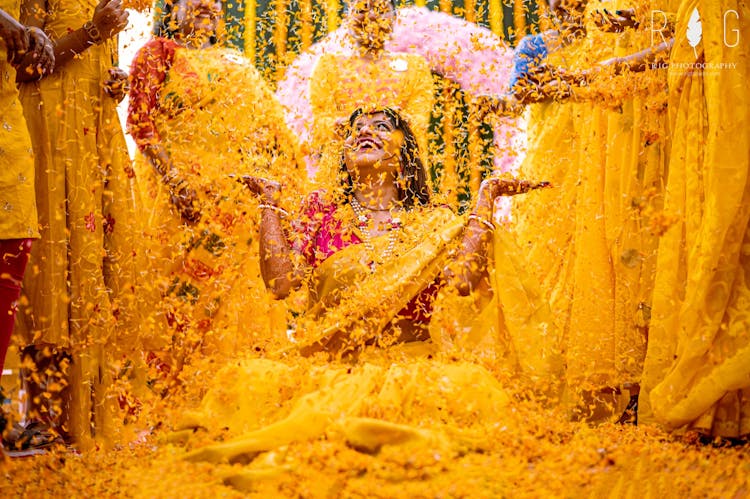 Recommended: Trending Bridal Mehendi Poses To Try For Future Brides!
3. Mumma's Darling Banno Rani
Your parents must be on the top list when it comes to capturing emotional Haldi pictures. This bride's hearty hug and loving kiss to her mother make this Haldi picture a precious one. Expressing love and gratitude to parents is an emotional moment in everyone's life. Book a candid wedding photographer in kolkata to get some super emotional wedding pictures.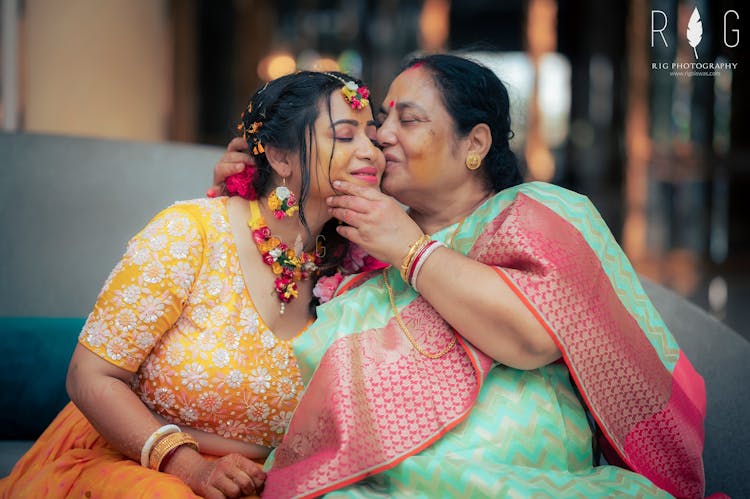 4. Cuteness Overloaded
Kids are a form of little angles that can add fun and love to every moment. This haldi portrait is proof of the statement. Haldi bride poses with kids can give you the cutest haldi pictures. This gorgeous bride has matched her Haldi outfits with her little nephew. We love how the little kid is trying to kiss our Haldi bride.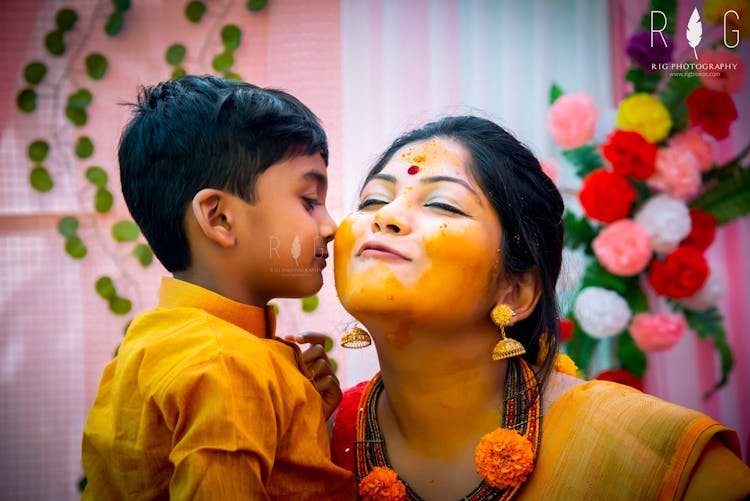 5. A Lavish Haldi Story Of Swagger Bride
Your wedding album is incomplete without such unique haldi photoshoot ideas. This ultra-modern bride is looking ravishing in her stunning outfits. We must admire her choice of posing in front of a luxurious car. This swagger bride pose is worthy to get the first position in your wedding album.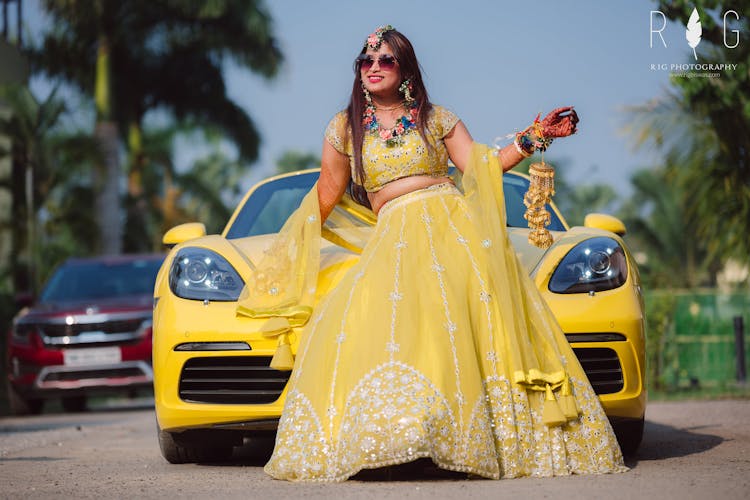 6. Adorable Haldi Poses For Bride
The idea of capturing a group photo along with your bride's maids is a superb one. It will enable you to create a good memory of your friendship for a lifetime. This girls' squad is clicked while sharing giggles and beautiful smiles. Save this spellbinding haldi photoshoot poses to create some loving memories of the wedding with your bride's maids.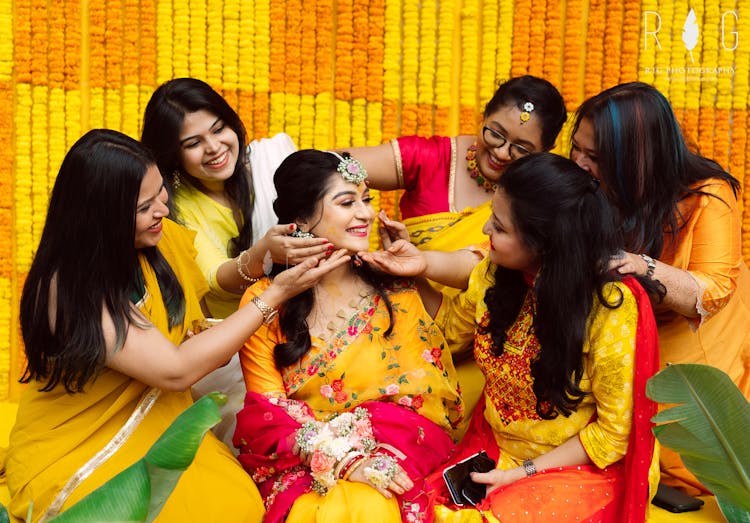 7. Dramatic Twirl Is An Amazing One
How mesmerizing is this bridal haldi pose! Ask your photographer to click your picture while you are twirling around. It would bring back your childhood memories of the joyful spinning. It will also make you feel like a real princess in your wedding pictures.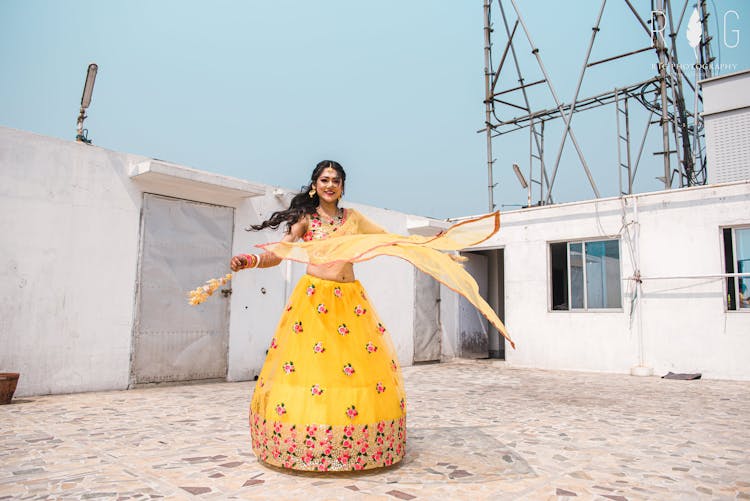 8. A Colorful Affair
A colorful backdrop of Haldi event can make your pictures fascinating. These colorful poses can give you some beautiful memory of your special occasion. You can use smoke bombs or holy colors to create a colorful backdrop for your Haldi photoshoot.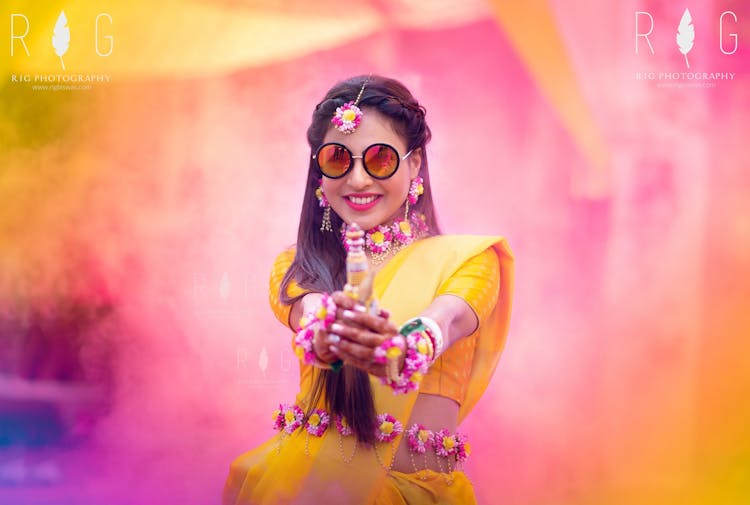 9. Perfect Pose For An Unconventional Bride
Are you looking for an unconventional way to pose for Haldi photography? This ultra-modern bride broke all the stereotypes by posing on a bike. If you also own a personal vehicle, this bridal pose might interest you.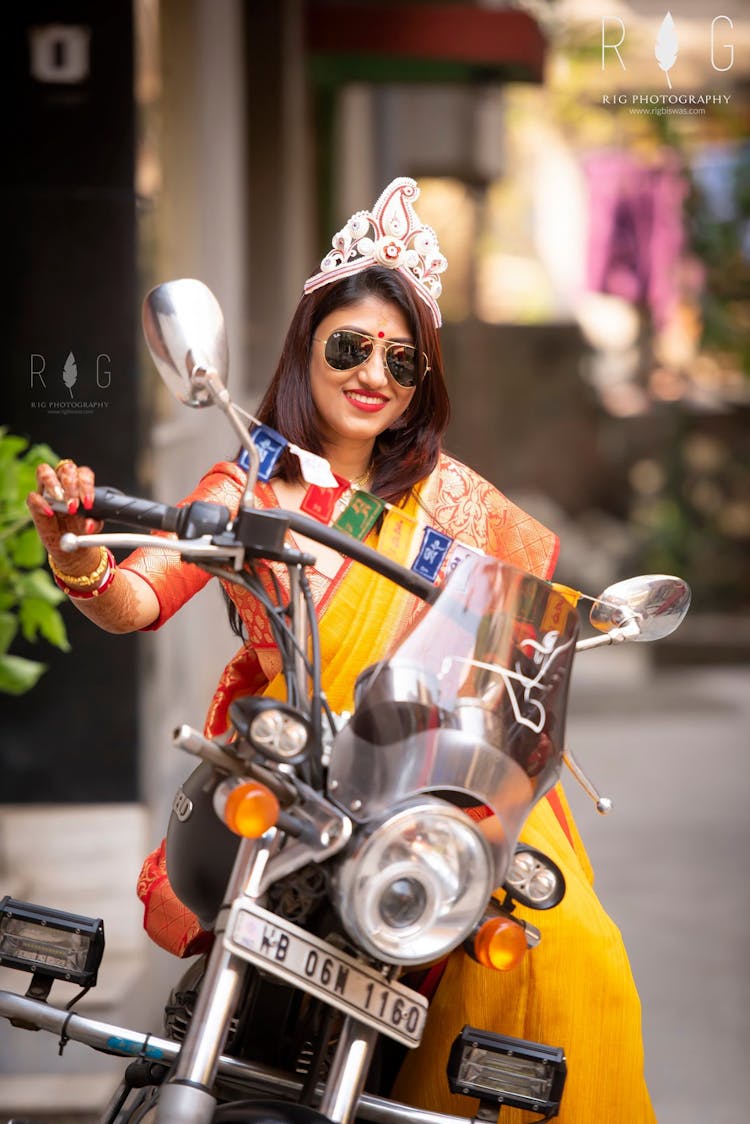 10. Let Shake Legs Together – Most Quirky Haldi Poses For Bride
Check out this chirpy bride who has made her entire family shake legs on her haldi day. You can have a gala time with your family at your special event after all it's the biggest celebration of your life. Such amusing haldi poses for bride can add a quirkiness and fun vibe to your wedding celebration.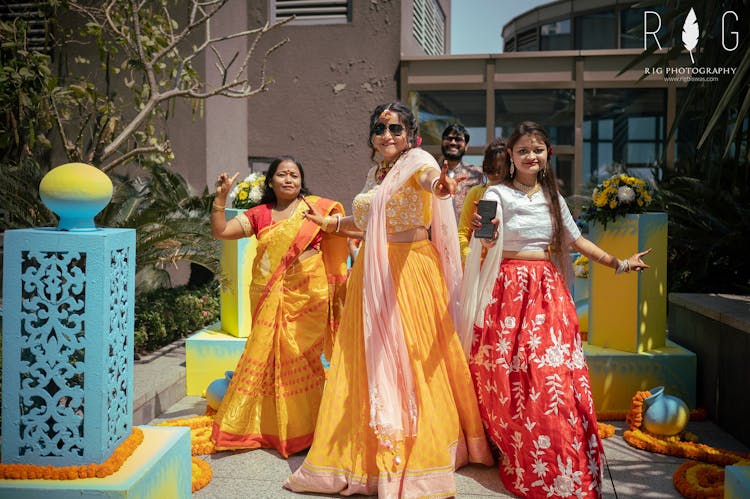 11. Some Hearty Laughter Moments
Get yourself clicked while sharing some laughter moments with your friends and family. These are the best haldi ceremony poses that celebrate the happy moments of a lively function.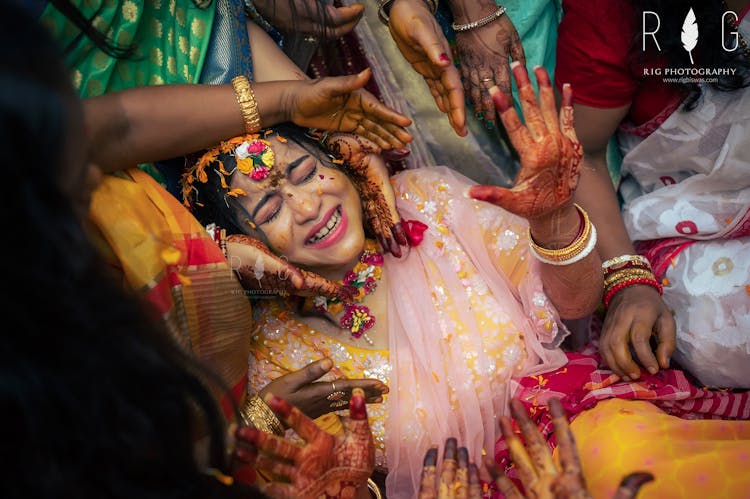 12. Beauty Of The Holy Water Shower
This bridal portrait of the Haldi ceremony is pure bliss to the eyes. A group Haldi photoshoot of all family members showering the holy water upon the bride is a nice click. You can save this haldi pose for an intimate Haldi photoshoot at home.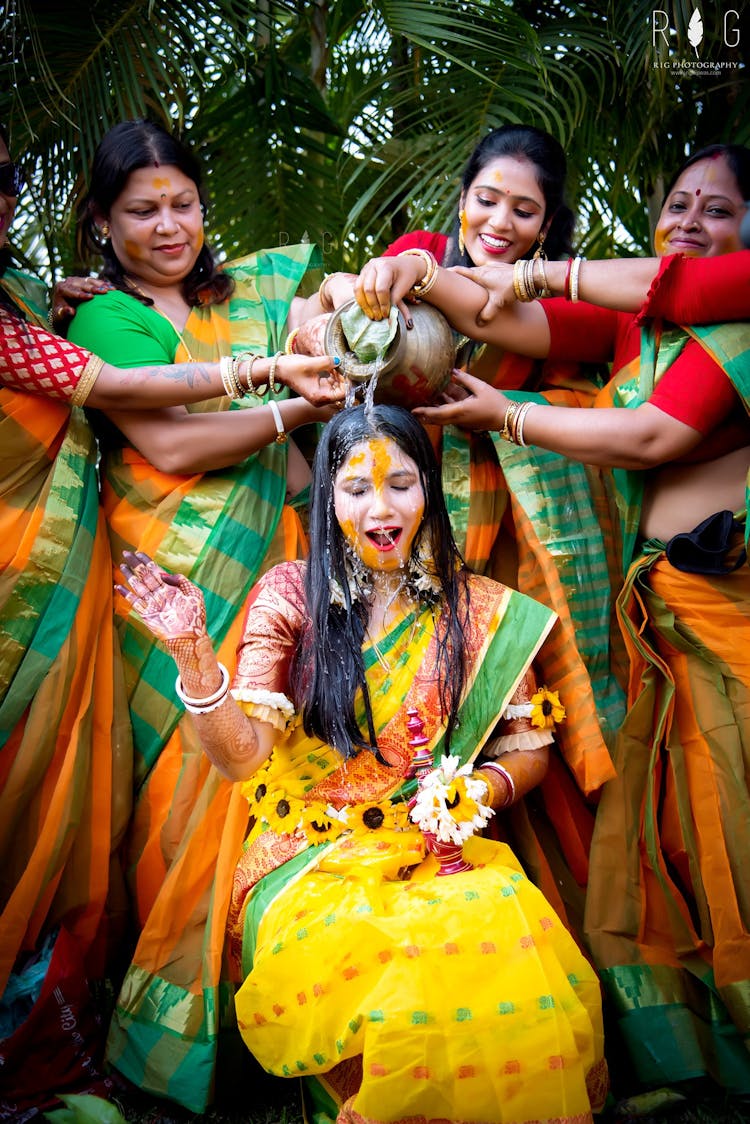 13. Haldi Hands Blessing The Bride
The pious ceremony of Haldi begins with applying haldi on the bride's face. This beautiful haldi pose is a perfect representation of the Haldi ritual. The Haldi applied hands around the bride make delightful pictures of Haldi event.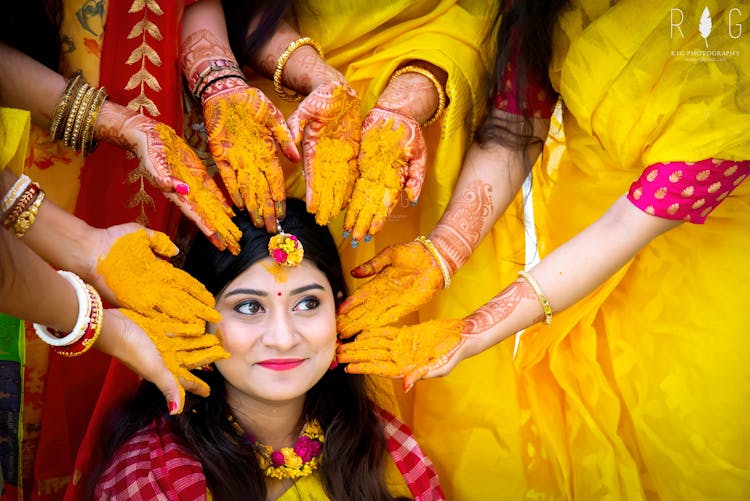 14. A Striking Pose Of Traditional Ritual
Another beautiful example of a mesmerizing Haldi photoshoot is this bridal picture. The whole traditional ritual of the Haldi ceremony is captured in a single frame. The beautiful bride covering her head with a cotton cloth is looking like a real princess.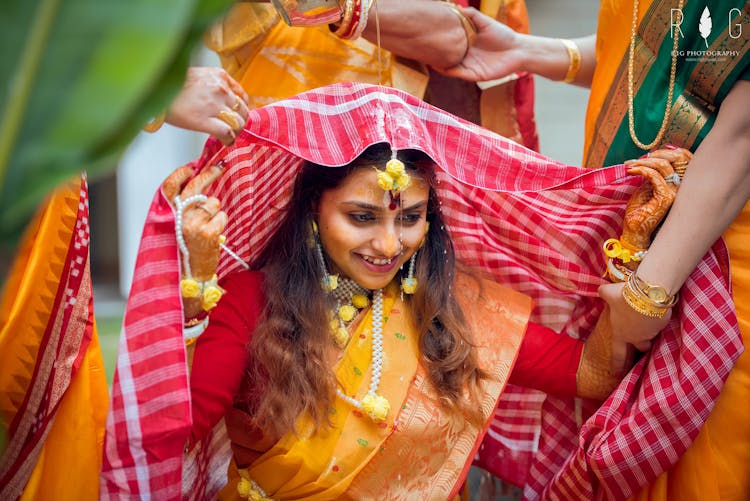 15. Bong Beauty Flaunting Her Stunning Anklet
This all-yellow and red haldi look for bride is the most popular outfit at Bengali weddings. This bride adjusting her silver anklet while sitting on the stairs looks elegant. Such simple Haldi poses allows you to showcase your mehndi design and stunning wedding ensemble.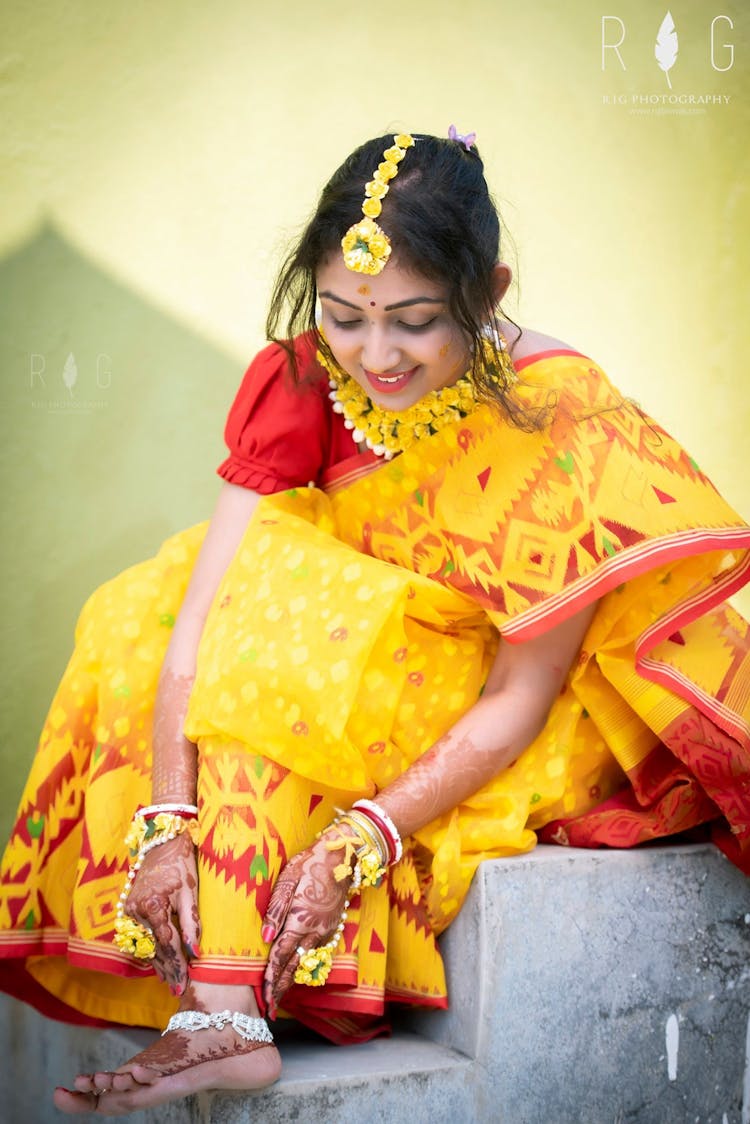 16. Bewitching Shot Of Couple's Haldi
This Haldi photoshoot pose of the groom and bride is a good option to create some sweetest memory. This type of couple haldi photoshoot pictures can bring a smile to your face whenever you will look back at them.