Top 14 Trending Couple Outdoor Photoshoot Ideas
Outdoor photography is the best way to get some captivating couple shots. Here are few couple outdoor photoshoot ideas for the best pre-wedding clicks.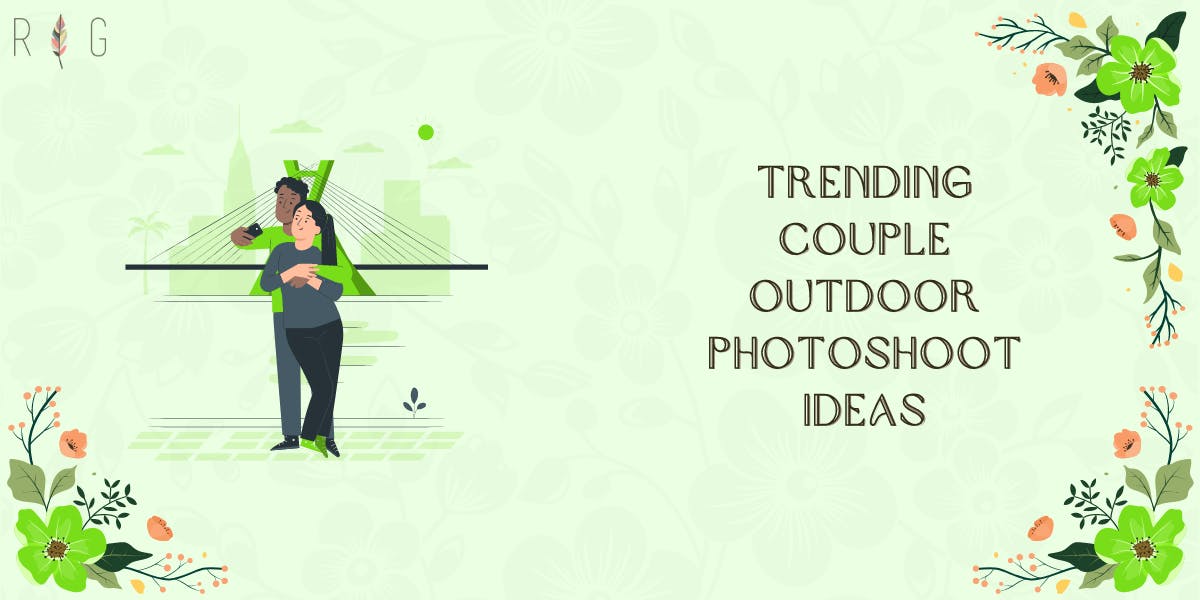 Are you looking for beautiful and timeless pre-wedding photography ideas? Look no further! Because today we're going to share with you some secret tips to turn your pre-wedding photography into a romantic couple photoshoot. Bengali couples often look for the best wedding photographers in kolkata. A skilled photographer captures your joy in the wedding frames. An outdoor pre-wedding photoshoot adds a dramatic angle to your images. It has become a new trend in Indian weddings. While some couples prefer shooting indoor pictures, most of them like to go outdoor. An outdoor photoshoot can be more natural and looks beautiful. It also provides a beautiful backdrop for your wedding photos. Read this interesting blog on couple outdoor photoshoot ideas to get inspiration.
1. Get Clicked During Golden Hours
Let's start this amazing list with a very beautiful outdoor photoshoot idea. This couple standing on the bank of a river is inspiring us for nature-based photography. Book a wedding photographer in kolkata to get the most stunning pre-wedding images.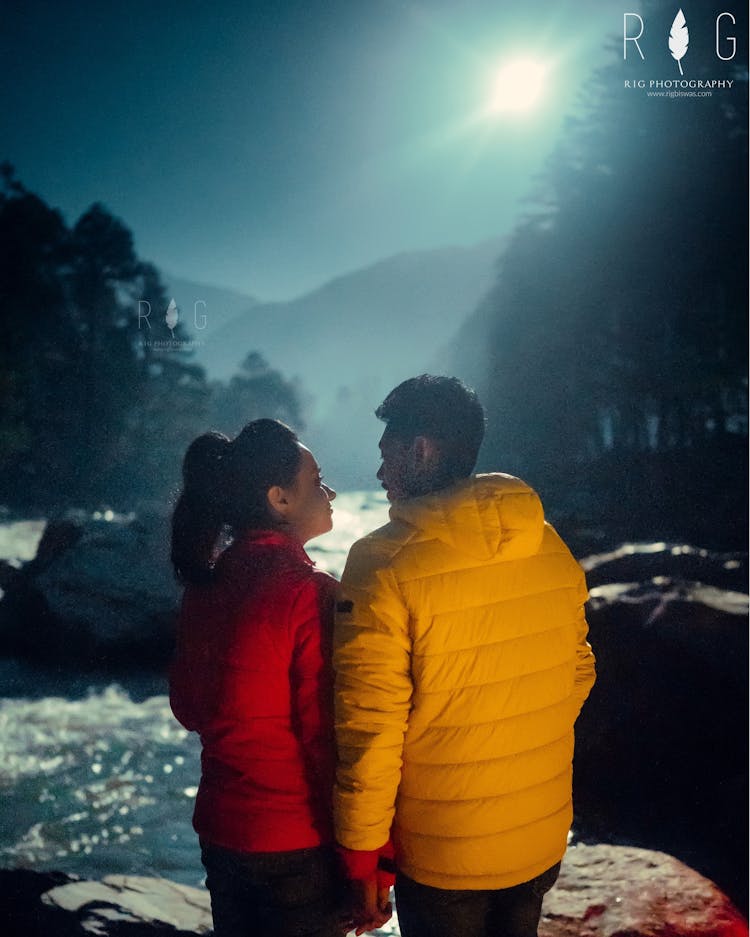 Recommended: 10 Best Locations For Pre Wedding Photoshoot In Kolkata
2. Take A Walk Amidst Lush Green Fields
How about planning outdoor photography in a lush green field? This picture reminds us of the romantic scene from the blockbuster Indian movie DDLJ. Wearing traditional clothes in a mustard field gives a desi vibe to your wedding pictures.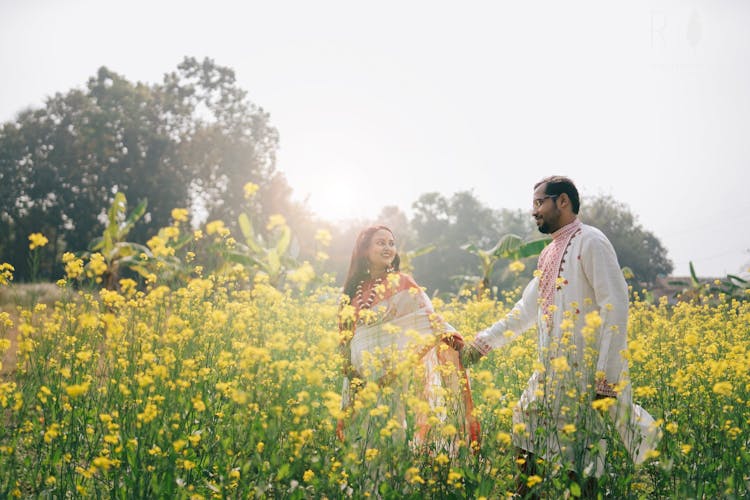 Check This; Top 15 Pre Wedding Shoot Dress Ideas [2022]
3. Get Close To Each Other
Have you ever wondered what makes a romantic wedding picture look so beautiful? This romantic silhouette of the couple captured in the sunlight looks so captivating. It takes a lot of effort to capture such creative outdoor pre wedding poses.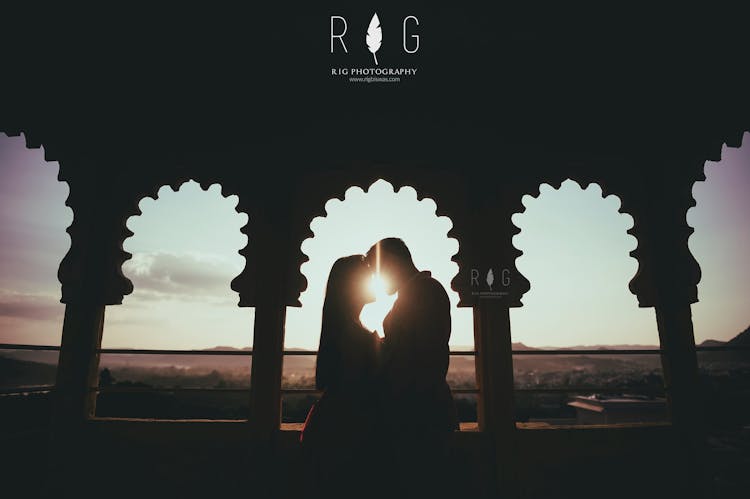 See More: Top 13 Trending Pre-Wedding Shoot Poses Ideas For couples
4. A Cinematic Run On The Beach
You can nail your pre wedding outdoor photoshoot by planning it on a sea beach. A sea beach is the first choice of every couple to click a stunning pre-wedding picture. You can not deny the fact that running on a sandy beach below the blue sky looks magical in the pictures.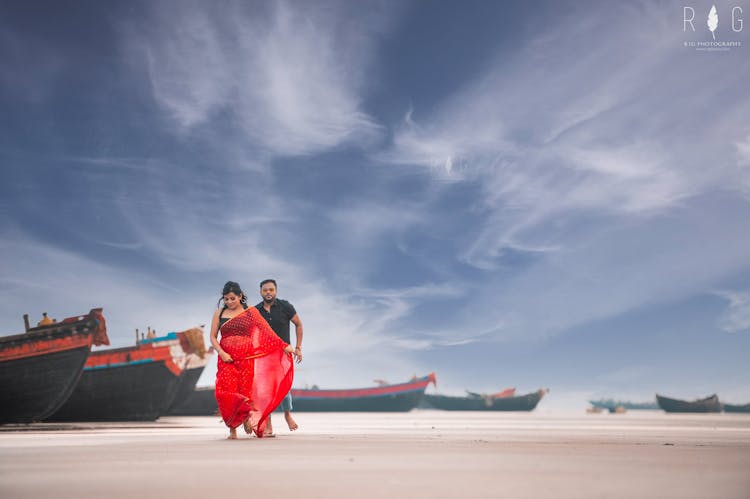 5. Kiss Your Partner Forehead
Planning a pre-wedding photoshoot on a sea beach comes with lots of advantages. It offers you endless visuals with a scenic background of the ocean. A romantic kiss on the forehead is the most popular pre-wedding pose to add a romantic vibe to the pictures.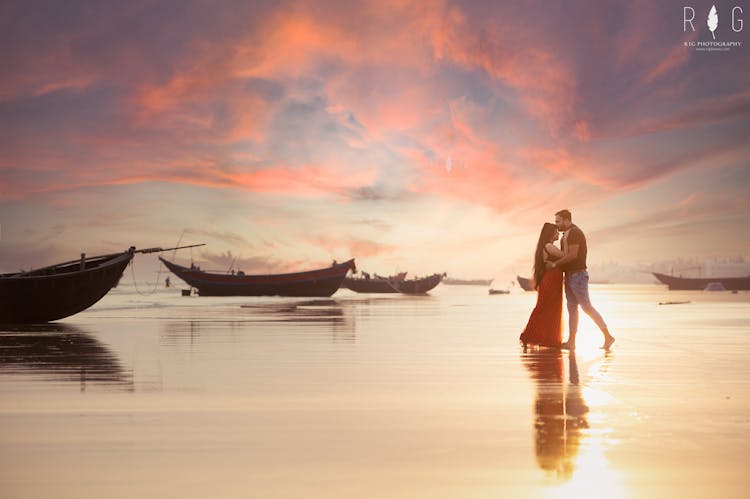 6. Click A Cuddling Pose
If you wish to make your pictures the cutest ones, then this pre-wedding photography pose might interest you. It is the easiest pose to plan an outdoor photoshoot for couples. A beautiful backdrop will do wonders for your wedding photography.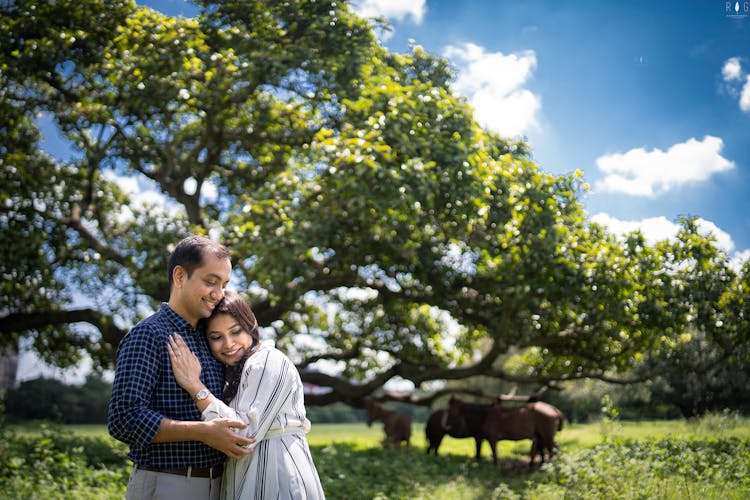 7. Do A Fun Activity
A pre-wedding photoshoot is not only about clicking romantic pictures. It also lets you know each other better. If you are interested in camping out at the night on a beach or forest then you should go ahead.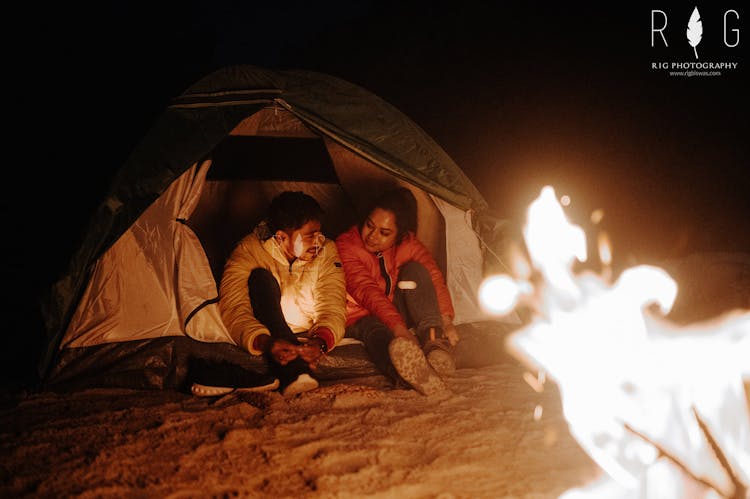 8. Hold Your Hands In The Romantic Woods
There is nothing more beautiful than the lush greenery of a dense forest. Holding hands during a photo shoot is classic outdoor photography poses for couples. The beauty added by the giant trees in the backdrop makes your pictures enchanting.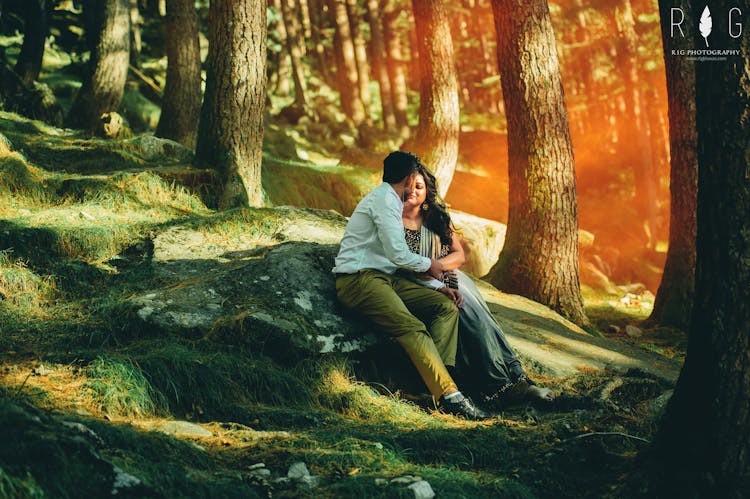 9. Watch The Sun Rise Together
Wow, what a splendid picture! The golden hour of sun rise and sun sets adds a romantic ambiance to your wedding pictures. This calm couple is enjoying each other's company in the golden hours. You can use props like an umbrella to give a unique touch to your pre-wedding photography.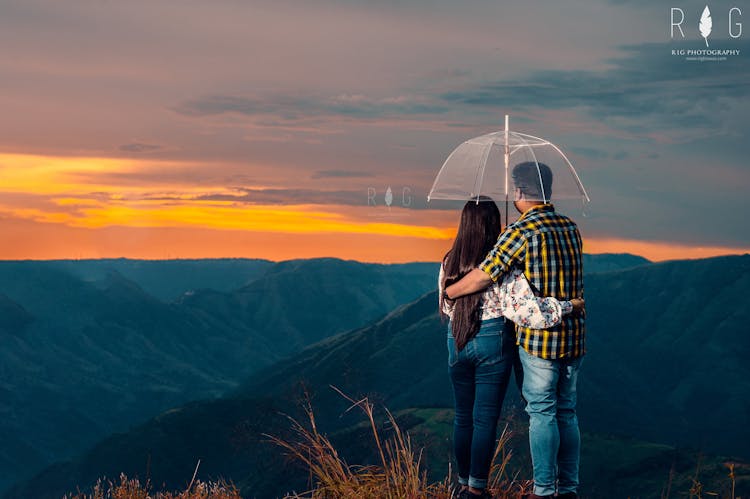 10. Take A Simple Walk On Pathway
The simplicity of this couple's pre-wedding pose has touched our hearts. Walking on a street in ethnic clothes gives a vintage charm to nighttime photography. These are the best and most simple photography poses for couples outdoors photoshoots.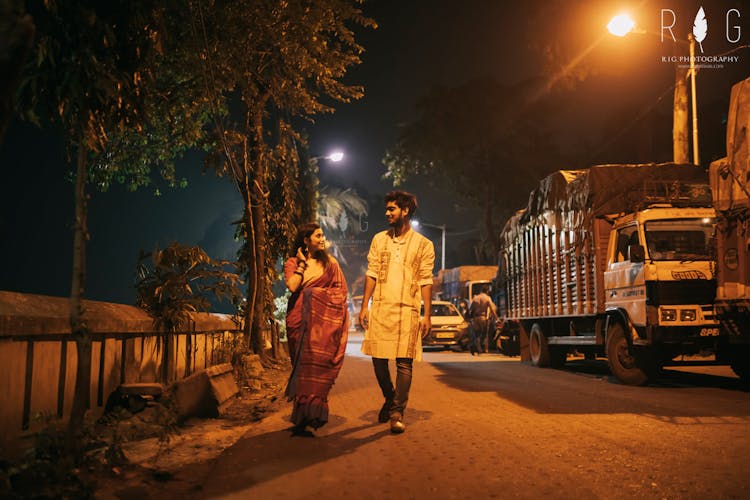 11. Uplift Your Gorgeous Bride
Clicking a couple pose with a monumental backdrop is the best way to get romantic pictures. Eco Park in Kolkata is one such beautiful pre-wedding location. Here you can get many splendid backdrops to capture a memorable pre-wedding shot.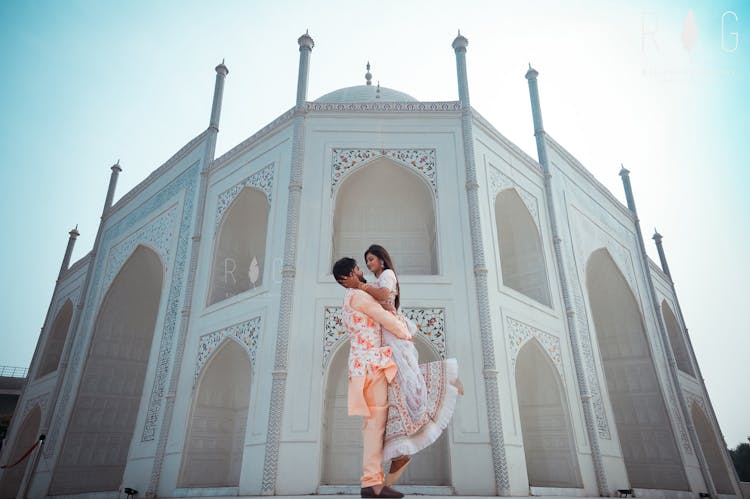 12. Lie Down On Your Partner's Lap
Lying down on your partner's lap is the most beautiful couple poses for outdoor photoshoot. This kind of picture shows how intimate both of you are with each other. Try to plan such a romantic photoshoot in an open park or lush green field in Kolkata.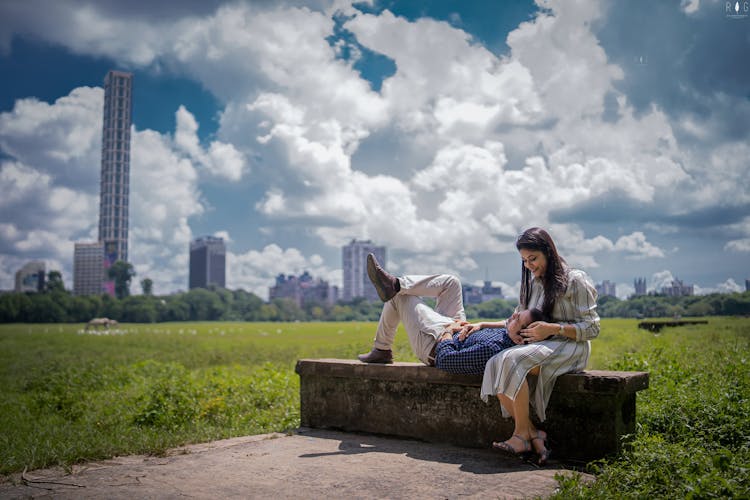 13. Dance With The Love Of Your Life
Do you wish to have a memorable pre-wedding shoot in Kolkata? If yes then you should travel to the Victoria memorials to make your dream come true. Clicking a dance pose in front of magnificent architecture is the best way to reveal your love.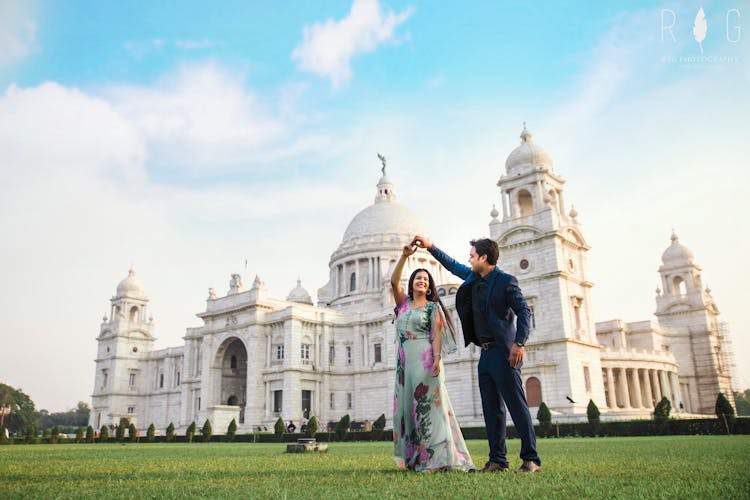 14. Go For A Bike Ride
An evening silhouette against the sunny backdrop creates a wonderful photo for your wedding album. This cute couple has picked their bike as a photography prop to make their picture look unique. Such beautiful wedding poses always result in breathtaking pre-wedding pictures.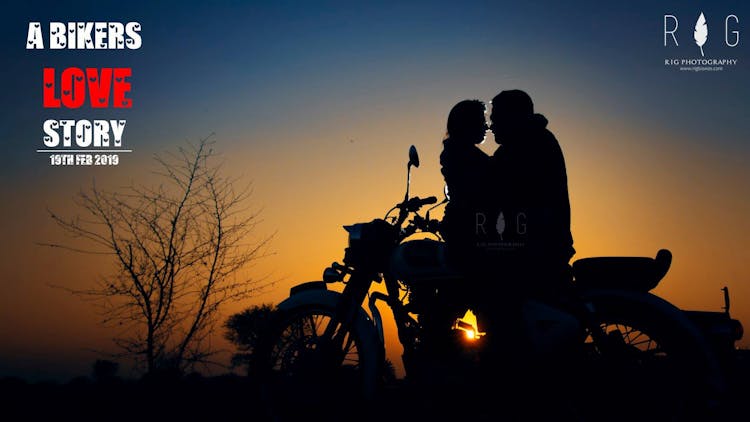 Here're a few tips that you must consider before planning an outdoor pre-wedding shoot.
1. Find a location that is picturesque and accessible. If the location is too difficult to reach you might end up wasting your valuable time. Likewise, if the location is not appealing your pictures will not turn out as good as you would have planned.
2. Take a few minutes to scout the location where you will be taking pre-wedding pictures. It will allow you to plan out your shots in the best possible way.
3. Be sure to wear comfortable clothes and shoes to enjoy your pre-wedding photography.
4. Don't forget to pack along sunscreen, hats, a makeup kit, and an umbrella to protect you from unexpected weather.
5. Relax and enjoy the moment. Be natural and celebrate the best moments of your life.